How to create the perfect outdoor patio seating area
Posted on
Today I want to share with you the progress of our covered veranda in our garden. My husband Ben built a veranda on the back of our home last summer. It looked great and he saved us a small fortune by building it himself, but until now we really hadn't done anything with it.
He completed it at the end of last summer and we had no more money to finish it, or even to put any furniture underneath. It ended up becoming a dumping ground for the children's toys, Ben's wood and our picnic bench. Not a great look!
I jokingly sent Ben a photo of our ideal veranda from Pinterest teamed with what ours looked like (a junk yard) and thankfully it spurred us into action to sort it out this summer.
Thankfully, we have finally got round to purchasing furniture and making our outdoor seating area habitable!
However, there is still lots to do. In this blog post I will share how we plan to create the perfect patio outdoor seating area. This will be a seating area that we can use in all weather, all year round, extending our living space to the outdoors.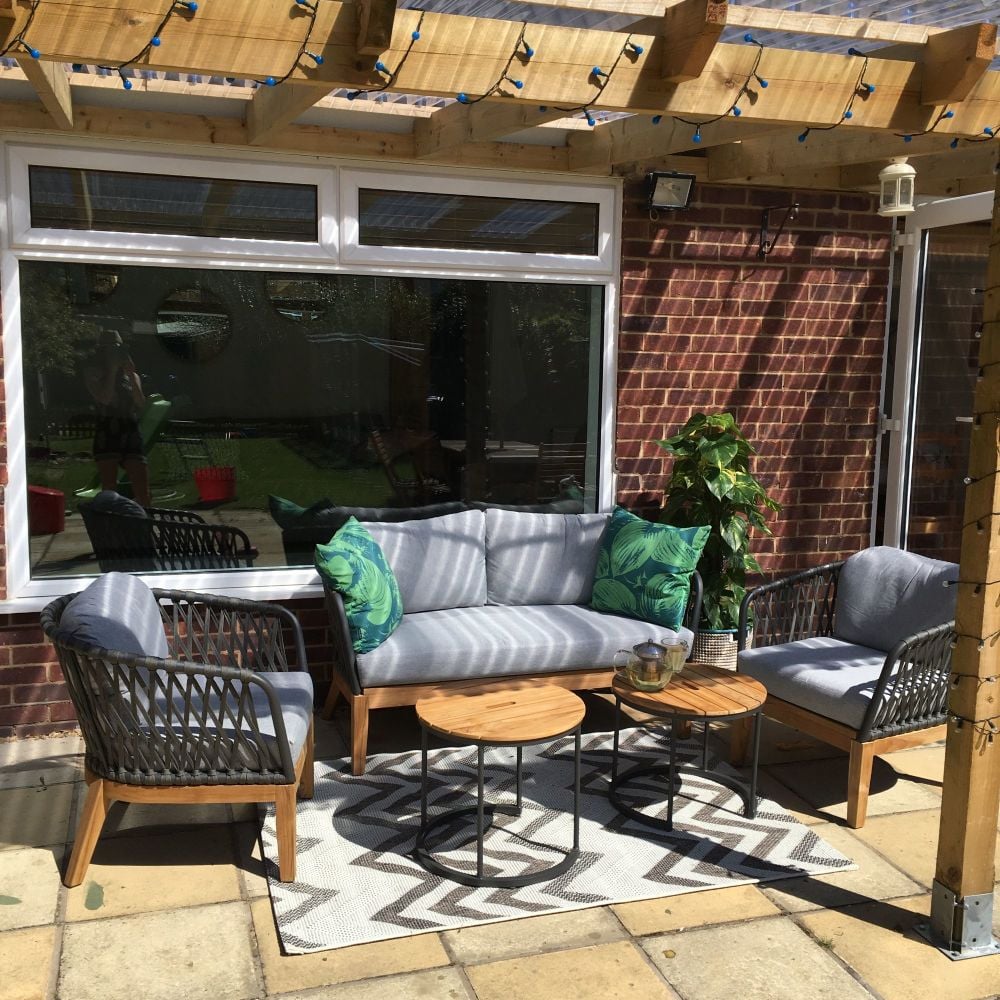 Roofed veranda
Tick. This part is done. My husband saved us around £1000-£1500 by building our veranda himself with materials costing £500. His brother got a quote for £1500+ for the same on the back of his house. It's very handy having a husband who loves DIY and woodwork sometimes! We decided a roofed veranda would be perfect so we can sit outside no matter what the weather. We can also make it cosy and sit outdoors with a blanket in the colder months.
Comfy seating
Tick. We finally found and agreed on some comfortable seating. Ben was keen on a L-shaped sofa in classic garden wicker style, but I preferred a wooden design. This sofa was a great compromise, though Ben didn't get his L-shape. It's still suitable for one person to lie down on and sunbathe. The sofa's cushions are also the optimum squidginess providing comfort and luxury without being too hard or soft.
Stylish accessories
Tick. I bought some green leaf print cushions, an outdoor rug, a large basket and a large plant to add more interest to the area and create an outdoor haven. I may add another plant or two along with a couple of small hanging baskets to really create a secret garden escape feel.
Cosy lighting
We're half way there with this one. We have fairy lights wrapped around some of the beams of the veranda to create that cosy Hygge feel everyone loves. There's nothing more magical than fairy lights in the garden. We have plans to change the base to decking and I think integrated lights will add a sophisticated touch and will look great. I've been eyeing up some recessed floor lighting on a website that is very appropriately named lights.co.uk to get some ideas.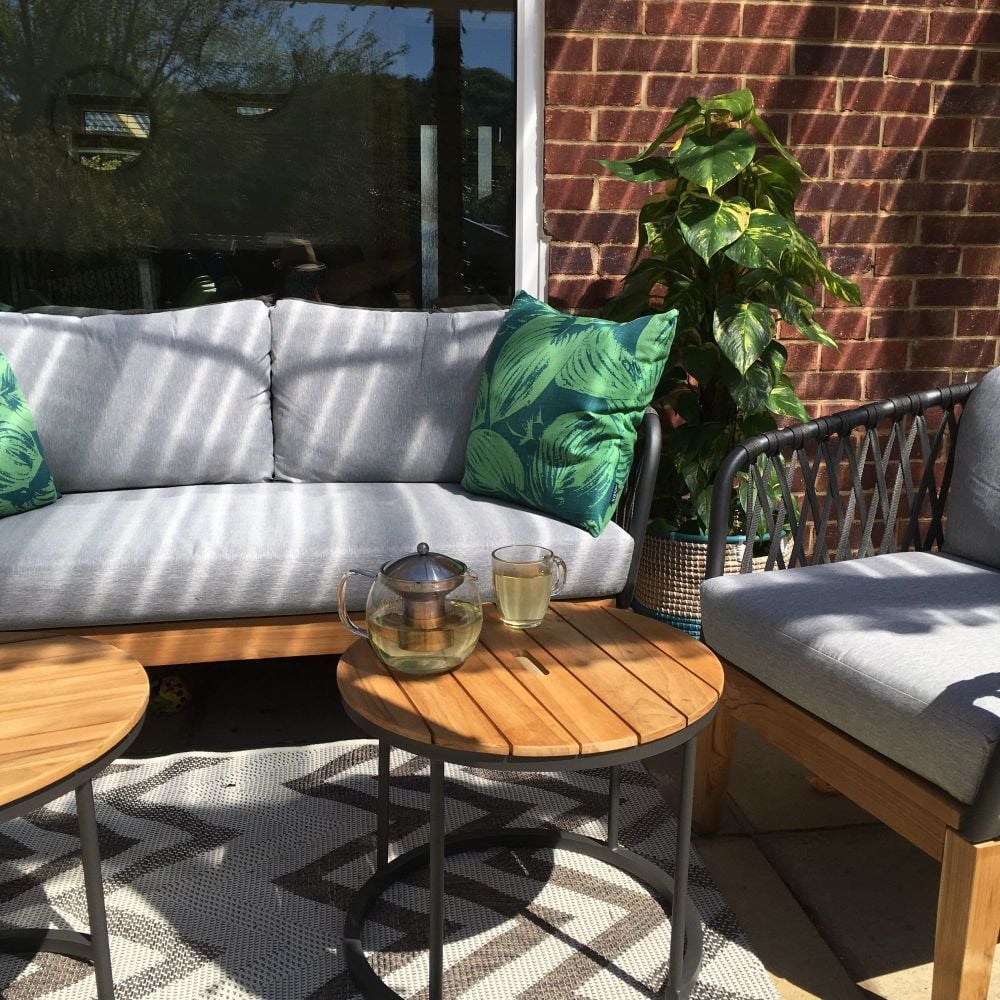 Decking
Still to do. I really hate our current patio and it ruins the overall look of the veranda area. We'd like to put decking underneath to really bring it all together and it will look so much better. It's going to be quite a big job and fairly costly, but I hope we can complete it this summer.
We'll also replace the left over patio slabs in front of the decking with something much more modern and design led. We just need to decide on the style. I'm favouring large dark grey slabs and possibly painting the veranda wood a dark grey. I think this will look very tasteful.
It's also quite dark for me, considering our entire home is painted white, feels airy and has lighter natural woods throughout! I'm enjoying the possibility of such a contrast – a light, bright, airy minimal home with a sophisticated classy green and dark grey garden.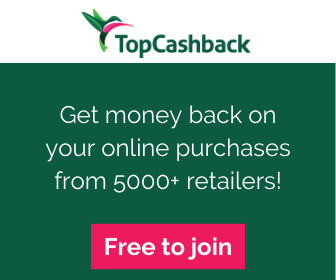 Canopy
Still to do. The roof of the veranda is corrugated plastic and so in the blistering heat it's going to feel like being in a greenhouse when underneath. To combat this, my husband Ben wants to have some sort of material canopy hung underneath or a blind system. Something easily retractable would be ideal so we can switch between shade and sun depending on our mood or temperatures. Or alternatively a 'shade sail' that can offer shade and cool, but is easy to remove when we want to.
Heating
To really make our roofed veranda totally weather and season-proof, it will be amazing to add some sort of heating. There are lots of options when it comes to patio heaters and patiomate review some of the best, whilst showcasing the many different styles and options. Other ideas are a firepit just on the outside of the veranda or chimnea to keep us warm on cooler evenings, but the smokey smell is putting us off a little, so an actual heating system might be better. When the weather isn't too cold, we can wrap up in blankets on the sofa with a hot cuppa!
Final word
We're definitely getting there and with the addition of our new furniture I'm already enjoying our garden so much more. Now to find the perfect decking, slabs and lighting…