How to Buy New Clothes on a Budget
Posted on
If you're looking to buy new clothes on a budget, there are several money-saving strategies you can employ.
Here are some of our top tips to help you save money while still adding new items to your wardrobe, as well as how to make smart investment choices for staple items in your collection.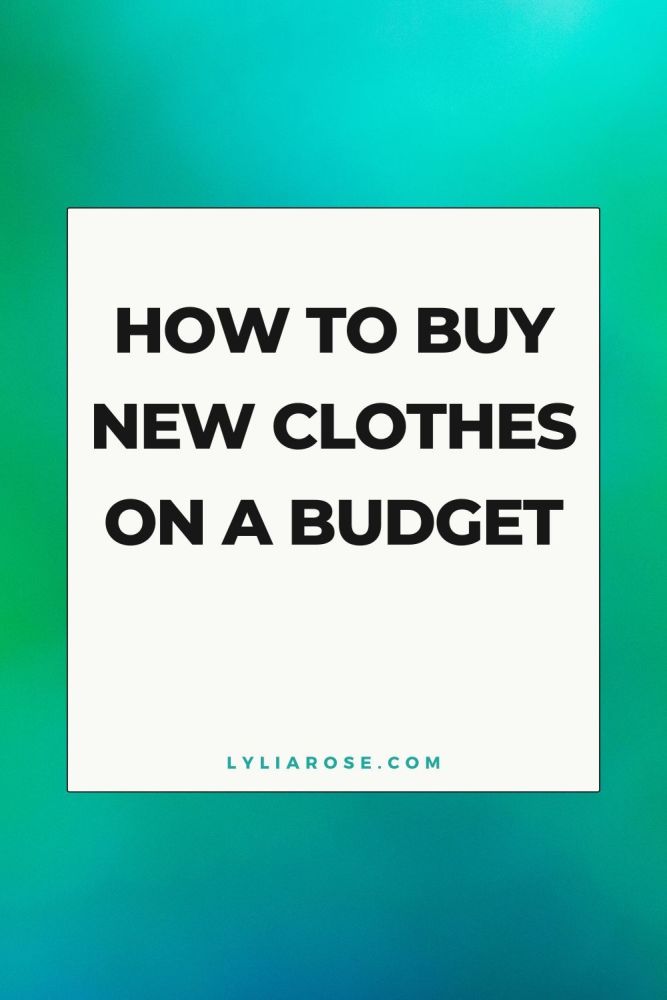 Set a Budget
Set a budget and determine how much you can afford to spend on clothes and stick to that budget. This will help you prioritise your purchases and avoid overspending. Track your expenses and establish a monthly or weekly budget for spending, including for clothes shopping.
Keep yourself accountable and be realistic about your spending habits. Knowing how much you've already spent can help you resist additional impulse purchases.
Prioritise your spending categories and determine the importance of various spending categories in your life. This could include necessities like groceries and bills, as well as categories like clothing, entertainment, and hobbies.
Allocate a portion of your budget to each category based on their priority and your personal preferences.
Avoiding Impulse Buying
Make a shopping list before going to a store or browsing online, create a list of the specific items you need to purchase. Stick to this list and avoid deviating from it. Having a clear plan helps you stay focused and reduces the likelihood of impulse purchases.
Avoid shopping when you're emotional or bored as this can lead to impulsive behaviour. If you're feeling down, stressed, or bored, find alternative activities to distract yourself, such as exercising, reading, or engaging in a hobby.
Emotional stability can reduce the desire for impulsive shopping. Or, try bringing a trusted companion along when shopping can provide a second opinion and keep you accountable. They can offer objective advice and help you assess whether a purchase is truly necessary or just an impulsive desire.
Make use of Sales and Clearances
Shop during sales and clearance events, and look out for sales, discounts, and clearance events at your favourite stores. Shopping during these times can help you get significant discounts on clothing items. You can find out which stores are running sales and clearances online and by following relevant social media pages for fashion and budgeting suggestions.
Signing up to a company emailing list will also allow you to get notifications when they are running a sale or clearance event, meaning you can try and get there early and bag the best bargains.
Buying items in the sale doesn't mean you'll be compromising on the quality of the items you buy. A lot of the time, items are simply in the sale due to them being out of season rather than because they are damaged or low-quality. If you want to find high-quality shoes for less, then take a look at the range of Clarks sale items available at SuperSales.
Avoid Seasonal Purchases
Purchase clothes during the off-season when they are typically marked down. For example, buy winter clothes in the summer and summer clothes in the winter. This strategy can help you save a lot of money. The price of items sold out of their peak season can be considerably less than when they are typically sold in high numbers.
This method also helps to ensure you're prepared in advance for the seasons ahead, so you can avoid stressful last-minute buying or impulse buys if you're struggling with temperatures and weather conditions.
Visiting Charity Shops and Second-Hand Stores
Charity shops can be treasure troves for finding bargain clothes and accessories for your wardrobe. Although there can be many items that are not to your personal taste, it's worth persevering and looking in different shops as you will very often run into some great items at a much lower price than you'd pay if they were brand-new.
Charity shops and second-hand stores can even be great places to look for items such as designer clothes, bags, and shoes. These kinds of stores do have certain standards for the items they take in, meaning they're unlikely to be in poor condition and still have plenty of life left in them.
Use Online Marketplaces and Apps
Another great way to find the perfect second-hand items for you is through online marketplaces and apps. Here you can find pre-owned or discounted new clothing being sold by people who no longer need or use them.
You can often find great deals and unique items through these platforms but be sure to use well-known and trusted apps to help make sure your money is protected. It is possible to run into scams, such as people selling fake designer items or placing misleading photos of the item they're selling.
You could also list your own items on there to sell if you no longer want them, which you can then use as the budget to purchase other pieces that you're interested in.
Invest in Staple Pieces
Focus on essentials and versatility and prioritise buying essential clothing items that can be mixed and matched with different outfits. Versatile pieces like basic t-shirts, jeans, and neutral-coloured tops can be styled in various ways, allowing you to create multiple outfits with fewer items.
You can also add staple accessories to outfits to help dress them up and make them look like an entirely new outfit. Accessories such as belts, bags, sunglasses, and jewellery can be good pieces to invest in to help complement the clothes in your wardrobe.
Hosting a Clothes Swap
A clothes swap can be a fun and useful way to help get some new items for your wardrobe, at the same time as hosting a fun, social event with your friends, family, or co-workers. At these events, you can pick some of the clothes, shoes, and accessories from your wardrobe that you no longer need, and swap these with items other people have chosen from their own collections.
Not only is it a great way to find new clothes you like when you're on a budget, but it's also useful for helping to clear out your wardrobe of items that are no longer useful to you at the same time. Just be sure to inspect the items you're getting rid of to check they are in good condition, clean, and ready for someone else to enjoy.
Using Cash When Shopping
Using cash when shopping for new items to buy for your wardrobe is a simple yet effective way to help make sure you don't overspend on your shopping budget. Before you go shopping, carefully plan how much you think you can afford for your new clothes and then withdraw the right amount of cash to take with you. leave your credit or debit card at home so you're not tempted to use it while you're out and overspend on your allocated budget.
Researching Different Prices
Before shopping for new clothes, it's also worth ensuring you've researched and shopped around for the best price on the items you're hoping to buy. Even if you're only saving a couple of pounds, this can add up when buying many items.
You can also try looking for discount codes and offers that could mean you can get the items you want for less. Sometimes if you sign up to the site's emailing list or register as a new customer, you can get discounts on your purchases.