Picking the Right Underwear on a Budget
Posted on
There are many different styles and fits of underwear available for women to choose from these days. This variety allows them to express themselves and feel comfortable at the same time. Although selecting the right underwear may seem like a simple fashion choice, it is important to remember that making the right decision can also have financial consequences.
No one likes to waste money, but briefs are one item that can't be returned to stores, so it's vital you make the right choice when underwear shopping to prevent wasting your hard-earned cash on unsuitable and uncomfortable underwear that'll sit in your drawers gathering dust!
Also, I don't know if you've noticed, but the cost of underwear seems to have risen quite substantially in recent times, so you want to ensure you are making the most of your money and choosing undergarments that will last and be worn multiple times.
By taking both comfort and style into account, women can avoid wardrobe malfunctions and save money on fashion mistakes. Below are some tips on how to pair the right underwear with the right bottoms, so that you can make a stylish statement while also being financially savvy. And further down in the article are some tips on how to save money when buying underwear.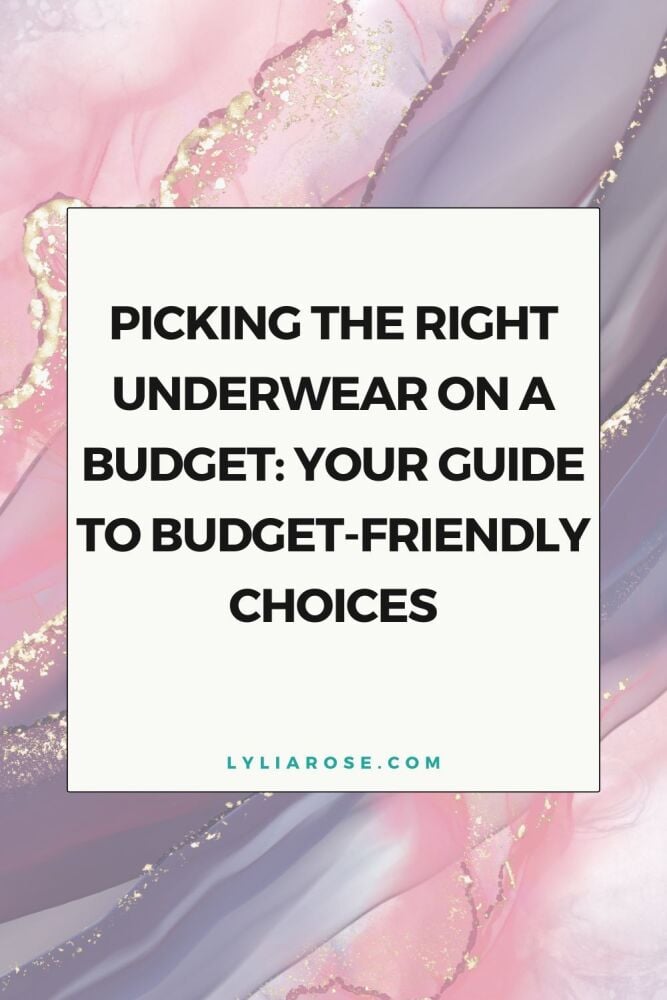 Pairing The Right Underwear With The Right Bottoms
Women today have plenty of options when it comes to underwear styles and fits. Most women have a variety of underwear styles in their drawers. There are lots of different factors that influence what kind of underwear you wear on a particular day, such as your mood, your confidence and your clothing choice. Here are some tips on pairing the right underwear with the right bottoms.
Fabric + Cut: Prioritising Comfort and Longevity
When it comes to selecting the best underwear for women, women should consider the fabric and cut that provide optimal comfort and durability. While cotton is often the go-to choice due to its breathability and comfort, it's important to invest in high-quality fabric options such as satin, lace, polyester, and nylon that offer longevity. By choosing underwear made of durable materials, women can save money in the long run, as they won't have to frequently replace worn-out pairs.
Hipsters + Sweats: Achieving Comfort without Sacrificing Style
Sweatpants or pyjama bottoms are beloved staples in most women's wardrobes. To ensure comfort and breathability during relaxed days, opting for hipsters can be a practical and stylish choice. By investing in a full-coverage pair of hipster underwear made of high-quality fabric, women can enjoy long-lasting comfort without compromising their style. Selecting hipsters that offer figure-flattering designs and can be cut in low or high rises ensures that the investment pays off both in terms of comfort and aesthetics.
Tight Pants + Thongs: Eliminating Fashion Faux Pas and Expensive Wardrobe Adjustments
When wearing tight-fitting clothes such as leggings or form-fitting pants, it's important to prevent visible panty lines. Wearing thongs in these situations offers the least amount of coverage while also ensuring panty lines are not visible. By owning a few properly fitting thongs, women can easily maintain a polished appearance without having to make last-minute wardrobe changes or buying costly seamless pants. This smart choice saves both time and money.
Boy Shorts + Bodycon: Shaping Help for a Smooth and Cost-Effective Look
For those who want to rock bodycon outfits, like dresses and skirts, it's important to pay attention to the details. Opting for a more structured type of underwear, like boy shorts, can help provide shaping support and improve the sleekness and slimness of the silhouette. Adding boy shorts to your wardrobe can save you money on additional shapewear, giving you a seamless look and boosting your confidence in your bodycon ensembles.
Jeans + Bikini Style: Versatility and Style That Transcends Trends
Jeans are a timeless fashion staple that can be worn for many occasions, making them a versatile clothing option. To complement the different cuts of jeans, it is best to choose bikini-style underwear. This style sits smoothly below the hips and navel, and can easily match various jean styles, saving women the need to own multiple types of underwear for different pairs of jeans. By pairing the bikini underwear with a matching t shirt bra, it adds a touch of femininity and completes a stylish look.
Full Cut + Skirts: Ensuring Coverage and Avoiding Fashion Mishaps
When wearing a skirt, it can be uncomfortable due to the wind or lack of fabric. To avoid this, full-cut underwear is a great option as it provides the most coverage and eliminates any potential fashion disasters. For additional shaping and coverage, choosing higher-waisted underwear can be helpful, especially depending on the style of the skirt. With the right underwear, women can confidently wear their favourite skirts without worrying about revealing too much.
Seamless + Work Outfits: Professionalism with Long-Term Savings
If you want to maintain a professional appearance at work, seamless bras and underwear are an ideal choice. These pieces are crafted from smooth materials that stay hidden under clothing, giving you a polished look. Investing in high-quality seamless garments can save you money in the long run. The comfortable feel of these fabrics also boosts productivity, helping you stay focused and self-assured during the workday.
Smart Strategies for Saving Money on New Underwear
If you're looking to save money on your next underwear purchase, there are a few practical tips you can follow.
Firstly, it's important to prioritise quality by investing in durable materials. While this may mean spending a little more upfront, it can actually save you money in the long run since you won't have to replace your underwear as frequently.

You should also keep an eye out for sales and discounts from retailers, as these can be great opportunities to snag a good deal. Additionally, buying in bulk is another way to save money, as many retailers offer discounts when you purchase multiple items at once.

If you're willing to plan ahead a bit, shopping for deals during off-seasons can also be a good strategy. For example, buying winter underwear during the summer months can often result in lower prices.

Comparing prices online is another useful tactic, as you can easily see which retailers are offering the best deals.

Always use cashback websites when shopping online, otherwise, you're missing out on free money!

Additionally, signing up for newsletters and loyalty programs can often result in exclusive discounts and promotions.

Finally, taking proper care of your underwear can also help extend its lifespan, saving you money in the long run. This can include washing them on a gentle cycle and avoiding harsh detergents, as well as repairing any small holes or tears before they become bigger problems.
By following these strategies, you can build a cost-effective underwear collection without sacrificing comfort or style. So if you're looking to save some money on your next underwear purchase, be sure to keep these tips in mind.
Final word
Women can strategically choose their underwear to create flawless outfits while minimising fashion mishaps and unnecessary expenses. By considering the financial aspect alongside comfort and style, investing in high-quality fabrics, choosing versatile styles, and prioritising comfort can lead to a wardrobe that is both stylish and cost-effective.