Is Vegas Still Fun in January?
Posted on
People often wonder whether visiting Las Vegas in January is still fun. After all, the Christmas and New Year's holiday celebrations are over after the first day of the month. So, is it still worth visiting Las Vegas in January?
The answer is YES. Las Vegas has virtually unlimited fun things to do throughout January. Whether you like outdoor adventures or indoor shows and entertainment, there is something for everybody to enjoy in Las Vegas in January. Below are the top seven fun things to do in Las Vegas in January.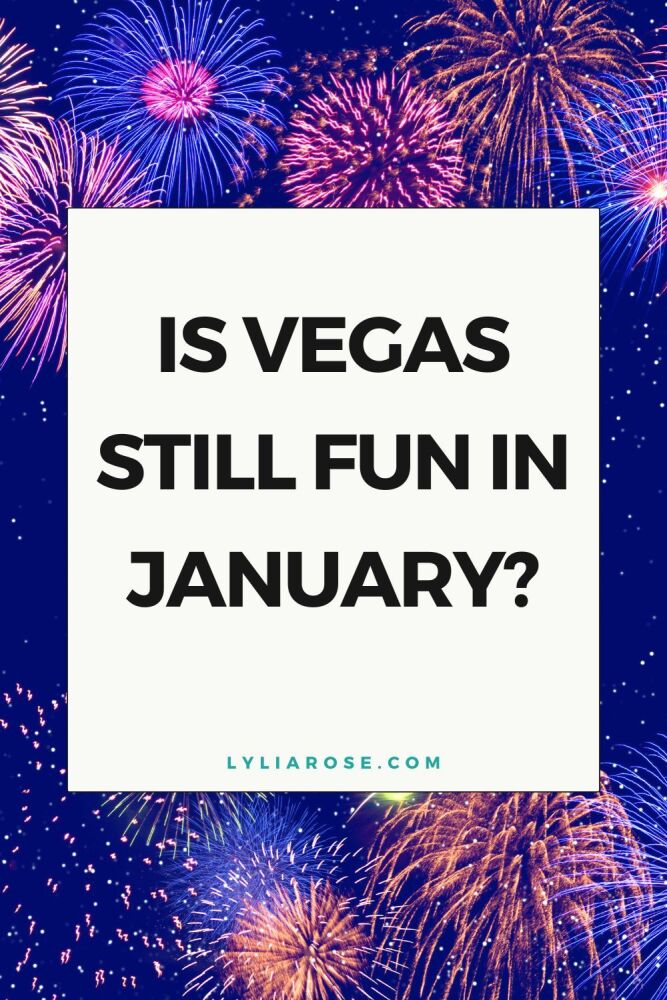 Dinner Shows
Las Vegas is known for its fantastic dinner shows because they are entertaining and serve delicious food. There are currently seven active dinner shows in Las Vegas in January, including The Mentalist, The Rat Pack is Back, Tournament of Kings, All Motown, Cirque du Soleil's "Mystere," V – The Ultimate Variety Show, and Marriage Can Be Murder.
For example, Marriage Can Be Murder is a popular dinner show featuring an interactive murder mystery and a complimentary meal. In Marriage Can Be Murder, guests are not just spectators but active participants in solving the thrilling murder mystery that unfolds before them. As they enjoy their complimentary meal, the actors, strategically planted among the audience, play their roles with flair, creating an immersive experience that blurs the lines between reality and performance. The show's interactive nature ensures that no two performances are the same, keeping audiences coming back for more.
The Mentalist is another crowd favorite that showcases the incredible powers of the human mind. Combining elements of magic, mind-reading, and psychological illusions, the show's star mesmerizes the audience with his uncanny ability to read thoughts and predict actions. Guests are left in awe as he performs mind-boggling feats that challenge their understanding of what's possible.
The Rat Pack is Back takes audiences on a nostalgic journey to the golden era of music. Paying tribute to the legendary Rat Pack – Frank Sinatra, Dean Martin, Sammy Davis Jr., and Joey Bishop – the show captures the essence of their timeless performances. With impeccable impersonations, soulful singing, and witty banter, the cast brings the magic of the Rat Pack back to life, transporting guests to a time when these iconic entertainers ruled the Las Vegas strip.
Tournament of Kings offers a one-of-a-kind dining experience set in a medieval-style arena. Guests are transported back to the days of knights and royalty as they cheer for their favorite knights during jousting competitions and thrilling sword fights. The show features stunning visual effects, impressive stunts, and a captivating storyline that keeps the entire family engaged.
All Motown celebrates the classic hits of Motown's most beloved artists, such as Marvin Gaye, Diana Ross, and The Temptations. The talented performers deliver soulful renditions of these timeless songs, ensuring that the spirit of Motown lives on in the heart of Las Vegas.
Cirque du Soleil's "Mystere" showcases the world-renowned artistry and acrobatic brilliance that has made Cirque du Soleil a global sensation. The show weaves together an enchanting tale of mystery and wonder, featuring awe-inspiring performances by contortionists, aerialists, and other talented artists. It's a visual feast that leaves audiences utterly captivated.
V – The Ultimate Variety Show is a perfect choice for those who love diverse forms of entertainment. This show features a rotating cast of extraordinary performers, including magicians, jugglers, comedians, and specialty acts from around the world. Every night offers a unique lineup, ensuring that guests can experience something new and exciting each time they attend.
These dinner shows contribute to Las Vegas's reputation as the entertainment capital of the world. Visitors and locals alike have the opportunity to indulge in a night of spectacular performances and delectable cuisine, making their time in Las Vegas an unforgettable experience filled with laughter, amazement, and lasting memories.
Would you like to learn more about these dinner shows and other fantastic Las Vegas shows? Visit https://vegaslens.com/guide/shows/ for more information.
Helicopter Night Tour
The ultimate way to see the Las Vegas Strip is to ride a helicopter tour over it at nighttime. You will get a bird's eye view of Las Vegas Boulevard, the Bellagio Hotel, the Fremont Street Experience, and all the bright and beautiful lights on the signs and buildings below.
Some nighttime helicopter tour packages come with a complimentary dinner at a renowned restaurant. You will also receive refreshments as you check in before the flight. Even though each flight lasts about 15 minutes, the amenities before and after make them worth the experience.
Cirque du Soleil Shows
Cirque du Soleil shows make it easy for people to have fun in Las Vegas in January. Each Cirque show has a high production value featuring impressive acrobatics, stunts, music, visual effects, storylines, and more. Some are completely original, while others offer tributes to Michael Jackson, The Beatles, and New York City.
The six Cirque du Soleil shows performing in Las Vegas in January include Mystere, O, Ka, Mad Apple, Michael Jackson ONE, and The Beatles LOVE. If you want to learn more about Las Vegas shows in January, Visit the following website. You may also find some exclusive ticket discount opportunities and promo codes posted for these Cirque shows too.
Cirque du Soleil has undeniably become synonymous with extraordinary entertainment, and Las Vegas boasts an impressive lineup of their world-renowned shows. Each performance is a mesmerizing blend of artistry, athleticism, and innovation, captivating audiences with their breathtaking displays.
Mystere, the original Cirque du Soleil production, continues to be a crowd favorite with its whimsical and enchanting performances. From gravity-defying acrobatics to awe-inspiring contortionists, this show takes you on a journey through a dreamlike world filled with wonder and amazement.
O, an aquatic masterpiece, transports audiences into a surreal underwater realm where the boundaries of what's possible are pushed to the extreme. Set in a magnificent theater-in-the-round, this show seamlessly combines water and acrobatics, creating an immersive experience that leaves spectators spellbound.
For those seeking an epic adventure, Ka is the show to see. With its martial arts-inspired stunts, dramatic storytelling, and mesmerizing aerial performances, Ka transports you to an ancient world of bravery and intrigue.
Mad Apple, a Cirque show exclusive to Las Vegas, delves into the pulsating heart of the city's vibrant nightlife. This electrifying performance showcases the exhilarating energy of Las Vegas, taking the audience on a wild and unforgettable ride.
Fans of music legends are in for a treat with Michael Jackson ONE, a tribute to the King of Pop. Featuring iconic hits and stunning dance routines, this show pays homage to Michael Jackson's legendary career while incorporating Cirque du Soleil's signature flair.
The Beatles LOVE, as the name suggests, celebrates the timeless music of The Beatles. Set to an energetic and imaginative visual backdrop, this show reimagines the band's iconic songs, creating a spectacle of love and nostalgia that transcends generations.
As January brings a fresh start to the year, experiencing a Cirque du Soleil show in Las Vegas can be the perfect way to kick off the year with a burst of creativity and inspiration. Whether you're a first-time visitor or a returning fan, the magic of these performances will leave you in awe and eager for more.
Hoover Dam
The Hoover Dam is a historical site about 45 minutes from Las Vegas. It is a structural engineering achievement of the highest magnitude and a renowned tourist attraction bringing thousands of tourists annually. Many architects and engineers say the Hoover Dam is still the best dam constructed.
You can take a self-guided or professionally guided tour of the Hoover Dam. If you choose the latter, you can take advantage of the roundtrip transportation from Las Vegas to the Hoover Dam and then back again. Furthermore, the tour guide will teach you about the cultural evolution of the dam and why its construction was a historical achievement.
The Hoover Dam stands as a testament to human brilliance and determination, drawing visitors from around the world to witness its awe-inspiring splendor. With its colossal concrete arch and the vast reservoir it creates, the dam remains an enduring symbol of American ingenuity and progress.
The High Roller
The High Roller is a record-breaking 550-foot tall observation wheel located at the LINQ Hotel on the Las Vegas Strip. It is noted as the tallest observation wheel in the world, making it a popular attraction amongst tourists visiting Las Vegas. Fortunately, you won't see many large crowds of tourists in January, so you shouldn't need to wait long to access the ride.
You will enjoy riding the High Roller in January. After you step inside a sizeable 360-degree cabin with glass windows, you will reach the top of the 550-foot tall wheel within 15 minutes. Then you will have picturesque views of the Las Vegas Strip and its beautiful buildings and neon lights. Each cabin is spacious enough to hold 28 people, so you may enjoy extra room if fewer people are there.
Visit the Las Vegas Sign
Every traveler to Las Vegas should visit the famous "Welcome to Fabulous Las Vegas, Nevada" sign at least once in their lifetime. Millions of people pass by this iconic landmark of the city each year. It has been featured in countless movies and television shows too.
The "Welcome to Fabulous Las Vegas, Nevada" sign holds a special place in the hearts of both locals and visitors alike. Its iconic status is a testament to the city's vibrant energy and allure. As you approach the sign, you can't help but feel a sense of excitement, knowing that you're about to capture a piece of Las Vegas history.
Tourists are free to stop by the sign and walk up to it. You can take pictures of yourself or your friends or family standing next to the sign. And if you're lucky, you may encounter one or more Elvis impersonators who also like to visit this spot. Then you can take pictures with the impersonators and share them with your friends on social media. How awesome would that be to do?
Neon Museum
The Neon Museum is an extensive collection of classic and iconic neon signs from historic Las Vegas hotels and venues. These signs were collected and saved before the older hotels and casinos were torn down. Now you can see all these neon signs gathered in one location at the Neon Museum.
The best time to visit the museum is at night because you'll get to see many of the neon signs lit up brightly. There is even a 25-minute show where light is projected onto the older non-working neon lights. You won't want to miss it.
Conclusion
Now you can see why Las Vegas is still a fun travel destination in January. Even if you arrive after the New Year's holiday celebration on the first of the month, you can still find plenty of other memorable shows and activities to enjoy on different days in January. Just make sure you plan your travel itinerary in advance to secure your tickets and reservations.