The Pros and Cons of a Bespoke Wooden Staircase
Posted on
Is your staircase starting to look a little tired and outdated?
While there are various options to choose from – including glass staircases which provide a contemporary look and feel – one trend that never seems to go out of fashion is the timeless elegance of a bespoke wooden staircase.
A reputable staircase manufacturer will help you navigate the myriad of options available, ensuring you find the perfect fit for your home.
However, to give you an insight, we thought we'd share some of the pros and cons of designing a flight of wooden stairs.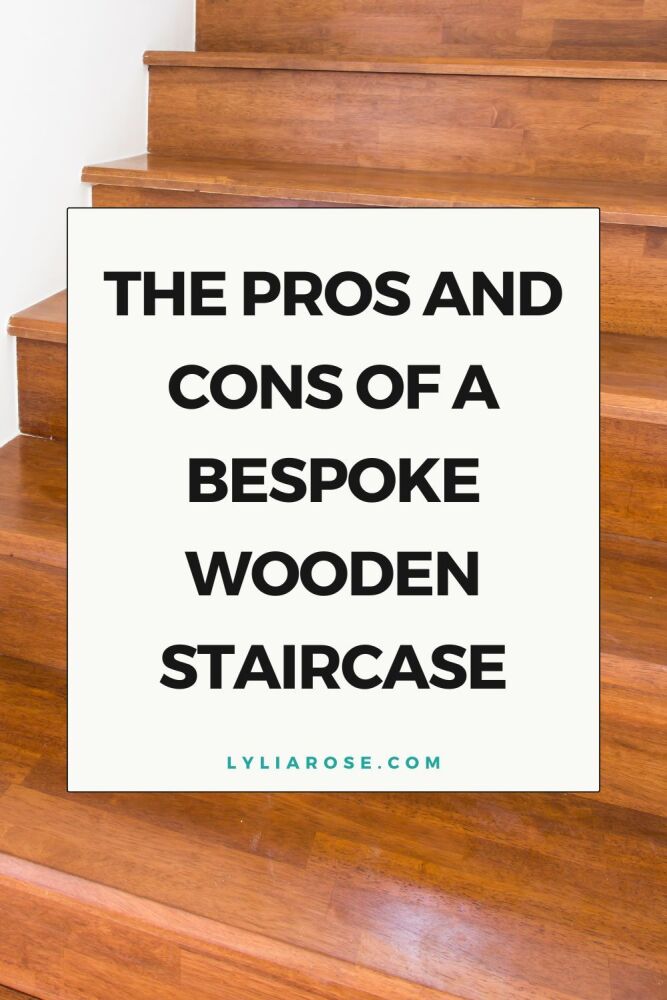 Pros of bespoke wooden staircases
Wood is a versatile material
Unlike other materials, wood is naturally versatile – meaning craftsmen can tailor the design of your staircase to suit your exact requirements and the architectural needs of your space.
Wood is also available in a choice of grains, colours and textures, which allows you to customise your design to match your ornate or minimalist taste and create a truly unique feature for your home.
Wooden staircases are resilient
Boasting inherent strength and durability, wood is an incredibly resilient material that's perfect for areas that receive lots of foot traffic every day, such as the stairs.
An experienced staircase manufacturer will make sure that your unique wooden staircase is constructed from only the highest quality materials, maintaining its stunning looks while offering years of reliable service.
A bespoke wooden staircase can add value to your home
Wooden stairs rarely go out of style – offering timeless appeal for your property.
Provided it's well maintained and made from only the finest quality stair parts, a bespoke wooden staircase can enhance your property's value should you decide to put it on the market. And in most cases, prospective buyers will appreciate the charm a wooden staircase can bring and be willing to pay more.
Wooden stairs can complement virtually any interior style
One of the reasons why homeowners and staircase manufacturers love wooden staircases is that they provide a warm and cosy feel.
Whether you've opted for a traditional, country-like décor or a sleek, modern interior, installing a bespoke wooden staircase is sure to make the perfect statement – instantly captivating the attention of visitors.
Cons of bespoke wooden staircases
A bespoke staircase is more expensive than a standard one
Due to the additional craftsmanship and time it takes to design, manufacture and install them, bespoke wooden staircases typically cost more than standard structures.
However, you can trust that they're made from top-quality wood, so will last longer and reduce the need for frequent repairs. Staircase manufacturers work to meet your budget – no matter how strict it may be.
Wooden stairs require a lot of upkeep
To keep your brand-new staircase in tip-top condition for as long as possible, you need to take the time to maintain it.
Luckily, all it takes is simple things, such as sweeping each step with a brush or vacuuming. And using a cloth to remove any dirt, dust and debris from between the spindles and around the bannister.
Wooden staircases aren't suitable for homes with high moisture levels
Unfortunately, designing your own wooden staircase is not a good idea if your home is exposed to high levels of moisture. This is because the humidity in the air and damp conditions can affect the strength of the wood and cause it to expand.
But moisture isn't as much of an issue in the UK as it is in other countries with hotter climates.
Is a bespoke wooden staircase right for you?
If you're debating whether to opt for a bespoke wooden staircase, it's worth considering the following factors:
Budget – how much can you afford to realistically spend? Informing staircase manufacturers of your maximum budget will prevent you from overspending.

Design – how do you want your new staircase to look? Your new design should match the style and aesthetic of your property perfectly.

Location – do you live in an area that endures high moisture conditions? If so, wooden stair parts may warp, so perhaps an alternative material would be better.

Maintenance – are you prepared to care for your wooden stairs properly? If you're to keep it looking its best from all angles, you need to look after it.
If you're still unsure or you'd like to know more about bespoke wooden staircases before you make your decision, be sure to get in touch with a trustworthy staircase manufacturer, such as Abbott-Wade, today.