Webull Free Stocks Promo: Unlock Free Shares with My Referral Link
Posted on
Imagine kickstarting your investment journey with the potential to earn up to $1000s in free shares, for UK users too! It's not a dream—it's a reality with the incredible Webull free stocks promotion for new customers.
By using my Webull referral link, you have the opportunity to claim multiple free shares, each valued between $3 and $2000.
Whether you're a seasoned investor or just starting, this promotion is too good to pass up. For a few moments of your time and your first investment of ANY amount on Webull, you could bag yourself stocks worth $1000s if you are super lucky!
I recently took part in this offer and now I'm sharing it with you, so you can have a chance to get some free money too!
In this article, we'll dive into the details of Webull's generous offer and how you can make the most of it. I'll share my experience of completing this offer too, with instructions explaining exactly what I did.
Let's begin your wealth-building journey together!
(Please note, this offer changes regularly, I'll update the page as quick as I can. The latest campaign will run from 10:00 AM on November 15, 2023, to 11:59 PM on November 30, 2023.)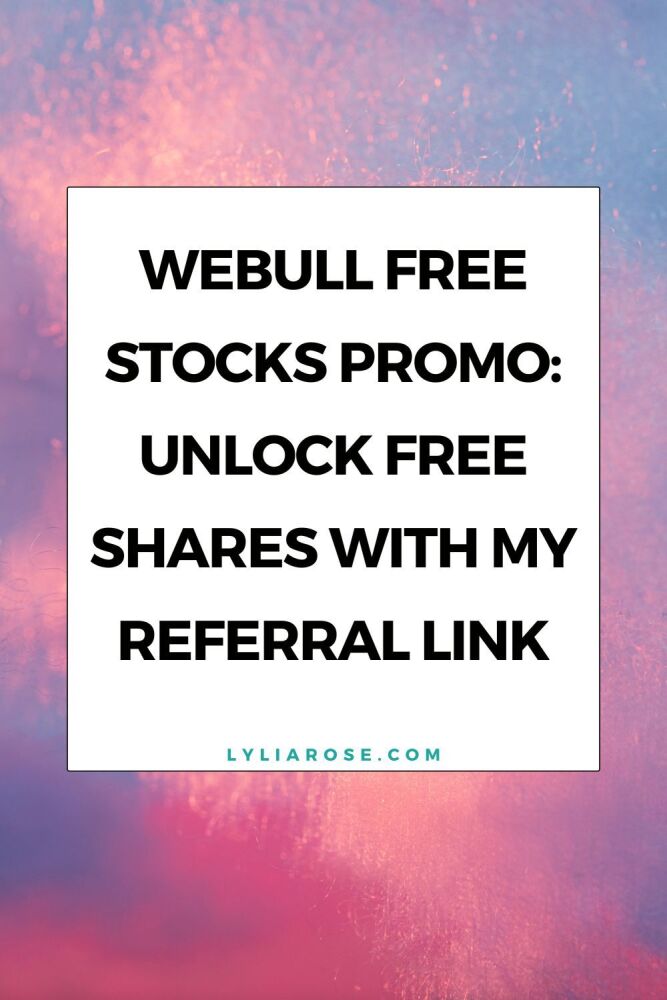 Webull Free Stocks Offer: Free Fractional Shares Worth up to $2000 each
Signing up as a new customer on the Webull app using this exclusive Webull referral link unlocks the opportunity to claim multiple free shares!
These shares are distributed at random, with the lowest value share being $3 and the highest reaching up to $2000 each.
It's an amazing free share offer and I'll share my experience below of taking part in their previous offer where I got four shares for free! Offers since have given away even more shares, with the a recent offer giving 20 free shares to new users! Wow!
Just here for the Webull referral link? Click here for the latest Webull free stocks offer!
How to get free shares from Webull as a new customer
Here's what happened when I signed up via my mobile to the Webull UK app using a referral link, and how you can sign up too.
1. First, click the offer link to qualify for the free shares and open an account
Full details of the current free shares offer will be displayed. Click "sign up" if you are happy to proceed.

Enter your mobile number and verify.

Choose a password.

Click "Get free shares on Webull app now" to be taken to the app. Download and open the app.

Login with your mobile number and the password you just set up.

Click "Apply for an account" and follow the steps to open your Webull account and verify your ID.

Your application has been sent to open an account and you will receive an email and in-app message once it has been successful.

The offer on 15th November 2023. Subject to change!
Things to note about signing up as a new customer with Webull
I had issues when trying to access the driving licence verification screen. It kept saying it needed access to my camera, but I'd already approved this. I checked Webull had access to my camera and my browser also, both did. It just wouldn't load the page, so I turned my phone off and on, and then it worked.
Account opening isn't instant. Mine took around one hour to be approved.
If you are completing this in the UK then you will need the following forms of ID to open your account:
National Insurance Number

Proof of Address (I uploaded a PDF bank statement from my banking app)

Form of Identification (I uploaded my driving licence)
2. Complete the promotional requirements to qualify for the free Webull stocks
Once your account is open, you'll need to follow the current promotional requirements to qualify for the free shares.
When you click my exclusive Webull promo link, you will be told of the current offer, terms and how to qualify for the free shares.
Their promotion does sometimes change, so do check what it says at the time you are completing the offer. I will do my best to update this post as quickly as possible whenever I know the offer has changed, but please bear with me. You can see the current offer details yourself when you click the exclusive referral link and all the terms and requirements for any free shares.
When I signed up the offer was for up to four shares for free, each worth between $3 and $2000. To qualify for the first two, I simply had to open the account and deposit any amount into my account. I deposited £5.
Then I had to complete at least one course in the "Learn" section of the app. If you have to complete one course in the "Learn" section to release your first two free shares, simply go to "Feeds" and then to "Learn". Some of the referral offers since have not required this step, so check the info on the Webull referral link to see what you need to do. I was also messaged on the app and told what to do. Their customer service was also very responsive if I asked questions. In many of their recent referral promotions, this second step no longer has to be completed! Their new offers looks much easier to complete and seem to be awarding free fractional shares just for opening an account and depositing any amount. Amazing and even easier for you!
To get the next two free shares, I had to make at least one trade on the Webull platform within 30 days of my initial deposit. Again, you might not need to do this step either! The offer keeps changing and they seem to be making it easier to get free fractional shares. Check the link and follow the requirements of the latest active offer.
I bought a fractional share in Apple worth $6.11 (my £5 deposit converted).
How to trade on Webull
If you need to trade then it's not so obvious how to trade! So, here are some instructions on how to trade in the Webull app:
To deposit into your account go to "Webull logo" (in the centre), "Transfers" and "Deposit".

Then, convert your GBP deposit into USD by clicking the "WeBull" logo (bottom centre), then "Transfers", then click "Currency Exchange" and convert your GBP to USD.

Next, to trade, click "Markets", and choose a stock to purchase. I scrolled down and chose Apple. Once you've found something, click "Trade", then "Buy".

Change "Order Type" to Market.

Change "Amount in" to USD. Click the small blue box next to "Amount in".

Enter the amount in USD you wish to buy.

Click "Buy"
Things to note about completing the free stocks offer with Webull:
You must deposit from an account in your name only, not a joint account.
If you need to trade then you can buy shares only during the US market's operational hours, which are from 2:30 PM to 9 PM (UK time).
Deposits can be made through either the mobile app or the desktop website for your convenience.
I find the app a little clunky, with lots of back and forth and not so obvious what to do with the offer at first, but they have very fast customer service via the app messaging.
Also, by clicking around the app you can quickly find the offer and messages in your account telling you what to do.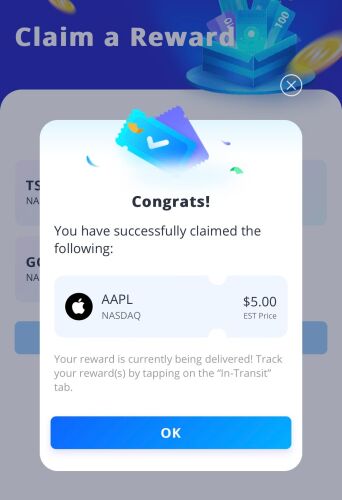 One of my free fractional shares!
When will I get my free stocks on Webull?
According to their help page: "A free stock arrives 5 business days after your deposit has cleared."
After around 20 minutes of completing all the requirements, I received two Apple shares worth $5 each! But they can take longer.
To find your free shares go to "Menu" and "My Rewards".
My first two free stocks were under "To be claimed" in the "My rewards" section after 20 minutes or so of completing the requirements.
You'll then be able to see the date and time that your free shares will clear into your account.
You can withdraw your shares once the designated time has passed. At that point, you have the option to sell your available shares and transfer the funds, including your initial deposit, back to your bank account.
What happened when I sold my free Webull stocks and how to withdraw
With some of the offers you may wish to leave your Webull investments for 30 days to get all the free stocks. Check the offer details when you complete the offer.
When you click my exclusive Webull referral link, you will be told of the current offer, terms and how to qualify for the free shares and if you need to leave the shares for 30 days or another duration.
When I took part, there were four free stocks and I wasn't required to leave mine invested for any set time period, so I withdrew them after a week or so.
First, I sold the shares. But I couldn't withdraw immediately.
The funds take a while to settle. I've read it can take four days, but mine took two days.
I was able to tell by going to the transfer section to see how much USD ($) I had available to transfer. At first there was nothing, but after two days it showed a balance.
I transferred the $USD back to £GBP and then I was able to use the withdraw section to transfer the £GBP balance back to my original account (the one I used for my original deposit of £5).
The Webull withdrawal was instant, however. I checked my bank account a few minutes later and the funds were there. Amazing!
Get more free stocks with the Webull referral scheme
Webull has an amazing refer-a-friend programme. Once you are signed up, you can find your own refer a friend link to share with others in the app.
At the time of writing, you can currently refer up to 10 friends, allowing each friend to get the current promotion of up to four free shares. But the offers regularly change. So check the app for the latest offer.
Plus, for referring a friend, you can get another free share worth from $3 to $2000. As you can refer up to 10 friends, that's a chance to get an additional $20,000 in free stocks. Wow!
Sign up to Webull here to get started!
When I signed up, I got four free shares, but they regularly have offers for even more!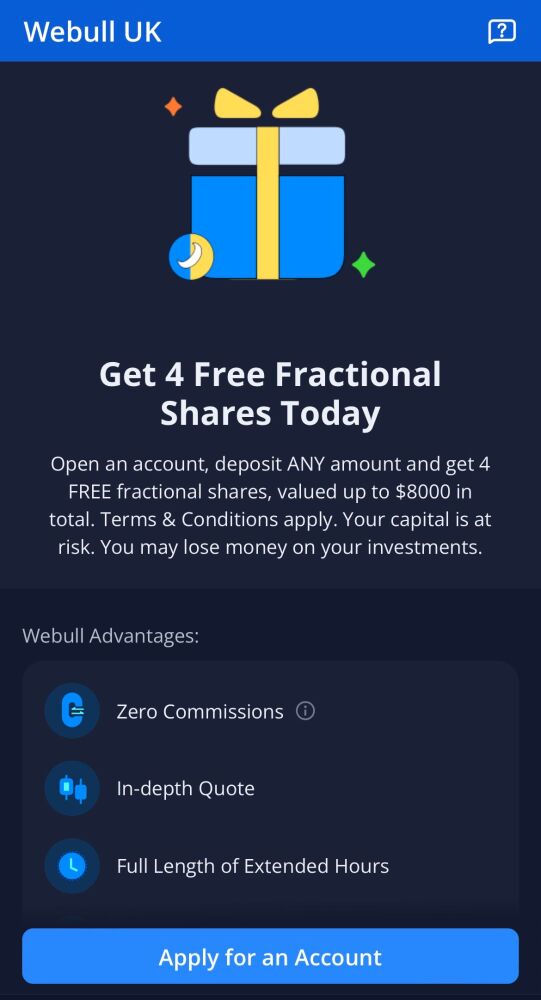 The offer I had when I signed up!
Final word on the Webull free stocks promo
In conclusion, the Webull free stocks promotion is a fantastic opportunity to kickstart your investment journey and potentially earn substantial rewards. By using my exclusive Webull referral link, you can secure free fractional shares.
I recently took advantage of this offer and wanted to share it with you, so you too can seize the chance to boost your finances.
Remember, even if you're new to investing, this promotion makes it easy and rewarding to begin. With just a few minutes of your time and a minimal initial investment, you could potentially receive stocks worth up to thousands, if luck is on your side. If not, you're still guaranteed a small gain if the lowest stocks from the offer are awarded.
So, why wait? Start your wealth-building journey today with Webull's free stocks promo. Don't miss out on this opportunity to grow your investments and financial future.
Click my exclusive link to get started now!
Happy investing and good luck with the value of your free stocks and shares!
Before you go…
Love these types of offers? I share loads more like this in my free money offers list for the UK and beyond.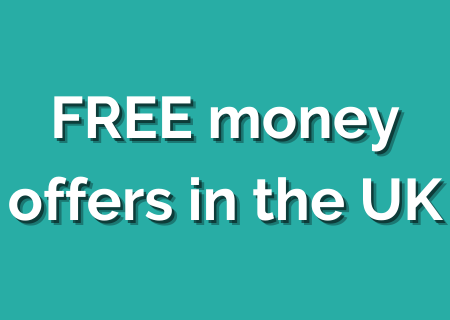 Disclaimer:
The information provided in this article is for informational purposes only and should not be considered financial or investment advice. Investing in stocks and securities carries inherent risks, and the value of investments can fluctuate. It is important to conduct your own research and consider your financial situation and risk tolerance before making any investment decisions.
The Webull free stocks promotion mentioned in this article is subject to change, and the terms and conditions may vary. Be sure to review the latest terms and requirements on the official Webull website before participating.
The author of this article is not a financial advisor and does not endorse or promote any specific investment or trading platform. Any investments made based on the information provided in this article are at your own discretion and risk. Always invest responsibly and within your means.
Screenshots from my Webull app at the time I completed the offer.