Green goodness smoothie recipe with Nutriseed
Posted on
My favourite natural, healthy and wholefood ingredients company, Nutriseed, recently sent me a box of loveliness (thank you), which included a pack of Total Greens powder which is perfect for adding to a green smoothie.
This superfood powder contains a whopping eight body loving ingredients; Wheatgrass, Green Tea leaf, Ashwagandha, Hemp Seeds, Flax Seeds, Chia Seeds, Maca and Spirulina. Super amazing goodness packed into one fabulous pouch.
I just love the convenience of mixed powders like these. It saves me so much time. Instead of scooping out the individual ingredients from all my jars, I can just grab one scoop of this and be done! Fab if you're on the go (work, mum, busy social life, etc) and you want to make a green smoothie as quickly as possible. Just grab a couple of pieces of fresh fruit/veg and a handful of salad leaves (spinach and kale work best), add a scoop of Nutriseed Total Greens, top of with water, hit blend and you're done. It takes me only a couple of minutes to chop this and whizz it up in my Nutri Ninja! No excuses.
This mix is gluten free, full of vitamins and minerals, rich in anti oxidants, good for you, vegan and vegetarian, high in fibre, quick and easy to use, convenient, and did I already mention super duper good for you?!
Since receiving this powder I've been making a similar concoction to the below recipe almost every other day for my breakfast. It's a super delicious feel good start to the day.
If you haven't visited Nutriseed yet, it's a must. I buy lots of smoothie ingredients and more from them.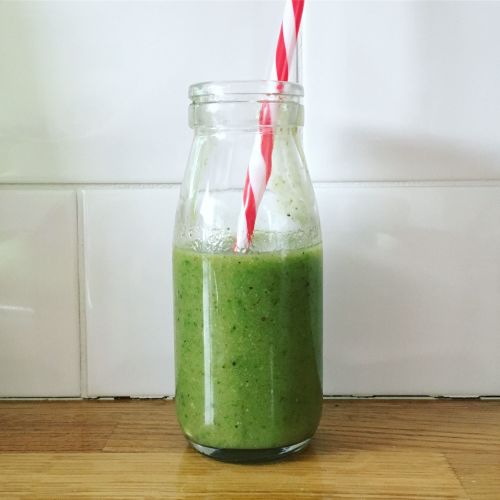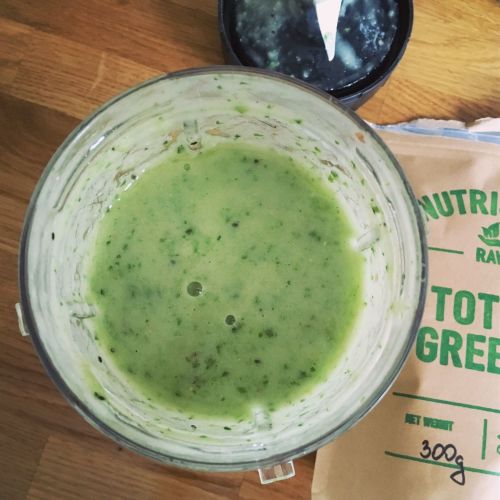 My Nutriseed Total Greens smoothie recipe
Handful of kale
Banana
Chunk of cucumber
Apple
Pear
Kiwi
1 scoop of Nutriseed Total Greens
Water (enough to just cover all ingredients in the cup)
Method: Chuck it all in your Nutri Ninja (or similar) and blend until smooth! YUM!