Garden privacy ideas
Posted on
Need more privacy in your garden? Check out our extensive list of garden privacy ideas for easy ideas of what to do!
Garden lacking privacy? Here's what you need to do!
There are a million and one reasons why you might want a little more privacy in your garden. You might have nosy neighbours or live on a busy street where every passerby is free to see your outside space. You might have security concerns, either from potential burglars or for your young children. You might be a private person and simply don't want everyone seeing and hearing your conversations! Or, you might just crave a little shade from the beating summer sun if you live in a hot climate.
Whatever your reasons, adding some basic privacy to your garden seems like a big task. But if you can set aside some time - and a little money - it is straightforward enough to make a start on creating the private garden of your dreams. Here are some garden privacy ideas to get you started.
In this blog post we will explore the following garden ideas for privacy in more detail:
How to get privacy in your garden (our own experience)
Create a bamboo hedge for a fast growing garden privacy solutions
Grow trees and position sheds along the edge of the garden
Add trees in the middle of the garden to block the view from upstairs neighbours windows
Add a front garden hedge for privacy
Create a sheltered seating nook on the back of the house
DIY wooden garden screening to create private areas
Keep hot tubs out of sight
Add climbing trellis plants to fences
Things to consider when creating privacy in your garden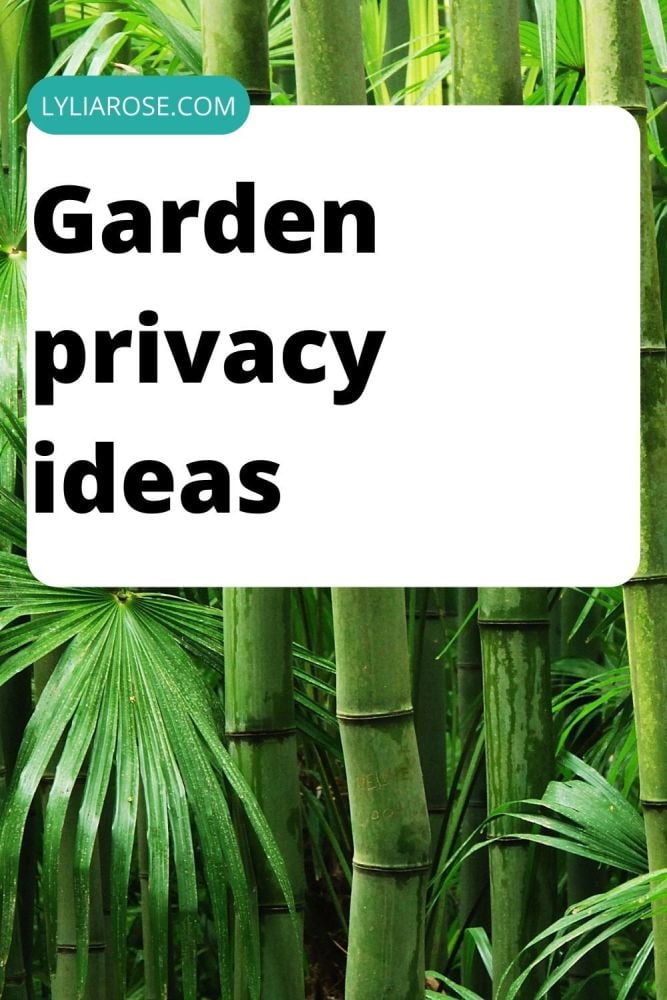 How to get privacy in your garden (our own experience)
Privacy in our home and garden is really important to us. I don't want to feel like the neighbours can hear us or see us all the time and being more of an introvert, I'm not always up for socialising or making small talk. We don't want to feel overlooked or that people are peeping at us while we enjoy our own space. Therefore, creating a safe and private outdoor haven was really important to us in both the houses we have owned. I will share some of our own ideas and photos in this blog post so you can have an idea of how to block out the visibility of your private seating and garden socialising areas and how to block out sound.
Create a bamboo hedge for a fast growing garden privacy solutions
Bamboo is well-known for growing fast and spreading, making it the perfect plant to choose when creating a privacy hedge quickly. There are a couple of types of bamboo plants, those that cluster and those that can be quite invasive and spread through the ground, often seen as a pest of a plant by many people. To combat this, we built raised wooden planters alongside the fence with a base half way up each planter, rather than filling with soil to the ground. We then bought established 5-6 foot bamboo plants to line the planters. We spaced each one out around two foot, but due to their fast growth, the gaps are nearly filled in with new bamboo shoots and growth in only half a year! Within a year we should have a nice bushy bamboo hedge, with ground spread contained and controlled within the planters. This bamboo hedge will give us sound privacy, visual privacy and will line the edge of our garden with a beautiful green screen perfect for wildlife. Already we've had black-winged damselflies and small wild birds perching on the bamboo. Bamboo grows considerably tall, but it can be controlled by cutting off the height each year. We love golden bamboo and black stemmed bamboo.
Grow trees and position sheds along the edge of the garden
While having a six foot fence does provide some privacy in the garden, it's not always enough to block out conversations or to make you feel completely unseen. This has been true in both our gardens, especially when we had a neighbour that liked to pop his head over the fence whenever he felt like it. Luckily we weren't into sunbathing without our clothes on or he would have had quite a surprise! But it always made me think, what if we did want to do this and we should have been able to in our own private garden without the worry of a neighbour being able to see us! To combat the neighbours who like to peek over the garden fence and don't respect your privacy in your own garden and home, you can grow trees and position sheds cleverly alongside the fence. Smaller trees are cheaper to buy, but they can take several years to grow, so if you want a faster solution, buy mature trees that already have some height to give them a headstart. We purchased Victoria Plum trees before and they grey so quickly, they just shot up! They're a great idea if you're looking for easy to grow fruit trees in the UK. If you are planning on putting sheds in your garden, then cleverly position them near the fences and they will instantly give privacy in these areas. Just make sure you build them at least one foot away from the boundary, or whatever your local boundary laws or land deeds state.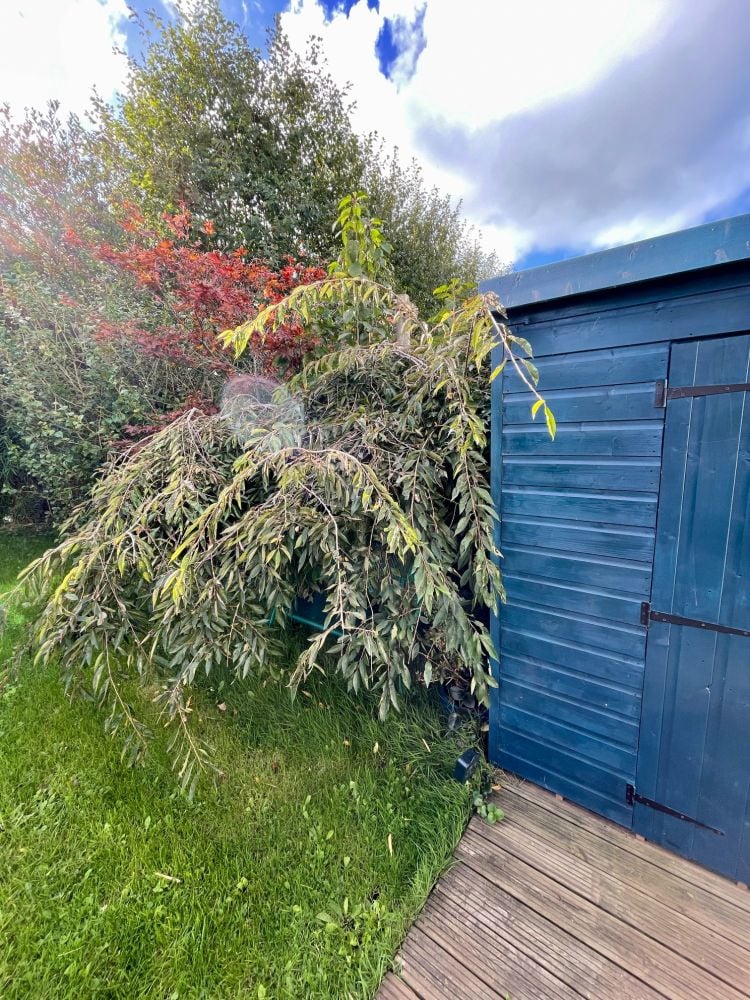 Add trees in the middle of the garden to block the view from upstairs neighbours windows
Some strategically placed trees in the middle of the garden can help to block neighbours views of you from their upstairs windows. Let these trees grow bushy and large to conceal seating areas you place further down the garden. Topiary trees that you let grow are great for this as their leaves and branches are so compact, they don't have gaps to see through and so completely block the view of any nosy nieghbours, so you can enjoy your garden without feeling watched.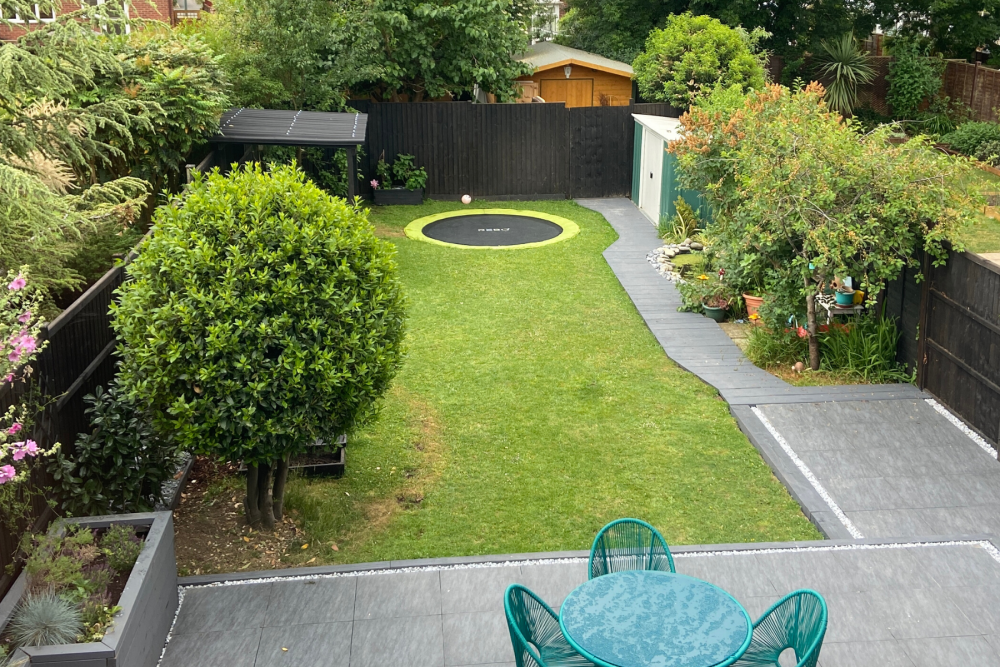 Add a front garden hedge for privacy
If you don't have much of a driveway, or no driveway at all, and your house is directly on the pavement then you could feel like every passerby looks through your front windows and sees you! This is certainly how I felt at our old house and put up some voile blinds to stop people from seeing me! Luckily at our new home, we have a small front garden which is perfect for a privacy hedge! The trick here is to choose an evergreen hedge, such as the popular Cherry Laurel, which doesn't lose its leaves in winter so you have privacy all year long. Then, let it grow to around adult height to ensure people can't see through the windows. This does block out some light to the inside of the house, especially if your front garden is very small, so you can keep it lower if needed. Test by sitting on your sofa, if your living room is at the front of the house, and seeing how high the hedge needs to be so no one can see you. One thing to note, some houses have restrictive covenants preventing hedges from being grown at the front of the house. While these covenants may be outdated, it's best to check with your neighbours first that they don't mind you planting a hedge at the front of your property.
Some faster growing hedges for privacy include:
Flame Amur Maple

English Laurel / Cherry Laurel

Schip Laurel

Portuguese Laurel

Griselinia

Beech

Photinia / Red Robin

Privet

Western Red Cedar
Other front garden ideas for privacy include:
Wooden fencing

(check for height restrctions as there may be a maximum 4 foot rule for the front of the house)

Brick wall

Cornish wall

Bushes

Gate

Picket fence

Metal fence

Rockery

Tall grasses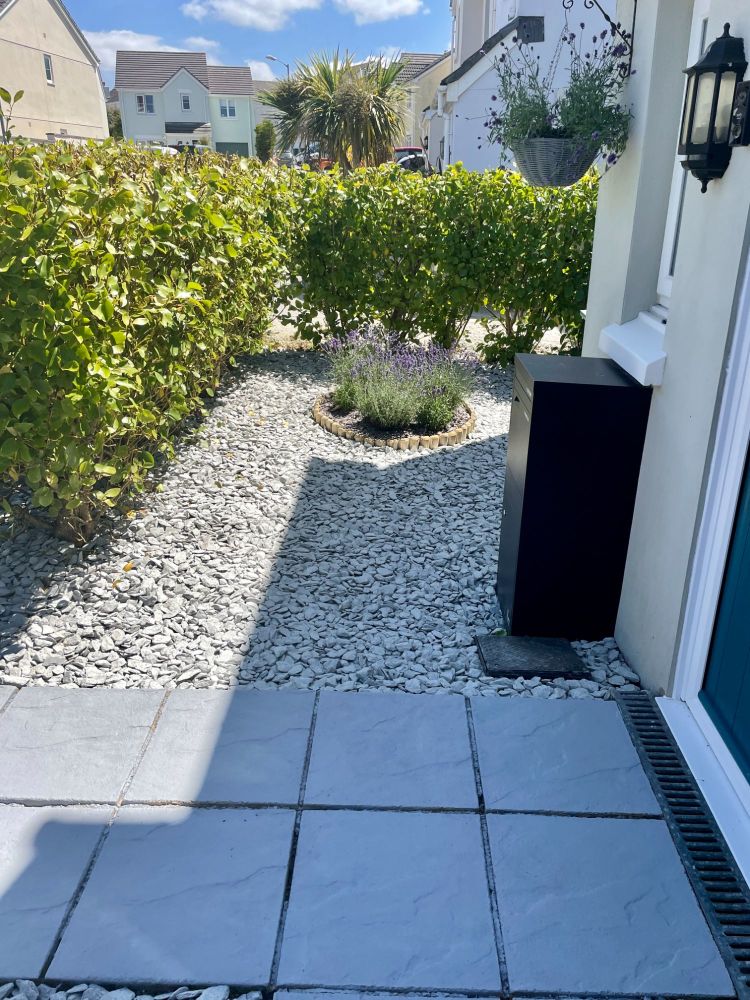 Create a sheltered seating nook on the back of the house
In both our owned homes with gardens, we have created a sheltered seating area for complete privacy and other reasons too. We have built wooden verandas with a side screen to create a private seating nook that almost feels like an extra room to the house, only outdoors. By creating a roof we are sheltered from the elements and can use this space all year, it also protects our patio furniture from the rain and means we don't have to take the cushions off when the weather turns. The addition of a DIY wooden panel to one side really adds to the creation of a seating space that feels less seen by the neighbours and less heard. Some ideas to make this space even more private include growing evergreen climbers like passion flowers on the side trellis and the veranda frame itself (this will also encourage bees into the garden), adding patio furniture with cushions to absorb sound like the comfortable cushioned garden seating available from Skyline Design, and adding large potted plants, trees or tall grasses to the outer corners and edges.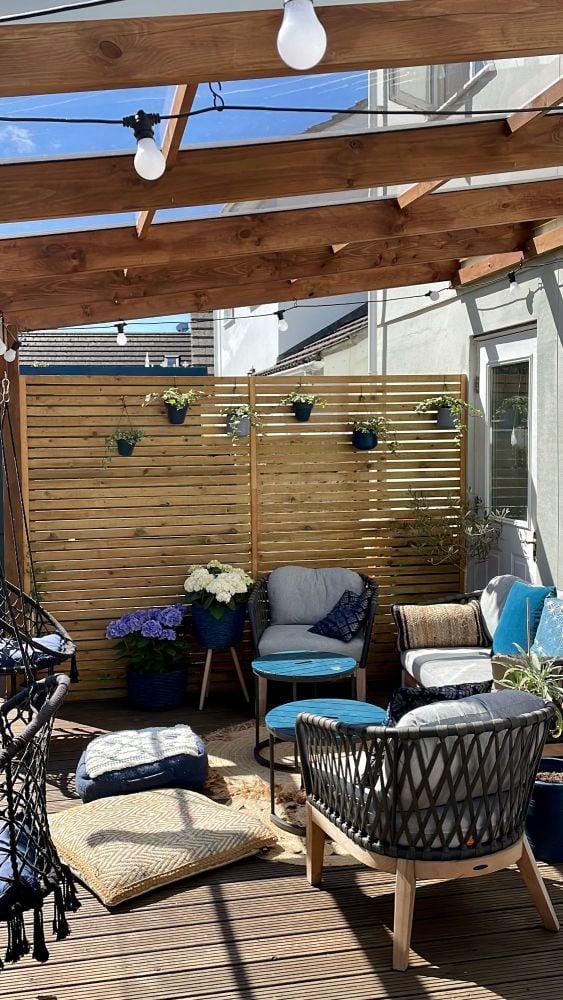 DIY wooden garden screening to create private areas
On both the wooden verandas we have so far created, we made our own DIY wooden slatted screening to make them more private. This looks much nicer than an actual fence and we were able to custom-make it to the exact size we needed. We simply added large wooden posts and then screwed in long slatted style strips of wood from a local timber yard to create a privacy screen. On another veranda, we used large reclaimed planks instead of buying slats and then painted them with fence paint. This screening makes us want to spend more time in the garden as we can sit and have private conversations without feeling overlooked or heard.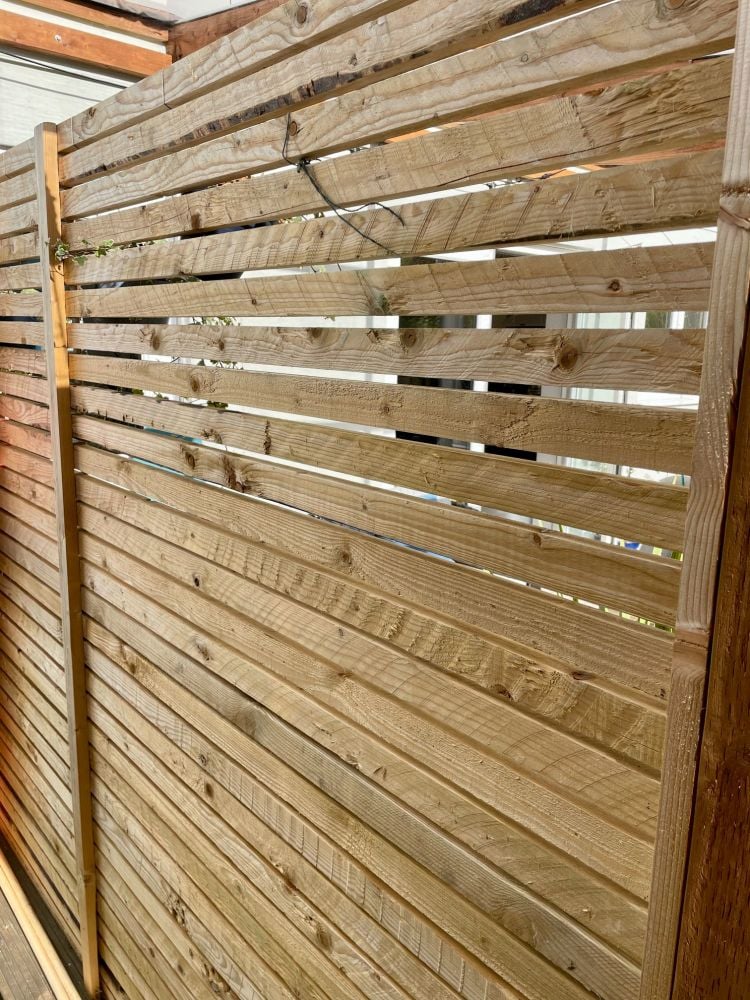 Keep hot tubs out of sight
If you are lucky enough to own a garden hot tub, then this is definitely an area you will want some privacy in as you'll be wearing your bathing suit to use! A corner spot at the back of the house can be a great place for your hot tub if you don't have neighbours overlooking you from the back of the garden, or if you do, you could create a roofed veranda with a solid colour roofing to make a private and unseen area for your hot tub.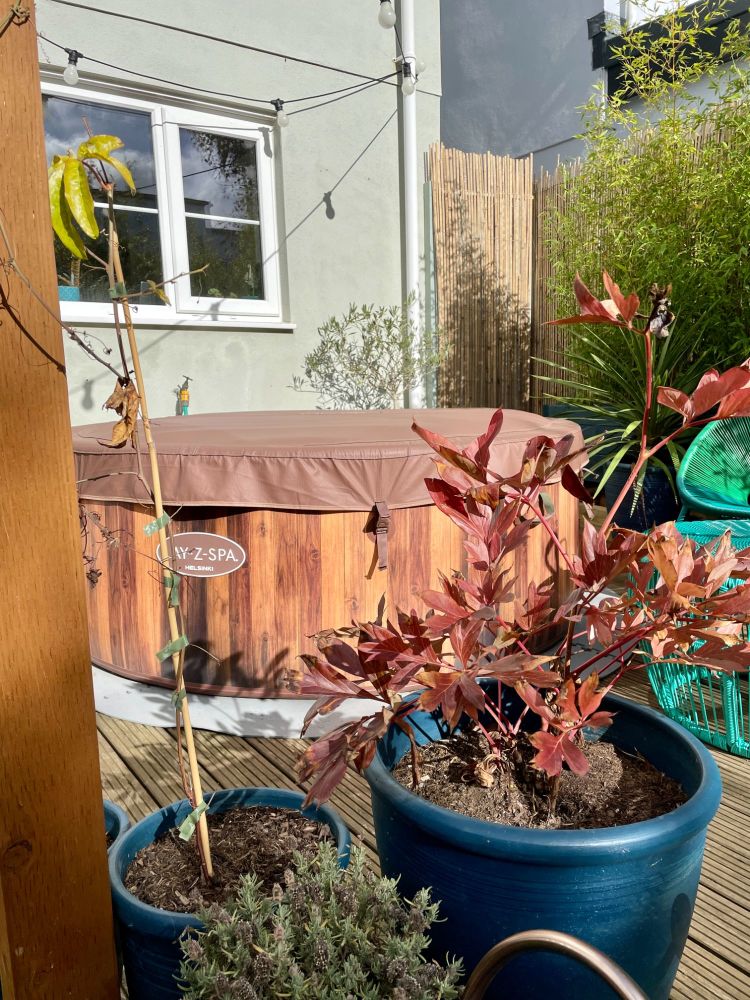 Add climbing trellis plants to fences
Another great way to add a thicker barrier between gardens than a simple garden fence, is to add trellis and climbing plants such as clematis or ivy to create a living wall. Not only can you do this on the sides of the garden, but you could use this idea to create living screens within the garden to section private areas off. If the fence height between you and your neighbour is not tall enough, then you could add some trellis to the top part of the fence too with climbing plants.
Things to consider when creating privacy in your garden
Unfortunately, you can't always do exactly what you want in your garden. Although you may have many ideas for garden privacy, there may be some rules to think about, and neighbourly etiquette. Here are some things to consider.
Restrictions on boundary fence height: in most places, there are restrictions on the maximum height of a boundary fence that divides two properties' back gardens. Often this is 6 foot maximum from the floor. Fencing is expensive so make sure you check the rules first with your local authority and by checking your deeds in case there are any restrictive covenants.

Talk to your neighbours: It's also advisable to discuss your plans with your neighbours. Like it or not, your new borders and fences could spoil their enjoyment of their gardens - and neighbourly fights over such matters are never pretty. If your new trees or bamboo is shading their garden then keep it cut to an agreeable height. Also, be aware that if your plants hang over into their garden, and technically onto their property, they may have the right to cut anything back that overhangs or grows onto their side.

Think about sunlight: The more you block out, the less sun exposure and daylight your garden will enjoy - which will have an impact on its appearance and your wellbeing. So, identify the areas of your garden that need plenty of light - and sketch out where the sun hits at various times of the year. Planting privacy trees can help as they can still allow the light to pass through.
Final word on garden privacy ideas
Privacy is a major concern in the garden. You don't want to feel like you are being watched or judged. You can utilise plants, fences and other simple ideas to create privacy barriers in your garden and update your garden on a budget. Hopefully this blog post has taught you some easy ways on how to get privacy in your garden, inspiring you to create your own private garden space so you can enjoy the outdoors a little more.
Don't forget to subscribe to our newsletter for the best free money offers, money-making and money-saving tips we discover!
Save