Bloomtown review + discount code
Posted on
I always get so excited when I discover a new natural skincare brand. Over the past five years I've totally overhauled my skincare and beauty regime to replace all nasty chemical laden products with natural earth friendly (and skin friendly) ones. It still amazes me how the HUGE companies can get away with putting so much unnecessary crap in their products. It's also so sad how bad it is for the environment.
This is why I get even more excited when I find a brand that truly cares and isn't just about mass producing the cheapest products possible to unknowing consumers in order to make the most profits. And I get even more excited (that's like super-duper excited now) when they offer to send me products to review! After browsing their website I really didn't need to hesitate. I was absolutely thrilled and delighted to be sent some 100% cruelty free, ethical, natural beauty products from Bloomtown to review on my blog.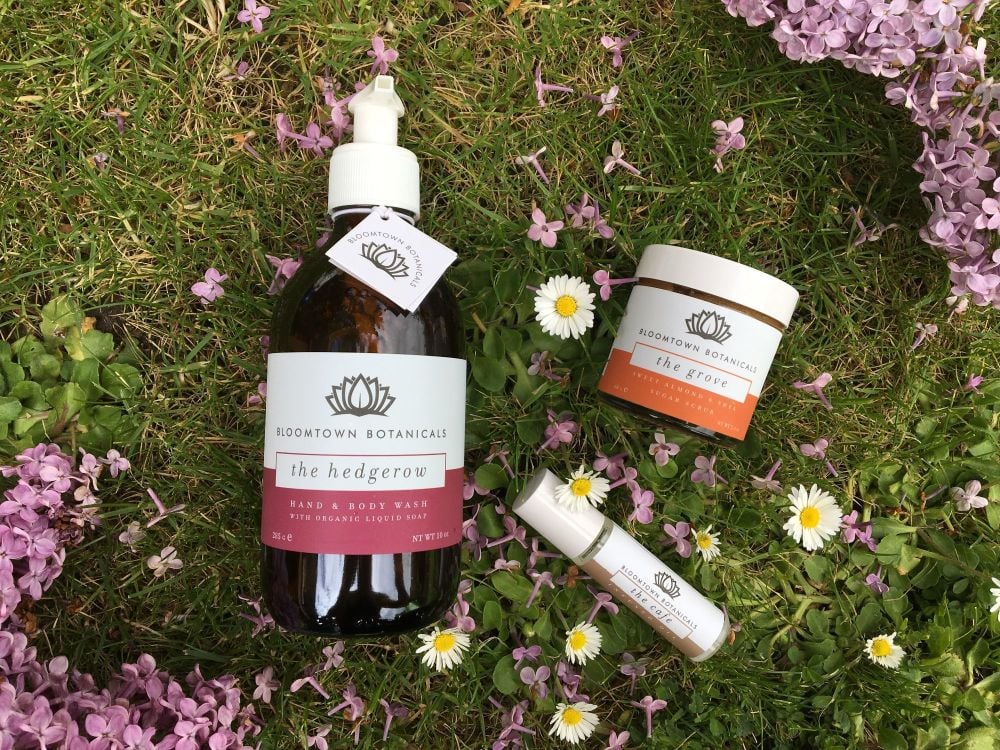 Who are Bloomtown?
Bloomtown are a multi award winning family business based in Cornwall, UK. After witnessing first-hand the destruction of rainforests, and the likelihood of the extinction of orangutans in the next 5-10 years due to our 'need' for palm oil, Preyanka and Medwin were inspired to launch their own 100% truly cruelty free products.
Many other companies disguise palm oil under other ingredient names, but Bloomtown products do not contain any ingredient which uses palm oil, making their products totally cruelty free. Bloomtown do not test on animals and refuse to sell their products in countries where products must be tested on animals.
Their products contain no nasties and instead they fill their range with only 'sustainable, ethically harvested ingredients.' Plus they also donate 10% of profits to environmental and animal charities!
Bloomtown Review
I'll admit when I first received my Bloomtown box my heart sunk a little as I opened it up. I spied bubble wrap and what I thought were those horrid polystyrene peanuts which I instantly thought were not very eco-friendly at all. Little did I know these were actually biodegradable packing peanuts and even biodegradable eco-friendly bubblewrap!
PHEW! Bloomtown wins again as they ONLY use recycled/recyclable packaging and biodegradable packing materials, thus reducing their impact on the environment yet again.
I was in awe of the products as soon as I fished them out of the box. . . I tapped each bottle and jar one by one. Ching-ching. 'Ben, that's glass isn't it? Ooooooh!' There's something ever so luxurious about glass bottled toiletries. They're way more elegant than plastic and therefore ideal for gift giving.
Here's what I've tried:
Exfoliating & Moisturising Sugar Scrub: The Grove (Blood Orange & Pink Grapefruit)
Organic Hand & Body Wash: The Hedgerow (Blackberry & Honeysuckle)
Roll-On Infused Oils: The Café (Vanilla & Hazelnut)
I am so impressed with all three products. The body wash is probably my favourite as I always love to find a satisfying smelling natural body wash that contains no yucky parabens or irritating detergents. It's been brightening up my showers each morning with its fruity sweet aroma. The body wash (which can also be used as a hand wash) is filled with skin nourishing coconut and olive oils. Scrumptious! And I keep forgetting to say. . . it's organic too.
As much as I bang on about how bad refined sugar is for you, I only mean when you ingest it, so I'm totally down with rubbing it all over your body in the form of an exfoliating sugar scrub. Yes please! The orange and grapefruit scent is delicious and if you don't agree it's the best sugar scrub you've ever tried, Bloomtown will give you your money back if you let them know within five days.
I'm loving roll on infused oils just now. I'm not sure how long they have been a thing, but I've only recently been introduced and this is my second experience. It's a good experience too! This scent is quite sickly sweet at first roll on, but tapers off to a light sweet mouth-watering scent which pleases me every time I catch a whiff. The small roll on bottles are perfectly hand bag sized and mine has been everywhere with me so far. It's a great little pick me up throughout the day. A little roll on each pulse point as the day begins to tire me and whoooosh I'm off again.
Bloomtown 20% OFF Discount Code
The very kind folk at Bloomtown have given me discount code LYLIA20 to share with you for a whopping 20% off your order!
Discover natural bodywash, soap,clay masks, bath oil, scrubs, lip balm, candles and plenty more at www.bloomtown.co.uk
GO GO GO!
Save
Save
Save
Save
Save
Save
Save