Make money from your blog with Awin affiliate marketing
Posted on
If you're looking to make money from your blog then read on for my Awin affiliate review. I just had my first official affiliate marketing pay-out from Awin, the affiliate network I use which gives me access to thousands of UK brands and global brands too, so it's time for a review of this blog monetizing method.
It's actually my second payment from Awin really, but the first was a little different. My first payment was £200 as I'd won a blog competition through them with Etsy! I'd signed up to their affiliate scheme through Awin UK and entered a competition they emailed about. I won and had £200 paid into my Awin account! This was over the payment threshold and paid into my account soon after.
It was a great start to making money from my blog with Awin and made me realise there are more ways to make money via Awin UK than just adding the affiliate links to my blog posts. It's also an opportunity to connect with the brands on the platform as an affiliate and to work more closely with many of them through reviews, giveaways and competitions.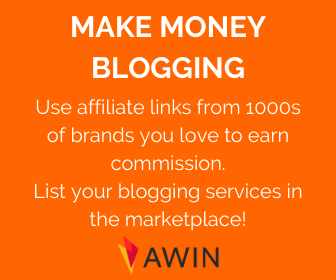 Making money blogging with Awin UK
So, anyway, this second payment is officially from affiliate marketing only - as in from the affiliate links I have added to my website! I was just paid over £25. The payment threshold on Awin is £20, so as soon as you reach £20 they'll send the money to your bank account on one of their bi-monthly payment dates.
I still have over £60 in my account too. Payments show in the Awin account but have to clear before they become payable.
The payment threshold is currently £20 so as soon as you reach this you'll be paid directly into your bank account. They do two payment runs a month so if you earn a lot then you'll never have to wait long to be paid.
I love the fact the payment threshold is only £20 and they send payments twice a month. The payment threshold is also combined, by which I mean it's from all the advertisers on their platform. So you don't have to earn £20 per advertiser, but could earn £5 from one, £5 from another and £10 from another and you'll get paid as you've hit a combined total of £20 which is the Awin minimum payout.
I think it's much easier to meet a payment threshold like this from a combination of advertisers, rather than just one.
Continuing to make money from Awin UK
I don't earn loads as I've not yet mastered affiliate marketing. I'm new to monetizing my blog this way and I have lots to learn, but I know it's a great way to make money from a website. It's something on my to do list and I really need to up my game.
The best thing about Awin is there are over 15500 brands on their books with lots of high paying affiliate programs. They all have their own terms and commissions, so you can earn for all of them in one place!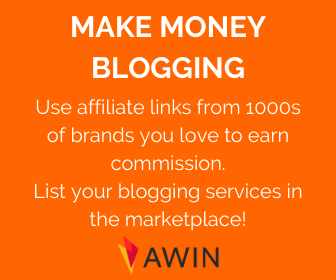 Sell your blog services on Awin Marketplace
Awin also have a marketplace where you can offer your other blog services, such as reviews and sponsored blog posts. You can list a description and price for each service.
I have also received a paid blog post thanks to the Awin Marketplace! A brand found me on their and contacted me directly.
Get affiliate links quickly + sign up to affiliate advertisers with the Awin browser extension
The best thing to install is the Awin browser extension. It's the easiest way to grab links to products or websites you're signed up to as an affiliate through them. You can also shorten links and share them directly to your social medias from the extension.
If you're on a website that you're an affiliate for then the browser extension logo highlights in green. You can easily find offers or grab a tracking link for the page you are on.
If you are not an affiliate then it highlights red and you have the option of requesting to join that brand's affiliate scheme right from the Awin extension.

Sign up to Awin and start monetizing your blog today!
Awin gives access to over 15500 brands, so there's sure to be loads that you use, love and want to promote on your blog.
When you sign up there is a £5 sign-up fee. I'm not entirely sure why they need this, but they do pay it back to you. It's added to your first pay-out and is visible in your account as soon as you are approved.
It might take a while to reach that first payout, like me, but if you're serious about monetizing your blog through affiliate marketing then I'd definitely recommend giving Awin a go.
Click here to start monetizing your blog with Awin

December 2019 update
I have now been using Awin for quite a while and I'm getting regular payments, usually on a monthly basis! Amazing! Keep an eye on my blogging tips section as I'll share my new Awin marketing strategy soon!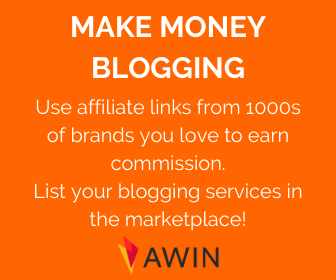 Helpful articles if you want to monetize your blog
List of websites to find paid blogging opportunities for your blog

Make money from your blog without Google ads
4 ways to find paid blog opportunities

How to improve your domain authority (DA)
Make money blogging with Get Blogged (even as a new blogger)
Make money blogging with Considerable Influence

Make money blogging with Press Loft
Make money blogging with Bloggers Required
6 secrets to make more money from your blog

6 handy tax tips for bloggers
All make money blogging blog posts

How I drive traffic to my blog
10 ways to make money blogging
Everything you need to stay organised and productive as a professional blogger
Is it really possible to make money blogging?
5 reasons to use Awin as a blogger
What is Awin?
Make money blogging with Encatena
More blogging advice
Loads of blogging tips
5 tips to overcome writer's block when blogging
Where to find free stock photos for blogs
Make Pinterest marketing a breeze with a free month trial of Tailwind app
Bloggers share the blogging advice you should ignore
Bloggers share their best photography tips
Bloggers share their favourite blogging quotes and mottos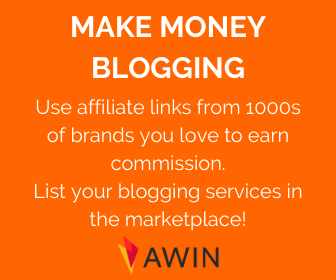 Please pin!