Save money in the home: DIY tips with blogger Ben of Wood Create
Posted on
It's been almost four years since we bought our first home together. It's been a labour of love as they say! Naively we thought we'd be done with a lick of paint and a bit of DIY within a few months. Roll on almost four years and we're still going! Nearly everything that was originally in our home has been changed. If it hasn't changed then you can bet it's on our list to be changed! From floors to ceilings, from a new kitchen to new bathroom, ripping our fireplaces and filling in ponds. You name it, we've done it. And we still have a list as long as our arms to get through.
We've even been talking about what to do when our five year fixed mortgage comes to an end. Shall we move house? The thought of starting all over again is enough to put me off! Our current home isn't quite big enough, we desperately could do with a second bathroom, be it an ensuite or downstairs loo, and so we're trying to think of ways we can remodel the house or add an extension to give us what we need without the expense and hassle of moving house!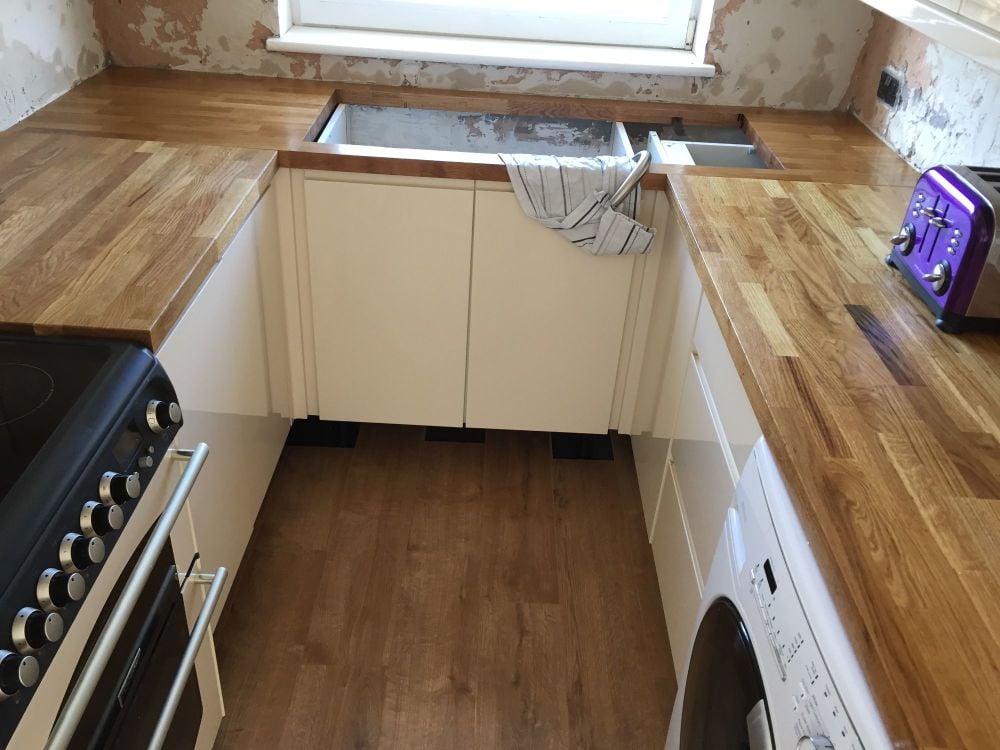 One thing we have been ever so lucky with is doing a lot of the work ourselves. We would not have achieved half of what we have so far by paying tradesmen as we'd not have been able to afford it all. Ben, my husband, is a keen DIYer and has been more than happy and willing to learn how to do nearly everything by himself. We did pay for someone to retile our bathroom and install the new bath, we also paid to have the old hideous fireplace ripped out and a log burner installed, but aside from that he's done the lot. We've laid flooring throughout (8 rooms), Ben installed our new kitchen, he's fitted our blinds, hung doors and even built a roofed veranda to the back of the house. Just building the veranda himself saved us at least £1500 based on a quote his brother got for the same style. We've both done so much in the garden such as filling in a he pond, taking out ginormous borders and trees, putting up fence panels and new sheds, building a chicken coop hotel.
We've definitely saved thousands of pounds by Ben doing most of the work and me helping where I can. It's been so tempting to call in builders or landscapers for a lot of the work, but the cost is just too high.
My hubby Ben, who blogs at Wood Create, has helped me come up with some top tips and advice to help save money around the home by Doing It Yourself: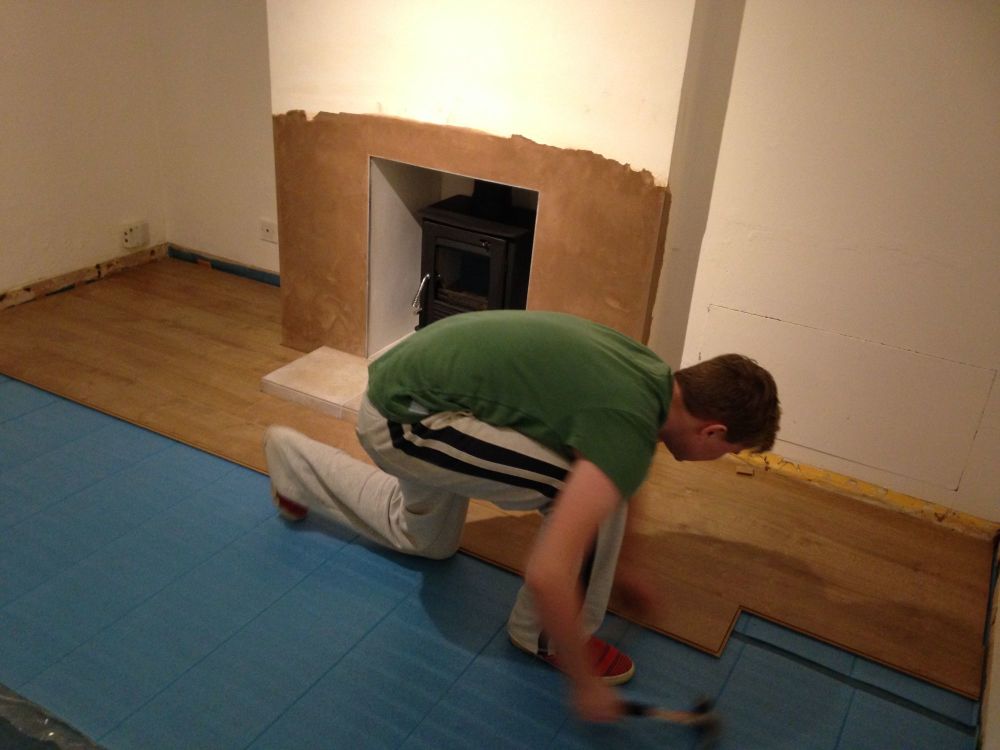 Buy your own tools
DIY and hardware stores often have really good sales. Don't buy the first tool you see, check how much it costs in all your local DIY stores. Ben has regularly saved around £20 per tool by shopping around and seeing which other brands are on offer. A great tip is to sign up for loyalty cards. We have a B&Q card that sends us vouchers such as £10 off a £50 spend which is a great saving and easily spent!
Tools are quite expensive if you don't have the ones you need, but they are sometimes going to work out cheaper than paying a tradesman to do the jobs. Work out how much the tools will cost you and whether you can learn to do a job yourself, then compare this to the cost of hiring someone else to do it. If you love DIY, woodwork and being creative then it's usually a no brainer. Ben has discovered this time and time again saving us thousands in the process and learning new skills.
Or borrow, don't buy
If a tool you need is super expensive to buy and you may only need it the once or for a day or two, then consider hiring the tool instead of buying it. There are lots of online platforms and companies that offer tools for day hire and it could work out a lot cheaper. If you'll need the tool time and time again then buy it instead.
If you do buy, then hire it out
If you do buy expensive tools then consider hiring them out yourself. Use an online company such as Fat Llama to lend your tools to local people. They provide cover for loss or damage so you have peace of mind. You could even make back the cost of the tool altogether.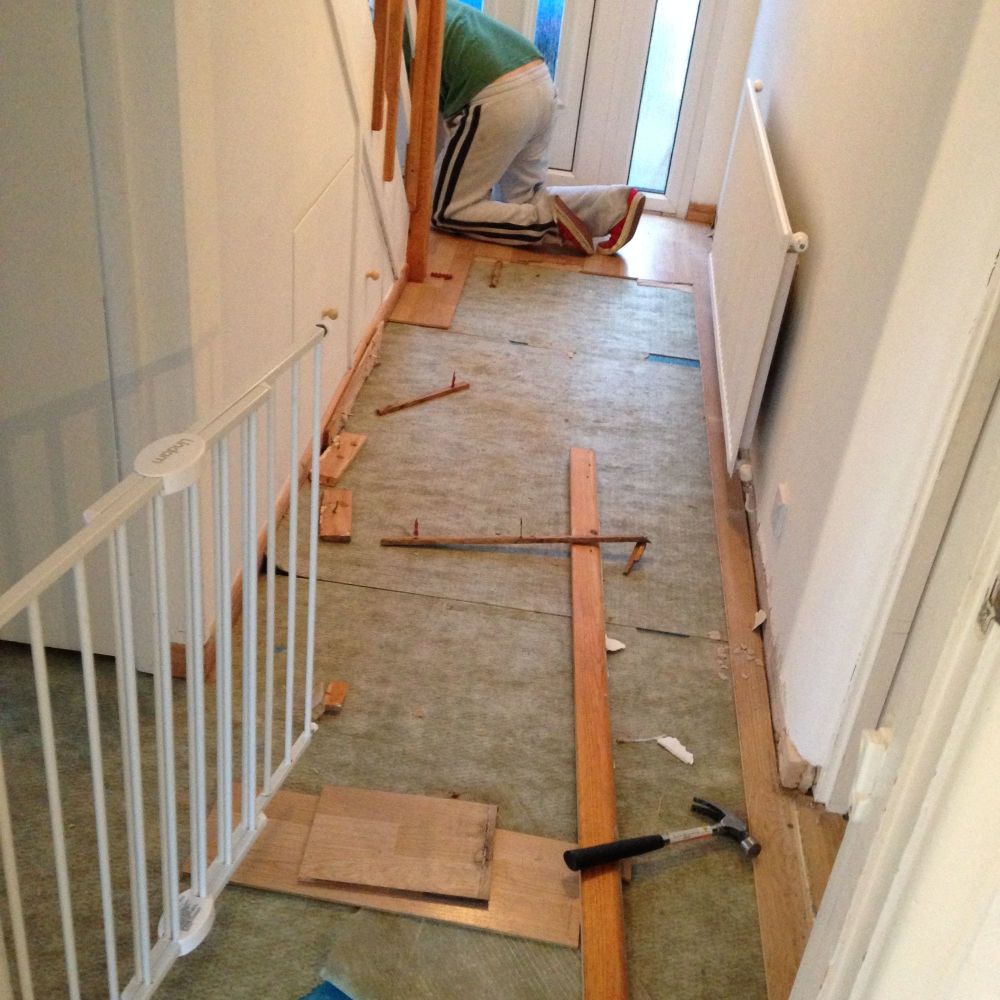 Safety first
Purchasing a new power tool can be a lot of fun and exciting and you can't wait to get it out of the box to try it out, but don't forget about your own personal safety. Some of these tools are really loud, create a lot of dust or are really sharp and dangerous to use, so you'll want to also make sure you're kitted out with the right safety gear. You can easily buy ear protectors, face masks, eye protectors and any other personal protection wear from Engelbert Strauss online or similar.
Use cashback sites
Don't forget to use cashback sites when buying tools and materials. Many stores let you get cashback on click and collect, so you can still go to the store and get the goods if you can't wait for an online delivery. Not only can you often save money by doing up your home by yourself, but you can also get cashback on lots of your purchases.
Related: How to earn cashback on things you already buy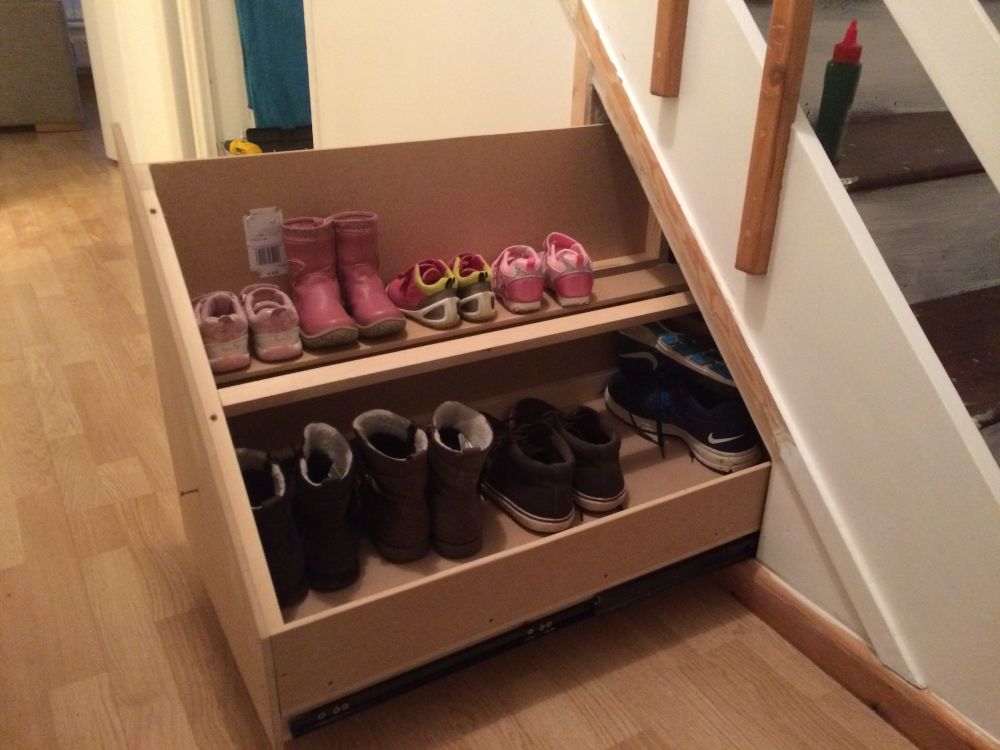 Research, research, research
Don't know how to do something like tiling, fitting a kitchen or installing a sink? Make the most of the internet! Ben is forever on Pinterest for inspiration, YouTube for watching videos of others doing it and reading other blogs to read exactly how to do it and learn what mistakes not to make! The world wide web really means anyone can learn anything. Ben's only advice would be not to tackle electrics yourself unless you are a qualified electrician or at least get an electrician to OK any work you do yourself. You don't want to make a mistake you'll regret.
Measure twice, cut once
And Ben's best tip is 'measure twice, cut once'. I'd even go as far as saying measure 5 times if it's a big expensive piece of real oak kitchen worktop, hey Ben?
Thanks to hubby for helping me come up with some top money saving DIY tips.