Blog Giveaway RRP £109 | Win The Original Prestige Wallmounted Water Butt from Freeflush
Posted on
Giveaway Ended!
The winner has been notified.
Today I have a very exciting and valuable giveaway for you from a company called Freeflush Rainwater Harvesting. They are kindly giving one of my readers The Original Prestige Wallmounted Water Butt worth £109. This particular water butt has been featured in the media several times and has been purchased by thousands of UK homes since 1997.
Now if you're thinking 'a water butt? That's not very exciting', you may be proven wrong! This water butt is not your average bulky eyesore type that you usually see. Oh no. This design is very clever and is mounted on the wall in a slimline design so it takes up very little space and actually looks pretty stylish. It's one of those things where you think, why hasn't anyone done this before? Why are standard water butts so ugly when they don't need to be?
We have one of those ugly type of bulky water butts on the back of our home and it gets so much use. We use it to water the plants outside and the kids use it to fill their buckets, mix with mud and make mudcakes. Oh the joy! Still, they love being able to get some water for outdoor messy play at ease and I don't mind so much that they're not running a tap to get some.
It would be much better if it looked like this though: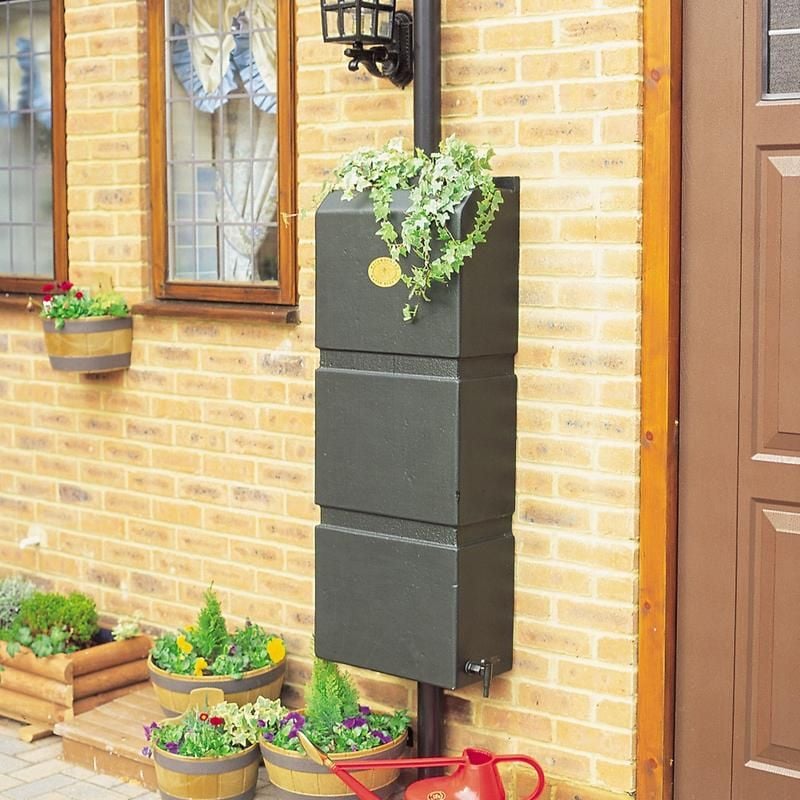 The Original Prestige Wallmounted Water Butt is Eco-Friendly Too
This is a much prettier water butt for the design conscious folk who want their home and garden to look its best. It's both designed and manufactured in Great Britain using recycled plastic. Yep, with this modern water butt you'll be eco-friendly too. Instead of wasting tap water to clean your muddy boots and water your garden plants, instead conserve rainwater and help to save the planet. Even these simple small changes can make a difference to a more sustainable future if we all get on board. It will also cut your water bills by using water you've harvested and not so much out of your taps.
Plus, your plants will thank you as rain water is soft and a lot more pure than our tap water which is often hard and full of undesirable chemicals, medication residue and traces of who knows what else! I recently measured my tap water with a TDS meter and it had 196 parts per million of dissolved solids. I highly doubt they were all natural organic minerals!
This water butt is also great for space saving. You can save space or use it in a small space. If you don't have a back garden, but a small patch at the front, just look how neatly it fits to the front of these houses:
To find out more about the prize on offer click here: https://www.freeflush.co.uk/collections/wall-hung-water-butts/products/water-butt-the-original-wallmounted-waterbutt-gardening
For your chance to win The Original Prestige Wallmounted Water Butt, simply enter using one or more of the methods on the Rafflecopter widget below.
Good luck!
Giveaway Ended!
The winner has been notified.
Terms and conditions
There will be one winner
The prize is the item as shown in the picture: RRP £109 The Original Prestige Wallmounted Water Butt
There is no cash alternative
There is no limit on the number of entries per person, follow the instructions to enable multiple entries
Winners will be notified within 28 days
Prizes will be sent out within 28 days of receiving the winners address. The prize will be dispatched dierctly from Freeflush.
The winner must claim their prize within 7 days or it will be forfeited
All entries must be received by the date and time specified
The winner will be picked at random by Rafflecopter & notified by email
Giveaways are open to the UK only
The winner's name and county is available upon request
By entering this giveaway you give consent to be signed up to the Lylia Rose and Freeflush newsletters. You can unsubscribe at any time.