GoHenry Review & Promo Code
Posted on
Discover our comprehensive review of GoHenry, the popular prepaid card for kids, and get an exclusive promo code to try it out. Find out how GoHenry works, its features, benefits, and drawbacks, and whether it's a good choice for your family's finances.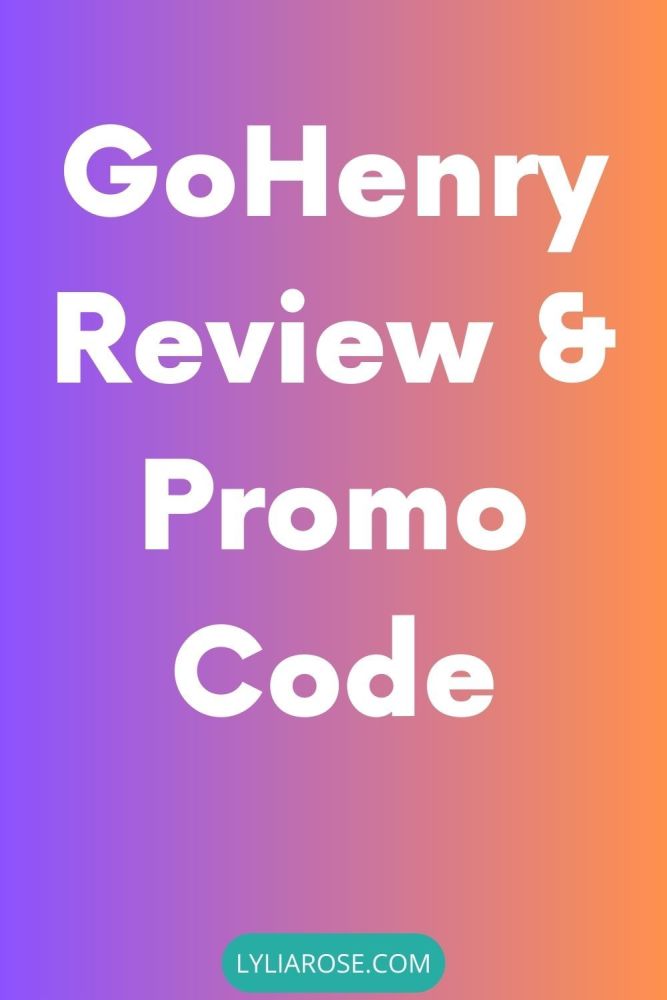 What is GoHenry?
We all know that managing money is super important, but it can be hard to teach our kids the ropes. That's where GoHenry comes in - it's a cool prepaid card that's made just for kids between the ages of 6 and 18.
With GoHenry, managing money is way more fun and easy for both parents and kids. So, in this post, we're going to dive into all the ins and outs of GoHenry - how it works, what it can do, and whether it's a good fit for your family.
How does GoHenry work?
GoHenry is a financial management product for children's pocket money and financial education that comes in two parts: a mobile app and a kids prepaid debit card. To get started, parents just need to sign up for GoHenry online and set up an account for each of their kids.
Enter exclusive GoHenry promo code LYLIA when signing up for a free trial and sign up bonus (£10 in the UK or $10 if you're in the US).
Once that's done, parents can add money to their children's accounts and set spending limits, savings goals, and even chores for them to do.
There are also money missions to complete, suitable for kids aged 12 and above, to help them get a headstart in the world of finance.
The best part? Kids get their own GoHenry debit card that they can use to make purchases in stores or online!
The app keeps track of all their spending and savings in real-time, so both parents and kids can see how they're doing. It's a super easy and fun way for kids to learn about money management, while giving parents peace of mind as they can track spending and know they're learning important life skills.
Read on to learn more about how to sign up with our exclusive GoHenry promo code so you can get a free trial. Also, we'll delve into the features and benefits of GoHenry to explore whether this is the right app for your family.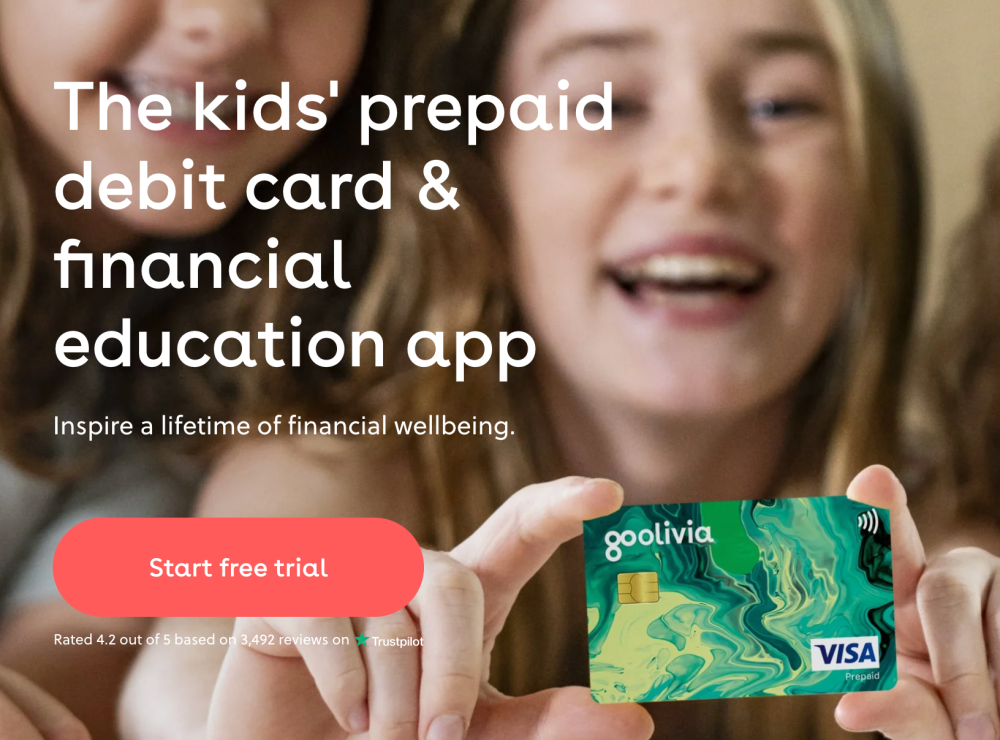 Exclusive GoHenry Promo Code: Free Trial & Sign Up Bonus
Experience the benefits of GoHenry for yourself with our exclusive free trial offer. Sign up now to discover how this popular prepaid card for kids can help your family manage money better. Plus, get a bonus with our promo code.
Here's how to get your free GoHenry trial and sign up bonus:
UK users: Click here to sign up to GoHenry UK


US users: Click here to sign up to GoHenry US


Enter GoHenry promo code LYLIA when signing up


Enter your details and your child's details


Pick the free child's card or pay for a customised card


Set up your parent card


Download the GoHenry app and once the card arrives, activate it in the app


Once you activate your account, you will be awarded a £10 or $10 GoHenry sign up bonus!


Try the app and service with a free one month trial.
Keep reading as we explore some of the best features and benefits of the GoHenry pocket money debit card for kids.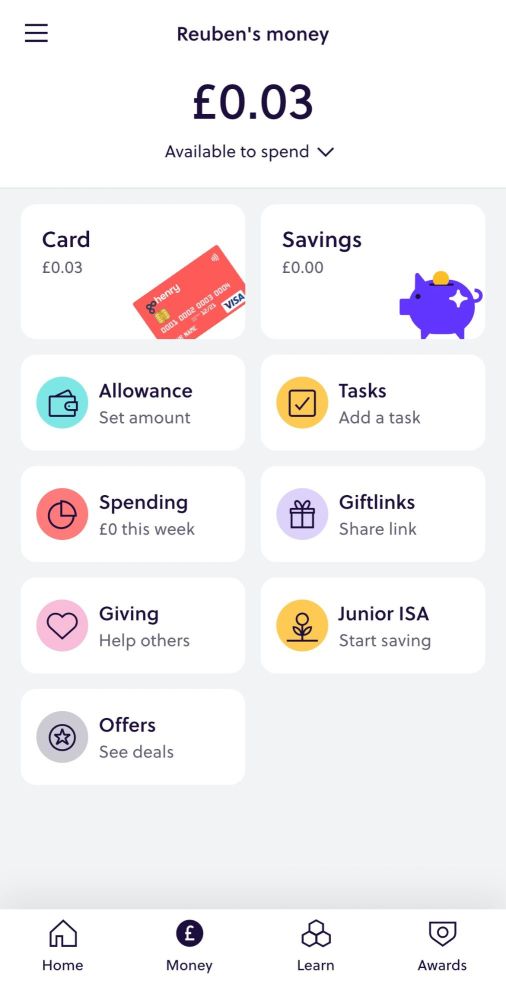 A look at the children's screen via the parental app.
Best features of GoHenry
GoHenry offers several features designed to help children and parents manage money more effectively. Some of the best features include:
Parental control: Parents can monitor their children's spending, set spending limits, and block certain merchants or categories of spending. Get notifications every time your kids use their GoHenry cards to spend money.
Savings goals: GoHenry allows children to set savings goals, and parents can contribute to them automatically or as a reward for completing chores.
Financial education: GoHenry provides financial literacy resources and quizzes to help children learn about budgeting, saving, and investing. There's even a section for parents to learn more too!
Charitable giving: GoHenry offers a feature that allows children to donate a portion of their allowance to a selected charity. This teaches children to do good from a young age and think about the ways their money can help others.
Custom card designs: Let your kid be unique and choose their own custom card design. At the time of writing there are 45 designs to choose from. No boring debit card designs here and they can even have their first name on their debit card design!
Apps for the whole family: Not only is there a parent app, but kids can have their own age-appropriate app too once they have their own mobile phone, helping them to manage their money even better and giving them direct access to financial education.
Tasks for money: Give your kids chores (tasks) to complete to earn their pocket money. Set the tasks in the app and reward them with their pocket money, or additional pocket money, once complete.
Automatic transfers: Set up automatic transfers to take the hassle out of giving pocket money.
Giftlinks: Family and friends can send money straight to your child's GoHenry card for special occasions like birthdays or just as a surprise. This feature is completely secure and free of charge, and gifters can even add a personal message. Kids can choose whether to spend the gifted money or save it up for something special, and they can write thank-you messages directly from the GoHenry app. It's a great way to encourage responsible spending while also making it easy for loved ones to show their support and generosity.
Free trial and signup bonus: Enter exclusive GoHenry promo code LYLIA when signing up for a free trial and sign up bonus (£10 in the UK or $10 if you're in the US).
As well as the prepaid debit card, GoHenry in the UK also offer a GoHenry Junior Stocks and Shares ISA. If you want to manage all of your childrens savings in one place, then this is a great option for easier money management. You can transfer existing Junior ISAs and Child Trust Funds to GoHenry.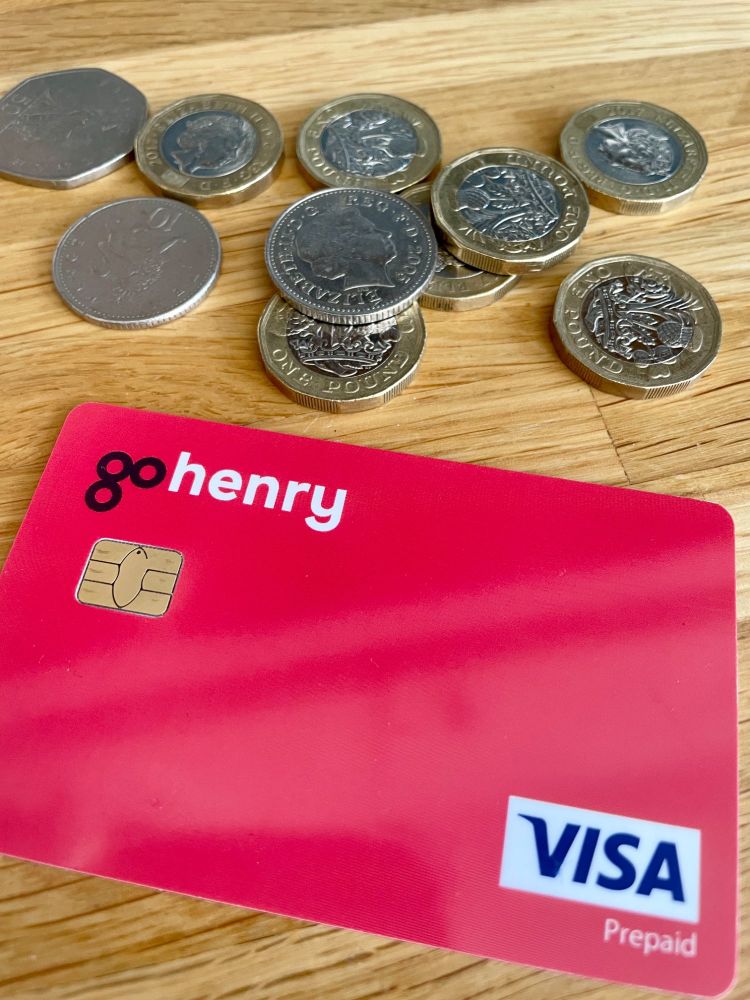 The free GoHenry card. 45+ designs and personalisation available.
Key benefits of GoHenry
GoHenry is more than just a prepaid debit card - it's a comprehensive financial management platform that offers several benefits for both parents and children. At the time of writing, GoHenry has more than 2 million users!
Let's take a closer look at some of the key benefits and why this pre-paid debit card for kids is so popular.
Convenience:
Managing your child's finances can be a real hassle, but GoHenry makes it super easy. With just a few taps on the app, parents can deposit money into their child's account and monitor their spending in real-time. No more worrying about giving your child cash or constantly checking their piggy bank - with GoHenry, everything is right at your fingertips.
Financial literacy:
One of the biggest advantages of GoHenry is that it helps children learn about money management in a fun and engaging way. With features like savings goals, financial quizzes, and educational resources, GoHenry empowers children to take control of their finances and make smart decisions. Plus, by starting early, children will develop good habits that will serve them well in the future.
Cashless Transactions:
GoHenry is an excellent tool for teaching children about cashless transactions, which are becoming increasingly common in today's world. With a GoHenry prepaid debit card, children can learn how to use cards in shops and online, which is an essential skill for the future. It also means that parents don't have to worry about their child losing physical cash or making purchases they don't approve of. The cashless aspect of GoHenry makes it a convenient and safe way for children to manage their pocket money and learn about financial responsibility. By using GoHenry, children can gain valuable experience with cashless transactions, which will serve them well as they grow up and become more independent.
Parental control:
As a parent, you want to give your child the freedom to make their own decisions, but you also want to make sure they're making smart choices. GoHenry strikes the perfect balance by giving parents more control over their children's spending while still allowing kids some freedom to make their own financial decisions. With features like spending limits, merchant blocking, and chore management, parents can ensure that their child is making responsible choices without being too restrictive.
Safety:
GoHenry takes security seriously, which is why it provides features like parental controls and transaction notifications to help prevent fraud and unauthorised purchases. Parents can set up alerts for every transaction made with their child's GoHenry card, so they can quickly identify any suspicious activity. Plus, with GoHenry's prepaid debit card, there's no risk of overspending or getting into debt - kids can only spend what's available on their card.
Flexibility:
With GoHenry, you are not locked into a contract. You are free to cancel your child's membership at anytime.
Free trial and signup bonus:
You can get a free trial and sign up bonus with our GoHenry promo code! Here's how:
Referral scheme:
GoHenry offers a refer a friend scheme with great incentives to share your love of GoHenry with your friends and family. This helps build the GoHenry community by creating a supportive network of parents and children who are all using GoHenry to manage their finances.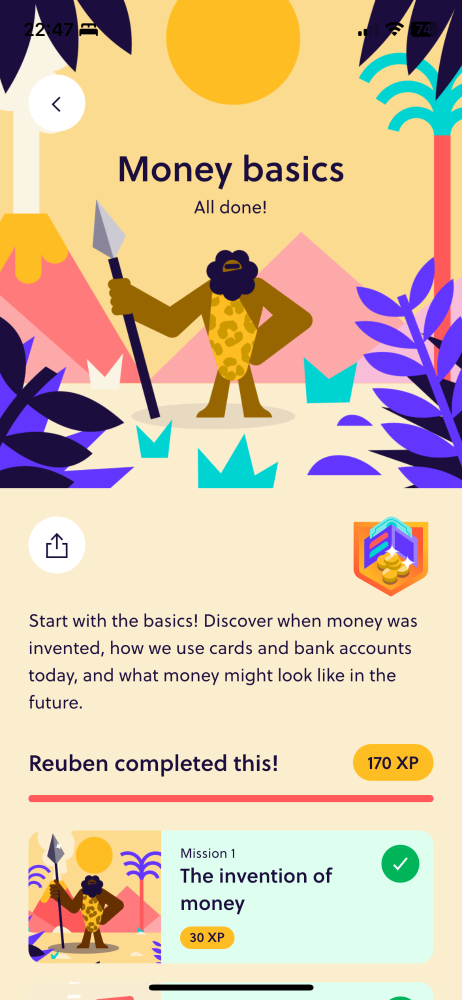 There are lots of fun and engaging money missions in the app for children to start learning vital financial education from a young age!
Drawbacks of GoHenry
While GoHenry offers many benefits, it also has some drawbacks to consider, such as:
GoHenry charges a monthly fee per child, which may be a significant cost for some families. In the UK it's £2.99 per month. In the US it's $4.99 per month. These fees are correct at the time of writing but subject to change.
Some merchants may not accept prepaid debit cards, which could limit where children can spend their money.
If you plan to give your children cash as pocket money, then this won't be for you, but considering many vendors are becoming cashless nowadays, a prepaid kids debit card like GoHenry might be a better option.
Loading the parent account is only free for the first load each calendar month. Additional top ups are charged at 50p. To avoid this fee, simply load the parent account with enough money once per month to cover all the pocket money you wish to transfer to your child for the entire month.
If you're on the fence with whether this is the right app for you and your children, you have nothing to lose by giving them a go with a free trial. Simply enter our exclusive GoHenry promo code LYLIA when you sign up to GoHenry and try the app for free to see if it's right for your needs.
Is GoHenry a good choice for your family's finances?
Overall, GoHenry is an excellent tool for teaching children about financial responsibility and managing their money. The card designs are cool for kids and the app has numerous features from education to setting tasks for your kids to earn money and real-time spending notifications, along with many parental controls. However, it may not be the best choice for those who are on a tight budget. If you are considering GoHenry, be sure to weigh the benefits and drawbacks carefully and determine whether it aligns with your family's financial goals and needs.
Final word
GoHenry is a unique and useful financial management tool that offers many features and benefits for parents and children alike. It's a great option for families looking to teach their children about money management in a fun and engaging way.
Don't forget, you can get a free trial and sign up bonus with our GoHenry promo code! Here's how: