Oh My Dosh review: make easy money online with OhMyDosh!
Posted on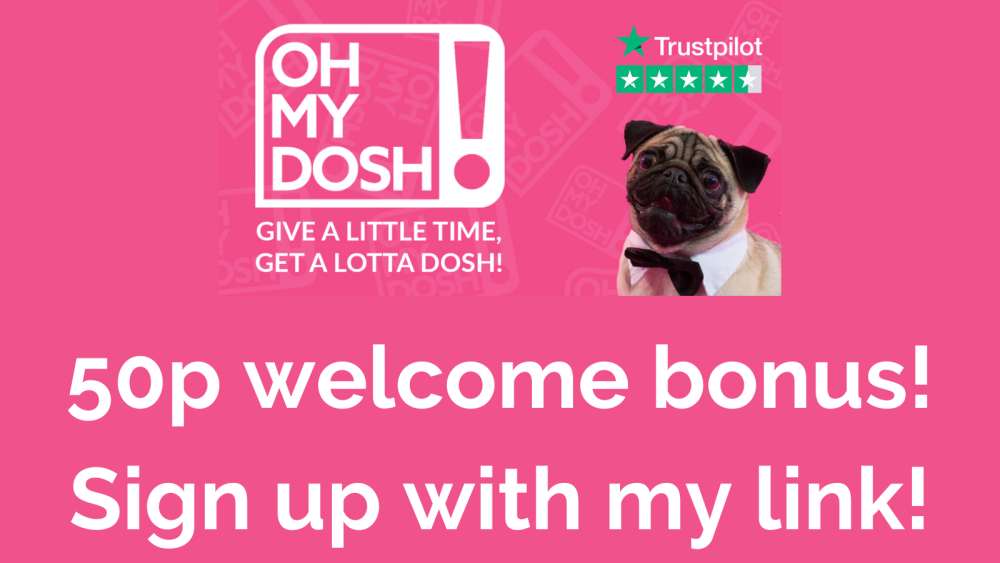 If you're wondering how to make money online without paying anything upfront, then you've come to the right place. As a busy UK mum of two, who makes an income from home around parent duties, I'm always on the lookout for new ways to make cash from home. I like to find the most profitable ways to make an income from home without having to invest anything or sell my soul.
I was invited to explore the brand new website OhMyDosh! before its official launch back in February 2018 and it's still a great way to make extra cash today.
OhMyDosh! is a free to use website (no joining or subscription fees, ever) where you can take part in trials and complete offers in exchange for real cash.
You only have to hit £10 before you can cash out, so as soon as you hit this you can bank your money. Have it paid directly into your PayPal or bank account in only 3-5 days.
Plus, if you sign up with my OhMyDosh referral link then you can get a £1 bonus.
Oh My Dosh review and sign up bonus offer
This website is right up my street and is a cross of methods I've already tried and used to earn money from home, such as cashback sites, competitions and surveys.
Some of the offers cost a little money, but it looks like you'll always get more back than you initially pay.
For example, signing up to a Which? 30 day trial costs you £1, but you'll earn £7.50 for doing so! Just remember to cancel if you don't want to continue with the service and you'll be £6.50 up.
As I said, there are no website fees and you don't have to pay a penny upfront for anything if you don't want to.
Check out the 'No Spend' section for all the offers that don't require you to purchase anything at all.
This is just money sat there waiting to be made, for free!
Well, in exchange for a little of your time.
Just remember to read the terms correctly as many of the offers are for new customers only. And if you sign up for a subscription, then simply set a reminder to cancel it on your smartphone calendar or in your organiser. Then you'll be quids in for simply trying a service!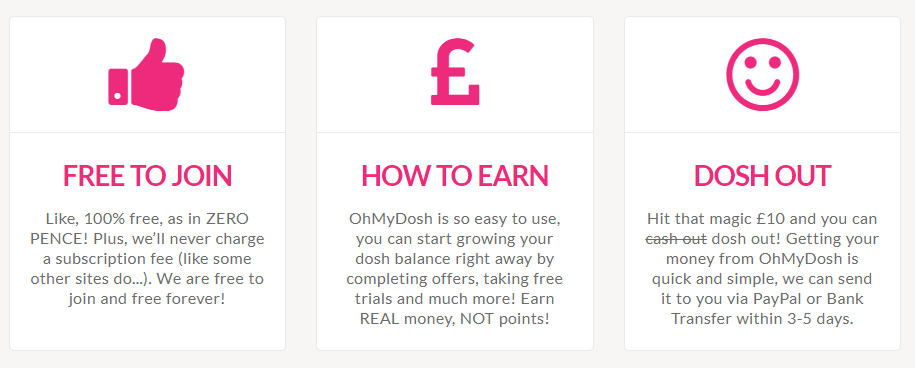 Make easy and free money online with OhMyDosh!
OhMyDosh! already have some brilliant brands to work with including Amazon, Now TV, Graze, Which?, William Hill and Coral. These household names have offers and trials for you to take part in and they'll pay you for doing so.
You can also save money. There's a section 'Save Money' with companies offering the cheapest energy, TV, phone and broadband deals. Plus, you'll get paid if you make the switch.
It works very similarly to the cashback sites as you don't get paid for the offers straight away, but are paid after a period of around 30-60 days, depending on the terms of each offer.
Don't let that put you off though!
Even though you'll have to wait, that money is on its way to you and it will soon build up.
They also have 'Lightning Payout' offers which pay in 3 days! Amazing! Just do at least £10 worth and you can cashout in three days!
Plus, there's a daily dosh winner. Just check the site each day and at the top left you can see if you're a winner of some free cash!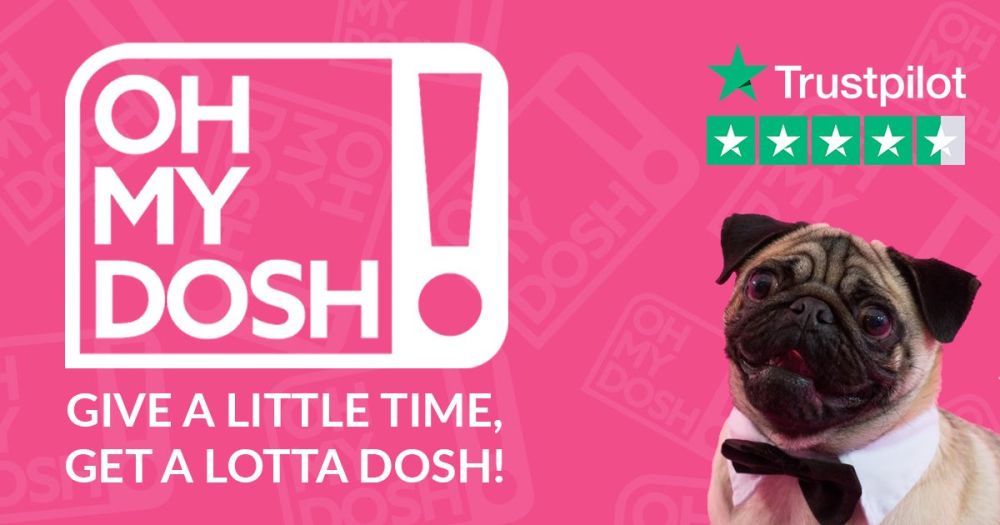 Make extra cash at home with OhMyDosh!
Some of the best offers on OhMyDosh are those that cost something upfront. There are lots of trials for approximately £1, but even these have benefits and can save money.
When I signed up the Gourmet Society card had a special offer for £1 for the first 3 months, but it gave me up to 50% off at 6000 restaurants. So I could save money for three months at restaurants and then cancel my subscription (if I wanted to) and make £2 cash from OhMyDosh for taking the trial.
Sign up to a few offers like these and the money starts adding up. Plus you might be able to make use of some of the subscriptions to save even more money on your lifestyle.
Again, just remember to cancel these trials if you don't want to continue with them at the end as otherwise you'll have to pay to continue. Just read all the terms so you know what you're signing up for. Set a reminder to cancel any trials.
I'd suggest you sign up for the OhMyDosh newsletter to receive new offers and important info straight to your inbox. It's the best way to keep in touch with websites like this and make sure you don't miss out on any exciting new ways to make money.
Not interested in the trials? Don't worry, there are lots of different ways to make money on OhMyDosh. Here are their current categories:
Hot Offers

No Spend

Paid Surveys

Lightning Payouts

High Earners

Bingo & Gambling

Bonus Bundles

New Offers

Utilities & Telecoms

Finance

Health & Fitness

Entertainment

Trials

Shop & Earn

Fashion & Beauty

Great Deals

Food & Drink
It's a great site to save money and make a little extra dosh and definitely one to sign up for and keep an eye on!
Click here to start earning with OhMyDosh today: https://www.ohmydosh.co.uk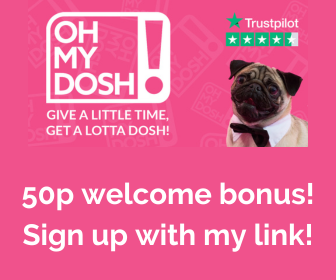 Like OhMyDosh? Here are loads more ways to make money from home!
How I made £32000 from home in 2018-19
5 tried and tested ways to make money as a UK stay at home mum
Easily make money from home by testing websites with Whatusersdo
Make money online testing websites and apps with UserTesting
Make money at home with Prolific Academic
Make money online with Crowdville
How I earn up to £50 per hour matched betting from home
Get paid doing simple tasks from your phone with Streetbees
Earn cashback on things you already buy
Not sure about Matched Betting? Make £40 now to see if it's for you!
Make money in your free time with RedWigWam (perfect for busy mums)
Make extra money online with YouGov
How to make money from your phone with Roamler
20 ways to make and save more money in 2019
Make money at home searching the web
SnapMyEats–Amazon gift vouchers in exchange for your food receipts
Get paid when you see ads online with Gener8
How to make money by featuring in the media
Make money online with get paid to website 20 Cogs
Please pin me and share OhMyDosh offers with your friends!