Pirate Tour Pedra Sartaña in Morro Jable Fuerteventura review
Posted on
On our recent holiday to Fuerteventura we decided to do a couple of day trips to break the week up, explore more of the island and of course, have an adventure!
Bella and Reuben were ages five and three, so this limited us quite a lot to the trips we could do.
Most of the excursions are more suited to adults only or older children; however there were two that were very young family friendly, so we booked both.
One trip was to the animal park, which I'll review in its own blog post soon, but the other was for a pirate cruise!
In this blog post I will review the Pirate Tour in Morro Jable, close to Jandia, in Fuerteventura.
So if you're looking for things to do with kids in the south of Fuerteventura, read on.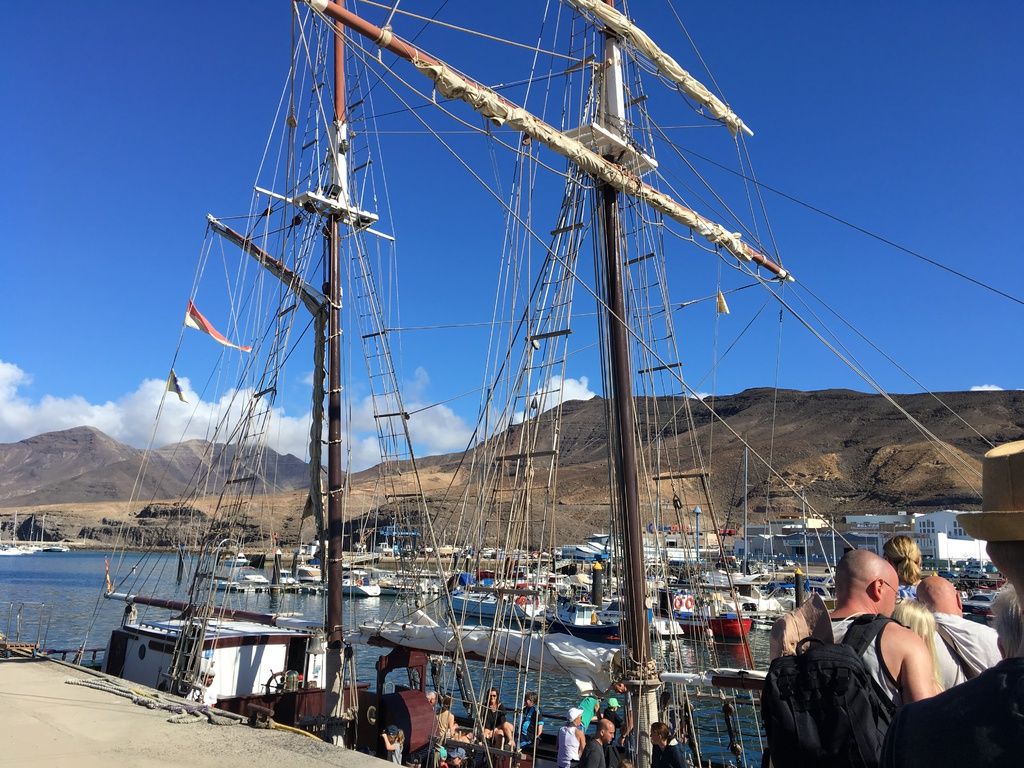 We arranged the tour through our holiday tour guide, TUI, at the welcome meeting.
I had been emailed for several months before our arrival with excursion details and it was possible to book in advance, but we wanted to confirm exactly what was suitable for the little ones, particularly Reuben who had only just turned three.
She highly recommended the pirate ship and it sounded perfect for the kids.
I'm pleased to say, it really was!
The kids and even the adults had a great time.
One of my most enjoyable activities on holiday is to have a boat ride to sea. I love looking back at the island and the landscape, plus there's a huge sense of freedom being out on a boat.
Related read: Is Fuerteventura a family friendly holiday destination?
The entire trip was around 5 hours from 10.30am to 3.30pm. So it's a good half a day. We were provided with lunch too and soft drinks and water were included. There was alcohol for sale if wanted. We enjoyed potatoes and salad, but for the meat eaters there was a chicken BBQ. The potatoes were really delicious!
The ship was amazing. There's something so magnificent about pirate ships. I love all the ropes and sails. They got some of the adults to help pull the sails up which was fun to watch. Then it felt like a real pirate ship sailing out to sea!
The main entertainer was brilliant. He spoke English, French and German, so said everything in all three languages and then pretended to wipe the sweat from his brow comically exclaiming 'phew' each time! He totally made the excursion so brilliant. He entertained the children by playing a couple of games which ended up involving the adults and was quite amusing! I won't spoil what happens in case you ever go!
The seas surrounding Fuerteventura have lots of dolphins and whales and we were lucky enough to spot some dolphins! One came right to the side of the boat and poked its head up. It was an amazing moment which luckily Bella and I got to experience. Unfortunately Ben and Reuben were below deck so they missed it. The captain was great and every time he spotted dolphins in the distance, he headed that way and slowed down so we could all spot them too.
After dolphin spotting, games and lunch, they anchored the boat and gave everyone a chance to swim. The ship had a kind of trapeze swing to the side so the adults were allowed to swing into the sea. It looked so much fun. We hadn't planned to swim, so didn't go in the sea, but everyone who did looked like they had a blast. If you didn't want to swim or sunbathe on deck, then you could also fish off the front of the boat. There was plenty to do for everyone, but personally I was just content being out at sea in the warm sunshine looking out for dolphins!
I'd highly recommend this trip for any age. There were a lot of families on board, as it is pirate themed with activities aimed at children, but there were some adults by themselves too. I'd have had a great time even without the kids as the boat trip itself was great. It's a perfect way to catch some rays other than laying by a pool! The kids loved it and I'm still so happy we saw dolphins in the water, in their natural habitat. There's nothing more amazing than that.