How to make money blogging: money making blogger interview with Yaz from The Wallet Moth
Posted on
Welcome to my Money Making Blogger interview series where I interview bloggers who are already making money from their blogs!
Hello, please introduce yourself and tell us all about your money making blog.
Hi! I'm Yaz, the blogger behind The Wallet Moth, a website that aims to provide the best money-making and money-saving tips to help you live your best life.
How long have you been blogging for and when did you begin to monetize?
I've been blogging since early 2017, but didn't really buckle down and commit to it until around June that year.
What's your monthly blog income like? (Pocket money, part time, full time or the figure)
My monthly blog income contributes part-time to my income, but it's steadily rising! I would love to eventually scale up my blog income to replace the income I earn from other projects.
How exactly do you make money from your blog and tell us more about your favourite method?
The two biggest ways I earn money from my blog are ads, and affiliate income. I'm a part of the MediaVine ad network which is a fantastic source of passive income. I recommend different affiliate products throughout my blog posts which also contribute to my income each month.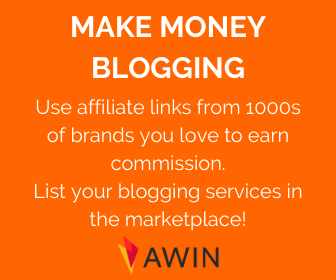 Were there any steps you took in the early days to prep your blog for making money?
Not enough - I wish I had put more of a plan in place when I started out! I had to go back and find opportunities to put affiliate links into my blog posts and re-work entire batches of posts that I had published without really knowing what I was doing.
Has it been an easy process to make money from your blog? Why?
Yes and no. Growing my blog has been steady and it's exciting seeing that upward rise from month to month. However, there are a lot of bloggers out there promising to make you rich in a few weeks, and in my experience, that's just not the case for the majority of bloggers.
How many hours per week do you work on your blog? Has this changed over time?
I probably spend around 20 hours working on my blogs (I own 3 at this point!). I used to spend more time on my blog when I had less freelance work, but I've been focusing on other ventures recently which meant it took a bit of a backseat. I love how flexible blogging can be in that regard, though.
What are your aims for your blog in the future?
Onwards and upwards! My aim for the next few months is to start working on more fresh content, really build up my backlog of posts to be published, and keep on growing.
If someone is totally new to blogging, what should they concentrate on most to make money?
Find a niche. Don't blog about anything and everything - focus on one particular topic that lets you attract a real core audience. That could be anything from parenting to gardening, but having a focus is really important.
What are the drawbacks to running a money making blog?
Your income will never be stable - it changes every month and that slight insecurity is something you have to accept and plan for.
What inspires you to blog and what is the best thing about blogging?
I love that my blog is something I've grown from scratch and have total control over. My blog's success is entirely down to me, and I find that so liberating.
Would you still blog even if you couldn't make money doing it and why?
Yes, but I would probably have to spend less time on it each week - a girl's gotta eat!
Do you think blogging is here to stay and why?
Yes, although I do think bloggers these days need to wear more hats than they did in the past. Other platforms like Instagram and YouTube are becoming an expected extension of a website, and bloggers need to adapt to that expectation.
Find Yaz here
Twitter: @yazpurnell
Blog URL: https://www.thewalletmoth.com
Introduction to my money making bloggers interview series
If you're wondering is it possible to make money blogging? Then yes, it really is possible to earn a living as a blogger!
It's what me and many others are able to call our full-time income, but many people don't understand how it is possible, so this interview series will show exactly how bloggers are making an online income from a blog.
There are lots of different ways to monetize a blog and they will all be revealed in this series.
I share lots of tips on how I make money blogging in my Make Money Blogging section, but it's also great to learn from other bloggers too. One thing I love about the blogging community is how friendly and open it is. There's room for everyone and we all like to help each other grow and learn from one another.
Learn how bloggers make money
Learn how my interviewees make money from blogging and the steps they took to monetize their blog. I hope you feel inspired and learn something new from this series.
Learn how many hours they spend on their blogs per week, what sort of income this provides and if there are any cons to blogging for an income.
I've been a full-time blogger since January 2017 and I started blogging in April 2013. It still amazes me that I can make money from home as a blogger.
BUT, it's not without a lot of hard work, so don't be fooled into thinking you simply set up a website and voila, income starts rolling in. If only! I've work more hours per week than I did in any full-time employed job - my blog is my life!
I'm hoping it won't always be that way and there are lots of passive ways to make an income from blogging, but you have to set up the foundation first which can take lots of hard work and patience.
In this series I am going to interview other bloggers who also make money from their blogs to hopefully inspire people to start a blog if they wish or to make that leap to monetizing content. I also find it so interesting to learn what other bloggers are up to. Even us full-time bloggers can learn from each other and inspire one another.
Read all the money making blogger interviews here!