Neveo app review – easily send a family photo newspaper to grandparents each month
Posted on
Wouldn't it be great if there was a way to easily share your family moments with your grandparents? Perhaps they are not tech savvy and can't regularly see all your happenings on social media and via email. Now there is an app that is very easy to use to upload your photos and captions to each month which will automatically create a booklet and post it directly to your grandparents or chosen recipient. Isn't this a genius idea? The app I am talking about and will review in today's blog post is the Neveo app.
Today something very exciting came through the post to me – my Neveo booklet. I have literally just opened it and flicked through every page. I'm very impressed with the quality and even more excited to know that a copy is also winging its way to my husband Ben's Gran (Oma) in Germany.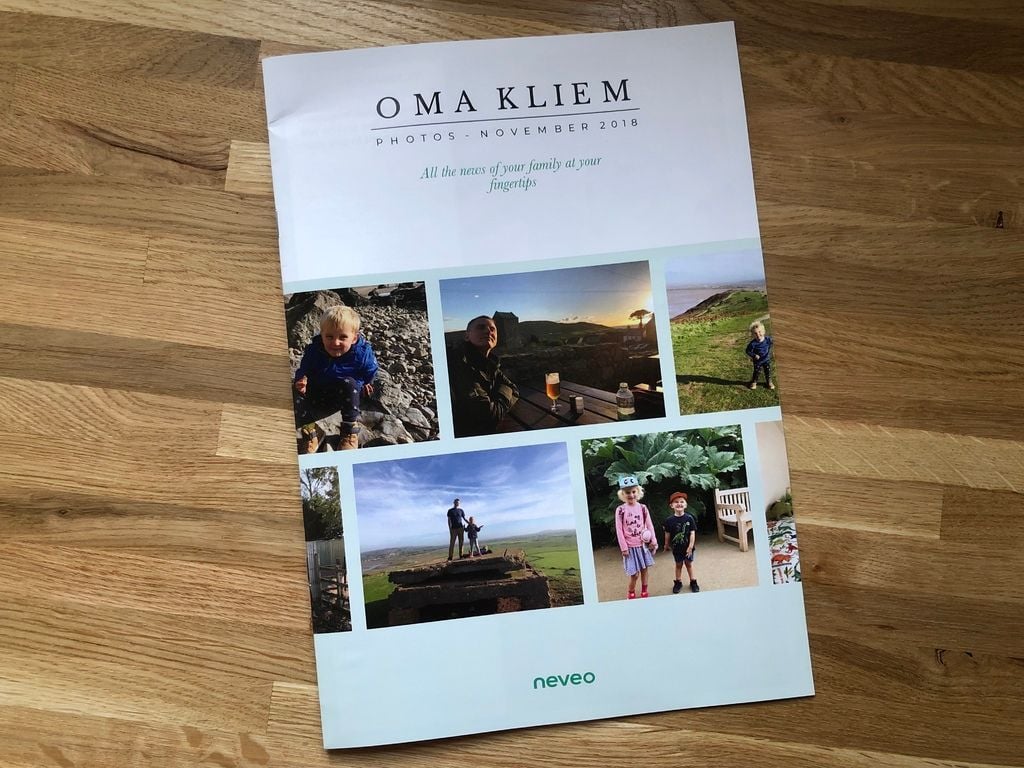 What is Neveo?
Neveo is an easy to use platform that allows you to upload up to 50 photos per month, along with captions or descriptions if you wish, that will be sent to your chosen recipient each month. You can upload your favourite photos each month from your tablet, iPhone or computer to your account and they'll go into that month's album for your chosen recipient.
A family newspaper automatically sent to loved ones
On the first of the following month Neveo will automatically gather all your photos and create a family booklet style newspaper that will be dispatched directly to the recipient.
Then you start adding your photos to your album for that month and they'll create a booklet the following month, and so on.
Hassle free
It's a subscription service so you pay each month and they will automatically use the photos you upload to send a family journal to grandparents or whoever you choose. You can even add more than one recipient if you like. It's a hassle free way to send memories to family members who live far away.
Easy to use app
I personally find the app easiest to use as I take all my photos on my iPhone. I simply upload a few photos, mainly of the children, every few days and add some quick descriptions. As our recipient is German I just add short captions so they are easier to translate, but you can be more detailed.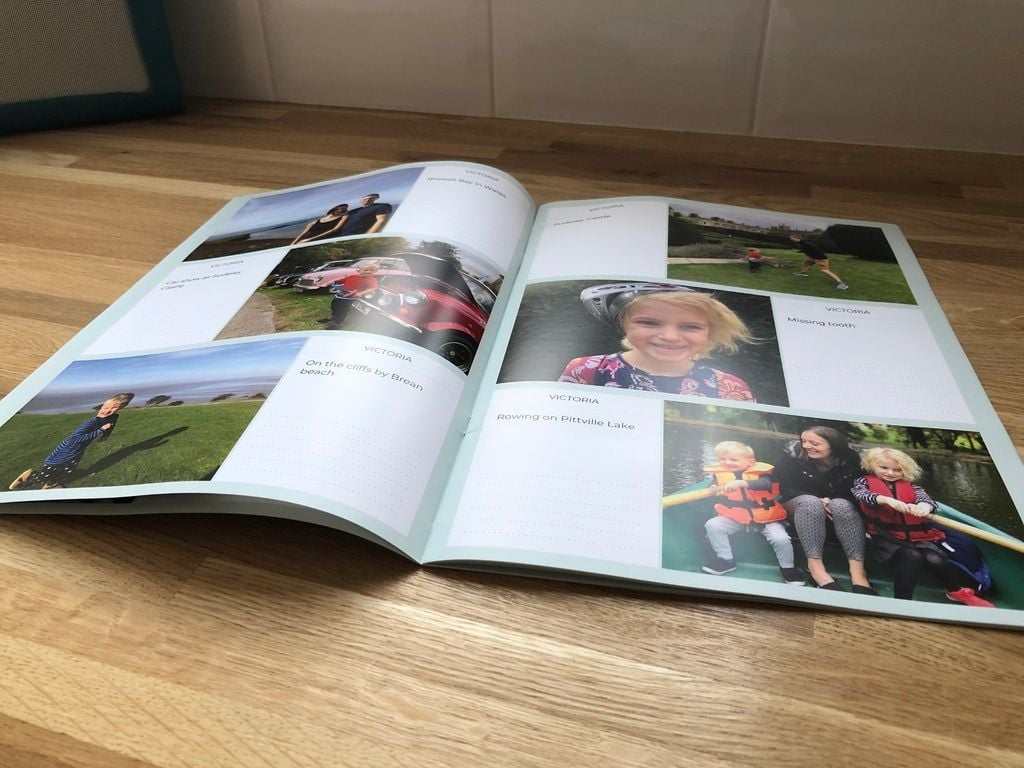 Add more contributors
Plus you can choose to add more contributors. I have added my husband Ben as a contributor and we can create the album together. He has the app on his phone and it is synced to my account. That way we can both share our favourite photos with his Gran.
Worldwide delivery
You can send the booklet to anyone in the world! Neveo offer worldwide delivery so you can keep in touch with friends and family far and wide. It's just perfect for us to send family photos regularly to Ben's grandparent in another country.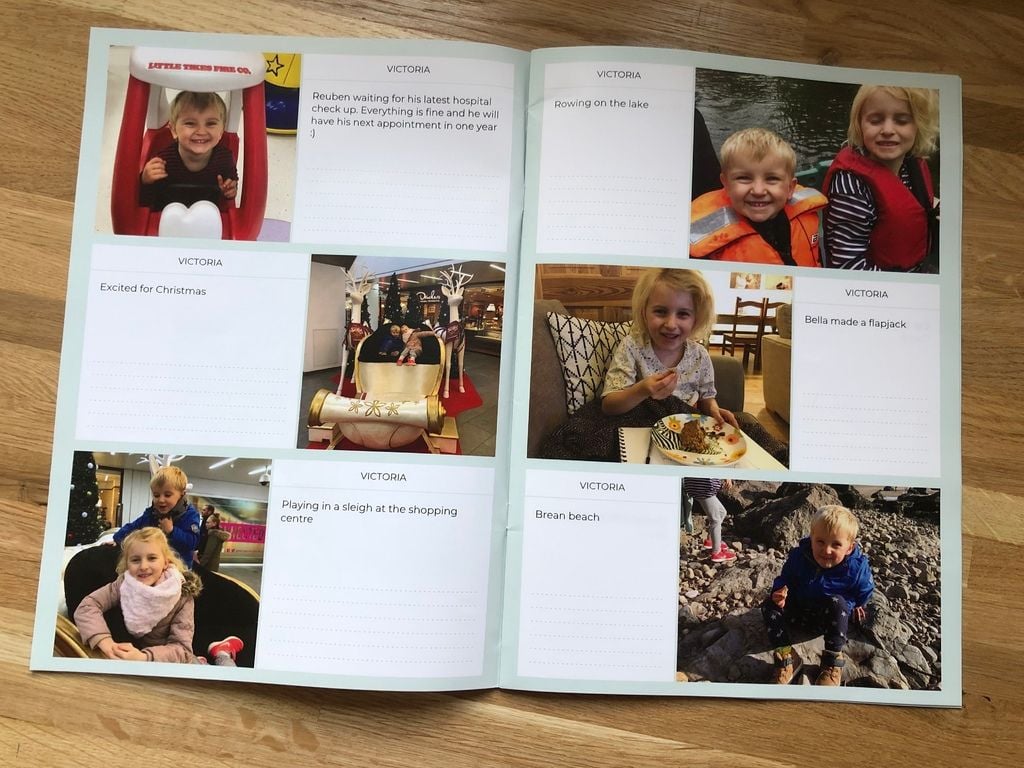 Who will receive our Neveo family newspaper?
Ben's mum is German and moved here to the UK by herself as a young adult. This means the rest of his mum's side of the family is in Germany – an uncle, cousins, his cousin's children and his Gran.
Ben calls his Gran 'Oma' as this is German for Gran. As she is our children's great Gran we came up with the nickname 'Oma Oma' for the kids to say which technically means 'Gran Gran' as it was easy to say when they were younger, rather than 'Uhr Oma' which is the correct translation. So we all now just say Oma Oma.
We have been very lucky to fly to Germany five times to visit Oma Oma with the children and she absolutely loves to see the children and play with them each time. It's always an incredible feeling to see how happy she is to see them.
Oma Oma is now 94 years old! She doesn't have a computer, email or mobile telephone which means we cannot send her images of the children and our goings on electronically. Neveo is the perfect solution for us!
We try our best to print photos and send them as often as possible as well as a larger printed album of the children each Christmas. We always hear that she loves to receive them and now we are able to send even more with ease, thanks to Neveo. It's going to save us the hassle of uploading and printing our own photos and even a trip to the post office!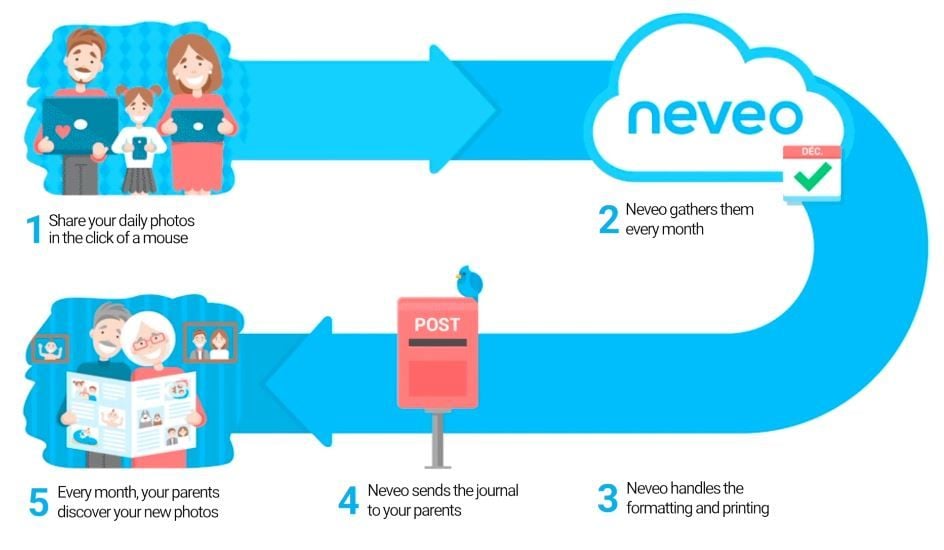 My final thoughts on Neveo
I am really impressed with Neveo, from the level of customer care to the quality of the booklet. The app is very easy to use and they sometimes send little reminder notifications so you don't forget to upload photos to your album. When the album was printed I received an email and again when it was dispatched so I was kept in the loop the whole time. They have been very helpful and friendly every time I have contacted them.
I absolutely love the concept and it's going to be an amazing way for Ben's Gran in Germany to see what we are up to each month. The booklet is a nice quality and just perfect for a little update each month and to bring so much joy for only £9.99 per month. 50 photos is more than generous to include each month and can really give an insight into what we have been doing. You can choose to pay more, currently £14.99 a month and have up to 100 photos!
I'm also tempted to order a booklet for ourselves each month. When Bella was a baby and toddler I was keeping a family scrapbook, but since having Reuben and working full time it's been impossible to find the time to maintain. All our photos are now digitally stored or on our iPhones. It will be a great idea to use Neveo to create a little family newspaper for ourselves each month of the best photos.
Neveo discount code - get your first album free!
Install the app and with my code "RMKKRU" to send your first album for free!
Website link: https://www.neveo.io/#!/
Direct app link: http://onelink.to/88r74v