Make money online with Crowdville
Posted on
I am finally bringing you a blog post about the website Crowdville from which you can make money online and at home. I signed up to this website last year and took part in my first mission in December. I got paid today for that mission, so now I know it's legit and want to share this platform with you.
It's a very different platform to others I use to make money online and is reasonably new to the UK. Apparently it's an established website in Italy and has newly launched in the UK. There's really not very much information about the UK version online. I decided to take part in a mission anyway to see what happened and if I got paid.
Missions
Since signing up, I have seen three missions. I'm not sure if they are allocated based on demographics or if everything is open to all, but I decided to take part in one mission to test it out and to confirm if this site paid.
The website says you can get paid to test websites and apps. These tasks are called missions.
The mission I took part in was really simple. It was a questionnaire that didn't take me long to complete and I was paid £15 for my answers.
I've also seen another mission to test an app for a £15 payment, as well as being paid £14 for each bug discovered. It sounded great, but I wanted to make sure I was paid for the first mission I accepted before doing another task, so I didn't take part in this one. If only I had then I would have just been paid a lot more than £15 today! Better safe than sorry though.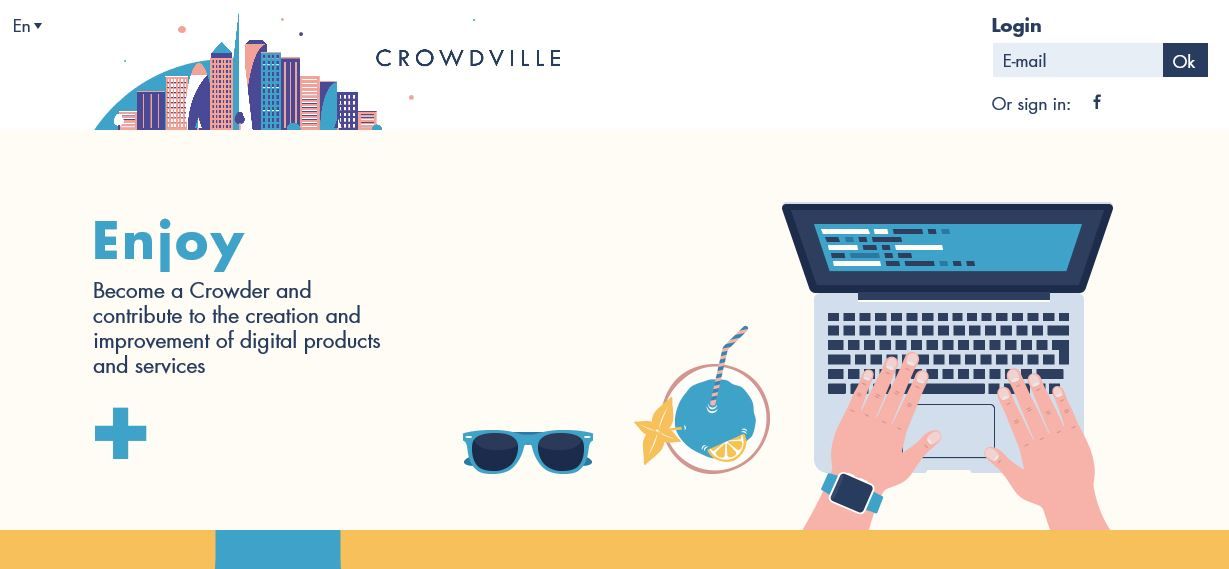 Payments
The main reason I waited to see if I got paid was because I could see a lot of discussion and confusion surrounding their payments on their forums. They have a community on the website where you can make friends with one another and talk directly to the Crowdville team. I'd looked through this when joining and saw a lot of payment issues.
Their payment process is a little complicated and I didn't realise what to do. If I did then I would have been paid back in December! On most platforms you simply add your payment details (bank or PayPal) into your profile and you're automatically paid once a month or as soon as a task is approved. On Crowdville it's a bit different.
You have to go to the section of your account called 'Bank Form' and request the payment. Then once the payment is approved you have to go to this page again to accept the invoice. Then you'll be paid in the next payment run which is once every three months if you choose PayPal or once a month if you choose TransferWise. Both have a fee and I was paid £13.69 today via TransferWise after their fee.
The payment process isn't as easy as it could be and they are aware of this. I was quite confused with how to claim my payment, but they have the below blog post guide to help and also I'll paste my conversation with them here so you can see how helpful they are and that they are looking to improve.
Their blog post about how to claim your money: https://otium.crowdville.net/otium/blogs/view/48024/how-to-claim-your-money-on-crowdville
My conversation with them when I was confused: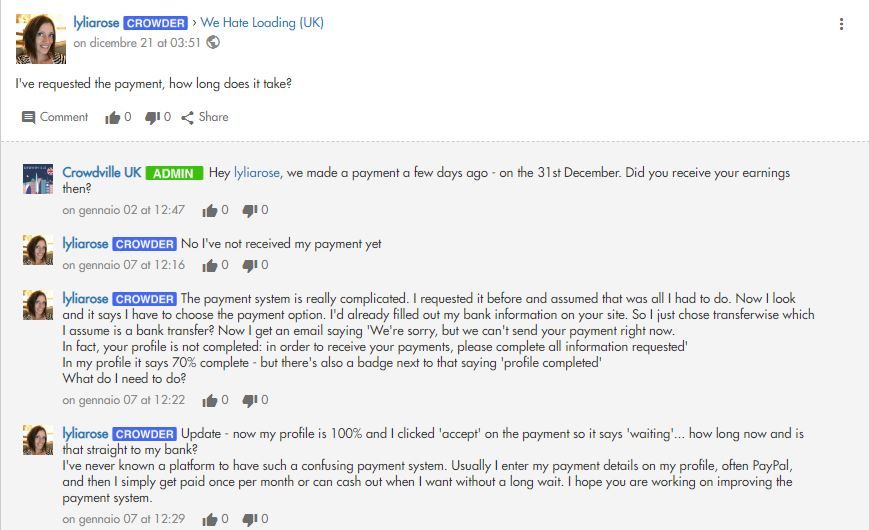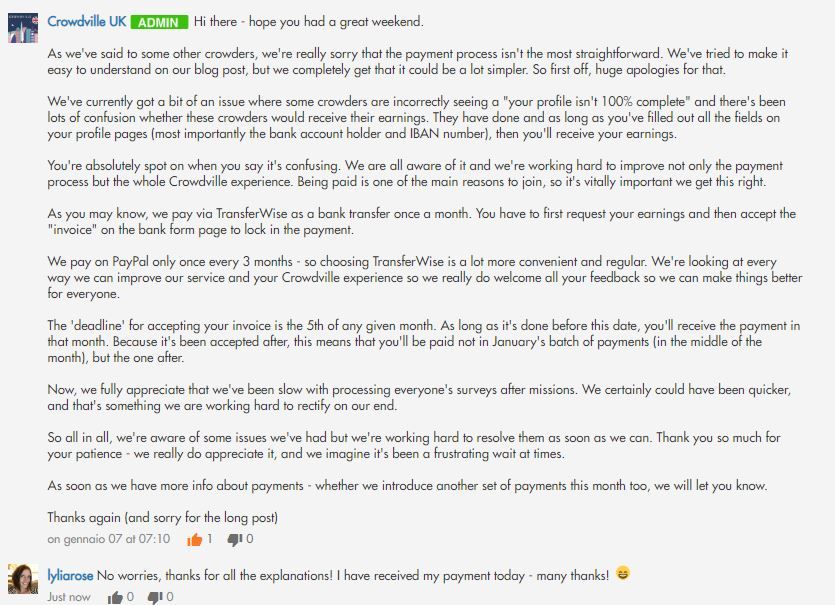 As you can see, they do admit there is confusion with their current payment system and they're going to improve it. Hopefully it will be clearer to you for how to get paid as I had no idea I had to log in and accept the payment and then log in again to accept the invoice before getting paid, but you know this now :)
Referral scheme
I'm pleased to see they have a referral scheme. It's always great when a company offers a commission if you recommend its services to another. You can get 5% of any referred income by using your referral link once signed up. Sign up by clicking here.
First impressions
The payment process was confusing, but I did get paid for a mission that I found very easy to do. I think the payment of £15 was a really good rate. There haven't been many missions since I joined a couple of months ago, but I'm not sure if that's simply because my demographics don't suit.
Every time there has been a mission I have been emailed about it, so that saves me having to check the site myself. Now I know I will get paid I will definitely be keeping an eye out for the next mission and hoping this platform really takes off here in the UK.
I love finding different ways to make money from home. Being self-employed and an at-home internet money maker, I like to discover as many side hustles as I can to boost my income and this sort of site is perfect. It won't provide a full-time income, but is a great site to be a part of when there are missions.
If you're looking for another platform that's a fun way to make money from home, then click to sign up to Crowdville today!