Things to consider if you want to make money affiliate marketing on your blog
Posted on
There are several ways you can monetise a blog, and having your own product can be time consuming and hard to achieve. However, you can always become an affiliate of a successful company and promote their products or services to earn commissions every day. The good news is that you will be able to carry on blogging about what you are passionate about, and don't even have to make hard selling your lifestyle.
Read this before you attempt affiliate marketing on your blog!
Affiliate marketing can also be a passive way to continue making money online from your blog in the long run. It's something I've dabbled in and plan to explore more in the future.
Around 10% of my blog income currently comes from affiliate marketing, but for some bloggers it can be as much as 100% as I've seen in my money making bloggers interview series.
Here are a few tips on how to get started.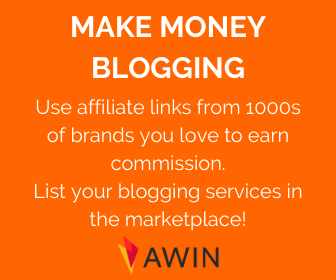 Get to know your niche
The first rule is to promote products that are related to your blog so they are relevant. You have to know your market to successfully set up a campaign. What are they looking for? What will help them? What has helped you and what do you recommend? This is something I have personally been working on as I niche down my blog to have a mainly money angle. I recently went through my Awin dashboard and refined the list of brands I was affiliated with so I'm only promoting relevant brands for me and my audience.
Build trust with your readers...
It is crucial that you brand yourself if you plan on using affiliate marketing as a way to make money from your blog. If you hope for readers to click on your links and give you a commission then first they need to trust you and your website. You will need to get your readers to trust you as an expert in your niche to get more conversions and so they listen to your recommendations. The times when you could make a killing with a one-page affiliate site are over, and you need more than good copy to make a sale; you will need to build trust and stand out from the crowd.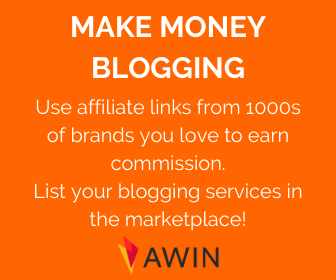 ... and with a trusted website
As mentioned above, you need to build trust with your readers before they will even consider buying from you or clicking on your links. But don't forget about having a trustworthy website too. It's important that your website works well and is trustworthy too, as well as your email account and IT equipment. It might be worth using the services of a managed IT support company to ensure your computers are safe from hackers and have the latest/best security programmes. You really don't want to lose trust by having a hacker access your email account and contact all your leads with bogus information! Make sure you have a secure website set up and that your devices that can access these are secure too.
Learn what a sales funnel is
Some of us just chuck affiliate links into copy and as banners and hope for the best, but there is a better way! A sales funnel that automatically generates leads and turns them into customers is a great place to start. Setting up an affiliate marketing sales funnel can be challenging and sound complicated, but there is a lot of advice on the internet and even courses to learn what to do. Typically there are four steps and they can be applied to selling your own goods or selling via affiliate marketing:
Get people to find you and be aware of how they found you – social media or Google? Then you can interact with them where they are, for example on Twitter.
Make these leads interested in what you have to offer.
Create a desire for the products you have to offer.
Convert these leads by getting them to sign up to your newsletter and/or making a purchase.
Basically, having a more structured plan when it comes to how you will make money from affiliate marketing is better than just throwing links around and hoping the customers will come. Give them a reason to come and choose to buy what you are offering.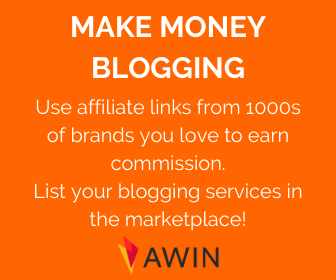 Only promote things you'd use yourself
To remain credible and trusted you should only promote things you have tried or used yourself. I have the most success with the brands I am really passionate about or highly recommend because I use them myself. This means I can naturally mention them time and time again on my blog as I know the product or brand inside out. If you love something and will be writing about it, then check out their website to see if they have a referral or affiliate programme. There is usually a link in the footer or you could Google the company name alongside affiliate scheme. If that doesn't work, then simply ask them!
Sign up to a reputable affiliate marketing platform
Lots of companies have their own affiliate schemes, but personally I love using platforms like Awin as they house thousands of brands affiliate schemes in one place. This makes it much easier to cash out as you only need to earn £20 across all the different brands, rather than just a single brand. It costs £5 to sign up to Awin, but I got this back in my first payout. If you sign up then I recommend installing the browser extension which will let you know if the website you are visiting is on Awin and will easily convert links to tracking links without you logging into Awin constantly.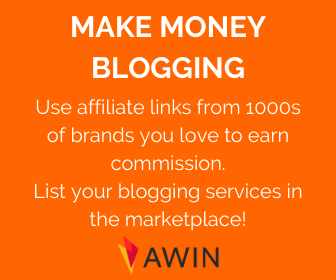 Create content based around your affiliate links
Once you've signed up to some affiliate platforms then you'll want to get your links out there to start earning commission from them. My best performing links are the items I write about often because they are something I use and regularly write about and recommend. Ensuring I have useful content based around these brands, products and services definitely helps me get more clicks on these links. You can also share these links and recommendations on your social media channels if that's where your audience is.
Affiliate marketing can be a profitable way of monetising your blog, but it can take time to build up readership, flowers, credibility and trust.