How much money I made matched betting each month for 2 years and why I quit
Posted on
You will notice that matched betting pops up regularly in my money making blog posts and online income reports. I've managed to make matched betting income in my spare time for two whole years. I highly recommend it as a great way to make extra money from home in your spare time.
Although I have now quit matched betting, I thoroughly enjoyed my time as a matched bettor and I would have continued if I could.
In this blog post I will share with you my matched betting review, how much money I made matched betting, every month, for two years and why I decided to quit. There's also a video so you can learn exactly what matched betting is, explained really simply.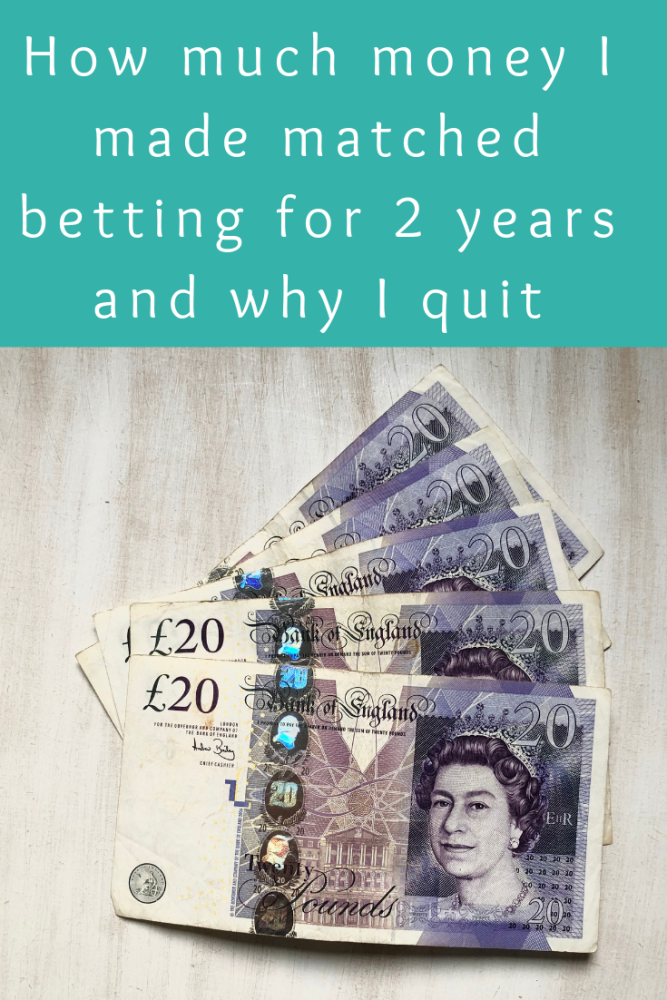 Is matched betting a scam?
I started matched betting at the end of January 2017, around the 20th of the month. I'd heard of it before this, but didn't really understand it and assumed it was a scam. Many of the make money fast online type of adverts usually are, so I assumed the same with this.
It was only when I stumbled upon bloggers I thought trustworthy talking about it on their blogs that I realised perhaps it wasn't a scam after all, but I was still wary.
It definitely sounded too good to be true. Make money from the bookies by using a mathematical formula to outsmart their promotions. Surely even if it was possible, it was illegal?
The month I started matched betting is the month I decided to go full-time with my blog. I was working a part time cleaning job just to tide me over with cash whilst I made a go of my blog and after my online shop had stopped making so much money. I'd been making a wage from my blog for a while and was ready to go full-time. I waited for another five months though just to be sure that my blog was making a consistent income before leaving the regular income of an employed job.
I knew I wanted to leave my job though and so I was exploring other ways to make money from home. I hoped I could make my blog successful, but I knew there might be quiet months and it was best to diversify my income as much as possible. I expect this is how I stumbled upon matched betting blog posts as I was researching legit ways to make money online.
My matched betting story
In the end I was convinced that so many bloggers that seemed trustworthy wouldn't be talking about matched betting so much unless they were really making money from it.
I took their advice and headed to the most recommended matched betting website called Profit Accumulator to see what all the fuss was about.
I decided I was going to risk it. I can't remember exactly how much I had to put in to complete the first two offers on the bookie and the exchange, but it was around £60-£100. I made the decision to give it a go and if I lost the money and it was a big con then lesson learned. I did this when I had the disposable cash and was prepared to lose it if it was all a lie.
I took part in the first two offers on Profit Accumulator without having to sign up to their subscription and I made around £45, just like they promised!
I was amazed!
It seemed too good to be true and far too easy, especially as this company Profit Accumulator basically told me step-by-step what to do and I didn't even understand how matched betting worked and how on earth I had just made £45. Even their explanation didn't make much sense to me, but the more offers I completed the more I got my head around how I was able to extract cash and make a profit from the bookies offers. Although I still find it difficult to explain to others and probably make them really confused!
It's one of those things where once you start doing it then it gradually begins to make sense.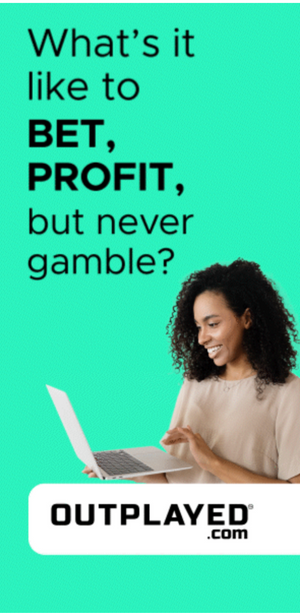 My two year matched betting income report
I've been meaning to write a blog post to share everything I made from matched betting for a while, well at least since I quit, but I've just got round to it. I think it's useful and interesting to see how much can really be made as a long term matched bettor.
It's also important to explain that I am a busy mum of two young children who runs her own full-time business. I did this in my spare time and I didn't learn all the methods to make money from matched betting, so more can probably be made. I really only took part in the risk free offers where I was guaranteed a free bet.
There are other methods that can be learned such as doing ACCA refund bets, but I never had the time to do these or learn about it. Others do learn other methods and they make a lot more than I ever did!
The first couple of months it took me a long time! Around 30-60 minutes a day of reading the site, checking offers, following the guides and really being careful when placing bets. I think my very first bet took me around one hour to place! I watched the video, read the guide, re-watched the video and so on. I wanted to be so sure I did it right!! Of course that is a ridiculously long time and I was being very over cautious.
But after a couple of months I became a whizz at placing bets and it was so quick and easy. Profit Accumulator were always constantly updating their software to make it even easier to place bets and even integrated their calculators with the exchange I used so I didn't need to leave their site to place some of my bets!
Here's a look at how much I made each month for two years:
| | |
| --- | --- |
| Jan/Feb-17 | £753.62 |
| Mar-17 | £588.19 |
| Apr-17 | £365.00 |
| May-17 | £465.95 |
| Jun-17 | £249.49 |
| Jul-17 | £61.64 |
| Aug-17 | £209.66 |
| Sep-17 | £274.68 |
| Oct-17 | £70.81 |
| Nov-17 | £167.00 |
| Dec-17 | £113.26 |
| Jan-18 | £125.88 |
| Feb-18 | £201.81 |
| Mar-18 | £343.66 |
| Apr-18 | £212.35 |
| May-18 | £175.45 |
| Jun-18 | £413.63 |
| Jul-18 | £197.35 |
| Aug-18 | £268.84 |
| Sep-18 | £104.06 |
| Oct-18 | £53.74 |
| Nov-18 | £36.96 |
| Dec-18 | £173.30 |
| Jan-19 | £41.04 |
| Feb-19 | £6.47 |
| Mar-19 | £11.31 |
| Total | £5,685.15 |
Why I quit matched betting
Although matched betting isn't illegal, it is against the bookies rules. If they think you are manipulating the free bet offers then they can restrict you from taking part in them. This is known as being gubbed from a bookie in the matched betting world.
There are tactics to avoid it such as placing pretend bets (known as mug bets), which you can then 'lay' (bet against on the exchange) and you'll lose a small amount of money (pence) to ensure you look like a regular punter.
But I didn't bother doing this. It was too time consuming and I had lots of other work and family commitments.
Also from reading the Profit Accumulator forums, there were no hard and fast rules around being gubbed. Some people literally opened an account with a bookie and got gubbed right away. Others placed mug bets constantly and still had their account restricted. Some would only do the free bet offers and never pretend to be a real customer and their accounts were never restricted.
I decided I was just going to take part in the free bet offers and not spend my time pretending to be a real customer. I would ride the wave for as long as possible until I was gubbed from every account.
Well, I was never gubbed from every bookie, but in the end I was gubbed from 18 of them!
Most of these were the well-known bookies who had all the great free bet offers every week and I was unable to make as much profit anymore. I was also only able to make a bit of profit on a Saturday and Sunday and I grew a little tired and stressed of having to check every weekend morning to only make a small amount of money. I decided I wanted my weekends back without any stress and to leave all my money making activities to the weekdays as much as possible.
So I made the decision to stop matched betting and call it a day. I was really proud of making well over £5000 in two years and in the end it was only taking very little of my time. To me I had a matched betting success for two years. It was a great way to make some tax-free cash in my spare time and learn something new.
If we ever move house then I'd definitely do it again or we might give it a couple of years and see if my husband can do it. This might not totally be the end of my matched betting journey, but for now it is.
I recommend using Profit Accumulator for your matched betting journey
I highly recommend matched betting to make tax-free cash in your spare time. I made £5685.15 cash from home in 26 months using Profit Accumulator as a total beginner. Try two offers for free without subscribing! Easily follow their step-by-step guides and videos. I didn't 'get it' but followed their instructions and made over £5000 in two years in as little as 30 minutes a week!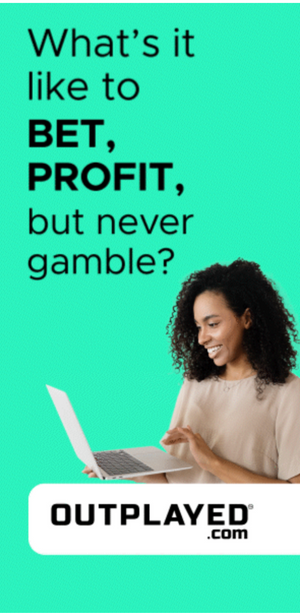 Follow my matched betting journey here:
Matched betting information and FAQs: