Long Term Beauty Treatments That Can Save You Time and Money
Posted on
Saving time and money on beauty are two things that I love to do. I don't enjoy doing beauty treatments at home. I'd rather be doing something else, like running my business and making money, or exercising and enjoying nature!
I also find it frustrating having to spend money on beauty. I do like to maintain myself as well as possible, but with working from home and my other daily activities only usually involving exercising and the school runs, I can get away with a minimal beauty routine which saves me money each month. There's no point in being all made-up just for myself working at home all day, and I simply don't have enough time.
You can't buy time, but you can invest in beauty treatments that'll keep you looking great for longer, and save you money in the long run. In this blog post, I will explore some long term beauty treatments that can improve your confidence, save time and perhaps even save money!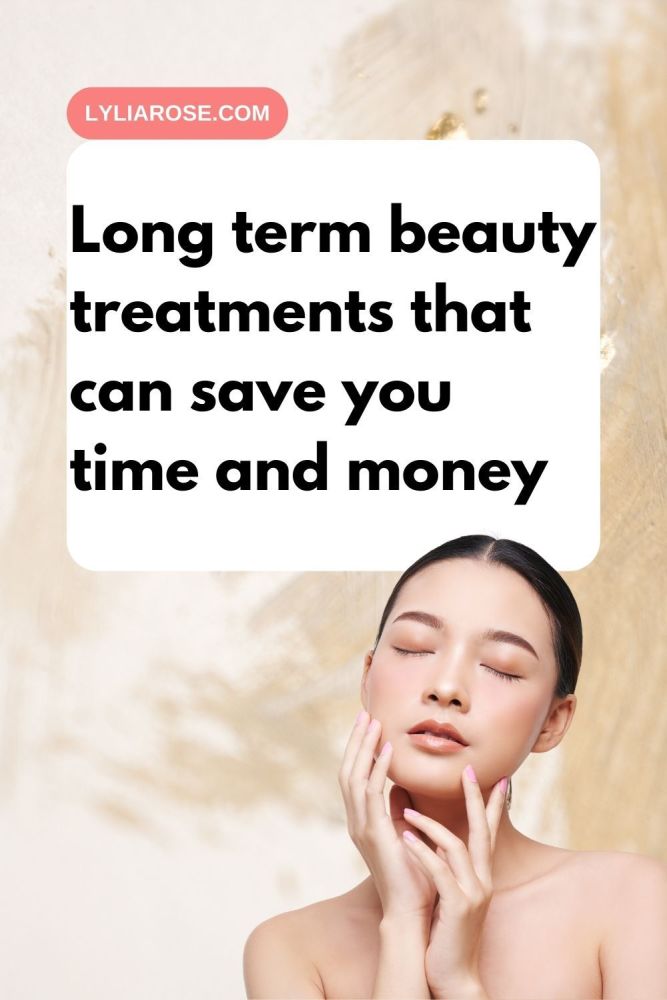 Why I don't have time for long beauty regimes anymore
Before having kids I used to wear makeup every single day for work. I'd also wash and dry my hair every day and shave every day. I used to have a lot more time or at least time I was happy to dedicate to these tasks.
Now I have changed to a minimal beauty routine in recent times that saves me money and is more suited to my lifestyle. I don't need to wear makeup if all I'm doing is exercising, working by myself at home all day, doing school runs and being a mum #mumlife.
I will admit though, I did used to feel much better when I had mascara on. I just can't be bothered with the hassle nowadays when I am only working from home and the damage to my surrounding eye area and skin when removing it every day.
So, for time-saving purposes, I went through a phase of wearing semi-permanent eyelash extensions which did really boost my confidence in my appearance. They were costly though and I stopped to save the money, and also as I had a bit of a tug-of-war with my conscience over the fact they are made from synthetic materials and therefore not good dropping off into the environment. Perhaps there's a natural material version I don't know about?!
Now I've opted for Silly George eyelash serum which seems to stop my natural short and stumpy eyelashes from falling out so quickly, so they actually have a chance to grow. That teamed with an eyelash curler makes my eyelashes and eyes look slightly better whilst still being makeup free!
I would love to look more made up each day to boost my confidence even more. Right now I guess it's a bit of a money issue, but I have been considering taking the leap and having some treatments. They can definitely save money and also a lot of time in the long run if you have more of a beauty regime than I do!
It's not just makeup though. Many of these are beauty treatments for a confidence boost that is about more than just the face.
Here are some ideas for long term beauty treatments that might just save you lots of time and money!
Semi-permanent makeup
So I don't wear makeup anymore, but I do still like my face with makeup on. I think it does look better. Even my husband Ben tells me I don't need makeup, but when I did wear it then those are the days he'll tell me I look nice! Duh… that's because of the makeup!
It also boosts my confidence and makes me feel better about myself. I just can't stand putting it on every morning and taking it off again at night, especially when I have no need for my type of lifestyle.
So what's the solution?
Semi-permanent makeup!
Semi-permanent makeup has a lot of benefits. Not only will this makeup stay firmly in place, but it could also be a cost-effective solution if you do wear a lot of makeup each day and especially if you reapply it each day.
It's possible to get eyebrows tattooed on by a process called microblading instead of using eyeliner pencils every day. You can have eyeliner tattooed on and even lip tattoos as blush or lip-liner. The results can last 1-3 years and so they're not totally permanent if you change your mind. Although in some people the pigments don't completely disappear so it should be seen as permanent when deciding.
You'll be able to stop buying these cosmetics and stop wasting the time putting them on and taking them off each day. You'll also look amazing and like you're wearing the makeup 24/7 without it smudging in bed or running down your face in a pool!
I searched a few local websites in my county and prices do vary. Microblading starts from around £250. Eyeliner starts from around £200 and lips from around £300.
I'd love to have semi-permanent eyeliner one day, with a flick. And some lip blush. One day!
Eyelash and eyebrow tinting
A less permanent and cheaper solution to semi-permanent tattoos is eyebrow tinting. You can also get your eyelashes tinted too.
A beauty salon close to me does eyebrow tinting for £7 and eyelashes for £12. This will last until your eyebrows or eyelashes replenish themselves so approximately 3-6 weeks.
I did opt for eyelash tinting with a lift, but for me, it wasn't too great. My eyelashes were so short and stumpy that the lift didn't do much. My eyelashes are also pretty dark naturally so the tint wasn't too noticeable. That's why I ended up getting semi-permanent eyelashes instead, but the cost was too much to continue.
So now, as mentioned in the opening, I use Silly George eyelash serum to help my lashes grow and fall out less, resulting in longer lashes. Then I curl them. This combination works better for me that the last tint and curl. But if you have naturally long and/or light eyelashes then you might love the tint and curl for permanent results for you!
Eyelash extensions
I'm not sure these will save money as they're pretty costly, but they can definitely save time. Prices do vary, but I was paying £35 for a full set and then £25 for a top-up every three weeks, to be applied by an eyelash extension artist. This was cheap. Some other local places cost £50 a time!
It's a lot of money, but they look a lot better than mascara, especially if you have short stumpy top eyelashes like I do. They're a time-saver and I found the process of having them put on very relaxing so it was some great time-out from work and mum life.
Another option is to apply eyelash extensions yourself at home! There are companies that sell 100% vegan and cruelty-free semi-permanent lashes that last for around one week and can be applied yourself. These lashes are designed to look as natural as possible, making them a great and easy way to spruce up any makeup routine. In order to extend their life (making them last longer and thus be more cost-effective) and keep them looking fresh, here are a few tips on how to make lash extensions last longer. For starters, always use a gentle wash near the eyes when washing the face regularly. Additionally, use only oil-free products on the eyelash area as this is essential for the longevity of your lash extensions. Additionally, brush through the lashes to remove any build-up of product every day for optimal freshness and length of wear. Follow these tips and you will be sure to make your lash extensions last as long as possible to save more time and money!
Here's a pic of me with the eyelash extensions. Been struggling to find one as I hate my photo. But it shows how they make my eyes really open up so much more. I did love them!
Fat freezing
Oh yes, you can literally freeze your fat away! Fat freezing costs around £500 for a CoolSculpting treatment and some clinics will require you to book a minimum of two sessions.
Of course, this is quite pricey, but if you have stubborn areas of fat you cannot shift and need a little help, then it may work out cheaper than all the detoxes, workout gear and gym memberships that haven't worked for years!
What is Fat Freezing? It's a permanent solution to get rid of fat in certain stubborn areas, but for some areas, it can take a few treatments. "Fat Freezing is the cooling of fat cells to induce fat cell death. The treatment is non-invasive, which means no needles, no bleeding, no anaesthesia. It is a very safe and effective way to remove fat cells permanently. These cells never return or regrow in this area."
Whilst it might not save you any money, it could save you a bunch of time trying to get rid of an area of fat that just won't budge.
I do promote healthy eating and exercise, but even for those of us like me who go to the gym almost every day, there are still areas of fat that simply won't go! I'd love to have some fat removed from my inner thighs and belly!
Laser hair removal
This one is near the top of my list for semi-permanent/permanent beauty treatments that I'd love to have. I really detest having to shave and don't do it as much as I'd even like to as it's so time-consuming! I'd love to be permanently smooth in most areas and not have to deal with the hassle of shaving to stay hair free.
I've heard great things about laser hair removal from others who have tried it and recommended it to me. My old friend and colleague had armpit laser hair removal and was impressed with the results. I've seen it locally for nose hair removal which would be amazing!
Again, it's a high upfront cost starting at around £65 per single treatment of a small area (naval, upper lip, chin, hands, feet) and you'd need several sessions for the treatments to be effective. This is because we don't have all our body hairs growing at once. Many lie dormant and grow in different stages. The lasers can only target hair that is actively growing. This is why you need more than one session to successfully capture all the hair.
Imagine never shaving or waxing again and all that money saved in a lifetime! Yes please!
For now, I am using FFS Beauty razors which I get on a subscription, so that saves me some time in buying razor blades!
Miradry
This is another treatment I have had!
I've always suffered from hyperhidrosis which is extreme underarm sweating. It always affected my confidence and I learned what to wear to cleverly disguise it - black clothing or black and white striped clothing! In the summer I could only get away with strappy dresses that don't touch the armpit!
In my teens, I tried several prescriptions, but most burnt my armpits and were not effective. In my adult years I just put up with it, never being able to wear coloured t-shirts!
Until I decided no more and actually went for one treatment in lockdown in Bristol. I decided I wanted to wear colours and be more colourful with my clothes and stop trying to hide this condition.
It IS pricey. It's available for £1495 in Bristol for one treatment. Some people need two treatments. I went to the Simon Lee Clinic for my treatment.
It will improve your confidence if you suffer from hyperhidrosis. It's not 100% got rid of the sweat, but results are meant to be around 80% effective. Some people have two treatments but I definitely can't afford another right now. Plus it was pretty painful after the treatment for quite a while and lumpy and sore while healing. So I'm not sure I'll get much more of an improvement with another session and whether I want to go through that again.
But, I now don't have to always wear deodorant, especially on cooler days. On hot summer days I do wear deodorant and sweat a bit, but probably like a normal person. Before, I would sweat under my armpits on even the coldest day and there was no way I could wear grey or colours. Now I can wear a grey t-shirt in the summer! Amazing!
When I do wear deodorant I opt for this amazing Wild natural deodorant which I have a subscription for, again... time-saving!
Laser eye surgery
Being able to see properly is a dream for many of us who wear contacts and glasses. Or even those of us who don't wear ours... I usually just walk around not being able to recognise people on the other side of the road as I hate wearing my glasses and find wearing my contact lenses regularly a faff.
It also costs so much money in a lifetime to keep up with changing prescriptions, buying glasses frames and ordering sets of contact lenses.
Laser eye surgery can start at around £600 per eye and improve your vision so much that you no longer need contact lenses or glasses to see properly!
It's definitely something I'd consider, though the thought of it does scare me a little!
Final word
There are so many long term beauty solutions nowadays that can save us money in a lifetime, improve our lifestyles, save time and energy, and make us feel so much more confident.
Of course, these sorts of treatments are not without their risks. Thoroughly research any treatment you are interested in, know the risks, and ensure you choose a reputable beauty practitioner.
Great beauty blog posts to read next
How to save money when buying beauty products
Tips to get beautiful healthy hair naturally at home
3 eco-friendly subscription boxes I use and love
Is teeth whitening worth the cost?
3 easy and effective ways to take time out and relax as a busy mumpreneur
Originally posted in 2019 and updated in 2022 as I've had two more of the mentioned treatments now!