How to plan a UK wedding on a budget
Posted on
Whilst most people assume a wedding is one of the most expensive things they'll ever pay for, it doesn't have to be that way. There are lots of ways to plan a UK wedding on a budget and not break the bank!
Weddings on a tight budget are possible!
My husband and I did exactly this. We decided we'd rather put savings towards buying a house than a wedding for one day. We got engaged after the birth of our first child, Bella, but decided we wanted a family home as we were living in a flat at the time.
We put our wedding plans on hold and waited around three years to get married after getting engaged. In the meantime we bought our first family home and even had our second child!
By this point, with two children including a new baby and a house we were totally renovating, we really had no choice other than to do our wedding on a budget!
Funds were really limited, but we still wanted to create a special day full of memories we would cherish forever.
Luckily we were both on-board with the idea of a relaxed day, without even having a dress code, with all our closest friends and family. We made a huge saving by deciding to host it in our garden! We decided we'd be wasting money hiring somewhere, when we had a large garden that could hold the 80 people attending.
We DIYd as much as we could from decorations, to a wedding playlist and even a photo booth and then splashed out on the things we really wanted - a stone baked pizza catering company, lifestyle photographer and a close-up magician!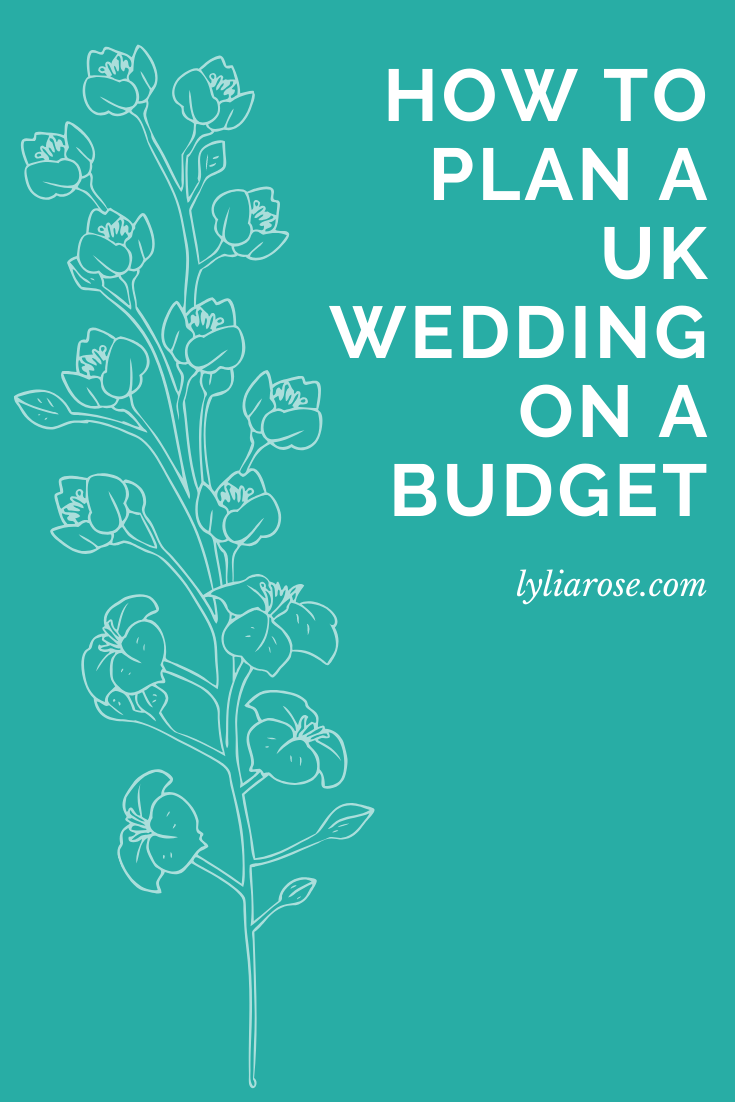 Our backyard budget wedding costs
Most importantly we wanted everyone in one place with good food, hopefully good weather, music and entertainment. We managed to achieve all these things and spent less than £2000. It was in the region of £1500. I can't remember exactly, but I know the food was the most expensive at £600 but they did stone baked pizzas for lunch and then a BBQ after.
The magician was around £200 and the photographer the same. Then we bought a garden marque/gazebo, tables, covers, cupcakes, guest book, instant camera and film, props, drinks for a drinks table, decorations and a few other bits and pieces.
Oh yes and we had to pay to get married in the registry office a couple of days before.
With the average wedding cost in 2018 £30,335, ours was only a fraction of the cost. And for us, it was perfect.
If you can afford an expensive wedding and want to, then go for it. But if you're breaking the bank to spend tens of thousands on one day or getting into debt over it, then perhaps it's time to revaluate your priorities.
Spending £30,000 on one day is a lot of money! That's a house deposit right there!
If you want to have a budget wedding, but still want the little luxuries then it can be done. Simply do what we did and work out the things you really want to have at your wedding that will create the best memories and then DIY or cut back on the rest.
How to create a UK wedding on a budget
If you need some inspiration n how to have a UK wedding on a budget then read on. I have lots of ideas on how you can create one of the most special days of your life without getting into any financial stress over it.
The hen/stag do
First things first, you might want to plan the best hen or stag do ever! Going abroad is fun, but also pretty expensive when you consider flights, accommodation and spending money for more than one night. Keeping it closer to home and for one evening can keep costs more reasonable when you're trying to do things on a budget. Host it at someone's house, or start at someone's house before heading into town or going out for a meal.
The most important thing is having your best friends there and having a lot of fun! Making the bride-to-be or groom-to-be look silly is usually top of the agenda! This means you'll need to have some great stag do or hen party games planned. The best man or maid of honour are usually in charge of planning these parties, so it's one thing the engaged couple can take a step back from and let others go wild with the planning.
If you need some ideas for fun hen-do games on a budget then take a look at this list:
The bride to be quiz - see how well everyone knows the bride-to-be with a set of questions all about her favourite things and some embarrassing memories!
Dress the bride - each of the hens brings an item of clothing that is pre-selected i.e. one brings a dress, one brings shoes, one brings a hat, etc. The bride has to wear these on the night out. Or keep it simpler and each hen has to bring a funny accessory for the bride to wear, but she can choose her main outfit.
Bridal bingo - search online for free downloads of games like Bridal Bingo and others!
Photo booth props - make some fun handmade props using card, paper and skewer sticks and pin up some glitzy paper as a backdrop. An instant fun photo booth for you to take fun photos of each other using your smartphones.
Hen-do piñata - fill a piñata with chocolate willies, confetti, willy straws, mini bottles of alcohol and more hen themed goodies… blindfold the bride after a cocktail or two, spin her round and let her whack it!
Truth or lie? - each hen must think of one truth and one lie about the bride, preferably something embarrassing or guilty, then the others guess which is true!
Pin it on the bride - stick up a big printed picture of the bride and then try to pin the bouquet, veil, shoes, whatever you can think of and print out, on to the bride in the right place whilst blindfolded! This one can also be made naughty with 'pin the junk on the hunk'!
The venue
One of the first things to usually book and decide on is the venue. This will then help you decide your maximum number of guests, decorations, timings and so on. Having an intimate wedding can keep costs down.
More affordable venues will be pubs, village hall and smaller hotels compared to stately homes and mansions!
The cheapest venue will be your home or garden, if large enough, or that of a willing friend/family member. You could even ask local farmers to use their fields/barns if they have something suitable you could decorate or pitch a marque or yurt on.
For us, we decided we would just be wasting money on a venue for our 'wedfest' when we had a large garden that was perfectly fine. We were getting married at the registry office, very low key with two witnesses as we didn't want the big ceremony, so we ultimately just needed somewhere to have a large celebration and our garden was perfect.
The dress
Sometimes the biggest expense can be the wedding dress itself. Simply call a white dress a wedding dress and the costs can suddenly be in the thousands. There are plenty of stunning white dresses that aren't in a bridal shop, but make the perfect wedding dress and at much cheaper price.
Don't instantly assume you need to go to a bridal shop for your gown, but shop around instead. Don't be afraid to go second-hand either. Many pre-loved wedding dresses are practically brand new as they have only been worn for a few hours at most.
The transport
Whilst it's tempting to give your guests an absolute ball and book wedding buses for your entire wedding party, the costs will quickly add up. You don't have to provide transport for everyone, your guests will be quite happy to make their own ways to the venues. Most importantly, the bride and groom may wish to arrive in style, but it still doesn't have to break the bank. Like with anything in life, shop around. There are some companies such as these classic wedding cars for hire in Yorkshire who offer a 'Best Rates Guarantee'. If you find lower prices for the same cars elsewhere, they will aim to match or beat the price, so you know you are getting the best value for your wedding budget. Other options include asking a family or friend with a nice car to drive you, or taking an executive taxi instead!
The photographer
The thing with planning a wedding is as soon as you attach the word 'wedding' to it then the prices rise considerably. It's not right. Keep this in mind when booking things like photographers and venues too. Opting for a package that isn't a wedding package can be considerably cheaper.
I hated my photo and face at the time of our wedding. I didn't want the whole wedding photography thing with us posing for numerous photos and paying a fortune. Instead I searched for local lifestyle photographers and asked for quotes to take photos at a party event in our back garden. These prices were a lot more reasonable than us booking a photographer for an official wedding photography package.
We also kept costs low by having the photographer for only two hours instead of the whole day. We made sure the photographer was there at the same time as the close-up magician to capture people's reactions. Time the photographer with your entertainment or arrival of guests to get some great photos.
The rings
The wedding bands can also be very costly, so don't instantly look for the wedding section at jewellers. For something truly unique why not source a handmade ring from Etsy? Or simply choose a ring you love that is from the normal section of the jewellery shop?
It actually took me a couple of years after getting married to find the perfect ring for me. I wanted something very minimal and found the perfect handmade ring on Etsy at a later date. The best thing is it only cost £100 and I got to support an independent maker.
The favours
The cost of giving wedding favours to all your guests can be astronomical if you have hundreds of guests and spend a few pounds on each. Try to keep these costs reduced by setting a limit of £1 per guest. If you're stuck for ideas then check out this huge list of 100 wedding favours under £1 which covers every possible favour you could ever want! My favourites are:
Personalised packs of wildflower seeds
Wedding fortune cookies
Personalised popcorn box
'Just Married' chocolate coins
'Mint to be' mint boxes
Mini mason jar candles
Making your own favours is a great way to keep costs down. You can buy supplies in bulk online with places like eBay having some of the most competitive prices when compared to somewhere like Hobbycraft.
The stationery
This is something you can easily DIY with many free online design programmes like Canva letting design novices create professional looking invitations in minutes. They have hundreds of readymade templates so you can simply insert your own details and be done. Print your designs on glossy photo paper for some luxurious looking invites. This tip can save you a small fortune!
The entertainment
We did splash out and hire a close-up magician, but we skipped hiring a band or DJ. Instead we sat one evening and created a wedding day playlist full of our favourite tracks. It was a great evening! We hooked a laptop up to some good quality speakers outside and enjoyed all our current favourite songs for the day. This meant a lot more to us and now we always have a wedding playlist saved in our music which we can replay whenever we like.
The brides hair and beauty
Do your own! Or get your friends and family to help, especially if one is talented with hair and another with makeup. They should be only too happy to help on your special day.
The catering
This was our most expensive part of the day, but I still think it was very reasonable for 80 guests. We knew we wanted stone baked pizzas so it was just a case of searching for those nearby and getting a bunch of quotes. We looked into festival style caterers so this was probably a lot cheaper than booking professional wedding caterers for the day. Plus ours offered to do a BBQ after the pizzas ran out, so that was a bonus and meant everyone had food all day!
The cake
This is another thing that gets a hefty price tag should you add the word 'wedding' to it! Rather than letting local cake makers know it's a 'wedding' cake, just ask for quotes for a normal cake covered in white icing, or whatever you want.
We went for a local cake maker and chose to have cupcakes instead. I bought tiered cupcake stands to display them on and they looked great! It also meant everyone could just help themselves to a cake as and when they wanted, without anyone having to cut an entire cake into slices.
Final word
Ultimately there are so many ways you can cut costs and have a UK wedding on a budget. By creating as much as you can yourself from DIY decorations to invites and makeup, making use of pre-loved goods and choosing an affordable venue. You can easily keep costs minimal and still have one of the best days of your life.