A sneak peek at our garden 'wedfest' wedding!
Posted on
Ben and I tied the knot in August this year (2015) and I've meant to devote a whole blog post to the event for a while now. I'll share a snippet so you get a feel of the day and perhaps some inspiration from some of the ideas we had for our Wedfest. We did a DIY backyard wedding in our garden. It was low cost, so budget-friendly, and perfect for those who don't like the idea of a traditional wedding day. Read on as I share how we planned our outdoor wedfest for lots of DIY backyard wedding ideas on a budget!
A homemade DIY wedding in our own backyard!
We decided to have a Wedfest style wedding in our own garden. I originally wanted to wed in Las Vegas, but we decided this dream would be quite a way off as we wouldn't want to leave our children, and go so far, for several years. But, we didn't want to wait any longer to wed. Reuben, our second and last child, was born in March this year and I was keen to complete our family by getting married and sharing the same name as Ben and our children.
We'd been engaged for three years, so a wedding was already on the cards, but it still felt all very sudden somehow! The idea of a garden Wedfest began in April and within four months the big day arrived. We wed in a basic registration ceremony a few days before, and our Wedfest came and passed by in a flash.
For us, it was the perfect day. It suited us both down to the ground. I've never been one to dream of a big wedding day; the thought of a lot of people looking at me all at once terrifies me! I detest having my photo taken as I'm so self-conscious of how I look. What would be most people's dream wedding day, would actually be my nightmare wedding day. I do absolutely love a more traditional wedding day, but purely as a guest only! Hopefully we will still go to Vegas one day. I've been four times before, but would love to show Ben and have a good mooch around. There is still so much I haven't seen or experienced.
I thought about hiring a venue for our Wedfest, but Ben actually said, why spend the money when we have a perfectly good venue ourselves. It was the best venue. Everyone was relaxed and Bella and Reuben felt comfortable in their own home, surrounded by everyone important to us. The only worry was if it rained and 80 people had to squeeze indoors! We purchased a couple of pop up gazebos and a marquee to give some extra shelter outside just incase. We needn't have worried though as it was absolutely scorching!
If you live in the South West you may remember the day well. I think we'd had a pretty good summer, then it started turning in August. The whole week looked a bit iffy and we couldn't tell if it would be a washout or not. Then the forecast promised sun. And boy oh boy, did it deliver. It was scorchio. It was so hot we were dripping just by standing still outside, everyone had to go indoors just to cool down! We may have prayed for the sun just a little too much, but at least it was dry and we could make full use of our garden and everything we had set up for the day. By the evening it absolutely chucked it down! It was strong winds, torrential downpours and thunder. A full blown storm. The wind actually took our parasol right out of the table, it flew into the window and snapped. We were so amazingly lucky to have the final best 'day' of the summer!
We set up the marquee and gazebos the day before, once we knew we were safe from any rain! We then got up super early to decorate and add all the finishing touches. I'd set up the three tables inside the night before, so we had to just carefully carry them out. We'd made the paper pompoms over several nights before - I'd ordered ready cut ones, but they still took a few minutes to make each one! We did a few each evening, whenever we found we had a spare 20 minutes.
On the morning of Wedfest, I ran around carrying Reuben in a carrier on my back (in which he fell asleep and didn't mind at all) setting it all up. My Mum, sister and Ben's Mum came mid morning to help set up and keep the children occupied. We finished just in time and I didn't even have a five minute sit down before the first guests arrived - we were just in the nick of time! I think a half hour sit down would have made it even better though, just to absorb it all and to prep my head for the overwhelming day!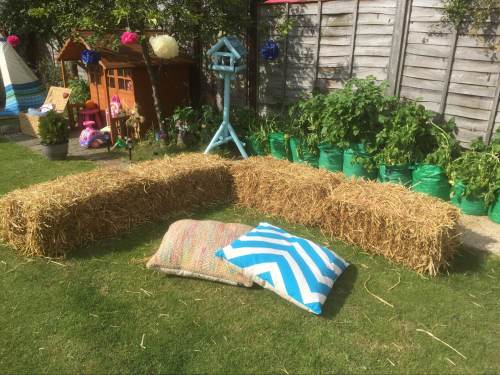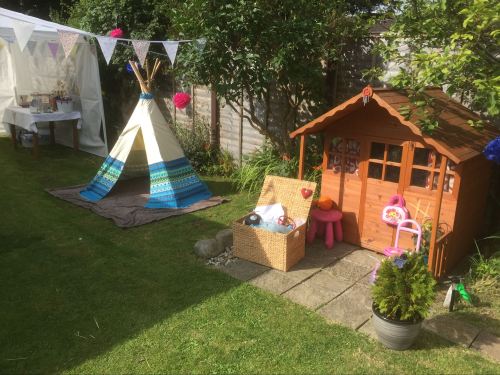 There were around 20 children on the day, most under five years old. I popped a box of dress up outside Bella's playhouse which they had great fun dressing up in all day. I also left out some patio chalks, which were used to decorate the inside of the play house instead! We thought some of them had paint on their clothes and couldn't work out where it was from, but then realised it was chalk as soon as we looked in the house! Oops! I purchased this Garden Games aztec children's teepee which the children loved. It seemed perfect for the festival theme.
For extra seating we hired straw bales from a local farmer. They dropped them the day before, then bought them back the day after Wedfest as they were still useable. They were such a fun idea to use for seating. The large floor cushions are from Homesense. I'd always wanted some and finally had an excuse to buy some!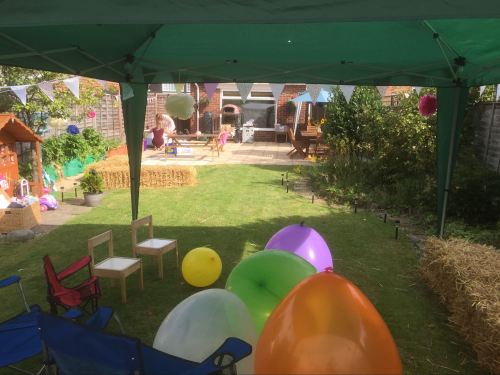 We strung up bunting everywhere, a must have for a garden wedding if you ask me! We also had some giant balloons for fun, which mostly ended up in the neighbours gardens before the day had even begun, oh dear! A Wedfest sign with an arrow pointing down our garden path welcomed guests - this was simply Bella's chalk board! As guests reached the garden, they were welcomed by a welcome drinks table. Right at the back there, by the house, you may notice a pizza oven! We hired Cotswold Pizza Co who served wood fired fresh pizzas to all the guests for lunch. They walked around handing out slices or made a whole pizza per guest if requested. They were the best tasting pizzas ever!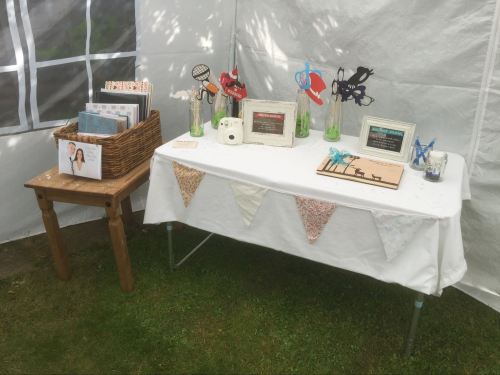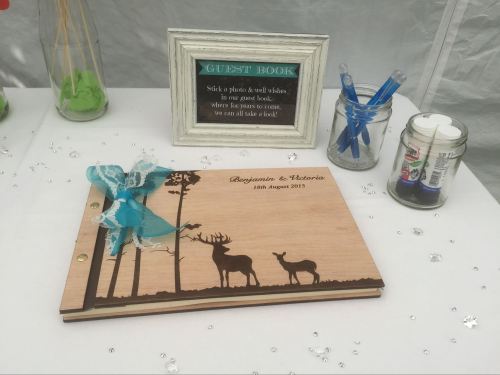 Originally I was going to hire a photo booth for a couple of hours, but then decided to do my own. I made up some props and placed them in jars for display. I purchased a Fuji Instax Mini 8 and loads of film. I left these out for guests to take their own photo booth style photos. There were glue sticks for these to be stuck into our guest book next to their messages. I found the guest book on eBay and it came all the way from Greece. It was exactly what I was looking for and I couldn't find anything in the UK.
I love wood and our house has lots of wooden furniture, wood style floors, wooden blinds, a rustic oak fireplace beam and so on. We stayed in a log cabin once and I loved it so much, it really inspired me! Ben also loves woodwork and dreams of making his own furniture one day. It seemed so perfect to have a wooden guest book. I'm becoming a little obsessed with stags too. We have an amazing canvas of a stag by Paper Panda in our living room which I love. So the stag theme continues! I'm so pleased we did our 'homemade photo booth' as we really do have the best guest book filled with wonderful messages and photos of everyone enjoying themselves.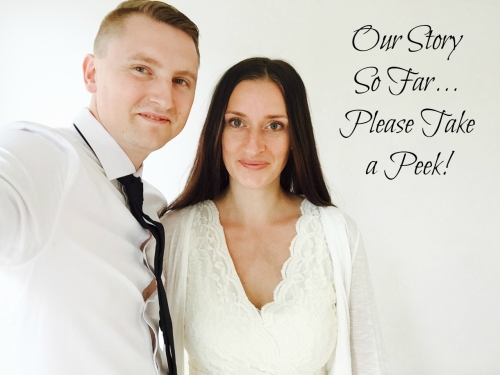 I don't know about you, but I love looking at photos. I left a big basket of our albums out so people could look at 'Our Story So Far...' if they wanted to. There were baby albums of both our children, our family album and our new home album. We moved home just over a year before our wedding and have almost totally changed every room. It was a great chance for those new to our home to see everything we had done so far.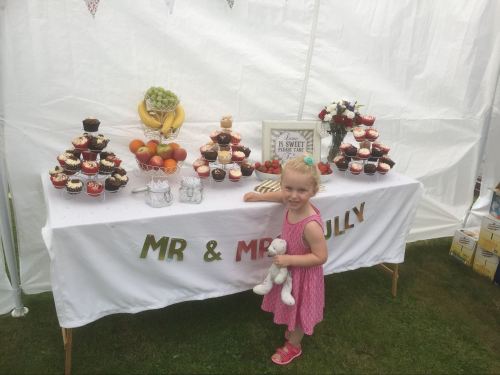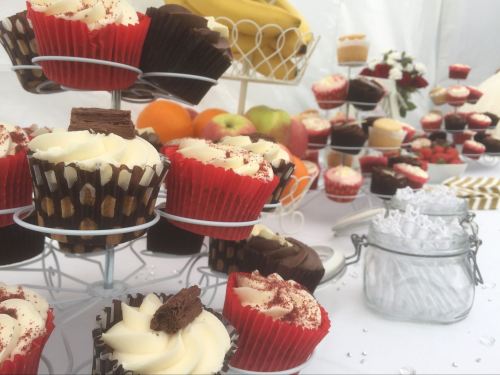 Mmmmm, the cake table! It wouldn't have been complete without some sort of wedding cake. We didn't go for a traditional tiered wedding cake, but cupcakes which the guests could help themselves to throughout the day. I had a little bet with Ben on the day. He was certain I had purchased way too many, but I disagreed. We had around 80 cakes, so enough for each guest. By the end of the day only 2 or 3 remained, so I think I won?! Here you can see Bella before the guests arrived absolutely dying to have a cake and hovering for ages around the table!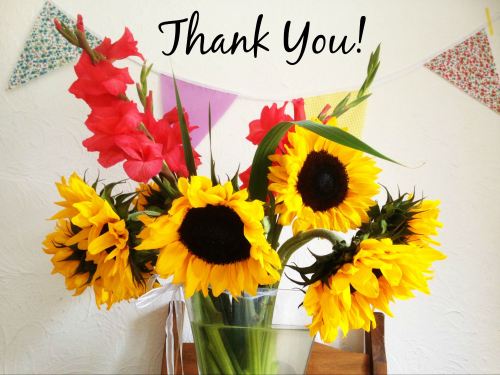 Two sets of neighbours gave us a beautiful bunch of flowers each. They made a great centrepiece for our garden table and I used this photo to create our thank you cards after the event.
As well as taking lots of our own photos throughout the day, we also hired a professional photographer to document the first three hours. Pix Photographic from Gloucester captured the enjoyment of all our guests and provided us with around 200 amazing photos on a wooden USB stick! Yep, it's wooden too!
Here are a few of our professional photos: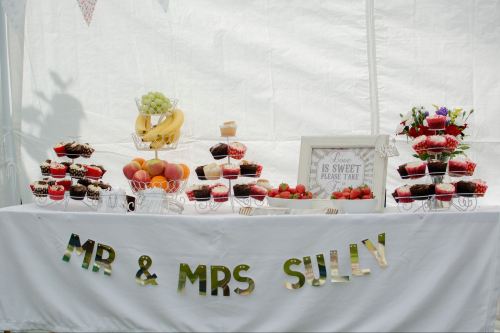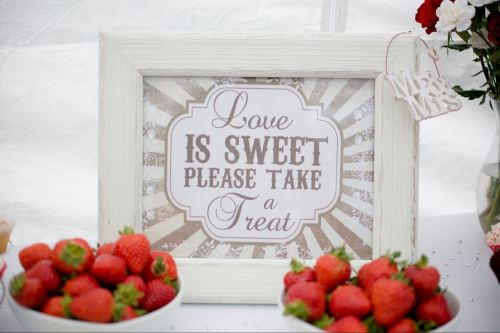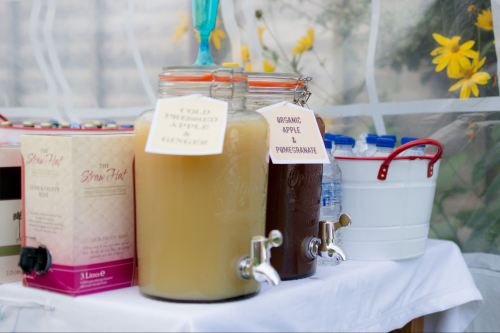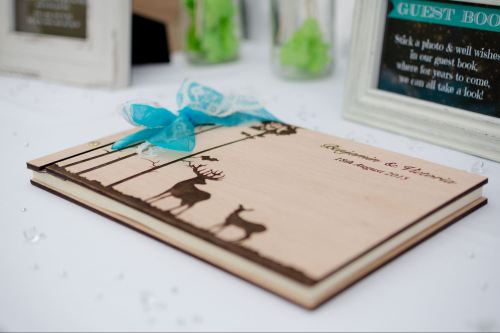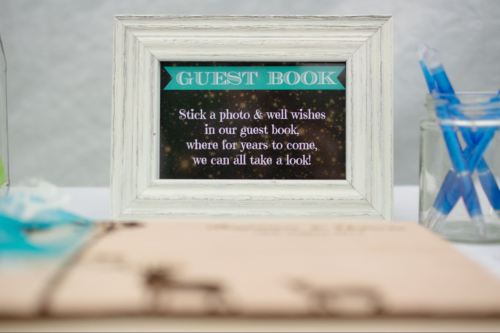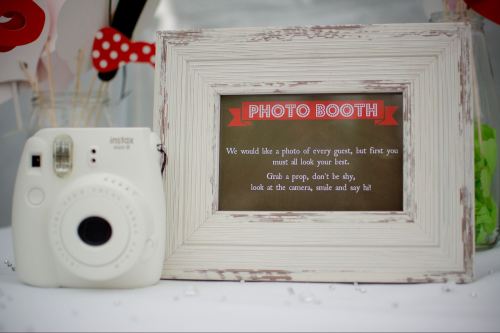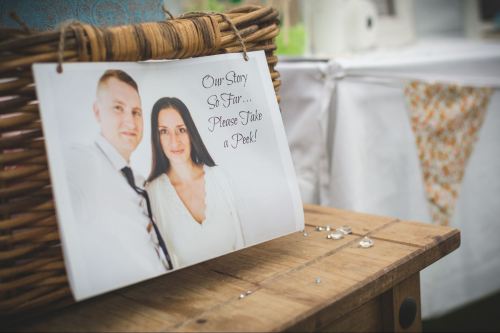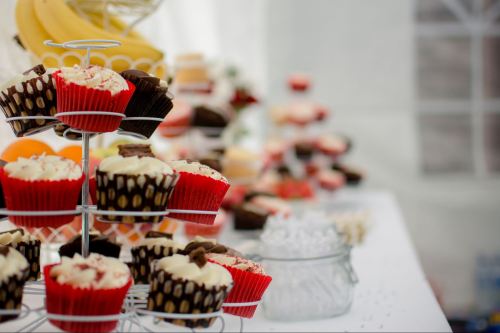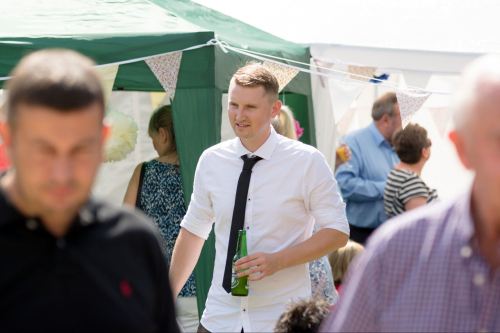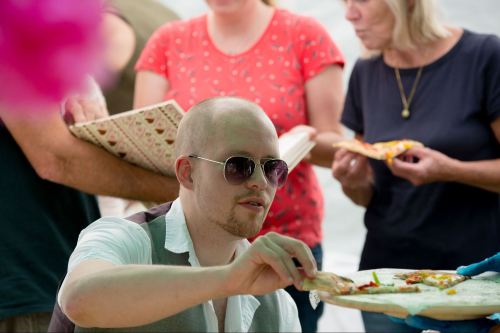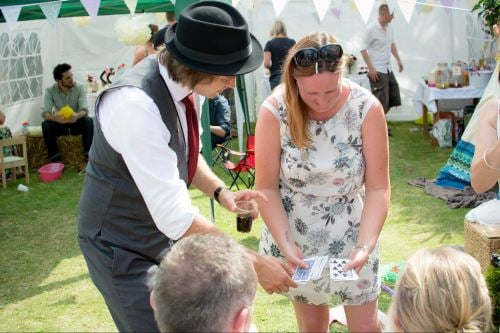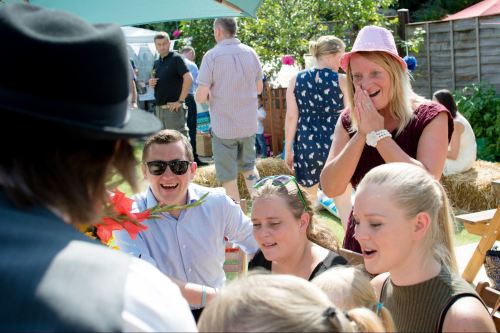 Aside from the pizza (of course) the best thing about the day just had to be the incredible close up magician, Darren Campbell. Darren spent time going around to all guests and amazing them with his spectacular magic tricks. Even though he was often surrounded by people, we still had no idea how he did it. We were all absolutely gobsmacked and he was the highlight of the day. I have no idea how he did the tricks he showed to me and Ben. Perhaps he really is magic. I didn't know what to say. I was so stunned by what had just happened, I was trying to think about what my eyes had just unbelievably witnessed, in which time he had completed even more baffling tricks.
I honestly have no idea how he does it. We have kept one souvenir from Darren. A small sealed tonic bottle with a card inside which we signed our names on. We signed this card and inserted in into the pack, then Darren would pull it from his different pockets. Next it was in his waistcoat pocket sealed in the bottle. Perhaps he froze time to put it there! He took rings off people and then pulled a set of keys from his pocket to which these rings were attached, by an actual keyring. I find these keyrings a nightmare to take keys off at the best of times, so how he managed to slyly pop it on one, without being seen, I have no idea. He also read our guests minds. Guests were to hold a cube (which had a different symbol on each side) in between their palms, and Darren guessed the upwards facing symbol. He was correct every time!
Darren Campbell Magic is truly amazing and highly recommended. As us and all our guests thought on the day, and have continued to comment since, Darren is super talented and a natural entertainer.
I was a little sad when the day was over. I feel like I need to repeat the day, but as a guest to really take it all in. I'm dying to see Cotswold Pizza Co at a festival so I can try one of their pizzas again and really enjoy it without distraction! We had such a wonderful time and hope all our guests did too.
We already know what we'll be doing for each ten year anniversary - ANNIVERSAFEST!
More wedding blog posts
How to plan a UK wedding on a budget
How to make getting married affordable
Dressing for a summer wedding on a budget
Wedding Guest Etiquette: How to be the perfect wedding guest
How to cut costs for your wedding
How can I make my wedding cheaper?
Your checklist for a money saving DIY backyard wedding
Loving money saving tips?
Check out my massive money-saving tips section and find some great deals on my voucher codes and 80+ ways to get free money pages!
Learn how to get free food and heavily discounted food.
Check out my list of UK apps that turn receipts into cash and also this list of UK cashback sites to maximise your free cashback and savings.
Find free cryptocurrency offers here and free shares offers here!
Subscribe to our newsletter for the best free money offers, money-making and money-saving tips we discover!
Save