Win an engraved wooden keepsake box from Personalised Gifts Market
Posted on
GIVEAWAY HAS ENDED. Winner notified.
---
It's competition time! Today I have teamed up with Personalised Gifts Market to bring you a giveaway to win a gorgeous unique personalised wooden box from their website.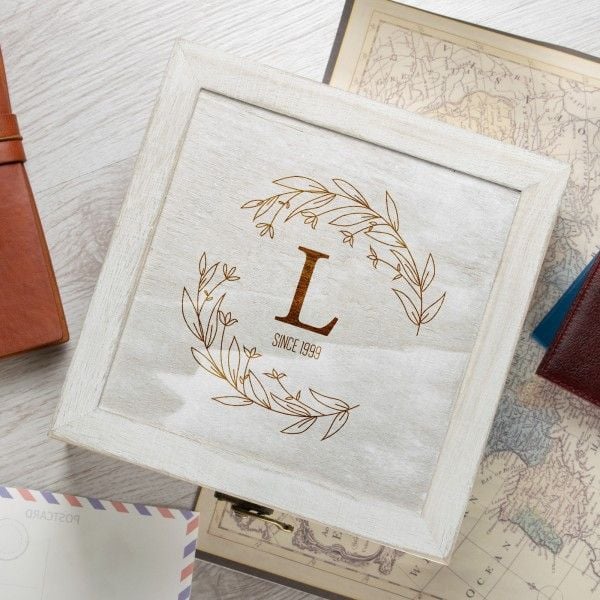 Treasure your memories in a personalised keepsake box
Ever since I was a child I have kept memory boxes to store my photos and keepsakes. Even now I'm married I have a lovely red chest that is home to all our photo albums and a small box with paper memories such as wedding invitations and photos people have sent to us.
I'm not one for keeping absolutely everything, but I like to treasure a few items to look back on in the future. For my children I have kept a memory box each with some special items such as their first ever pair of shoes, baby blanket and comforter. I also made a scrapbook each of photos when they were babies and have kept their preschool books full of photos and comments from each of their childcare settings.
Right now these are in storage in a clear box in our attic, but I'd like to buy them each a personalised box to keep these precious memories in and I'll pass them on to them when they are adults. Perhaps a nice surprise on their 18th birthdays!
How to store your precious memories
Too many of us take photos with our phones and never do anything with them. I do quite miss the old-school excitement of receiving photos by post after sending in a film. I never had a clue what the photos would look like until they arrived by post!
I'd go out and purchase a brand new photo album or photo box to store them in and eagerly await their arrival. It was all part of the fun of taking photos and storing memories.
Sharing memories is lost a little nowadays as we have hundreds of photos on our smartphones that often just sit there for years!
Store your photos and keepsakes in a bespoke engraved wooden box
When I was offered the chance to give away an item of my choice from Personalised Gifts Market, I was instantly drawn to their selection of bespoke wooden boxes.
They reminded me so much of being a youngster and keeping memory boxes with all my precious keepsakes, tickets, letters from friends and pen pals and photos.
As you can choose the initial you engrave the box with and a date, they make such great gifts for all sorts of occasions. Just a few ideas are:
Photo box
Jewellery box
Keepsake box
Keepsake gift for new-born baby
keepsake gift for newly married couple
Box for wedding photos and/or cards
Valentines/anniversary gift
Win a personalised wooden box
Enter the giveaway here for a chance to win this gorgeous engraved personalised wooden box from Personalised Gifts Market.
It's available in two sizes and you can have it engraved with the initial and date of your choice.
Get up to four entries to increase your chances of winning. Good luck!
GIVEAWAY HAS ENDED. http://www.rafflecopter.com/rafl/display/ee07d1b3174/
Terms and conditions
There will be one winner
The prize is this personalised wooden gift box: https://personalisedgiftsmarket.co.uk/index.php?route=product/product&path=24_200&product_id=1751
The winner will be picked at random by Rafflecopter & notified by email within 28 days
The prize must be claimed within 28 days of the first notification email or it will be forfeited
There is no limit on the number of entries per person - follow the instructions for multiple entries
All entries must be received by the date and time specified
This giveaway is open to the UK only