Make extra cash with the Lebara refer a friend program
Posted on
I'm always looking for new ways to make extra money from home and refer-a-friend deals are a great way to share amazing companies and deals with your friends and family in exchange for a commission for bringing new customers to a company.
Today I am sharing with you the Lebara mobile refer-a-friend program which allows you to earn up to £50 for each successful referral, even if you're not already a customer yourself!
Read on to learn more about Lebara and how to earn extra cash online with their refer-a-friend program.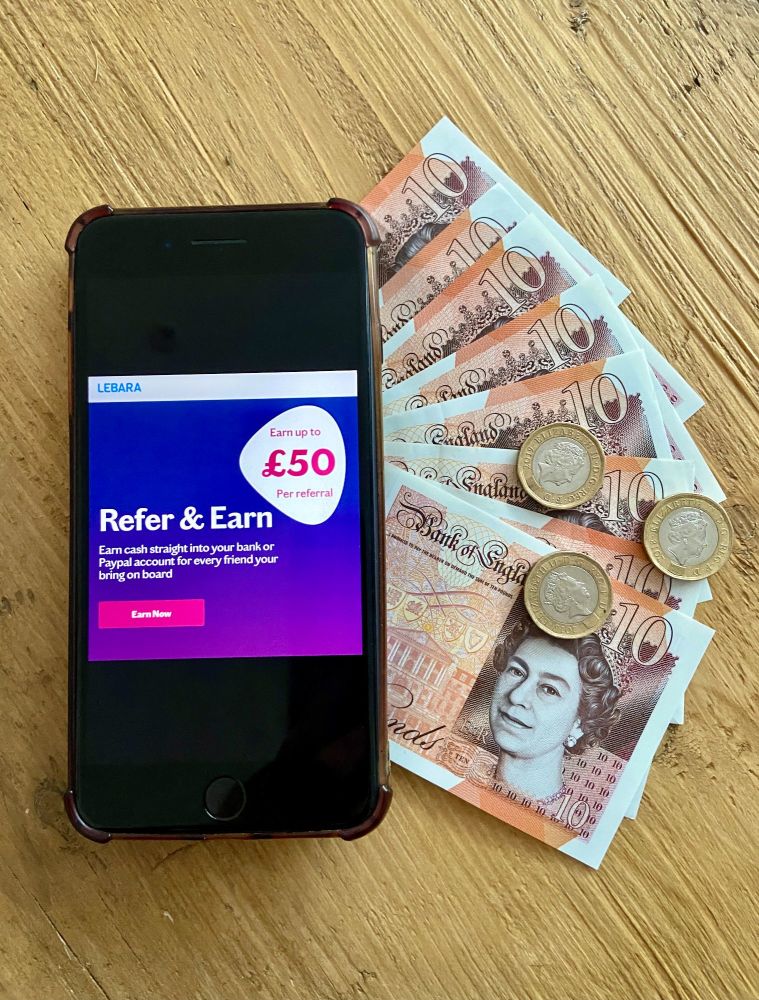 Who are Lebara?
First, let's take a look at who Lebara are, in case you have not heard of them.
Lebara are a mobile phone network in the UK. They offer low cost SIM only bundles from just £5 per month which include data, UK and international calls. They specialise in low cost international calls to 41 countries with their plans offering from 100 to unlimited minutes of international calls.
Lebara have recently launched a referral scheme. Anyone can sign up and share a unique refer-a-friend link with others to earn extra cash from home with every successful referral.

Reasons to sign up to the Lebara refer-a-friend program
So why would you want to promote Lebara and sign up to their refer-a-friend program?
Let's take a look.
No need to be an existing customer - That's right! Whilst their SIM only plans are certainly worth looking at as they have some great deals, you don't have to be an existing customer to join the referral program. This is great news as many other referral schemes are only open to existing customers. Literally anyone has the chance to promote Lebara and make some extra cash from home.
Earn up to £50 per successful referral - The commission per successful lead is very generous. The minimum you will earn is £10 per successful referral. It depends on the plan your referred friend chooses and you can earn up to £50 if they choose the highest Lebara mobile plan. A successful referral is someone who clicks your unique tracking link, makes a purchase with Lebara and remains a customer for at least 60 days. Please see T&C's for further information.
Quick and easy to sign up - It's really easy to sign up to the program. You can sign up within two minutes and start sharing your unique tracking link. Simply sign up today
Get a unique link you can share anywhere - Once signed up, you'll immediately receive a refer-a-friend link that you can share anywhere! You can use WhatsApp, Facebook, email or even QR codes to share your code. You can tweet your link, text your link, add it to your website or blog, if you have one, or share it on any other social media you might have.

Money paid straight into UK bank account or PayPal - You can view your earnings anytime on the Lebara Refer and Earn dashboard. From here you can transfer funds straight into your UK bank or PayPal account. Funds will be available to transfer as soon as the eligibility criteria has been met i.e. your referral stays with Lebara for 60 days, please see T&C's for further information.
Unlimited earning potential - there is no cap on the number of referrals you can make and commissions you can earn. So share, share away!
Individual support offered when 5+ transactions made
Posters available to 5+ refers
Do you have more questions? For answers to all your FAQs about the program, click here

5 reasons for people to use your Lebara refer-a-friend link
It's all well and good signing up to a refer-a-friend program with the hope of being successful and getting commissions, but there needs to also be a reason for your friends and family to use your referral link.
So what are the benefits of your friends and family using your exclusive Lebara link?
Here are five reasons your friends and family will love Lebara:
#1 - No strings attached
Lebara don't offer long contracts like most mobile phone networks. Instead they offer 30 day rolling plans, giving the freedom to change or cancel a plan at any time.
#2 - Competitive pricing
Lebara offer some of the best SIM only deals in comparison to other mobile phone networks.
#3 - No credit checks
There are no long, lengthy forms to complete to sign up to Lebara and no credit checks. They've even had people sign up in less than 60 seconds!
#4 - Bespoke plans with 50% for the first 3 months
If your friend is looking for a Lebara promo code, then your referral link has this covered! By signing up to Lebara with your refer-a-friend link, your referral will get 50% off for three months until 10th March 2021, as well as some of the best SIM only deals on the market! Check out this great offer by using my own exclusive refer-a-friend link by clicking here!
#5 Reliable network
Their coverage in the UK is over 98% and they use fast 4G from Vodafone with average data speeds of over 20mphs.

Lebara promo – Your Friend gets 50% off first 3 months until 10th March'21!
As mentioned above, by using a Lebara referral link you can get 50% off first 3 months until 10th March 2021.
Sign up and start earning with Lebara refer a friend by clicking here