Clever storage ideas for small bedrooms
Posted on
A few clever storage solutions can go a long way to making a small bedroom feel more roomy. Here are several ideas for where to put your clothes, shoes, books, and more.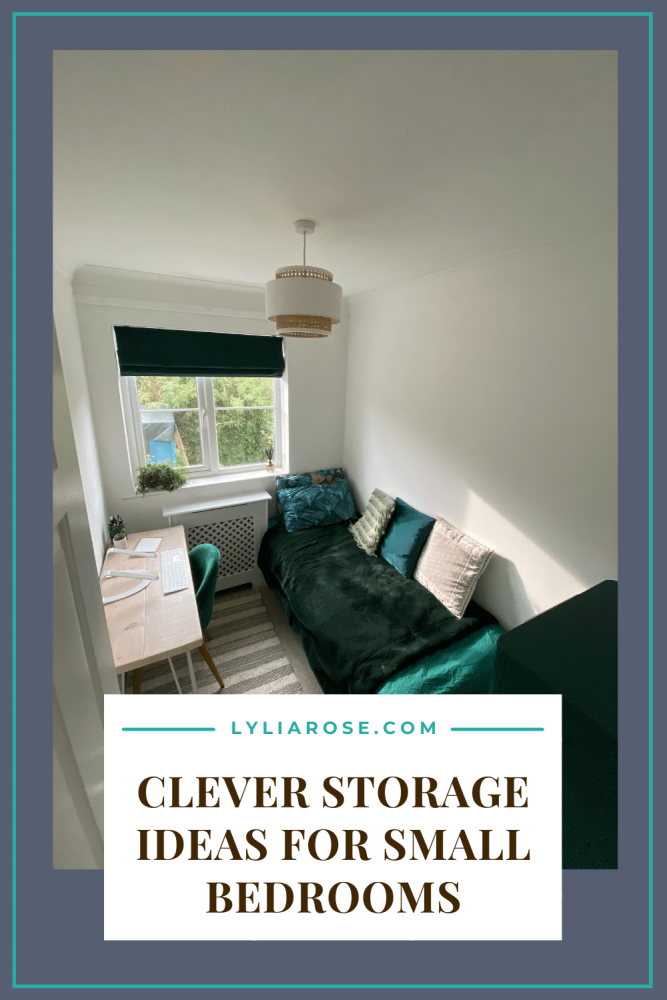 The challenges of a small bedroom
Small bedrooms can be a challenge for homeowners. There is not enough space to store all the things that you want in your bedroom, and a lack of clever storage options can make your room feel cramped and cluttered.
Small bedrooms are often in need of more storage solutions. They can be used to store clothes, books, or anything else. Storage ideas for small bedrooms are often limited when it comes to the space available, but there are still plenty of ways they can be used to create a more comfortable living environment.
Even if your small bedroom only fits in a tiny small single bed or toddler-sized bed, there is still a vast amount of under bed space that can be utilised for storing belongings.
You can opt for a bed with built-in storage underneath such as drawers or an ottoman style bed with a lifting function. Or you can choose under bed drawers.
If you have a space under the bed you can opt for a custom made or off-the-shelf drawer to match the bed, giving plenty of storage space under the bed for bedding and clothes, or even toys or books.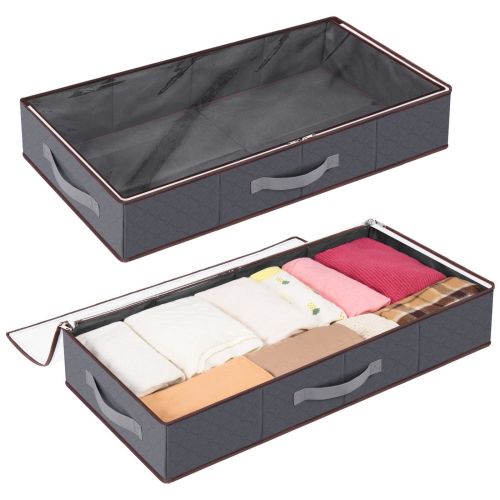 For more flexibility when it comes to under bed storage for your small rooms, take a look at the under bed storage bags and containers from Lifewit. These are available to buy on Amazon and are perfect if you're looking for cheap storage solutions. They are also flexible as they're not restricted to your smallest room only but can be used under any bed in your home. So if you no longer need to use them in your small bedroom, you can use them under any other bed in the house or even on top of a wardrobe.
If a bulky wardrobe simply won't fit in your small bedroom or would be too overbearing, then think thin and use space saving furniture! You can now buy single wardrobes, or skinny wardrobes, which have one door and take up minimal space in the corner of a room. You could even have a handyman or carpenter build a custom-sized wardrobe to suit the space, making the most of the full height of the room so as not to waste an inch of the height space available.
As mentioned above, you can also use under-bed space to store clothes. Simply fold them neatly under the bed in a drawer.
You could choose drawers instead of a wardrobe, opting for a chest of drawers that is mid-height in the room to prevent the crowded feeling in a small room that is often created with high furniture. This will leave space for belongings on the drawer top, such as a TV or radio, or dresser, along with space to the ceiling where shelves can be placed for more storage, whether that's neatly folded clothes, hats, shades or accessories. The bulk of your clothing can be placed in the chest of drawers.
Don't forget about the space behind the door itself which is often wasted as you can't place furniture behind the actual door or you won't be able to open it! Here you can add a row of hooks to the top of the door and again halfway down and use these to hang coats, hooded tops, ties, bags and anything else suitable for hanging on a hook - even jewellery if you buy small hooks!
If you have space above the wardrobe or even in a cupboard in the small room then some clothes storage bags like these from the Lifwit storage store on Amazon will keep your sweaters, trousers and outerwear organised: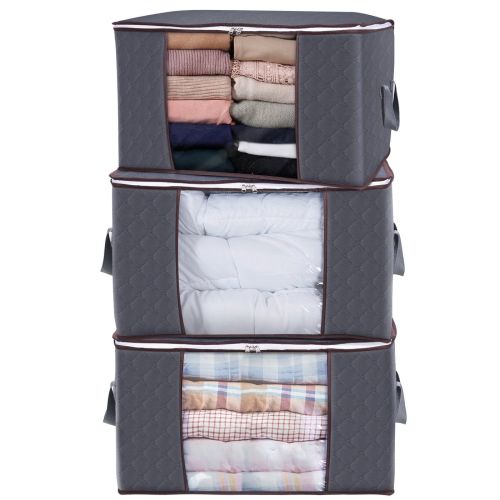 They come in a few colours to match the decor of your bedroom and have a see-through window panel so you can easily locate your clothing when needed. You can also use them to store bedding.
If you have a wardrobe, then a couple of these bags at the bottom of the wardrobe will really utilise the space and keep your larger items of clothing dust-free and organised.
Quite often the smallest bedroom belongs to the youngest child in the family, which seems great at first as they personally take up less space, but they actually have a lot of belongings especially when it comes to toys!
Having all these toys on show and all over the small bedroom floor can make a small room feel very messy and cluttered, so having some easy toy storage that looks neat and tidy is a must for a small kids bedroom.
Cube storage boxes are the perfect way to quickly be able to tidy up children's toys and even get them to tidy them by themself! The room can be tidied in an instant and the toys hidden out of sight.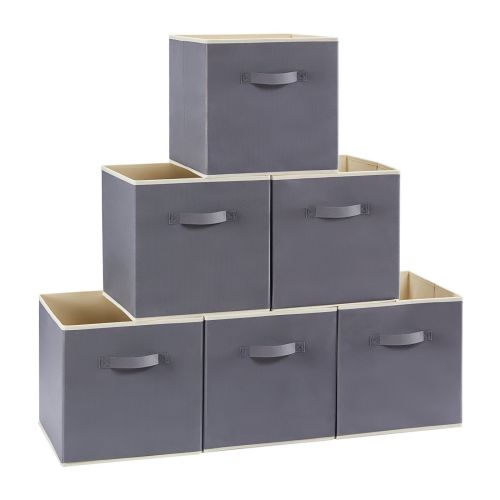 These boxes are super cheap storage options and can be used on their own on the floor or stacked in a cube storage unit. They can also be used on top of wardrobes to hide away belongings that aren't regularly used, or in the bottom of a wardrobe to organise clothing.
My favourite way to use cube storage is for the kids' toys, but we have also used them in the past for clothing that can get crumpled such as pyjamas or underwear to neaten up our wardrobes and maximise the space at the bottom that might otherwise go unused or become very messy with stacked clothing.
The Lifewit storage boxes are great for modern homes in their grey, beige or black colourways making them perfect for a small adult or teenager's bedroom too.
To make sure you utilsise the space in the bedroom as effectively as possible, make sure you buy furniture with storage in mind. For example, don't buy a bed low to the ground that you can't store anything under. If you have a bedside table, choose one with drawers to the floor for storage.
Conclusion
Living in a small bedroom can be a challenge. One has to work hard to make the most out of the space available. The problem is that we often want more space than we have. We want more space for our clothes, our books, and our shoes. We want to be able to read comfortably in bed and store all of our belongings in an orderly fashion.
One of the most common problems in small spaces is that there's no enough space for all our items. Luckily there are many affordable storage solutions to keep your small bedrooms neat and tidy, whilst providing practical solutions for storing and organising your clothes, bedding and belongings.
Find the products in the images at Amazon here:
https://www.amazon.com/dp/B07PCNGJP8
https://www.amazon.com/dp/B09DQ4SNBZ
https://www.amazon.com/dp/B08GWKYHWW