Cash App referral code UK: £10 free cash for you and £5 for a friend
Posted on
Today I have another amazing free money offer for you. See how you can use my Cash App referral code DHQSRZD to get £10 free cash for you and £5 for a friend. Read on for the instructions to make the most out of this free money offer!
Cash App referral code UK: Get £10 free cash for you and £5 free cash for a friend
Yes that's right. I have a Cash App referral code for use in the UK which gives you £5. However, you can actually get yourself £10 free cash for signing up to Cash App with my referral code, plus an extra £5 free cash for your friend or partner by using this hack!
My husband and I did this free money offer yesterday and we had the £15 free cash between us, within 30 minutes! Amazing. It only took us around five minutes to sign up for the app and the rest of the time was spent waiting for the free cash to hit our bank accounts!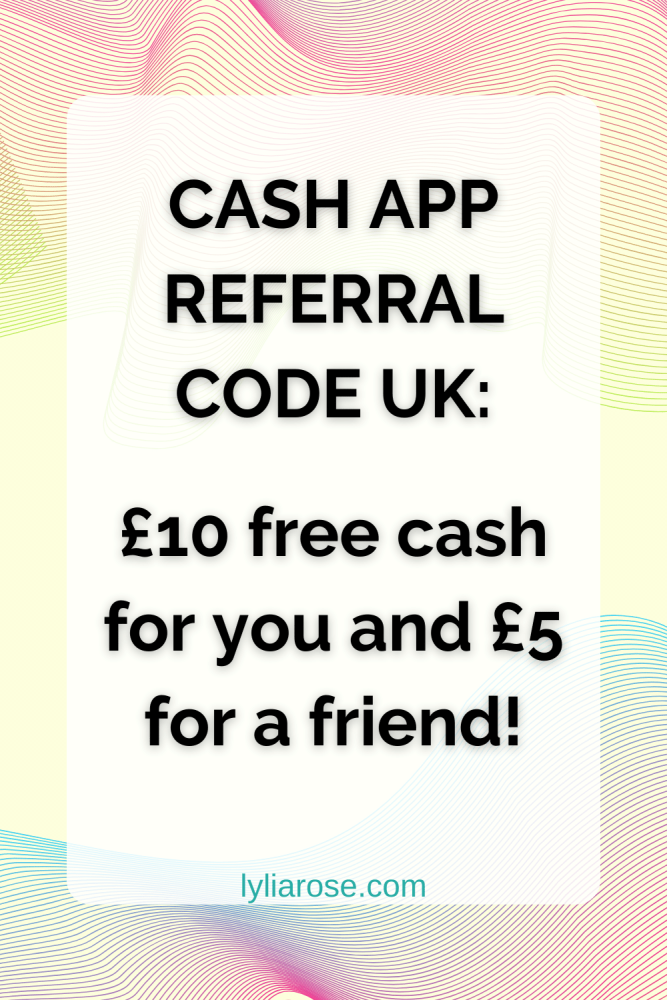 How to get free cash with Cash App
Here are the instructions for how to use my Cash App referral code to get yourself and a friend some free money.
Enter your mobile number and my Cash App referral code DHQSRZD

Go to your profile (the little person graphic to the top right of the app) and scroll down to enter the referral code DHQSRZD then you'll be able to see your referral status. This might have already been entered during the signup process, in which case you'll see your referral status.

Link your debit card.

To get your free £10 you'll need to send £5 cash to someone using the Cash App. Get your friend or partner to sign up by sending them your own referral link using the 'Invite Friends' button within the app.

Send your friend £5 using the app and ask them to send the £5 back. You'll send them £5 from your linked debit card and then they can send this same £5 back to you, thus qualifying you both for the free bonus cash.

You'll then get your free £5 from my referral code, plus another free £5 for referring your friend/partner. Your friend/partner will also get £5 from using your referral code! Amazing!
What if I don't have anyone to send the £5 to?
If you don't have anyone to do this with, then you can still make £5 for yourself with this offer. Send the £5 to £VictoriaLouiseSully so you qualify for the free £5 cash and I'll send your original £5 back to you.
Don't cancel it and request a refund from me, as you have to complete a payment of £5 to someone to get the free cash and if you request a refund then this will cancel your payment.
We had our free cash in 30 minutes!
I did this offer with my husband and I had £15 in total in Cash App to cash out: £5 free cash from signing up with someone's referral link, £5 of my own cash I used to send to my husband which he sent back, and another £5 free cash because my husband had used my referral link.
To cash out, I clicked the £15 at the bottom left corner of the app and had to confirm my sort code and account number to cash out.
For my husband, he had to confirm his full name, date of birth and address to cash out his free £5 for using my referral link.
Cashouts can take 1-3 days according to their help pages, but both mine and my husband's took around 30 minutes.
CLICK HERE TO GET STARTED WITH CASH APP
---
Want to make more money from home, online or need a side hustle?
Find loads of ways to make money at home on my blog, as well as my favourite side hustle in my matched betting blog!
Looking to save money or get free money?
Check out my massive money-saving tips section and find some great deals on my voucher codes and free money pages!