Slash Review: INSTANTLY slash the price of your online shopping
Posted on
I have just started using a new browser extension called Slash which instantly slashes the prices of online shopping for a variety of retailers.
There's no waiting for cashback or uploading receipts… just instant money off your online purchases when you shop with one of their popular partnered retailers.
Plus you can get a £5 bonus by using my Slash invite a friend link giving you £5 off a purchase of £20 or more! For instant discounts off your purchases at stores like New Look, B&Q, Groupon, Debenhams, Wickes, AO.com and so many more, read on.
Sign up to Slash by clicking here for a £5 bonus!
Originally posted in March 2022 and updated in September 2022.
What is the Slash.com browser extension?
Slash is a free browser extension to help you save money on your online shopping. Rather than finding and entering discount codes, or waiting weeks or months for cashback, Slash instantly reduces the price you pay, making things faster and easier to get the things you love for less.
They don't even give you a promo code… there is literally another button at checkout which shows you the price with the Slash discount and you can choose to pay with Slash if you so choose.
Here's a look at what happens on the New Look checkout:

So you'd simply click to pay with Slash and you will pay via the card you have linked to the Slash browser extension. This can be one of your cards only.
The browser extension is available on Chrome and will instantly notify you when you're shopping with one of their partnered retailers.
Sign up to Slash by clicking here for a £5 bonus!
Follow Slash on Twitter to stay up to date with their latest brand discounts
Check out the discount you get when shopping for @TheBodyShopUK with Slash 😊

We support love 🌍🌱🐇 #ForeverAgainstAnimalTesting #slashpartner @LOCCITANE_UK @LushLtd @WeledaUK pic.twitter.com/hLhJjbM5e7

— Slash (@join_slash) March 10, 2022
Where can I instantly save money with Slash?
They have many popular retailers and being a new company, I assume they are reaching out to more. The list is pretty impressive so far though and includes:
Boots

The Body Shop

B&Q

Wickes

New Look

Groupon

Converse

eBuyer

Red Letter DAys

Simply Be

AVON

JD Williams

Go Outdoors

Dunelm

Dorothy Perkins
You can see a full list of stores on their website or even search directly for stores from the browser extension. Although, when you are in a store they are associated with then you will get a small pop up to let you know and you'll see the discounted price at checkout in the Slash box.
Slash invite a friend £5 bonus
They have a great invite a friend deal at the moment where you can get a Slash bonus and your friend can get a Slash bonus too for more money off their first online purchase!
These bonuses can be used on your next purchase at one of their retailers. You can check your bonuses and their expiry dates by going to the Slash browser extension, clicking Profile and Bonuses. This will take you to their website where you can get your invite a friend link to share with friends and family, and you can also see your current bonuses on this page too.
Get started with a £5 bonus to spend at one of their partnered retailers towards your next shop by signing up with my referral link. I'll get a £5 bonus too - thanks!
Sign up to Slash by clicking here for a £5 bonus!
Check out Slash on Instagram to stay in the know:
What would I improve about the Slash browser extension?
I did have a few issues when first trying to use the Slash browser extension and I nearly gave up, but eventually it worked! So you may need to persist! Hopefully it's just because they are a new browser and they are working on any technical issues.
I tried to place an order at New Look using my bonus voucher and it just wouldn't work. The Slash discount did automatically appear on the New Look checkout screen, but I couldn't get through the payment as it just froze as if the payment was processing, but it never completed. I reached out to their customer service who reinstated my bonus voucher and a little extra, after I had a few failed attempts, but it seemed it still wasn't working even a few days later.
Not giving up, I just tried again today and it finally worked! Perhaps as a new company as they have just launched this month (March 2022), they are having some teething problems.
I gave it one last go of clearing my cache and cookies for New Look and Slash, restarting my laptop and it suddenly worked!
The checkout did take quite a long time, so just be patient when it's spinning as it might just be that it takes a little longer than you are used to. Hopefully they are working on this issue and speeding up the checkout, though I have seen a video on their Instagram showing someone else having a much quicker checkout experience than me, so perhaps it's my browser or laptop setup… who knows.
Anyway, they are friendly and their support was quick to get back to me.
So ultimately I would just suggest they look into what's making the payment screen take so long as many people won't wait and they'll think it's not working when perhaps they need to hang on a little longer. We're all too used to things being very quick now online, especially when it comes to paying.
And hopefully they will have more retailers onboard soon, though they do have many popular High Street retailers and some companies we buy from already.
Sign up to Slash by clicking here for a £5 bonus!
Update on issues - September 2022
Just popping back in September (I wrote this in March originally) to say I have used the extension numerous times to instantly save cash on my online shopping and it works much better now. It pops up instantly on websites I can use the Slash discount on and I've not had any more issues, so they must have fixed their teething issues.
It's still a bit slow when paying, but it works.
Here's an example of the popup when you go to a website that applies the Slash discount. This popped up when I went to the Simply Be website: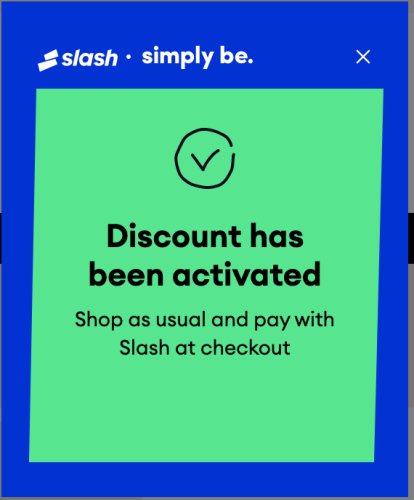 Slash.com browser extension review - final thoughts
All in all, it's another great way to make savings on your online shopping if you buy from one of their associated retailers. You've nothing to lose by adding it to your browser. If you are shopping on one of their partnered retailers, the browser extension will automatically let you know, then you can pay a cheaper price if you decide to buy something, simply by selecting the Slash button to pay at checkout. If you don't want to wait for cashback and want an instant price reduction then Slash is definitely for you!
Sign up to Slash by clicking here for a £5 bonus!

Related: Is cashback dying? Slash to the rescue!

Looking to save money or get free money?
Check out my massive money-saving tips section and find some great deals on my voucher codes and free money pages!
Check out my list of apps that turn receipts into cash and also this list of cashback sites to maximise your free cash back and savings.
Subscribe to our newsletter for the best free money offers, money-making and money-saving tips we discover!