Keeping kids busy in the car with Over the Rainbow
Posted on
If you're wondering how to entertain a child on a long car ride then you are not alone. Many parents are facing the same battle of finding travel activities for kids that prevent boredom and the dreaded "are we there yet?" and "I'm bored" coming from the backseats! With families now planning more days out and holidays in the summer months that involve long car journeys, it's vital the kids have plenty to keep them occupied so the parents can concentrate on the road and arrive safely at the destination.
Luckily there are many online retailers who have plenty of engaging children's travel accessories, books, toys and games to keep them amused no matter how long the road trip. One such retailer is Over the Rainbow which stocks a variety of colourful and engaging children's travel products to make those journeys a little less stressful. Over the Rainbow sent me a selection of their products to review which I will include in this blog post, along with the best ways to keep kids busy in the car!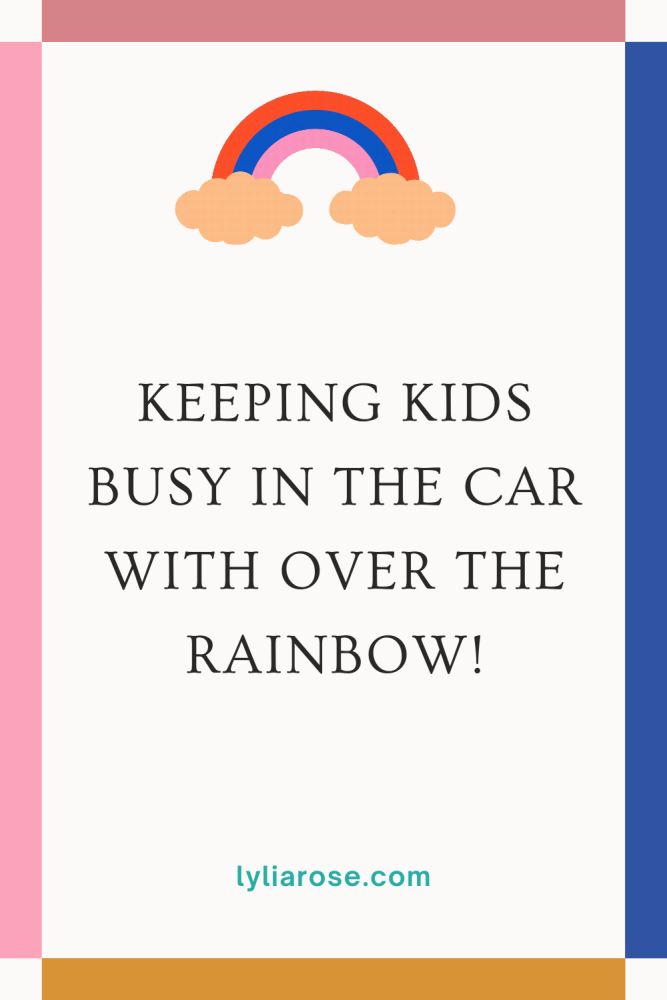 Best ideas for keeping kids busy in the car
Whether your travel adventures involve staying as a family in a motorhome, camping or hotel, they often include long car journeys to various destinations. Here are some ideas with inspiration from online retailer Over the Rainbow to keep the kids entertained and stop boredom.
1. A travel pillow that turns into a toy!
If you have young children who love cuddly toys then a two in one travel pillow is the perfect companion for them on a long car ride. These are kid-sized travel pillows that will not only keep them comfortable in their seat, especially if they are likely to snooze off, but when not being used as a pillow they turn inside out to convert into a cuddly toy!
We were sent this Teletubbies Dipsy reversible travel pillow which is ideal for fans of the TV show. You'd never know the teddy was a travel pillow and vice versa! It's a clever idea which solves both comfort and boredom in the car.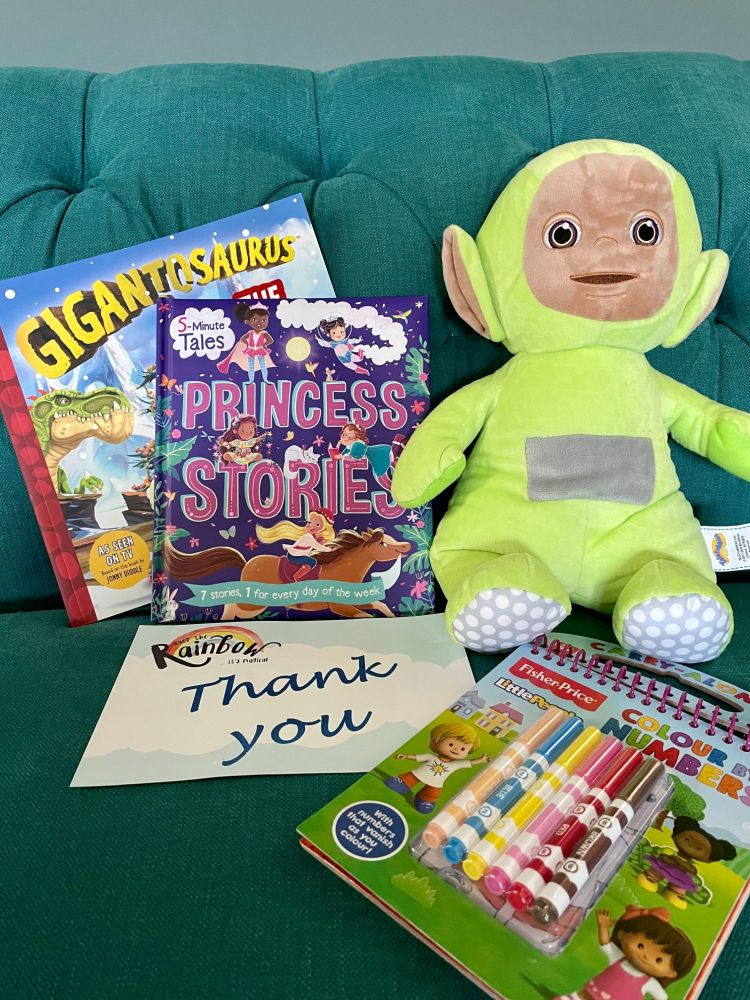 2. Colouring books are a firm favourite for kids of all ages
Kids love to colour and parents love it because it keeps them occupied and quiet, which is perfect when you're trying to make it through a long car ride with your little one!
It's an activity that is both fun and educational. Colouring books can teach them about patterns, shapes and colours while also providing mental stimulation and helping to develop their motor skills.
For young children, a Fisher Price Colour by Numbers carry along set is ideal. Just make sure you choose washable crayons or colours for younger children who might take their artistic skills off the page!
3. Replace screens with storybooks
Most of us parents tend to revert to screens for our kids nowadays for long car journeys. Whilst games on tablets can entertain kids for hours, they are not without their problems. Batteries can die, kids can still get bored on screens after so long and if a child is prone to travel sickness then the added motion of a game on a screen can make nausea worse.
As a backup, or completely instead of screens, traditional storybooks are a great alternative. For older children who can read longer books unaccompanied, books can keep children entertained for hours on end as they become engrossed in the storyline. For babies and toddlers, pack board books with sensory pages and for infants pack large picture books or personalised gifts and ideas for kids such as these personalised love2read books.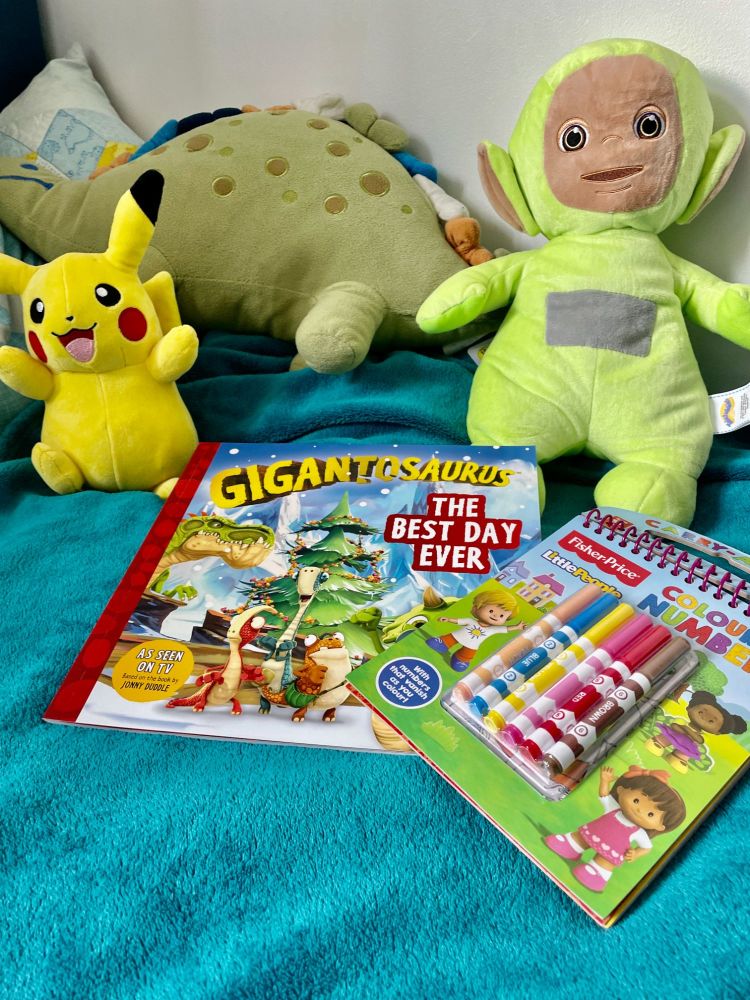 Travel accessories to make your road trip with kids more enjoyable
Over the Rainbow have a wide range of children's activities and toys, like those we were sent, that are perfect for keeping kids entertained in the car. They also have some travel accessories that are highly useful for making the kids as comfortable as possible for a long journey. These are the accessories I'd recommend:
Sunscreens - these are a lifesaver when you have babies and very young children in the car. We don't use them now are kids are older (7 and 9), but when they were really young we had to use them, otherwise, the kids would be really distressed if the sun was shining directly onto them. Babies and toddlers, being so small, can't move themself out of the sunshine that comes through a car window which can cause them discomfort if it shines into their eyes, as well as being hot on their skin. A sunshade is an affordable and easy solution to stop the bright sunshine from harming and upsetting young kids in a car. It will shade them and keep kids cooler in the hot weather.

Seatbelt cushion - Some children find car seatbelts really uncomfortable as they may dig into their sensitive skin or rub them on their neck. To combat this, you can buy a seatbelt cushion to pad out the part of the seatbelt that comes across the child's shoulder, making it more comfortable for them. You can buy a plain colour, or to make it more fun for the child you can opt for a seatbelt cushion in their favourite character such as this Paw Patrol seatbelt cushion which is currently for sale at Over The Rainbow.

Travel cushion - a kid's travel cushion can be a lifesaver for a child on a long car ride. It provides relief from pressure points and helps them to sleep better. With the right travel cushion, kids will have an easier time sitting in their seats and will be more comfortable. Also, as mentioned above, you can choose a reversible travel cushion that turns into a soft toy for entertainment too!
Don't forget snacks!
As well as "are we there yet" and "I'm bored", the third most dreaded phrase from the backseat has to be "I'm hungry" when you're nowhere near food, it's not mealtime yet and you haven't got any snacks in the car!
Quite simply, don't forget snacks!
There's nothing that'll entertain kids more on a long journey than having access to some of their favourite snacks to keep their hunger at bay. It doesn't have to be unhealthy snacks. Think dried fruit bars, oat bars, rice cakes and any other age-appropriate healthier snacks for your kids. You can make homemade smoothies and pack them in Nom Nom kids pouches so they are easy for kids to have on the journey, if they are old enough and the lid isn't a choking hazard.
Make sure you have plenty of water too, especially for hot stuffy car rides in the summer months. One tip would be to avoid juice and sugary snacks which can cause travel sickness. Another tip is to avoid anything that can easily be choked on if you have young children.
Tips for choosing car entertainment for your children
Choosing the right car entertainment for your children can be a daunting task, especially when you're trying to balance keeping them entertained and safe while on the road. One of the most important things to consider when selecting car entertainment for your kids is to avoid anything that could be messy or distracting while you're driving so you can be safe on your family road trip. This means that items like markers, paint, or play-doh should be avoided. Instead, opt for items that are easy to clean and can be easily contained, such as colouring books, activity books, or handheld electronic devices.
Another important factor to consider when selecting car entertainment for your children is the age appropriateness of the activity. For younger children, simple toys such as stuffed animals or building blocks may be more appropriate, while older children may enjoy more complex activities like Sudoku or crossword puzzles. Additionally, it's important to consider the duration of your car trip and choose entertainment that will keep your children engaged for the entire trip.
Lastly, consider the safety of the entertainment. For example, if you're planning on using electronic devices, make sure to invest in a car charger to ensure that the device doesn't die in the middle of the trip. Additionally, it's important to consider the size and weight of the entertainment, as heavy or bulky items can be dangerous if they were to become loose in the car during an accident.
In summary, when choosing car entertainment for your children, it's important to consider the safety, age appropriateness, and duration of the trip. When picking car entertainiment for your kids, make sure you avoid anything that is messy play that could ruin the car or be distracting while you are driving. Opt for easy-to-clean and contained items, and ensure the safety of the entertainment by considering the size and weight of the items. With these tips in mind, you'll be able to find the perfect car entertainment for your children, making your next road trip a breeze.
Why not pack a small backpack for each child with their snacks, water and entertainment? We love the Trunki Paddlepak backpacks which are bright and fun!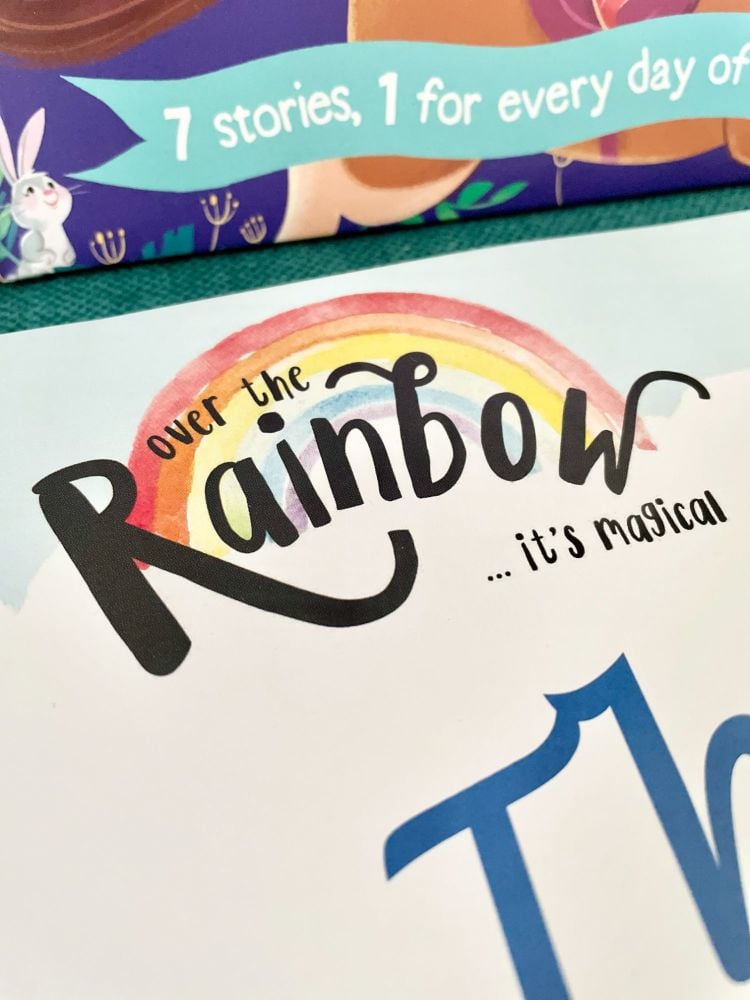 Reasons to choose Over the Rainbow
Many thanks to Over the Rainbow for sending us some of their wonderful children's books and travel gifts. Over the Rainbow are an independent online retailer of children's books and toys with many educational options and boredom busters.
They have a large selection of books and gifts so you can find the perfect gift for a child. At the time of writing, you can qualify for free UK delivery if you spend just £10 on their website.

Thanks for reading.