How To Throw Kids' Birthday Parties On A Budget
Posted on
Throwing a birthday party for kids is something that many parents want to do and it is not always easy to do on a budget. There are some things you can do to make your child's birthday party more affordable, but there are also some things you should try to avoid.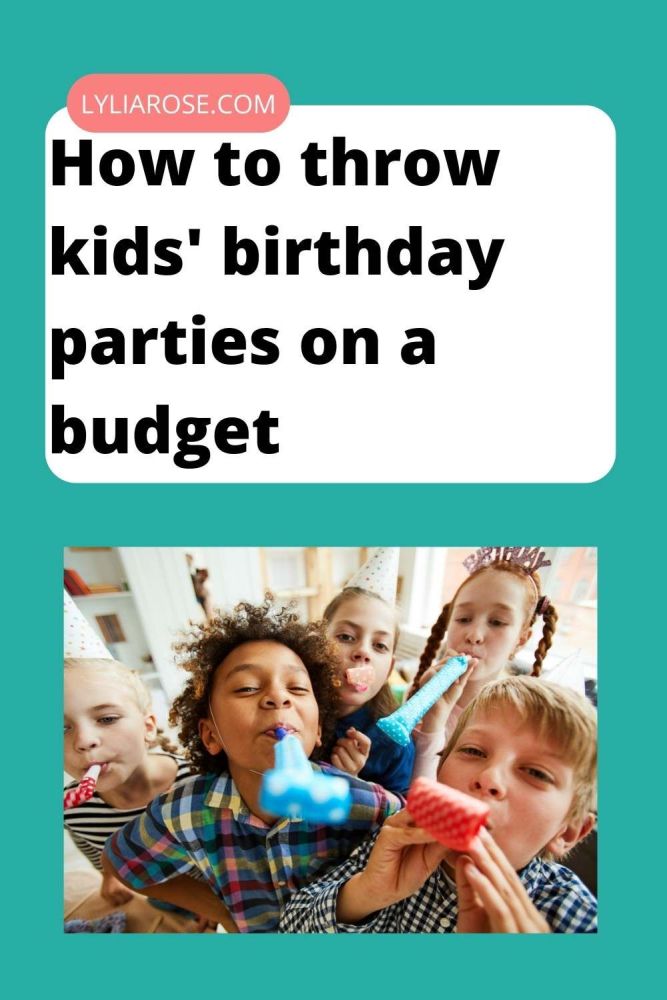 Here is a list of our top 10 budget-friendly approaches to kids' parties.
Idea 1 – Reduce the number of guests
Idea 2 – Create your own invites
Idea 3 – Cook your own food
Idea 4 – Limit decorations
Idea 5 – Host the party and home
Idea 6 – Have garden games ready
Idea 7 – Timing is key – 2-5 pm
Idea 8 – Combine two or three kids' birthdays to split the cost
Idea 9 – Buy party bag gifts online in bulk
Idea 10 – Provide your own entertainment with party games
Let's take a look at each in a little more detail so you can throw a big party on a small budget!
Idea 1. Limit guest numbers
The fewer guests you have the cheaper most things will be. Reduced food costs, fewer party bags and a smaller cake. Yes, your child might be a little upset that they can't invite everyone from their class but they will be able to invite their closest friends which will help them solidify those close friendships.
Idea 2. Create your own invites
You should avoid hiring a professional to create and print your party invites. These can be very expensive, especially when printing lots. You could create your own invites using free online software like Canva and then print them at home yourself. Alternatively, you could also stick to digital invites. Canva also allows you to create and send digital party invites to everyone, as long as you have an email address. If not then you can download the invite and send it via WhatsApp or via text. This way it still looks professional due to the number of templates available and you get quick, easy responses from parents.
Idea 3. Cook your own food
Think up some tasty, cheap and easy-to-cook meals that will keep everyone happy. Pizza, sausage rolls and nuggets are normally good options. The kids will love them and it keeps the feeding process quick and simple. Ever the adults can have a quick bit if there's enough. Healthier options might include some chopped-up cucumber, carrots and cheese on crackers.
Idea 4. Limit decorations
You don't have to go overboard on decorations but it's good to make it obvious of the party location so that guests know they're in the right place. Balloons are always a good indicator and really make a party feel happy and inviting. Placing balloons at the entrance and dotting a few around the venue will really give it a party vibe. The best bit about balloons is they are really inexpensive. You can then always top things off with some bunting and party poppers.
Idea 5. Host the party at home
Hiring a venue is great as it will take away a lot of the effort from yourselves but they can be costly. Many venues will have activities like soft plays, and bouncy castles and will provide food but you can save a load of money by bringing some of these things to your home.
The theme bouncy house will cost less than a venue and it can be delivered and set up by a professional on the day. Then the only thing you need to worry about is cleaning up afterwards.
Idea 6. Garden party games
If the weather is on your side then you can fill the garden with inexpensive garden party games. Games like this might include Giant Jenga, bowls, skipping, dress up, den building, limbo, space hopper racing, croquet, water balloon water fight. All of these can be relatively cheap or completely free and can easily fill an entire afternoon with fun. You could even host sporting games like the long jump, egg and spoon race and obstacle course races which will even keep the adults entertained.
Idea 7. Timing your party
If you want to avoid cooking a substantial meal for everyone then time your party between meals. The best slot for this would be between 2 pm and 5 pm. This way you can keep the food or buffet items to a minimum and focus on some smaller, less expensive snacking options like crisps and chocolate buttons.
Idea 8. Combine parties
Try and find out if your kids' friends have birthdays on the same day or nearby so that you can combine the party. You could ask the others parents if they would like to have a shared party so that you can split the costs of everything. I can see this would only work with closer friends and parents you feel comfortable asking this but it can be a great way to save money on the party. Splitting the cost of a venue or even just the food can be a huge relief. Just make sure everyone is on the same page for a budget party or costs could quickly spiral with more people on the invite list.
Idea 9. Bulk party gifts
All parties should include a gift bag for the little ones to take home at the end of the day. This doesn't mean you have to go overboard, stuffing as much as you can into a bag. Local party stores and supermarkets will tend to have a great selection of bag fillers but they can also tend to be on the expensive side. Plan ahead and you can buy items in bulk from eBay and other online stores to get a bargain. Think about who is attending and try to find something that everyone would enjoy. Even cheap items like little notepads and pencils are a great way to fill a bag. Multi-pack sweets are also a winner for party bags and don't cost much when buying in bulk.
Idea 10. Provide your own entertainment
Entertaining a group of children can be tricky but when you have a few games lined up you can keep everyone happy. Treasure hunts in groups are a great way to keep those little minds busy. You could hide packets of sweets around the house and leave clues for them to hunt down. Or even a simple easter egg hunt-style game can keep them busy. Instead of using eggs, you could hide toys or other items. Tell the group they have to find 10 hidden Lego figures to unlock the ultimate final prize which could be a cheap Lego set. Other games might include pass the parcel, musical chairs, musical statues and a simple game of hide a seek. You could also throw a slumber party for a small group of kids to make it a bit more adventurous.
Conclusion
Hopefully, these ideas have given you some food for thought and you will be able to throw an amazing party that your children will remember for years to come. Whilst hosting your own party can be tiring, there are ways to keep it simple but entertaining and your kids will want to throw another one the next time around. You can also get your kids involved with the setup of the party. Ask them to pump up balloons with a pump, get games set up in the garden and help prepare the snacks.