Embracing the London Lifestyle: Affordable Shared Ownership in Croydon
Posted on
When you think of London, your mind might wander to iconic double-decker buses, the River Thames, or perhaps the lush green expanse of Hyde Park. Yet for many, the dream of embracing the London lifestyle often fades away with the daunting price tags of its central boroughs. However, if you've been putting your London dream on the back burner due to hefty property costs, there's a solution waiting for you – and it's in the lovely leafy environs of Croydon.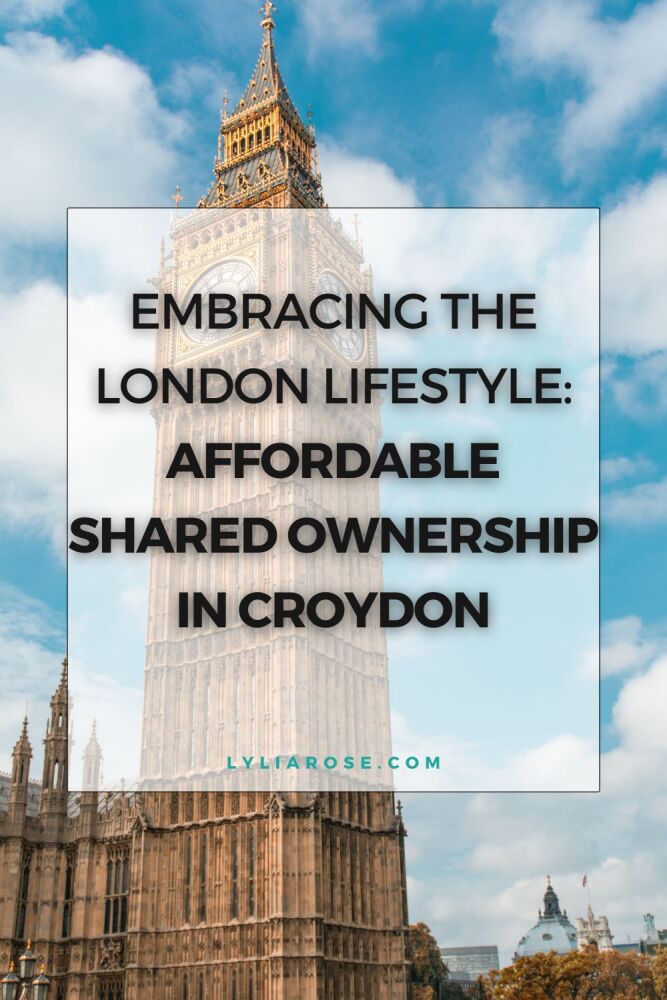 The Shared Ownership Solution
Gone are the days when buying a home in London felt like a privilege reserved for the elite. With shared ownership, individuals and families are finding a viable route to owning their piece of London without breaking the bank. It's a practical and flexible approach to homeownership that allows you to purchase a share of a property, making that once elusive London dream more attainable than ever.
Now, you might be wondering, where in London can you find these gems? Enter Croydon – a borough teeming with life, culture, and some of the most attractive shared ownership properties you'll lay your eyes on. Specifically, nestled in the heart of Purley.
Discovering Purley: Your Slice of Suburban Serenity
Croydon's Purley is a name that perhaps isn't the first to pop up when London's posh boroughs are mentioned. However, its tree-lined neighbourhoods, and eclectic range of local shops, cafes, restaurants, and bars make it a hidden gem in London's vast urban sprawl.
The best part? It's becoming the hub for shared ownership properties. One such enchanting locale is Pampisford Road, presented by Moat Homes. These 2 & 3-bedroom apartments are the epitome of modern living. Picture this: You're whipping up a meal in your high-specification kitchen, fully equipped with integrated appliances. As evening approaches, you step out onto your private balcony or terrace, enjoying the calming views of Purley's greenery. And guess what? No more struggles for parking – each resident gets their very own space!
The anticipation for these homes is palpable. With off-plan reservations expected in winter 2023 and homes ready by early 2024, the countdown has truly begun!
Connectivity: Purley's Hidden Superpower
Living in Purley isn't just about soaking in suburban tranquillity. It's also about staying connected. Just a hop, skip, and a jump from your residence, you'll find Purley Station, whisking you away to London Bridge in a brisk 22 minutes. Feel like flying out for a weekend getaway? Gatwick Airport is just a 25-minute drive. Convenience at its finest! It's a unique middle-ground that ensures residents can enjoy the best of both worlds: the electric energy of a city and the tranquil moments of suburbia.
First-Class Transport Links Train: Purley Station isn't just another train station. It's your gateway to London, with London Bridge merely 22 minutes away.
Roads: Croydon's road network seamlessly connects you to the rest of London and the southern parts of England. Whether it's a drive to Central London or a weekend trip to Brighton, everything is within reach.
Airports: Being just 25 minutes from Gatwick Airport means spontaneous international trips are easier than ever. Plus, with Heathrow not too far away, you have a choice of global destinations at your fingertips.
A Day Out at the Seaside: Speaking of Brighton, it's only an hour's drive from Croydon. The idea of a morning breakfast in Purley followed by an afternoon on Brighton's pebbled beaches isn't a dream; it's a tangible weekend plan.
Attractions Galore
While the London Eye, Buckingham Palace, and the Tower of London might be on every tourist's list, Croydon has its fair share of London attractions too:
Boxpark Croydon: An innovative food and drink destination, offering a delightful array of international cuisines.

Croydon Minster: An historical gem with stunning architecture, harking back to the Norman times.

Museum of Croydon: A place to immerse yourself in the history and heritage of the region.
Entertainment and Nature: Best of Both Worlds
Whether you're a shopaholic, movie buff, or nature enthusiast, Purley has something for everyone. The retail giants at Purley Way await, offering everything from the Swedish charm of IKEA to the vast variety at Costco. For the foodies and movie enthusiasts, Croydon is the place to be with the multi-screen Vue cinema and tantalizing street food bars at Boxpark Croydon.
But it's not just about the urban experience. Venturing a tad further, you'll unearth the region's natural treasures. The Surrey Hills, a haven for cyclists, promises unparalleled scenic beauty. For those who want a closer brush with nature, the North Downs and Happy Valley offer picturesque landscapes, while Farthing Downs holds the distinction of being Greater London's largest area of semi-natural downland.
Wrapping Up the Dream
So, if you've always felt that London was just a distant dream because of the steep property costs, it's time to think again. Shared ownership in Purley, Croydon, offers a harmonious blend of affordability and lifestyle. Be it the urban buzz or the call of nature, embracing the London lifestyle is now within your grasp. As winter 2023 approaches, remember to keep an eye out for these dream homes. Because the London life, with its vibrant mix of culture, convenience, and calm, is waiting just for you.
Don't let your London dream remain just a dream. Embrace the possibilities and rediscover London – affordable, charming, and more accessible than you ever imagined.