4 of the BEST family-friendly attractions in London
Posted on
London is a great city to explore and one of the most popular destinations for families. Here are some of the best family-friendly attractions in London for everyone to enjoy.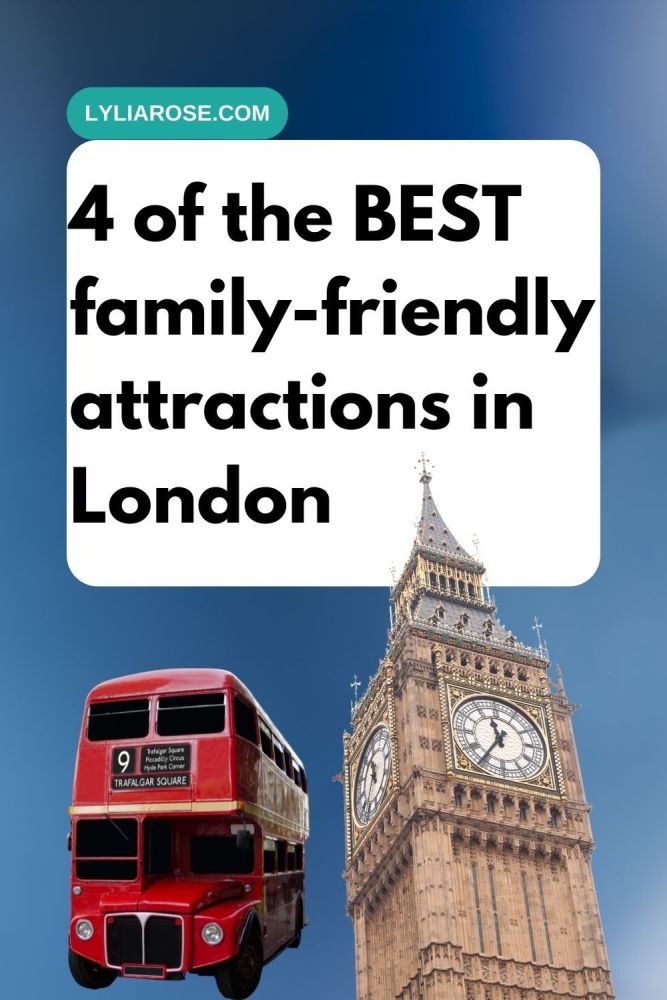 Save money with a staycation to London this year
At the moment I am desperately hoping to save lots of money for a last minute all-inclusive holiday over Easter. I know, I know! I said I wouldn't travel much this year as I'm saving my emergency fund, but the SAD has really got me this winter!
I'm dying for some sunshine and it's much cheaper to go abroad at this time of year rather than waiting until the summer holidays when Ben next has time off work. The prices are literally double for the same holiday if we went in the summer, so I've been convincing myself it's better to go now.
It's not set in stone yet that we'll go abroad as my car has its MOT today, Ben's work are making redundancies by the end of this month, I have a savings goal and I have no idea how much I'll earn being self-employed.
I'm just wishfully hoping all these things go very well and we'll be able to bag a really low cost last-minute deal. Fingers crossed!
However, if not, then we'll be looking at a staycation closer to home.
If for any reason it all goes to pot, then we have discussed a staycation and perhaps a trip to London. The children have never been to London and Bella has been asking to go since she studied London when she started school two and a half years ago!
Top of Bella's wishlist when we do eventually visit London as a family is a ride on an open topped red bus! It's the main reason she wants to go to London and mentions doing this everytime we talk about going to London. It's a great idea to ride a tour bus to see as many sights as possible in London as it's such a huge city.
A great family getaway doesn't have to be an expensive trip abroad as there are plenty of amazing places that you can go right here in the UK. Even if you've been there before, there's always so much to see and do on a trip to London.
Compared to the price of four of us trekking abroad, I reckon we'd be able to spend less than half if we book a couple of nights in London and some activities. Even if we don't go in Easter I really want to make sure we go within the next year. It's even on Bella's bucket list for this year!
If you're considering taking a family trip to London soon, here are some of the best things to do with the kids.
Harry Potter tour
If the kids love Harry Potter (and maybe you do as well) you can't miss the Warner Bros. Studio tour. You'll get the chance to see all sorts of different models and mock-ups of the iconic scenes from the films. There are also loads of great props and costumes on display as well.
If you ever wondered what sorting hat would do to you and in which house you'd end up, try out the Harry Potter house quiz.
They're always changing the exhibits so even if you've been before, it's worth going back again. You can also get a discount if you've got a kids pass so you don't need to spend a lot of money. The studio isn't in the centre of London, it's in Watford about half an hour away but it's easy to get to on public transport.
If Harry Potter isn't for you then there are plenty of other options for tours in London. If you fancy seeing trendy Notting Hill and learning about it's history then the Notting Hill Tour London is perfect for you.
James Bond fan? Check out the James Bond tour London to explore all the famous film locations of the 007 agent.
There are so many other options too so you can definitely find a tour in London to your taste.
The theatre
There are some great family shows on like Aladdin or Matilda at London theatres. It's a great night out for the family and it's a new experience for the kids if they've never seen a show at the theatre before. You do have to be careful with the tickets because they do cost quite a bit and if you're paying for the whole family, it can get expensive.
But it is possible to get cheap London theatre tickets if you buy last minute. There are some great sites online where you can check to see if there are discount tickets on offer. If you buy through them, you can save a lot of money on a family trip to the theatre.
London Dungeons
The London Dungeons are a great attraction that combines a bit of history with some scary exhibitions. It's only really suitable for kids over the age of 12 because some parts of it can be a little scary but it's great fun.
I went to this attraction years ago when I was a child in Yorkshire, if I remember correctly. I loved stuff like this, but my little sister was terrified!
You'll get to learn all about Henry VIII, the great fire of London, Guy Fawkes and much more. Tickets are around £20 for adults and £15 for kids so it isn't the cheapest attraction out there but it's not too bad for London. Again, always check around for discounts and offers before booking anything!
Madame Tussauds
Madame Tussauds wax museum is a very unique tourist attraction which has a little bit of everything. You'll get to see the wax figures of all sorts of different celebrities and entertainers. There's plenty to see for the kids as well with the new Star Wars and Marvel superhero exhibitions as well.
It's on the more expensive end of the spectrum with tickets coming in at £27 for adults and £24 for kids. However, there's a lot to see in there so you'll get your money's worth.
They have online ticket discounts and family ticket offers. Also, check Google for sites with offers on entry prices to find loads of great discount codes and also check the London page on Wowcher.
Final word
These are just a few of the amazing attractions that you and your family can enjoy in London. Many attractions also offer cashback, so remember to check Top Cashback and Quidco before booking anything. Top Cashback often have discount codes too!
And, finally, don't forget about all the free things to do in London too such as the Science Museum and National History Museum. If budget is a limitation then grab a cheap Megabus to London, stay in a Premier Inn, Travel Lodge or family friendly hostel and seek out free entry museums for a budget trip to London. You can still visit many of the famous sites on foot for free such as Big Ben, Buckingham Palace, London Bridge, Hyde Park and more.
Related blog posts
Get discounts on family attractions and travel
How to save money on family travel
Tips to save money on car rental for a road trip
Tips to make booking a family holiday more affordable
How to save money on car and travel costs