How To Landscape a Garden on a Budget
Posted on
For me, there are a few things that bring a sense of deep relaxation. A well-thought-out garden is among them.
I've always appreciated a nice garden, but it wasn't until I purchased my first property with outdoor space that I became interested in what it takes to create a beautiful garden. After going down the gardening rabbit hole, I soon realised that the process of landscaping can also be incredibly satisfying.
Landscaping incorporates three elements, each of which draws on creativity and eye for design. Although it might sound a bit daunting in terms of time, money and effort, it's entirely possible to landscape your own garden on a budget.
In this post, I give you seven tips on how to landscape a garden on a budget. Hopefully, these will inspire you to create a stunning garden oasis.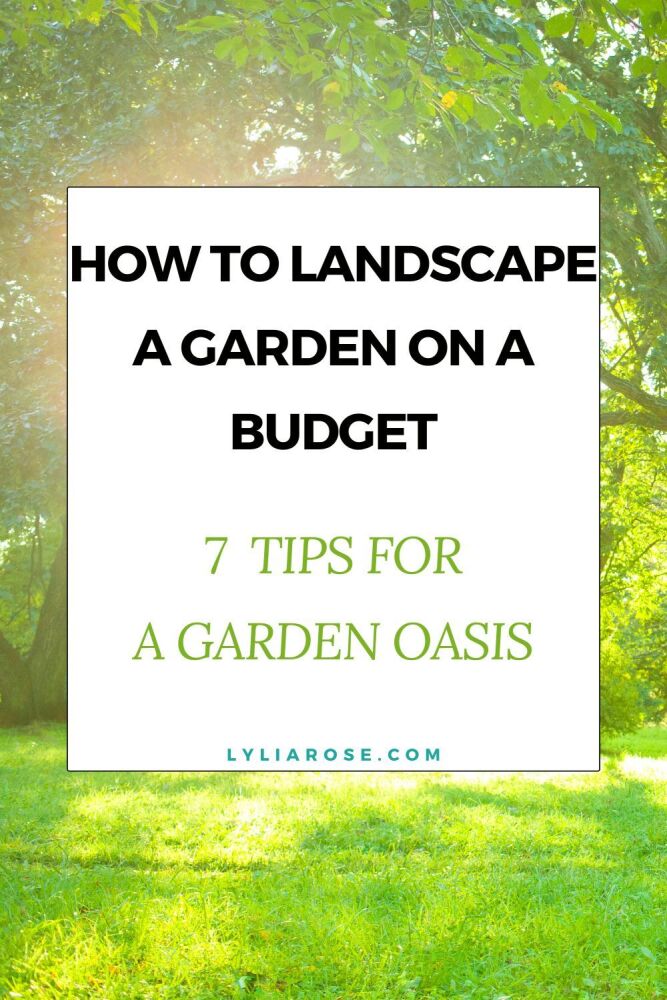 What does landscaping involve?
Before getting into the specific landscaping tips, let's quickly define the three aspects involved in landscaping: landscaping, hardscaping, and furnishing.
Keep in mind that good landscaping is the tasteful combination of these three elements.
Landscaping
A garden's 'landscape' is sometimes called the 'softscape' and refers to all of the living elements of a garden, such as the lawn, plants, and trees.
Landscaping, or softscaping, is about adding life to your garden. Think of the sensory impact of your garden such as the colours, textures and scents.
Hardscaping
The 'hardscape' includes the non-living elements of your garden, such as man-made features like paths, patios, flower beds, and garden decking. Hardscaping therefore requires you to plan and then choose between various materials and layout options.
As you'll see below, hardscaping shouldn't be overlooked; the hardscape provides structure and functionality. It's usually some aspect of the hardscape, like a garden deck, that serves as the focal point of a garden oasis.
Furnishing
Strictly speaking, furnishing is nested within the hardscaping process. I've decided to include furnishing as a standalone element because it's an important consideration.
After all, the point of landscaping a garden oasis is so it can be enjoyed. Furnishing your garden is a great opportunity to flex your creative muscles by repurposing old furniture and building materials.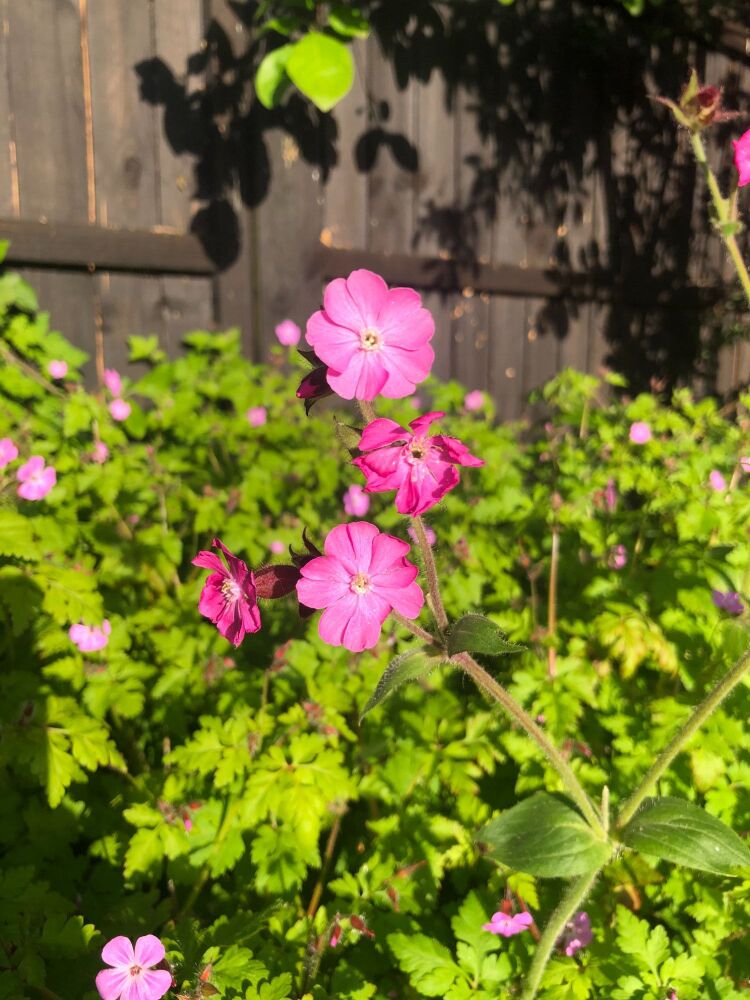 7 Tips for Landscaping a Garden on a Budget
The following tips feature landscaping, hardscaping and furnishing ideas to help you create a harmonious garden oasis. If one of these tips catches your eye, or you have your own tip to share with the community, don't hesitate to add a comment to this post. All ideas are welcome!
1. Utilise Garden Decking
I'm mentioning decking first as it usually forms the centrepiece of a garden. The garden deck commonly serves as the sun trap or seating area where you'll spend the most time eating with family or entertaining friends, so it makes sense to consider your garden deck first.
There's a great variety of garden decking options out there at different price points; from traditional, wooden boards to modern, composite boards that closely mimic the look and feel of real timber. Garden decking is also a possible solution for anyone who's been wondering how to landscape a sloping garden.
Before deciding on the type of material for your deck, consider the space available and the colour scheme for your garden deck.
2. Cultivate an Aromatic Herb Garden
I previously learned that it's possible to design a multifunctional garden that allows for relaxation, food cultivation, and entertaining guests.
A herb garden provides the chance to move towards self-sufficiency and also serves as an opportunity to add fragrances —an important step in creating a sensory garden. Certain herbs such as rosemary, mint and thyme are particularly fragrant and hardy making them suitable for UK gardens.
Using vertical gardening techniques and hanging planters allows you to maximise your available space. If you're on a budget, keep in mind that you can sow your own seeds for herbs such as ​​basil, coriander and parsley.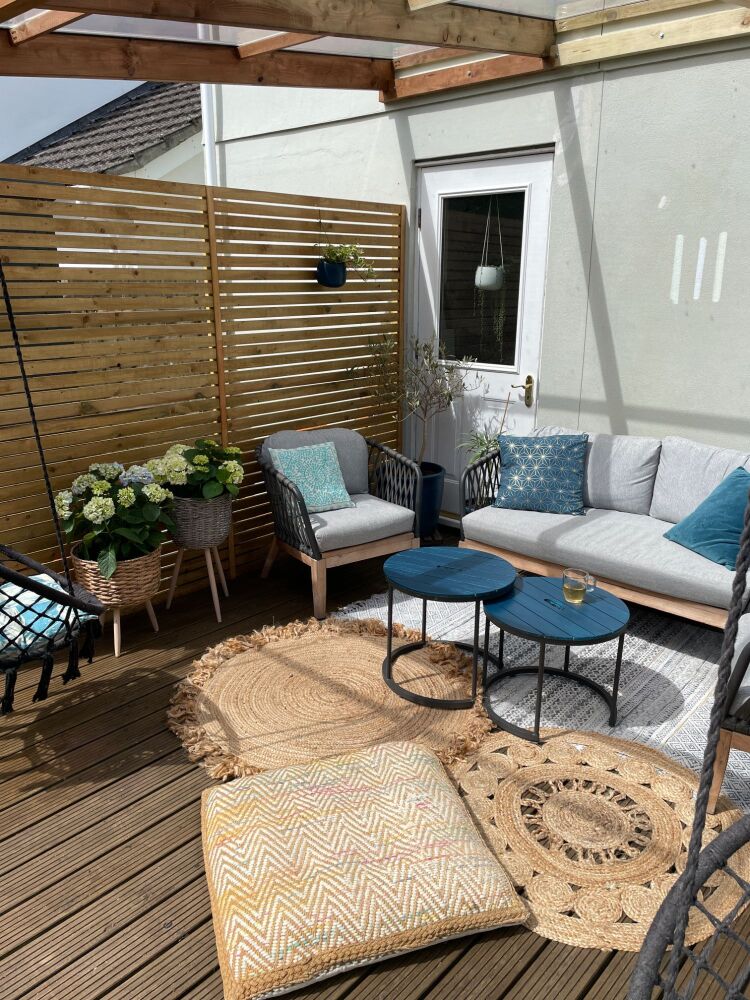 3. Get Creative With Outdoor Lighting
Incorporating outdoor lighting is a simple way to highlight the stand-out features of your garden. Lighting can also be used to create a certain ambience.
Solar-powered garden lighting is increasingly affordable and available in a range of design styles. Solar lighting requires no wiring and can be moved around your garden to suit different occasions.
It's also cost-effective as it only requires the power of solar!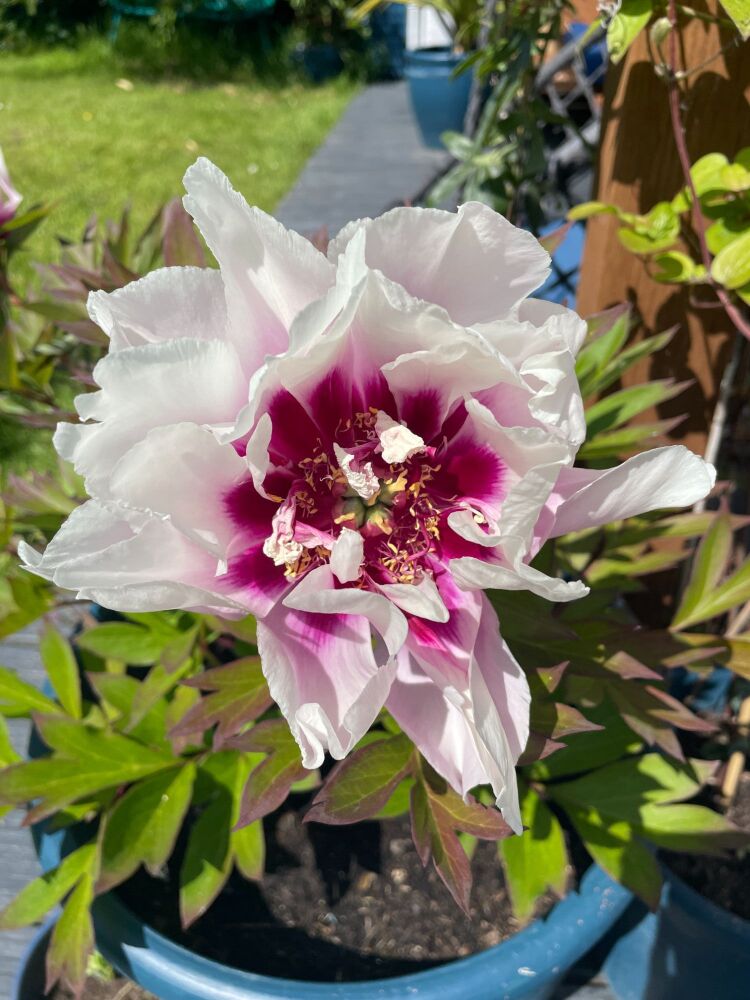 4. Add Depth With Raised Beds
My research around creating a childproof garden mainly focused on balancing natural beauty against the safety of playing children. And while we're on the topic of safety, raised beds are a great way to protect flowers and shrubs from balls and particularly curious children.
As well as creating separation, raised beds offer a range of benefits. The elevated height makes tending to your plants easier and also allows for experimenting with the visual effects of depth.
Old railway sleepers have become a popular material for creating raised flower beds but old shipping pallets are the perfect budget-friendly option.
5. Mirror Mirror Garden Wall
Old mirrors make for a great design feature that can be painted or altered to create a certain style or feel. A plain garden fence or wall becomes infinitely more interesting by adding a mirror.
Garden mirrors are also useful for playing with light and space. Dark or shady areas can benefit from the light-reflecting properties of mirrors, whilst a few well-placed mirrors can make your garden appear larger.
Charity shops are great places to find budget-friendly mirrors, as are car boot sales.
6. Coordinate Your Garden's Colour Palette
A simple garden becomes a garden oasis when you start to think of colours as a palette. Of course, putting in a little extra thought in terms of coordinating your plants with your furnishings and garden accessories.
When it comes to deciding on a colour palette, many landscapers choose to go with a theme or style. For example, Mediterranean-style colour palettes feature earthy shades of brown, tan and orange.
A large part of your garden colour palette will come from garden accessories, such as pots and planters as well as fixed features such as your garden shed or decking.
A cheap pot of garden paint can go a long way in updating the colourway of your existing pots and planters, without the need to replace them.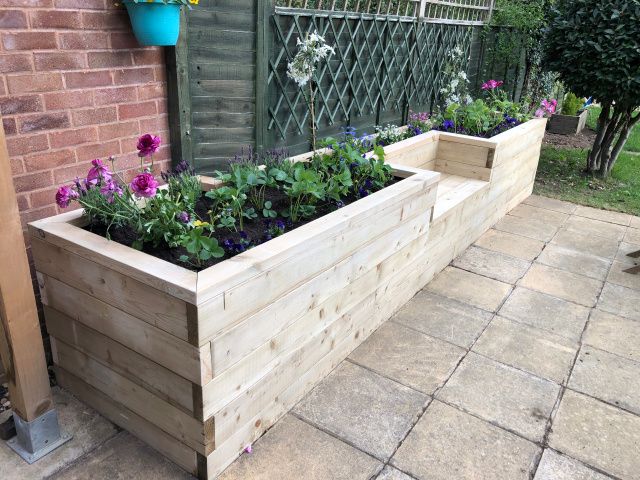 7. Repurpose Old Furniture for the Garden
During the research phase for my blog posts, especially when coming up with article titles, I tend to begin by asking my friends any questions I have on a topic. When asking, "How do you landscape a garden on a budget?" —the answer I received most often was always 'reuse and recycle.'
I've heard plenty of thrifty ideas, and a quick Google search for 'repurposing old furniture for the garden' yields millions of results. The key point to remember when repurposing old furniture for the garden, is that you're only limited by your vision and creativity.
An old bookshelf makes for the perfect vertical herb garden whilst old sinks can be fashioned into eye catching planters. One of my best friends uses old belfast sinks to create small wildlife ponds in his garden, attracting frogs, newts and damselflies.
As well as repurposing old furniture for use in the garden, you can go a step further and start building your own garden furniture. Take a trip to your local timber yard and see if they have any old shipping pallets that you could turn into seating. You'd be amazed what some varnish and a bold lick of paint can do to repurposed timber or even plain MDF!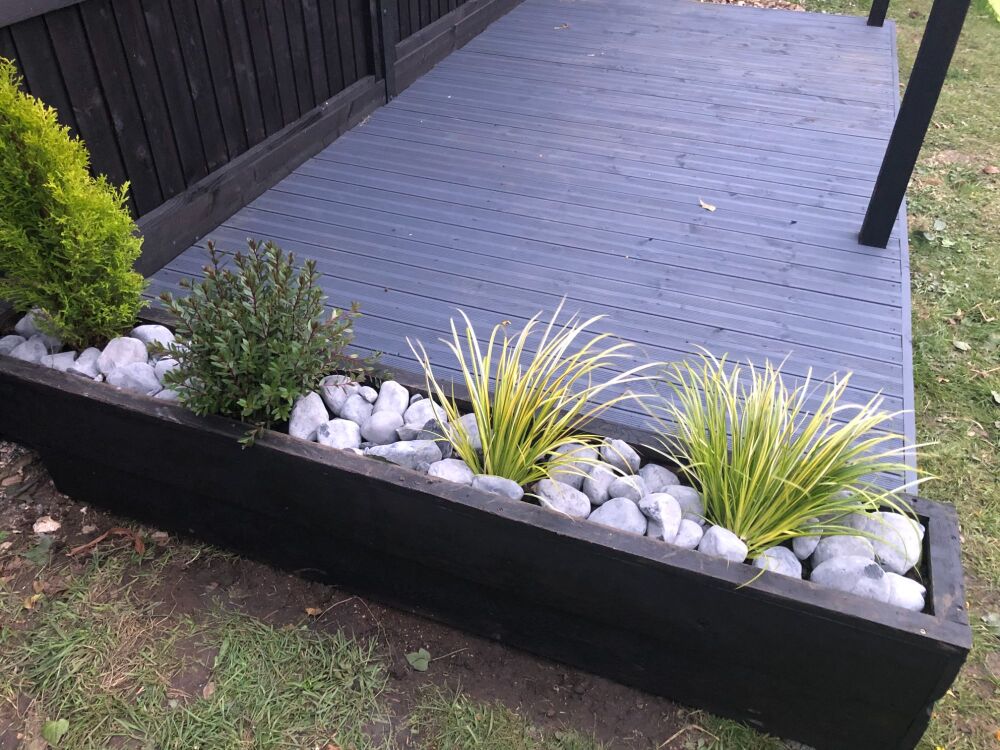 Bringing It all Together
Being sensible with money doesn't necessarily mean depriving yourself of daily moments of beauty, deep relaxation, and joy. In fact, by creating a beautiful garden oasis you can give yourself all of these things on a daily basis (weather permitting!).
If you're a first-time homeowner, check out my article on home exterior design ideas. As well as my thoughts on pathways, patios and garden decking you'll also find more landscaping inspiration for creating the ideal garden ambience.
If you've gotten this far, and you're still unsure about how to landscape a garden on a budget, consider signing up for my newsletter for ways to increase your income and get extra money (and even free money) to put towards your dream garden! Subscribe and receive all of the best money-saving tips I'm discovering straight to your inbox.
Roundup: How To Landscape a Garden on a Budget
Utilise Garden Decking: Garden decking often forms the centrepiece of a garden and offers various options in terms of materials and colour schemes.
Cultivate an Aromatic Herb Garden: Herb gardens are multifunctional and can add fragrance to your garden; consider herbs like rosemary, mint, and thyme.
Get Creative With Outdoor Lighting: Solar-powered garden lighting is cost-effective and can enhance your garden's features and ambience.
Add Depth With Raised Beds: Raised beds offer protection for plants and the opportunity to experiment with depth; consider using old railway sleepers or shipping pallets.
Mirror Mirror Garden Wall: Old mirrors can be painted or altered to add style and make your garden appear larger; look for budget-friendly mirrors in charity shops or car boot sales.
Coordinate Your Garden's Colour Palette: Think of colours as a palette, coordinate plants with furnishings, and consider themes or styles for your garden.
Repurpose Old Furniture for the Garden: Use old furniture creatively in your garden, such as turning a bookshelf into a vertical herb garden or old sinks into planters.