Planning a Whirlwind Trip to Rome? Here's What You Shouldn't Miss
Posted on
When it comes to iconic cities with a rich historical and cultural tapestry, Rome sits proudly at the top of the list. With its ancient ruins, art treasures, and vibrant street life, the Eternal City offers a breathtaking experience that's both captivating and overwhelming.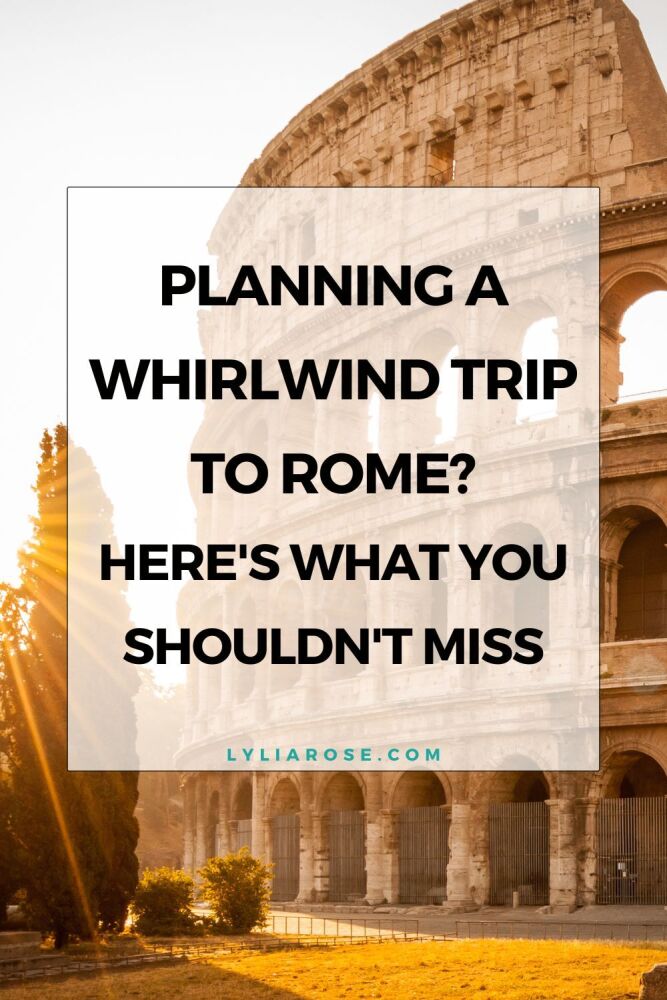 Planning a Whirlwind Trip to Rome? Here's What You Shouldn't Miss
If you're wondering what to see in Rome in 4 days, fear not! We've got you covered with a curated list of must-visit attractions that will help you make the most of your whirlwind trip.
Day 1: Unveiling Ancient Rome
Begin your adventure by immersing yourself in the heart of ancient history. The Colosseum and Roman Forum should be at the top of your list. The Colosseum, an iconic symbol of Rome, is a remarkable amphitheatre that once hosted gladiator battles and grand spectacles. You can either take a guided tour or explore at your own pace with an audio guide. Adjacent to the Colosseum lies the Roman Forum, a sprawling archaeological site featuring ancient temples, basilicas, and arches. Walking through these ruins, you'll feel like you've stepped back in time to the days of Julius Caesar.
Day 2: Artistic Marvels and Vatican Wonders
Dedicate your second day to indulging in Rome's artistic treasures. Start with the Vatican Museums, home to an extraordinary collection of art amassed by the Catholic Church over centuries. Don't miss the Sistine Chapel, where Michelangelo's masterpiece ceiling frescoes will leave you in awe. Afterwards, make your way to St. Peter's Basilica, an architectural wonder that boasts a stunning dome and countless ornate details. Climb to the top of the dome for panoramic views of the city.
Day 3: Captivating Squares and Charming Streets
On your third day, explore the enchanting squares and streets that give Rome its unique character. Begin at the Spanish Steps, a famous meeting point adorned with a beautiful fountain. From there, stroll along Via del Corso, a bustling street that leads to the iconic Trevi Fountain. Remember to toss a coin into the fountain; legend has it that doing so ensures your return to Rome. Continue your journey to the Pantheon, a perfectly preserved ancient temple with a jaw-dropping oculus in its dome. Finish your day at Piazza Navona, a lively square featuring stunning Baroque architecture and lively street performers.
Day 4: Tranquility and Transepochal Wonders
As your trip comes to a close, take a breath and enjoy a more relaxed day. Begin at the serene Aventine Hill, where you'll find the peaceful Orange Garden (Giardino degli Aranci) offering panoramic views of the city. Nearby, the keyhole at the headquarters of the Knights of Malta offers a perfectly framed view of St. Peter's Basilica. From there, venture to the trendy neighbourhood of Trastevere, known for its charming alleys, artisan shops, and vibrant nightlife. Wrap up your trip by visiting Capitoline Hill, home to the Capitoline Museums. This lesser-known gem houses an array of ancient sculptures and artistic masterpieces.
Planning a whirlwind trip to Rome
In addition to these carefully selected highlights, Rome is brimming with countless other attractions that could easily fill weeks of exploration. While visiting the iconic sites is a must, remember to leave some time for leisurely strolls through the city's charming neighbourhoods, indulging in delicious Italian cuisine, and savouring a gelato or two. The beauty of Rome lies not just in its famous landmarks, but in the atmosphere of history and culture that permeates every corner.
When planning a whirlwind trip to Rome, it's important to strike a balance between iconic landmarks and hidden gems. Prioritise the attractions that resonate with your interests and allocate time for leisurely exploration. It's also a good idea to consider purchasing skip-the-line tickets or guided tours for popular sites to make the most of your limited time.
In a city as rich and diverse as Rome, four days might seem like a short span, but it's enough to leave you with lasting memories and a strong desire to return. So whether you're wandering through the grandeur of the Colosseum, marvelling at the artistry of the Vatican, or getting lost in the narrow lanes of Trastevere, each moment in Rome is a step into the past, a celebration of the present, and a promise of the city's eternal allure.
Taking the kids?
Here's how to explore Italy with kids in tow.