SnapMyEats review – earn Amazon gift cards with your food receipts
Posted on
Before you throw your next paper receipt away thinking it's useless, stop and download a few apps! You can turn your paper receipts into cash and gift cards for your favourite stores.
In my last blog post I said I was using four apps to make money and gift cards from my receipts. So far I have shared three of those with you and here is the fourth. I have recently discovered the receipt app called SnapMyEats and I will share my first impressions with you in this blog post.
What is SnapMyEats?
SnapMyEats is a smartphone app that allows you to earn Amazon gift cards from your food and drink purchases. Simply upload images of your receipts when grabbing food on-the-go, a snack from the local convenience store or a restaurant meal to get rewarded.
How much does SnapMyEats pay?
SnapMyEats pays in Amazon eGift vouchers. You'll earn a £1 Amazon voucher per three validated receipts up to a maximum of £5 in Amazon vouchers for 15 receipts per month.
When does SnapMyEats pay out?
You snap your receipts and collect rewards each calendar month. The payout is then made on the 15th of the following month.
How do I earn Amazon gift vouchers with my receipts?
Open the SnapMyEats app
Take a short survey to say how many people were involved in the food purchase, where you ordered the food (in person, online, by phone, etc) and where you consumed the food.
Take a photo of your receipt
Submit the receipt and survey and voila.
The receipt will be validated in 3-4 days
Keep uploading more food and drink receipts throughout the month until you reach 15 validated receipts and earn the maximum of £5 in Amazon vouchers for that month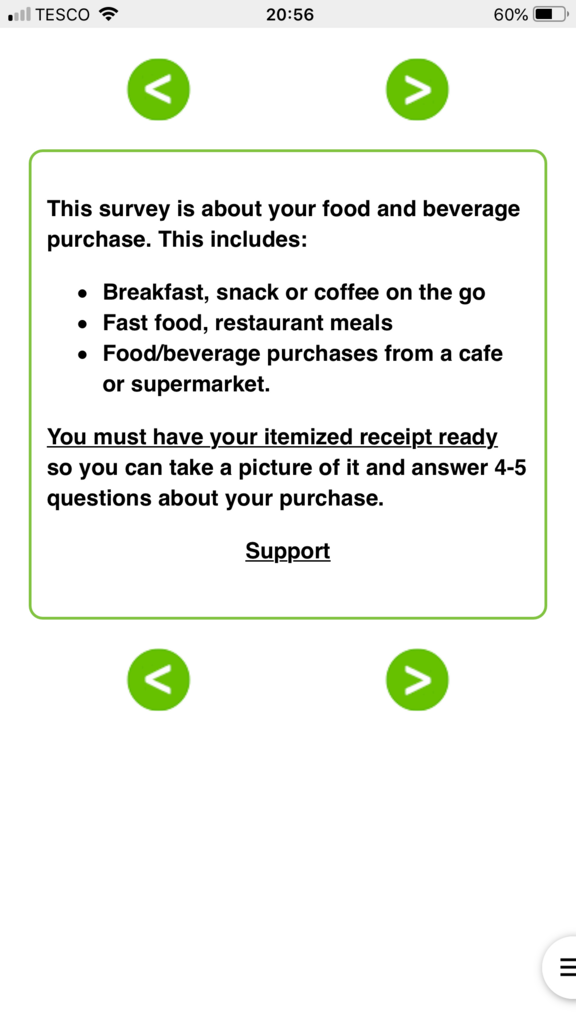 How do I redeem my SnapMyEats rewards?
There's no need to redeem the rewards as they automatically send them each month, by the 15th of the month for all rewards earned for the previous calendar month.
I started last month and was sent a £1 Amazon UK gift voucher this month. It was sent by email and was very straightforward to copy and paste the code to Amazon by clicking the link in their rewards email.
I'm on track to make £5 for February which I'll be sent by 15th March.
First impressions of SnapMyEats
The app is really, really basic and simple. There are no frills. It's just a place to snap receipts and take the short survey about each purchase. It's very straightforward and easy to do.
The only issue I have found is that you can only take one photo per purchase. This means you can't upload any receipts from Sainsbury's which is a shame, as their receipts are two-sided.
I always buy the kids a snack from the shop on a Friday after school and probably myself one or two per week, so I think I can easily make the £5 per calendar month. This means each receipt is worth around 33.3p just on this app which is great!
It's quick to use the app and upload the receipt. Now I just need to remember to always say yes when asked if I want a receipt for food and drink purchases!
Grab the app for yourself today:
https://itunes.apple.com/gb/app/snapmyeats-gift-cards-app/id1318425209?mt=8
https://play.google.com/store/apps/details?id=com.npd.snapmyeats&hl=en_US
Related
Make money at home from receipts with Receipt Hog and Shoppix
HuYu review – earn gift cards with your supermarket receipts