The benefits of hemp seeds and camu camu with Nutriseed
Posted on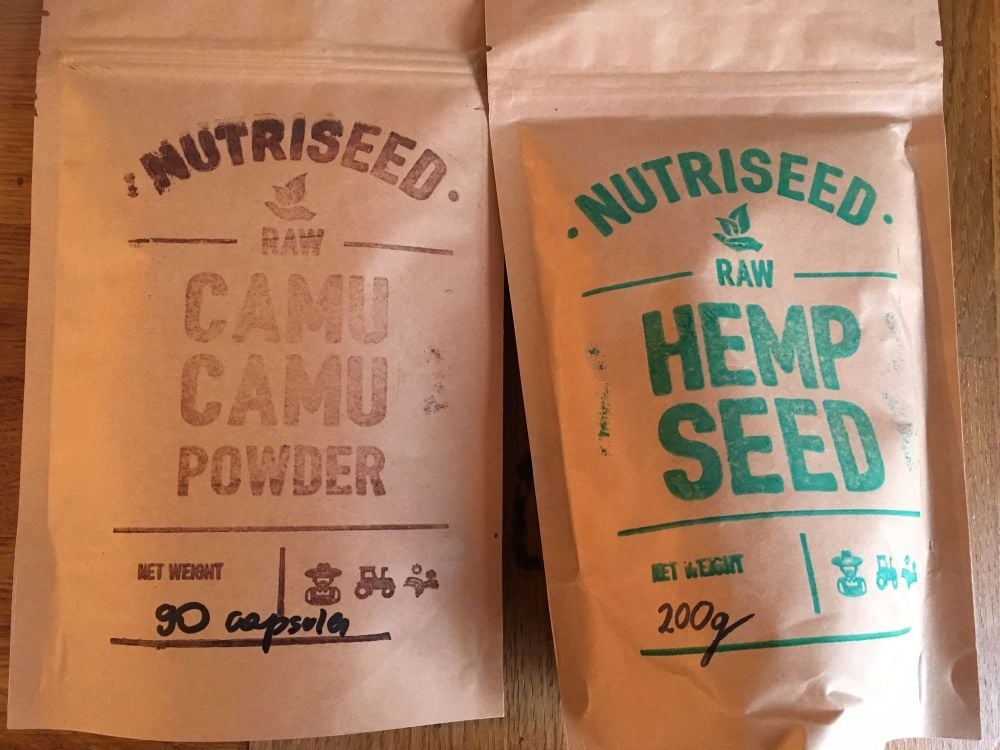 Nutriseed review: camu camu and hemp seed
It's been such a long time since I posted about the healthy things I've been trying and eating. I'm a health freak and love trying new superfoods as well as researching such topics every single day. Back in 2015/2016 I was writing a lot on my blog about the things I was trying and their incredible benefits. I haven't stopped trying them at all. In fact, I've got more obsessed!
This year, 2017, I've been refined sugar free all year. I've had a couple of slip ups. I do treat myself to chippy chips every 1-2 weeks and I did start getting mushy peas on them thinking surely they are just peas. WRONG! After trying to get some in the supermarket one week when they were a strange luminous green colour from the chip shop, I discovered they ALL have sugar added! Crazy! Another thing I'll have to make myself without the added sugar. It's so annoying they put sugar in EVERYTHING!
If you want to read more about my healthy living journey and why I recommend going sugar free, check out these blog posts:
My favourite online store for superfood goodness is, by far, Nutriseed. They're nearly all organic which is amazing.
I use their green superfood powder every morning in my smoothie and highly recommend it. My latest purchase though is for camu camu capsules and hemp seeds. I'm not a stranger to hemp seeds as they're an ingredient in my green powder, plus I've had the hemp powder before for my smoothies.
Camu camu is new to me and I purchased it as I was reading an article all about their benefits and amazing vitamin C content. I knew straight away to check Nutriseed for them and decided to go with the capsules as an extra vitamin C boost for the winter months.
Read on to see the amazing benefits hemp seed and camu camu powder and why they're going to be staples in my cupboard.
Hemp Seeds
I've been watching so much about cannabis recently and how the whole plant is an incredible medicine. Cannabis has been used for thousands of years as a medicine and has the most incredible healing properties for many daily complaints as well as horrific illnesses and disease like cancer thanks to its cannabinoid content.
Unfortunately the government concentrated on its getting high qualities and made it illegal to grow and use for some time. Only now is cannabis getting the recognition it deserves as such an incredible plant for so many uses and the stigma is beginning to change.
I really want to get my hands on some CBD oil to add a drop to my smoothie each day. I'm hoping it may clear up my skin and be a preventive for many diseases. I've watched several stories of people with 20 years+ of chronic pain being able to relieve the pain in 20 seconds with the oil. There are also several stories of it helping people with much worse disease. If you start researching it, you'll be amazed at the life changing stories you find. Sounds incredible doesn't it? Plus it's 100% natural and doesn't contain nasty ingredients like most prescription medicines do.
Unfortunately Nutriseed don't stock the CBD oil, but they do sell hemp powder and hemp seeds. These aren't going to have the medicinal properties of the oil, but they are both a nutrient powerhouse!
Hemp is from the same plant Cannabis Sativa, but don't worry, eating the seeds won't get you high! The seeds contain only a trace amount of THC (the psychoactive compound that gets people high when smoked) and are actually highly nutritious and healthy to eat. I have some in my smoothie everyday already in powder form and now I've been adding these hemp seed to my home made muesli each morning and also chucking a teaspoon to my smoothie for a more nutty flavour. They can also be eaten as a snack on their own and would be a great replacement for those with nut allergies.
Let's look at the amazing properties of the product I bought, hemp seeds:
A full protein source containing all 21 amino acids, making it a healthy non meat source of protein
Rich in several minerals including zinc (great for immune system), phosphorus (good for bone health), magnesium (also good for bone health) and iron (delivering oxygen around your body in the blood).
High in essential fatty acids and containing the perfect ratio of omega-3 and omega-6. Our bodies can't make these itself so we must rely on a food source for these fatty acids.
Rich in vitamins B1, B2, B6, D and high in vitamin E.
They contain the rare gamma-linolenic acid (GLA) which is linked to several health benefits including a reduced risk of heart disease.
Good source of fibre.
Vegan friendly.
The Nutriseed version is organic.
Read more on my thoughts about organic food here:
For 6 evidence based health benefits, check out this article from one of my favourite websites: https://www.healthline.com/nutrition/6-health-benefits-of-hemp-seeds#section2
Camu Camu
This can also be purchased as a powder, but I went for the capsules to make sure I take one every day. I already have two smoothie superfood powders on the go, so didn't want to add another just yet. The capsules are filled with 100% camu camu powder so I'm still getting the exact same goodness.
Camu camu is a shrub found in the flooded parts of the Amazon rainforest and it's the berries that are full of nutritional goodness. The fruit is said to be excessively sour so is ground into powder to mix with other things.
Here are some of the incredible benefits of camu camu:
One teaspoon or one capsule provides 1180% of your recommended daily allowance of vitamin C, that's more than any other natural source of vitamin C. Vitamin C is produced by our body so must come from food. It's also not stored by the body, so a daily source is required. These capsules will make it super easy for me to get enough on a daily basis and from a natural source.
The Nutriseed version are organic certified by the UK Soil Association
High in vitamins and minerals, particularly in essential trace mineral manganese which supports bone health and normal brain function amongst many other health benefits.
Rich in antioxidants
For me I'm all about getting my vitamins and minerals from natural sources, so this is now my vitamin C tablet.