What Are The Biggest Mistakes Small Retail Owners Make?
Posted on
The world of retail is a complex and confusing one for a lot of people first getting into it. Most of the stores which get opened will never make it past their first year, with even fewer still making it to their second, and this makes it hard to feel secure with a shop. Of course, though, there are a lot of common pitfalls which will hurt your chances. By avoiding these, you give yourself the best odds of finding success. In this post we'll explore why you need to avoid doing the following:
Not understanding their customer base
Charging too much or too little
Not putting enough into the space
Not putting enough into the window displays
Forgetting to invest in a good POS
Not investing in staff training
Staying off the grid
Not being social media savvy
Focusing too much on online sales and not enough on in-store sales
Changing all the time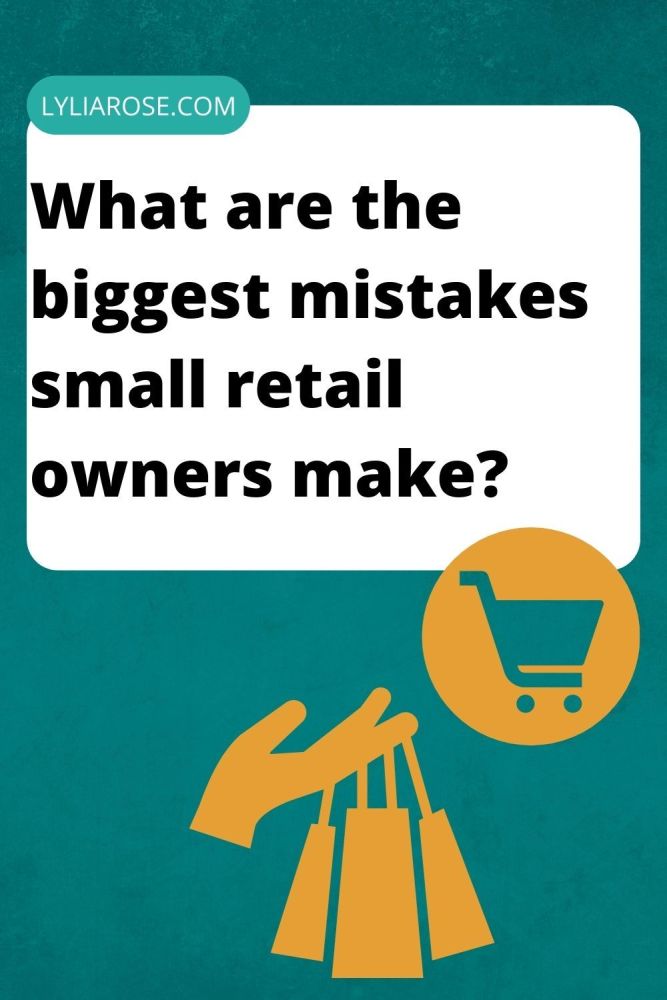 What are the biggest mistakes small retail owners make?
With the rise of e-commerce, it is becoming increasingly difficult for small retail owners to keep up with the competition. The following are some of the most common mistakes that small retail owners make.
Not understanding their customer base
The biggest mistake is not understanding the needs of their target customers. In order to have a successful business, you need to know what your customers want. This will help you provide them with a product or service that meets their needs and meets your own goals. You need to understand what your customers want, what they are willing to pay for, and how much they are willing to spend.
Charging too much or too little
The amount being charged for an item can tell a customer a lot about it. If you charge too much, they will feel insulted, and won't want to buy the product as the result of feeling ripped off. Likewise, though, selling something for too little will make it seem cheap or poor quality. You have to strike a balance here, and it can often pay to be sitting in the middle rather than having the very lowest prices in town.
Not putting enough into the space
A retail space is quite different to an office or other business premises. Not only will the products themselves be on display, but the store will also have to be up to standards, or customers won't want to visit again. Retail design companies can often be the easiest way to handle this. Giving you the chance to think about other parts of the company, using retail design solutions like this will improve your chances of success from more than one front.
Not putting enough into the window displays
Retail stores are often judged by their window displays. Window displays are often the first thing that potential customers notice about the store before they go inside. We've all been in a store because we've seen the window display. It's usually something that catches your eye. It entices you to go inside and see what they have on offer. People want to know what is for sale and how much it costs before they walk inside. A window display should be a representation of the store's inventory and should entice people to come in and see more.
But what happens when the window display is not up to par? What if it's just a bunch of products thrown in there? What if there's no creativity or effort put into it? If this is the case, then you're going to lose customers who walk by and see that you don't care about your window displays.
Forgetting to invest in a good POS
It is not uncommon for small business owners to be overwhelmed by the costs of setting up a store and they often neglect the importance of investing in a good POS system. The best POS systems can help retailers save money and time by managing inventory, tracking sales, and doing payroll more efficiently. A POS system can also help retailers stay competitive with big-box stores by offering discounts and loyalty programs for their customers.
Not investing in staff training
Small retailers often make mistakes when it comes to investing in staff training, as they don't see it as a priority. But this is one of the biggest mistakes they can make because staff training can improve customer service and the overall customer experience. Retailers should invest in staff training to improve customer service and the overall customer experience.
Staff training is crucial for any company because it improves employee engagement, productivity, and retention rates. It also helps to keep employees up-to-date on all the latest trends in the industry and provides them with a sense of purpose by teaching them how they contribute to the company's success.
The owner will need to decide whether they want to train all staff members on all aspects of the business or just have certain people trained on specific topics. Without professional training, employees are more likely to make mistakes and have a negative impact on your business.
Staying off the grid
When you have a lot on your mind, with products to source and store to open, it can be hard to think about the little things. Your website can't be ignored, though, as this will be your gateway to the outside world. Very few people impulse shop anymore, and will rely on the web to help them find the places they're looking for.
Not being social media savvy
As a big part of this, you will also need to consider social media, as this can be a very powerful online tool when it comes to reaching out. You can attract more customers by using social media channels such as Facebook, Instagram and Twitter. Social media channels are a great way of communicating with your target audience and reaching out to new potential customers who may be interested in what you have on offer.
Focusing too much on online sales and not enough on in-store sales
In-store sales are a vital component of any retail business. However, many small store owners forget about them when they're focusing on their online sales. Online sales will never replace the importance of in-store sales and vice versa.
Changing all the time
When customers come into your store, they will base their next visit on what they saw. With this in mind, changing the place all the time is rarely a good idea, as it will make it hard for customers to recognise it, while also costing a small fortune. When you have an idea and choose to run with it, it's best to follow through, as this will make it much easier for those looking to spend money with you.
Final word on the mistakes to avoid as a small retail owner
Hopefully, this post will inspire you to start working harder on the time you put into your first retail business. In order to succeed, small retail owners need to be aware of the mistakes they are most likely to make. This area can be a true minefield, with loads of problems and challenges coming all the time, making it hard for those first starting to handle it. Of course, though, it doesn't have to be this way, as long as you're willing to put in some effort and learn from any mistakes.
Originally posted in 2018 and updated in 2022.