CanvasChamp UK review and giveaway: perfect cheap prints to create a memory wall
Posted on
Although I've always hated photos of myself, something I am working on, I do love to take lots of photos of my children and everything we do.
I've been busily creating a couple of photo memory walls at home which really brighten the place up and cheer us up on a gloomy day.
When we walk in our front door we are greeted by four gorgeous smiling photos of Reuben.
It really does cheer up the entrance, no matter what mood we may be in!
I was contacted by CanvasChamp last week to see if I'd like to review a 12 x 8 canvas and I jumped at the chance.
In this blog post I am going to review my experience with CanvasChamp and I have a giveaway for one of you, my readers, to win a 10 x 8 canvas for yourself at the end of the review.
Choosing a photo for my CanvasChamp canvas
I knew exactly where I wanted to order a canvas for as soon as it was offered.
In my daughter Bella's bedroom we have a memory wall. It's more than a photo wall as it has her very first self-portrait framed and her very first dress displayed in a box frame. It's so dinky I can't believe she was once so tiny!
There's a group photo from when she was in playgroup and her reception class. This wall started with around four pieces and it's been growing each year.
We recently went on our first beach holiday abroad as a family and Bella had the best time. Ever since returning she keeps asking when we'll be going back to Fuerteventura and she misses the splash pool.
Her wall was also lacking a photo of her and her little brother Reuben together, so I couldn't think of a more perfect photo to choose than one of them splashing together in the pool on our holiday.
It's a lovely shot of them both so happy and having fun; the perfect memory to add to her memory wall.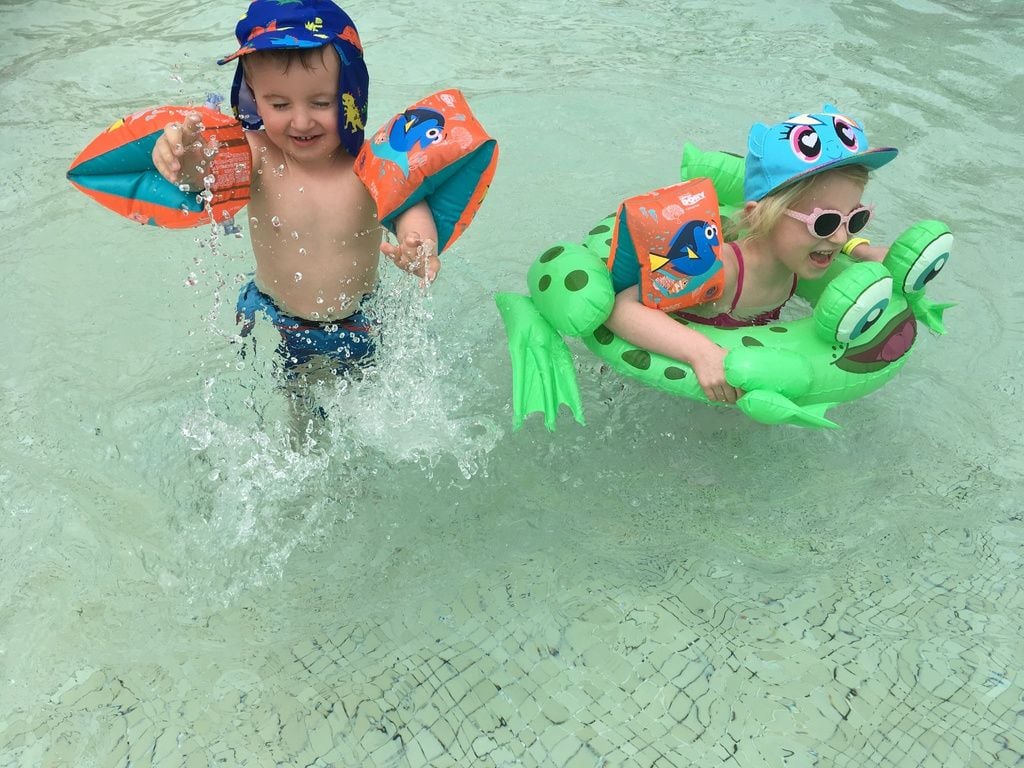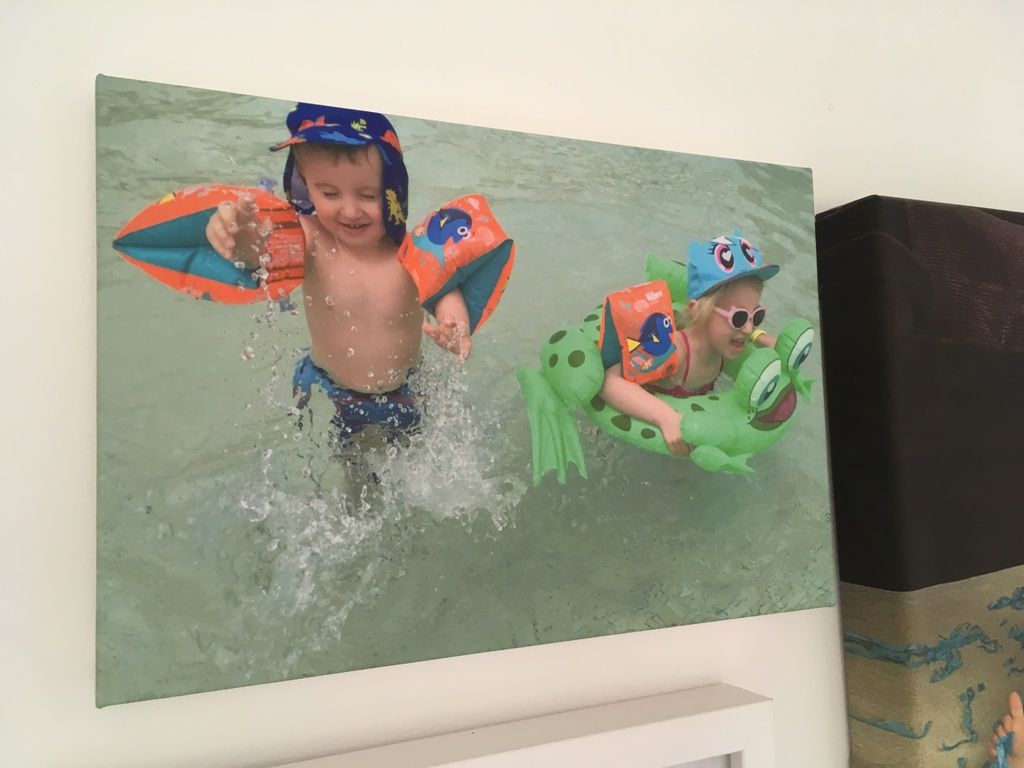 CanvasChamp UK review
If you have a blank wall that you're not sure what to do with, then try a memory or photo wall. I'm sure it will brighten up the room and your mood too.
With companies like CanvasChamp it needn't be an expensive piece of home décor. As I type this they have 8 x 8 canvases for just £3.89. That's a bargain! They also have a low price guarantee. If you find a cheaper price published then they'll match it and give you a 10% discount.
One thing I love with ordering items like canvases online is how easy and simple it is. I simply clicked the size I wanted to order, uploaded the photo and it showed a proof on the screen for me so I could see how it looked with different border options and so on.
I wanted to keep it simple with white edges, but you can also choose to stretch the print around the frame or mirror the image onto the edges. There are different sized edges to pick from and I chose the thinner depth.
Within a couple of minutes I had easily placed my order. It's such a simple process, even for those who are not tech savvy at all.
CanvasChamp shipping
Shipping takes 3-9 days depending on the service selected and mine took a few days.
It seemed to arrive very quickly and if I'm honest I wasn't expecting it so soon.
I hadn't checked when it would be delivered and for personalised products I always assume they will take a long time anyway, so I was surprised when my parcel did arrive. It was sooner than I had expected.
I'm very impressed with the ease of placing the order, the fast delivery and the quality of the print. I popped it up on Bella's memory wall straight away and it looks great! As soon as I need another canvas print for her wall I'll absolutely know where to go.
CanvasChamp print social photos with ease
One thing I noticed they also do is print Instagram and Facebook photos! I really like the idea of being able to print photos directly from my Instagram as I always share my favourite photos there and edit them slightly so they look even better.
I just had a play around with this feature and it's so easy to do. I simply selected the Instagram icon at the top, connected my account and I was able to choose a photo from my Instagram feed.
I have some really beautiful photos of the children on my account so I'd love to create a photo wall with small square canvases one day. I'll be remembering this for the future!
With their money back and cheapest price guarantee you've really got nothing to lose. Try ordering a canvas to brighten up your walls from CanvasChamp today!
GIVEAWAY
CanvasChamp have very kindly agreed to give one of my lucky blogger readers a free 10x8 inch canvas!
Simply enter below in the Rafflecopter widget for your chance to win. There are lots of entry options and lots of ways to boost your chance of winning!
Good luck :)
GIVEAWAY HAS ENDED. http://www.rafflecopter.com/rafl/display/ee07d1b382/
Giveaway Ended!
The winner has been notified.
Terms and conditions
There will be one winner
The prize is a 10 x 8 inch canvas print from CanvasChamp
There is no cash alternative
There is no limit on the number of entries per person, follow the instructions to enable multiple entries
Winners will be notified within 28 days
Prizes will be sent out within 28 days of receiving the winners address
The winner must claim their prize within 28 days or it will be forfeited
All entries must be received by the date and time specified
The winner will be picked at random by Rafflecopter & notified by email
Giveaways are open to the UK only
The winner's name and county is available upon request