Branscombe Airfield and Campsite review and two day Devon travel diary
Posted on
Branscombe camping review + travel diary
24.07.18 8pm - First campervan trip with kids to Devon!
Today is Ben's birthday and we have come away in our new Mazda Bongo Friendee campervan which we purchased at the beginning of July. It's the first time we've taken the kids camping in it so we decided to only go away for one night to test the waters. We went camping for one night kid-free to Oxwich Bay­ a couple of weeks ago and Ben went camping last weekend with his friend by taking both their campers. It was time to test it out with the kids!
Our campervan is a pop top so the kids can sleep up top and we can sleep on the folded down seats of the car itself. I have no idea if the kids will sleep though as they'll be in close quarters and when they had to share a sofa bed on our family holiday to Fuerteventura earlier this year they didn't sleep for hours! They kept fighting, kicking each other, nicking pillows and generally winding each other up the whole time! Right now the kids are still awake and just playing quietly sat up in the pop top. It's still daylight and they're excited to be camping for the first time so they'll probably be up for a couple of hours yet or at least until it's dark.
Every year Ben tends to book his birthday off and the start of August as my birthday is only nine days after. It's always in the summer holidays so it's a great time for Ben to take off so we can have a family holiday or some days out together whilst everyone can be off together. As we had the camper it seemed perfect to pop to Devon for a couple of days and Ben agreed this is what he wanted to do for his birthday. There are so many amazing places to visit in Devon and we've rarely been there before.
We used a website called PitchUp.com which makes finding a campsite really easy. When we were trying to search individually on each campsites own website we found many of them only offered two or more nights stays and so it became time consuming to keep filling out all our details to not get the exact timings we wanted. On Pitchup.com we could enter the dates we wanted to stay, that we had a campervan and no extra tents, how many of us there are including kids and their ages and then we could see exactly what was available and for what price. I think I randomly said try that one and pointed on the map to one of the locations and we discovered Branscombe Airfield and Campsite.
We decided to book it right away as it sounded pretty unique. Not only was it a family friendly campsite with park and close to a few beaches (by car with the kids), but it was a small airfield too with some old planes to see and possibly even some take offs and landings during our stay.
We arrived at around 2pm today which is the check-in time and found a nice spot by a tree so we had a bit of shade if needed. It was also opposite the playpark so we can see the kids if we need to. First impressions were the site looked lovely and clean, not too busy and was surrounded by peaceful green fields providing the one with nature and calming environment we had envisioned.
We decided not to get set up as we wanted to explore the local beaches, so immediately set back off down the narrow winding country lanes to find the first beach.
Branscombe beach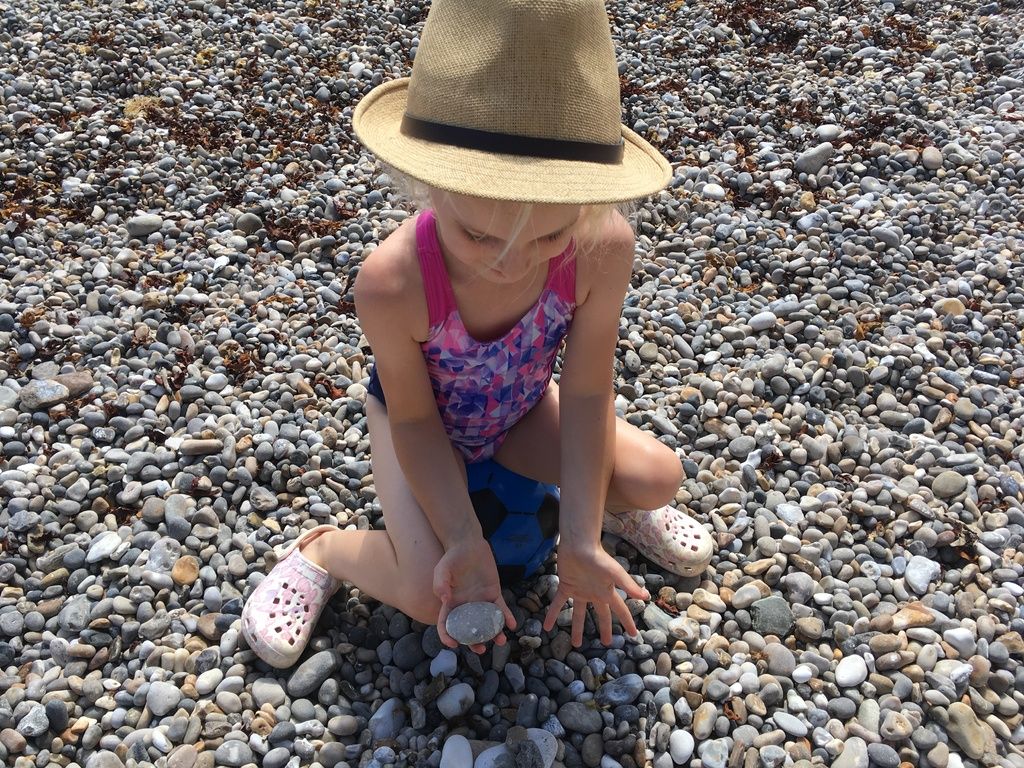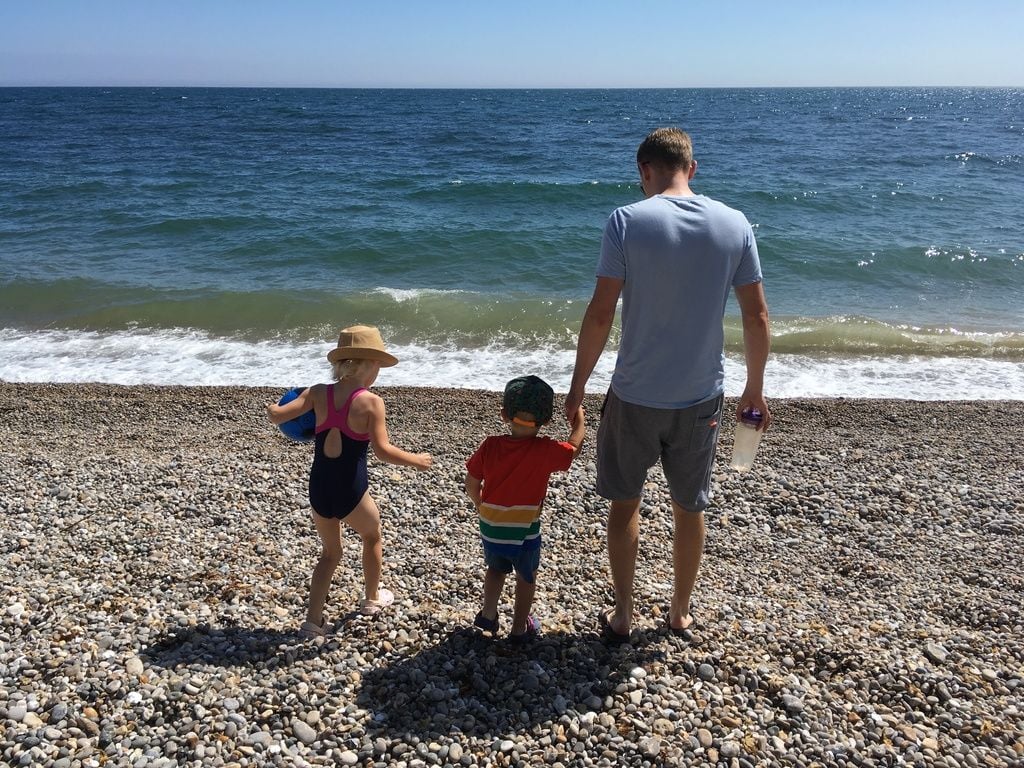 Ben had booked this trip and so I'd not received any details, nor had I done any research into the area so we had no idea what to expect. We first drove to Branscombe beach which is probably a half hour walk, but this would have doubled with a three and six year old in tow, so we drove! We paid £4 to park in the car park for four hours and walked over to the beach.
Oh! It was a pebble beach! Ha!
Obviously we weren't expecting this as we aren't familiar with Devon at all and hadn't done any investigation prior to our trip, so the children were a bit disappointed they couldn't build sandcastles! Not a problem, said Bella, we can build rock castles!
We had a walk along the beach which is really beautiful with green cliffs surrounding it and clean looking waters to paddle in.
We sat by the sea for a moment until, of course, one of the kids needed the toilet!
We headed back to the carpark where there were some public toilets and decided not to return to the beach, but to find the next one along in search of golden sands if they were here.
Beer beach
Beer beach was the next stop, but we could immediately see it was another pebble beach. So a quick peek out of the car and we continued on our journey. The beach did look very picturesque, but I can't comment any further as we didn't get out the car.
There were so many beautiful houses on the journey. It looks like a really picturesque place to live.
Seaton beach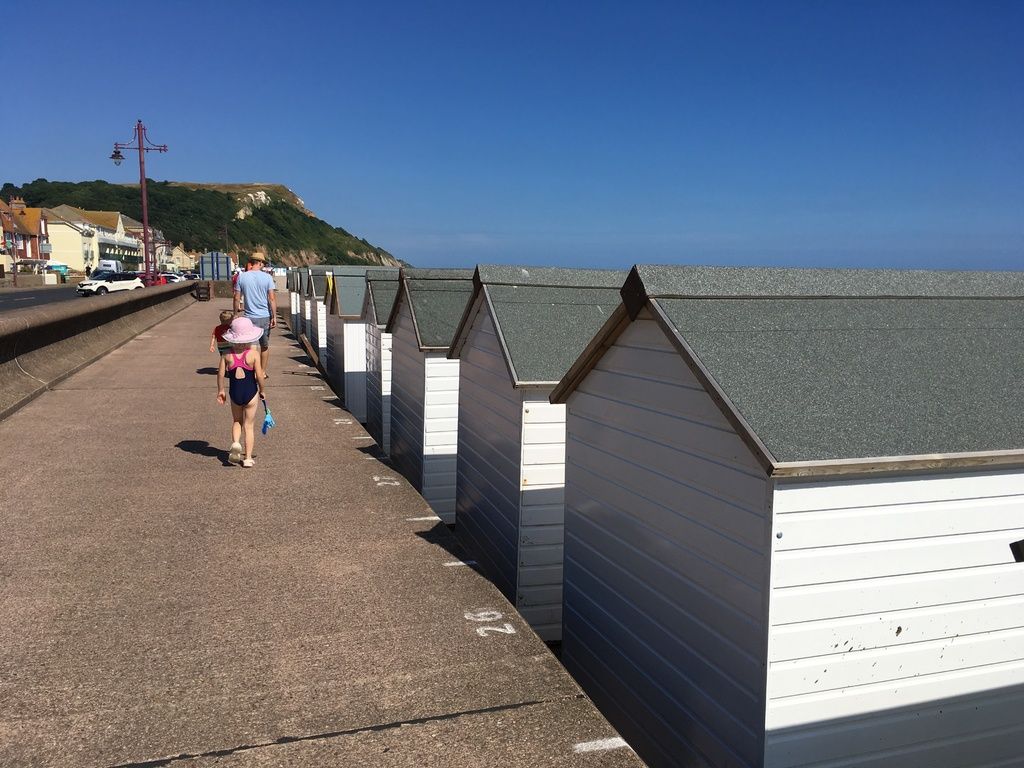 Our final beach stop of the day was Seaton beach in an area that seemed much larger with two lane roads, lots of shops and seeming more like a town than the other two beaches which are more secluded and villagey.
We parked up and paid for parking, then it was no surprise by now that it was a pebble beach! This beach did have a costal path to the rear which was much easier to walk along with the kids. Ben and Reuben went to the edge of the shore to throw pebbles in and admire the sea, but Bella didn't fancy walking over the rocks and pebbles so we sat on the edge of the path and she made a rock fortress for her My Little Pony!
It was another very picturesque beach with cliffs visible at each end and the lovely crashing sound of the waves hitting the pebbles on the shore.
Back to the campsite
We found a local Tesco and picked up some ready to eat tomato pasta pots and Gosh balls to add to them. We drove back to the campsite to enjoy this as a picnic sat outside the van. The kids ran off and played in the playpark for the first time which they loved. A playpark will definitely be a requirement when we look for campsites! Bella was keen to make some friends and even brought one back into the campervan to have a look around.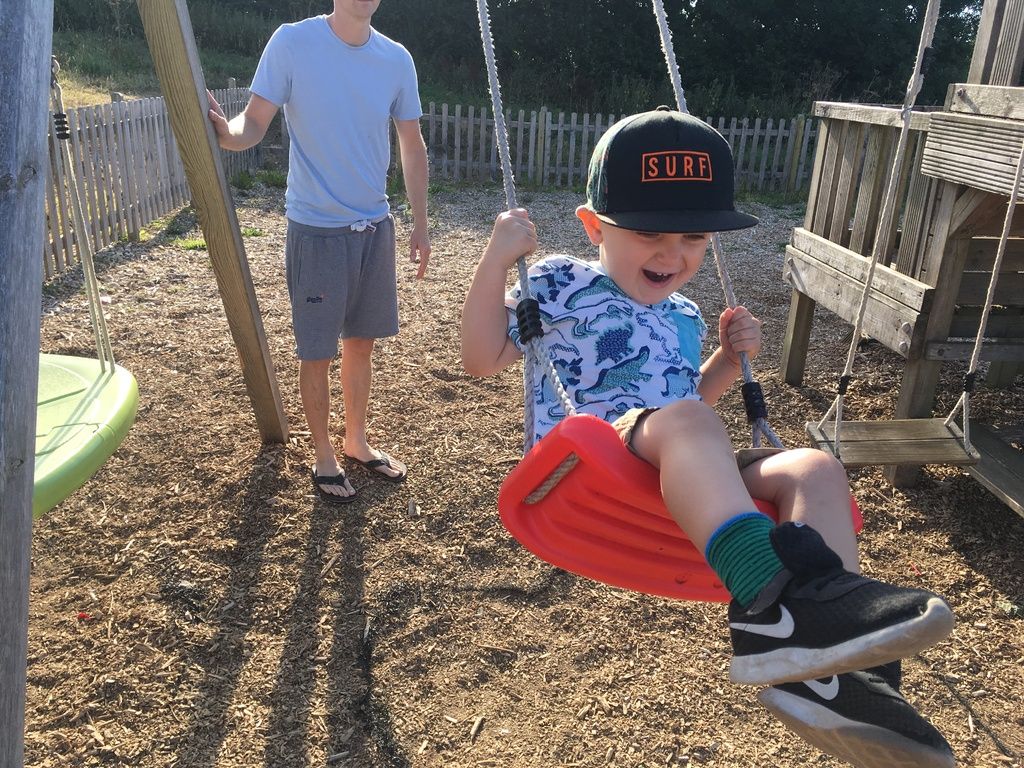 Unfortunately the facilities at the campsite are a bit sparse. We were spoilt a couple of weeks ago with a huge shower and toilet block when we camped in the Gower which had plenty of sinks, toilets and showers for everyone. This campsite has two family showers which look really spacious, but so far the two times I've gone up to use them they've been busy. Aside from those there are only two ladies loos, one shower and one sink. Then there are a few portaloos in a row which are just toilets and have no sinks. This is probably the only part that puts me off with camping as I like a bit of privacy to clean and do my business, but I just had to brush my teeth with ladies trying to squeeze in behind me to go to the toilet and then wanting to wash their hands at the single sink! To improve this campsite I'd definitely invest in a larger toilet, sink and shower block. It's pretty quiet here in the field we are in today, but I can imagine it must get very overcrowded when the field is full.
We haven't been to explore the airfield yet, but I expect we'll go tomorrow. I'm not sure what Ben wants to do, but hopefully we'll go and find another beach to explore. I quite like to see as many different places as possible when I travel rather than going back to the same beach or place every day.
25.07.18 7am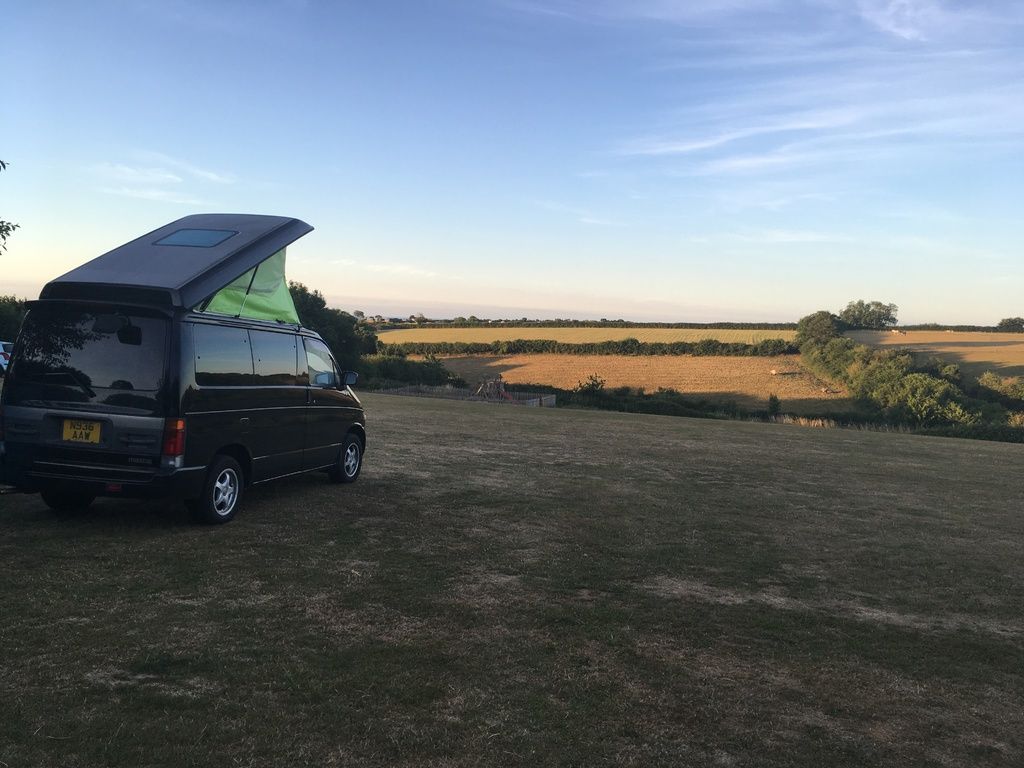 It's now just after 7am and I've been up since 6am. I was the first up and didn't want to get back in the camper to sleep. I felt quite claustrophobic so I've been sat in the front seat for one hour writing some blog posts and doing some work whilst everyone else carried on sleeping. They are all just getting up now as I write this!
As I was up so early I managed to check out the family bathrooms and they are SO much better; a room with a shower, toilet, sink, bins, plenty of space to move and shelves to put belongings. I much prefer these as there is more privacy. There are only two though, so it would be ideal if they had a little row of rooms like these. It would be perfect! I'll definitely wait for these if I need to use the bathroom again.
Waking up here is beautiful. Once I got out of the van the morning sun shining over the fields was amazing, There are some horses in a field up above, lots of trees and a couple of empty fields too. Everyone was still asleep so it was really peaceful. I felt like the only one awake.
You're probably wondering how the first night went with the kids! The kids didn't get to sleep until around 10pm, so really late past their bedtime, but expected. Even if we go on holiday to a hotel or stay with family they never sleep early. It's the excitement mixed with a different bed! They did sleep up top, but one thing we forgot was a nightlight for them. Bella has a teddy which is also a light so we'll remember that next time.
At around 4am Bella woke up crying because it was pitch black and she couldn't find her light. They did have a little keyring light. She didn't settle so came down and slept with us. Reuben luckily slept through the whole thing and slept soundly until just now. Ben managed to have his whole pillow whilst Bella took up around three quarters of mine so I was properly squished and struggled to go back to sleep. Probably why I just got up at 6am and wanted out!
Hopefully next time she'll sleep upstairs the whole time with a night light and won't get scared if she wakes up.
Ben and the kids have just gone to get ready and then we'll probably stay at the campsite for a while so the kids can play in the park again with the other children, then we'll head off somewhere for the day; perhaps a different beach heading in the direction of home.
25.07.18 7pm
We're back home now after a very sunny day! We played at the campsite for a bit checking out the park with the kids and then seeing the airfield. It's a grass landing strip and there was one plane out in view, but we couldn't get close as it was on the airfield itself which was not allowed to be entered. There was a plane that came in yesterday at 4pm, but we were out at the time so missed it.
Exmouth Beach and Jurassic Coast Cruise
We searched the internet for the nearest sandy beaches and decided to visit Exmouth. We arrived there around 9.30am so it was lovely and quiet at first. We were one of the first cars in the beachfront parking and when we left one hour later it was full!
The kids instantly darted to the beach without us as they were so excited to see sand! They ran to the water's edge and dipped their toes in! Then built a sand mountain and stuffed Reuben's dinosaur toys in!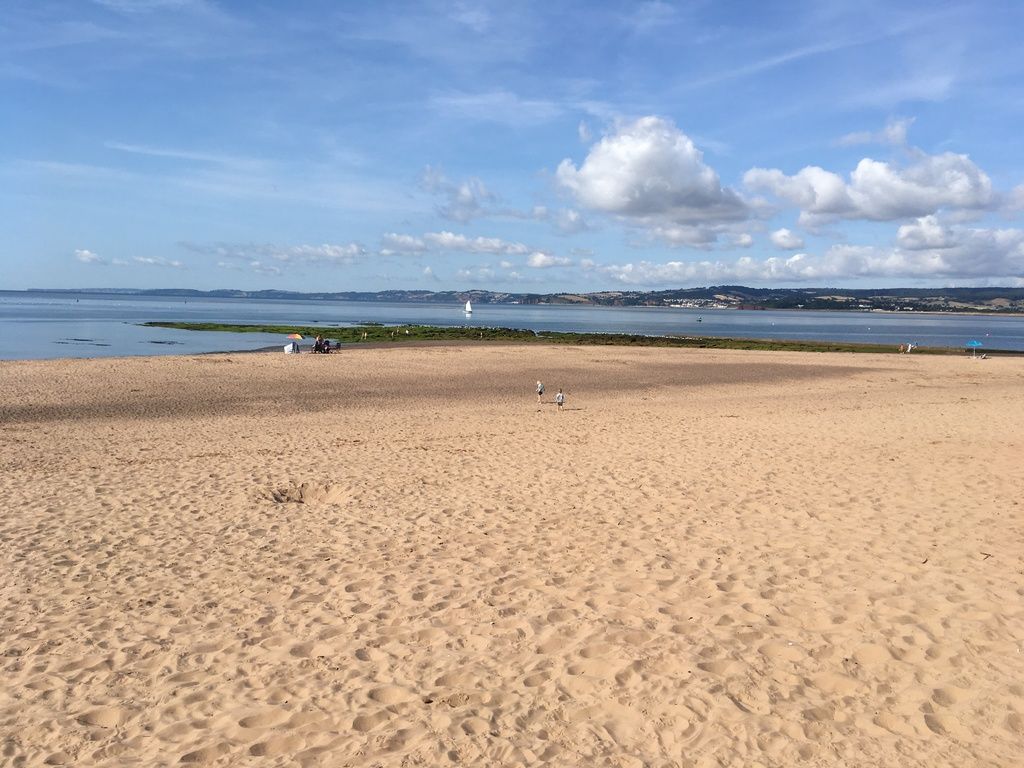 Those two dots in the middle are the kids running off to sea!
I saw a cruise boat in the distance and thought a boat ride would be great so we searched and found a trip at 1pm. I also used trusty Google to find vegan restaurants nearby and we found a recommended café not far from the marina. We hopped back in the car and parked a little further along the beach so we were closer to our next pitstops.
The café was called Sundowners which was located on the Strand in Exmouth. We all had a vegan breakfast and they split an adult one into two smaller portions for the kids. I'm not sure what else they sell as we were there just after 11am so it was still breakfasts being served. Ours were fine and it's always good to find somewhere that sells vegan food!
The boat trip was with a company called Stuart Line Cruises and we took the Jurassic Coast Cruise. The Jurassic Coast is an UNESCO World Heritage Site where coastal erosion exposes up to 185 million years of rock formations, right back in dinosaur times! The cliffs we saw were an incredible red colour and really beautiful to admire from the sea.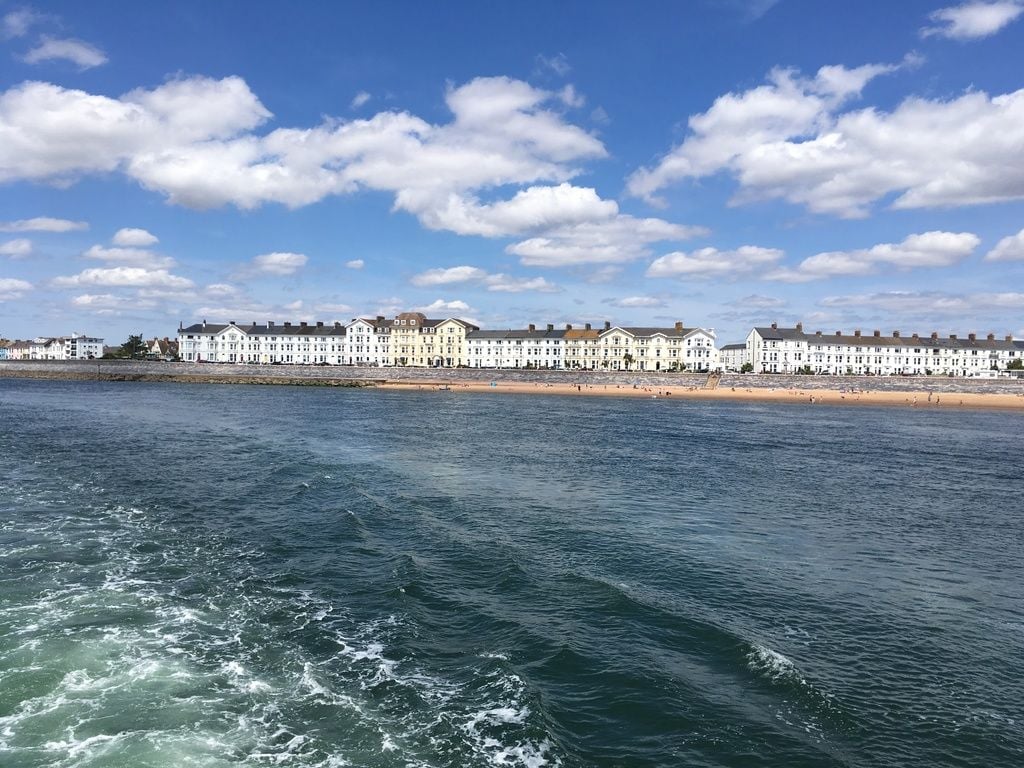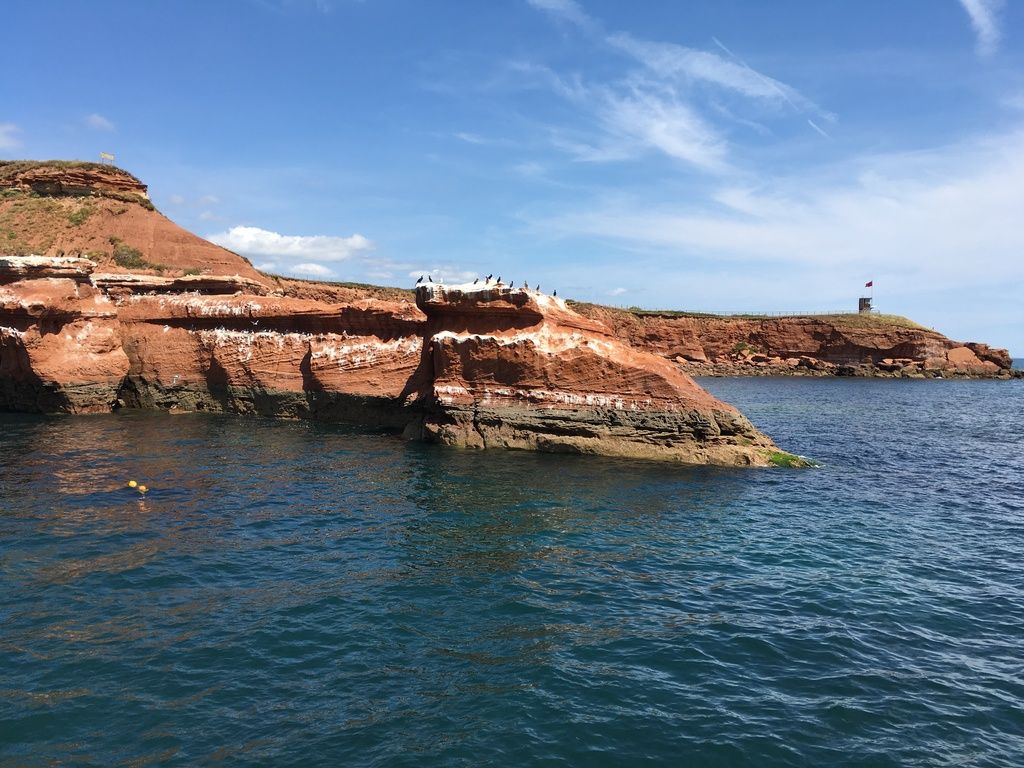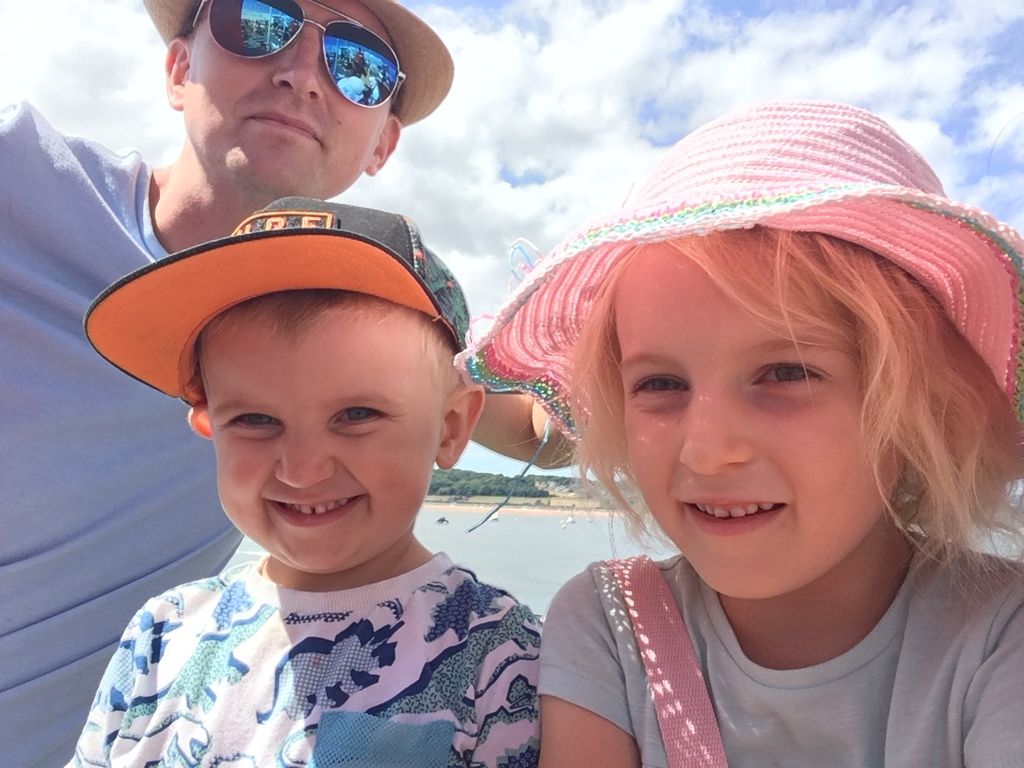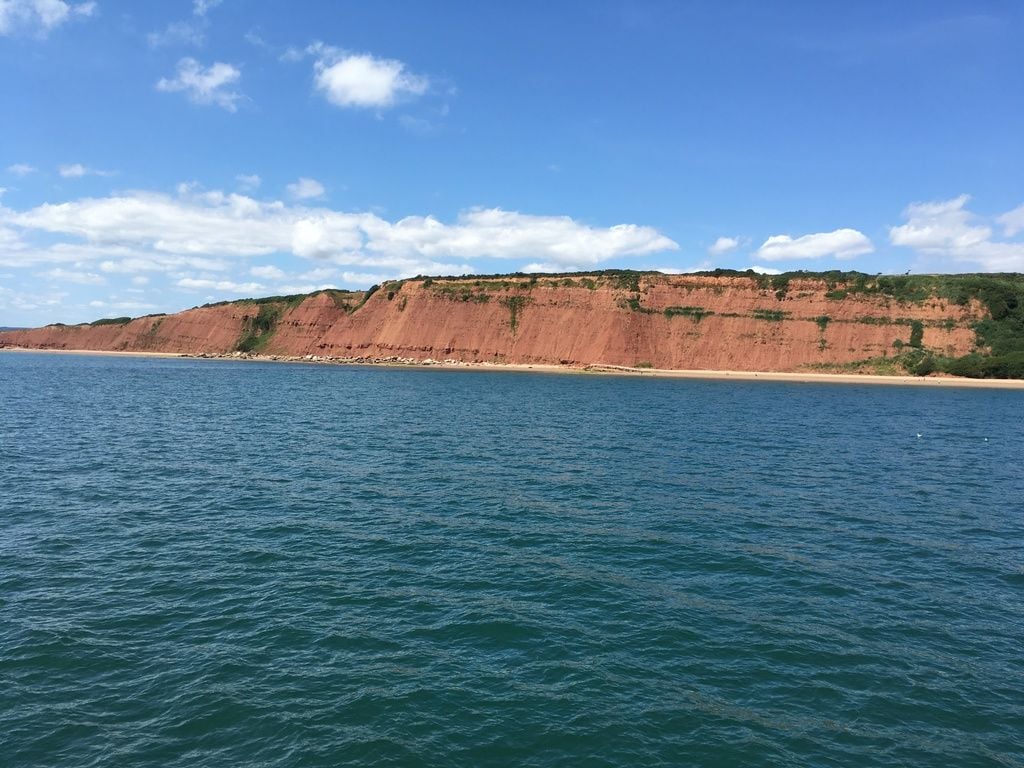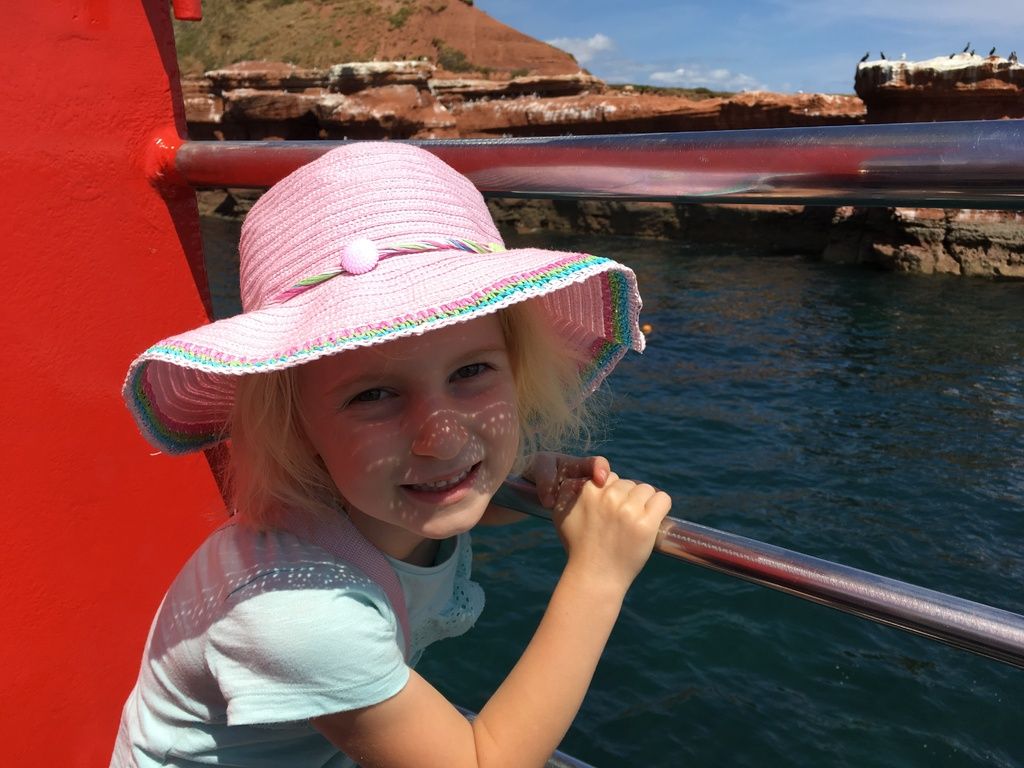 I love a trip on a boat and would love to own a boat one day. I can imagine myself bobbing at sea lying on deck writing blog posts or reading a book quite happily all day long!
The boat trip was great with a crew who served people snacks and refreshments to their seats so no one had to wander around the boat to serve themselves. Luckily it was a boiling hot day so we sat up top on the open deck and soaked up lots of rays whilst enjoying the boat ride and commentary.
We probably would have stayed a little longer as we fancied going on the big wheel, but our car parking ran out and it wouldn't let us buy anymore. Turned out we could only park for three hours near the beachfront, so rather than find somewhere else to park just to go on the wheel, we decided to head home.
We definitely enjoyed our first trip away with the kids in the camper. We packed a lot in and the kids had a great time at a campsite for the first time. Bella was sad to leave as she had made a friend and was hoping to play together again. Sleeping was a bit of a nightmare with Bella waking up at 4am and squishing me for the next couple of hours, but next time we'll make sure we have their torches and night light teddy so they'll hopefully stay in the pop top and I'll have plenty of room!
Our next campervan adventure will be to Vegan Camp Out in august, so keep an eye out for the review!