How to never run out of blog post ideas
Posted on
Not long ago I wrote a blog post about how to overcome writer's block as a blogger, so hopefully that has helped to get your creative juices flowing again. Writer's block can happen even if you have an article to write. You might know the topic and headline, but simply can't get the words out.
But what if you simply can't think of any blog post ideas?
Perhaps once you have an idea you can type blog posts really fast, but you struggle to come up with fresh ideas on a regular basis. If you have a very niche blog then it can be even harder, sometimes, to think up new ideas without repeating yourself over and over again.
In this blog post I will share some tips on how to never run out of blog post ideas, even if you have a very tight niche.
Tools and tips to never run out of blog content ideas:
Use Google
One of the simplest and easiest ways to come up with content ideas is to see what people are searching for in Google. Type in your niche or a blog title idea and there are three ways you can get blog content ideas:
As you type - whilst typing in the Google search box keep an eye on the suggestions that come up related to your keywords.
People also ask - sometimes there are a list of questions under the first or second Google results that people also ask.
Searches related to - At the bottom of the Google search results are a list of searches that are related to your search term.
By looking at all of these you may find some ideas for blog posts and questions you can answer that your target audience are asking.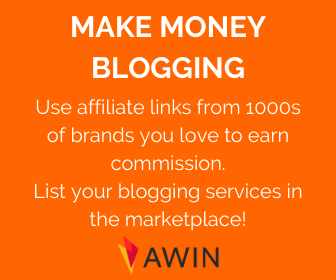 Install Keywords Everywhere
A new browser extension I have just learned about and installed is called Keywords Everywhere. I've installed it on Chrome and it was quick and easy to do:
Download the extension from https://keywordseverywhere.com
Insert your email to receive an API key
Click on the browser extension and go to settings to enter your API key
Then every time you search on Google they will show you lists of related searches and keywords along with the search volume to the right hand side of your search results: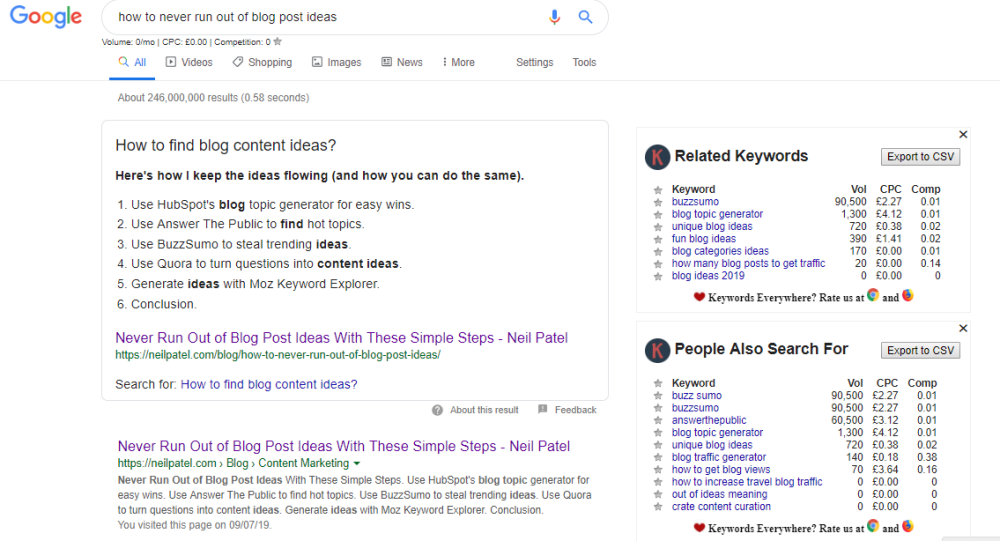 Search on Answer the Public
Get a few searches a month on Answer the Public using their free plan. One search can generate hundreds of questions and keywords that the public are searching for related to the keyword you enter.
Go to https://answerthepublic.com and enter a keyword or your blog niche to generate an image with so many questions and content ideas: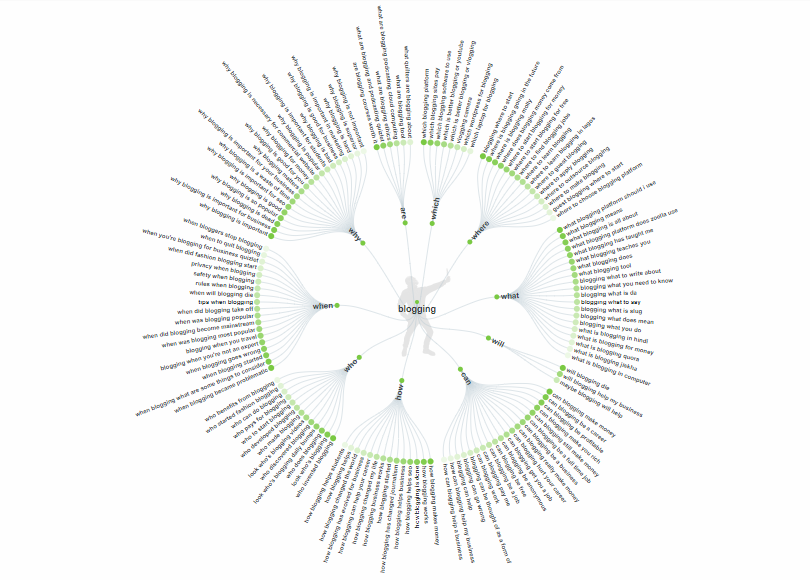 Use the blog ideas generator at Hubspot
This tool sometimes comes up with quite random results, but sometimes it has goodies! Simply enter one or more of your keywords into the blog ideas generator at https://www.hubspot.com and it will give you blog title ideas.
Even if they're a little strange, they may just spark your own ideas or give you an angle you hadn't previously thought of.
Here's an example of a topic idea when I simply entered 'blogging':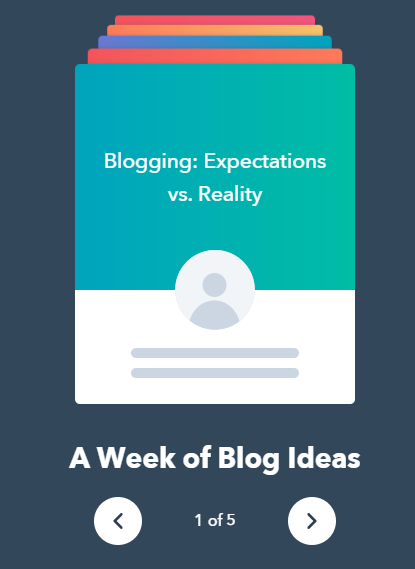 Always write down your own ideas
I always get blog post ideas and titles when I am nowhere near my laptop! I usually get them when working out at the gym, walking in the countryside and whilst having a shower! I guess these are the times my brain and body can switch off from screens and so my creative juices start to flow again.
To make sure I don't forget these ideas I keep a list of them on the Notes section on my iPhone. I always have hundreds of ideas listed so I will never run out of an idea.
Make sure you have a list of ideas whether it's in a notebook or on your mobile phone, or even both. Every time you think of a blog post title then write it down as soon as possible before you forget it!
Lying in bed before sleeping is also another time that the mind is quieter and ideas pop into my head, so a notebook by the bed is another great idea!
If you're anything like me then you'll have so many content idea lists that you'll never run out of blog posts to write!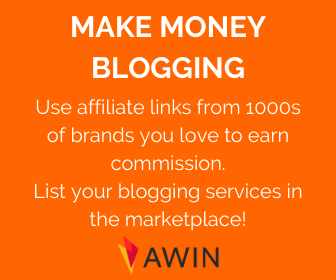 More blogging tips:
5 benefits of running a giveaway on your blog
Where to find free stock photos for blogs
Is it really possible to make money blogging?
How I drive traffic to my blog
Things bloggers wish they knew before starting a blog