Saving money: how to secure your family's financial future
Posted on
Raising a family is a marathon effort. We all want to give our children the best possible start in life, and to help them as best we possibly can. But while few of us will be able to buy our children a house, it is still possible to put some money aside to help with a deposit. In this blog post I will explore how to practice some good money management skills when it comes to saving for your children's future.
Many of us hope we can offer some financial support to our children in the future. In fact, more than half of parents wish help their children financially in the future. In this What's your number? report we can see that 53% of UK adults say that they're planning to provide financial support to a dependant in the future, or have already done so. To do this successfully and with as little stress as possible, it's a good idea to put together a financial plan for your family.
You might have already got the ball rolling for your own financial future and could be well on your way to paying off your mortgage or securing your retirement. However, the idea of putting together a financial plan for your family might seem a bit intimidating at first. With so many bills and debts to pay, saving can sometimes seem an impossible task, but with some financial planning it can be achieved.
Luckily, there are lots of ways you can begin to put together a plan and start saving for your family's financial future. Here are some things to think about.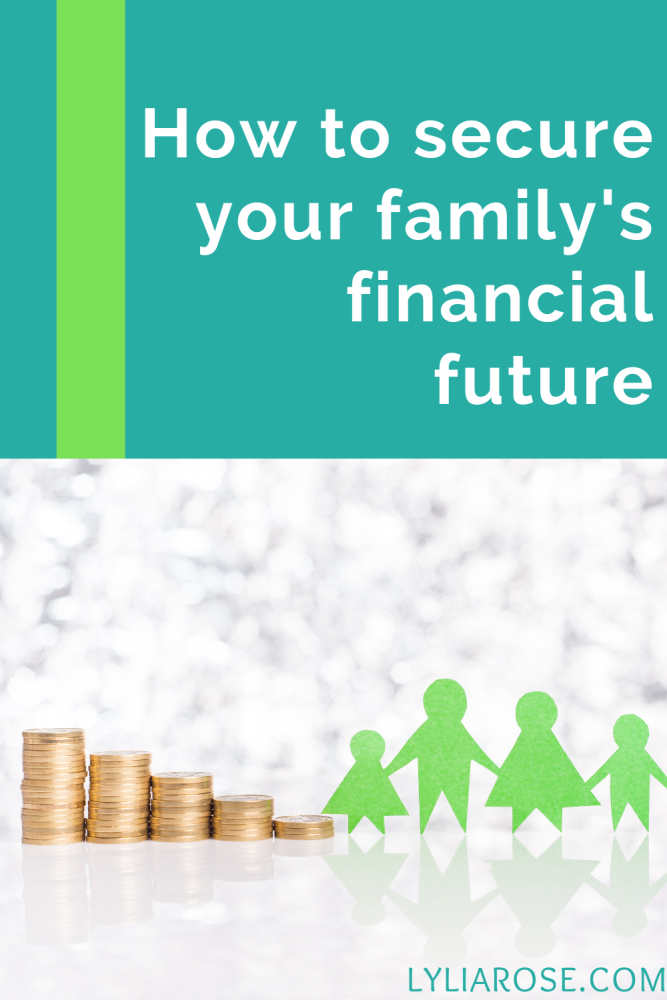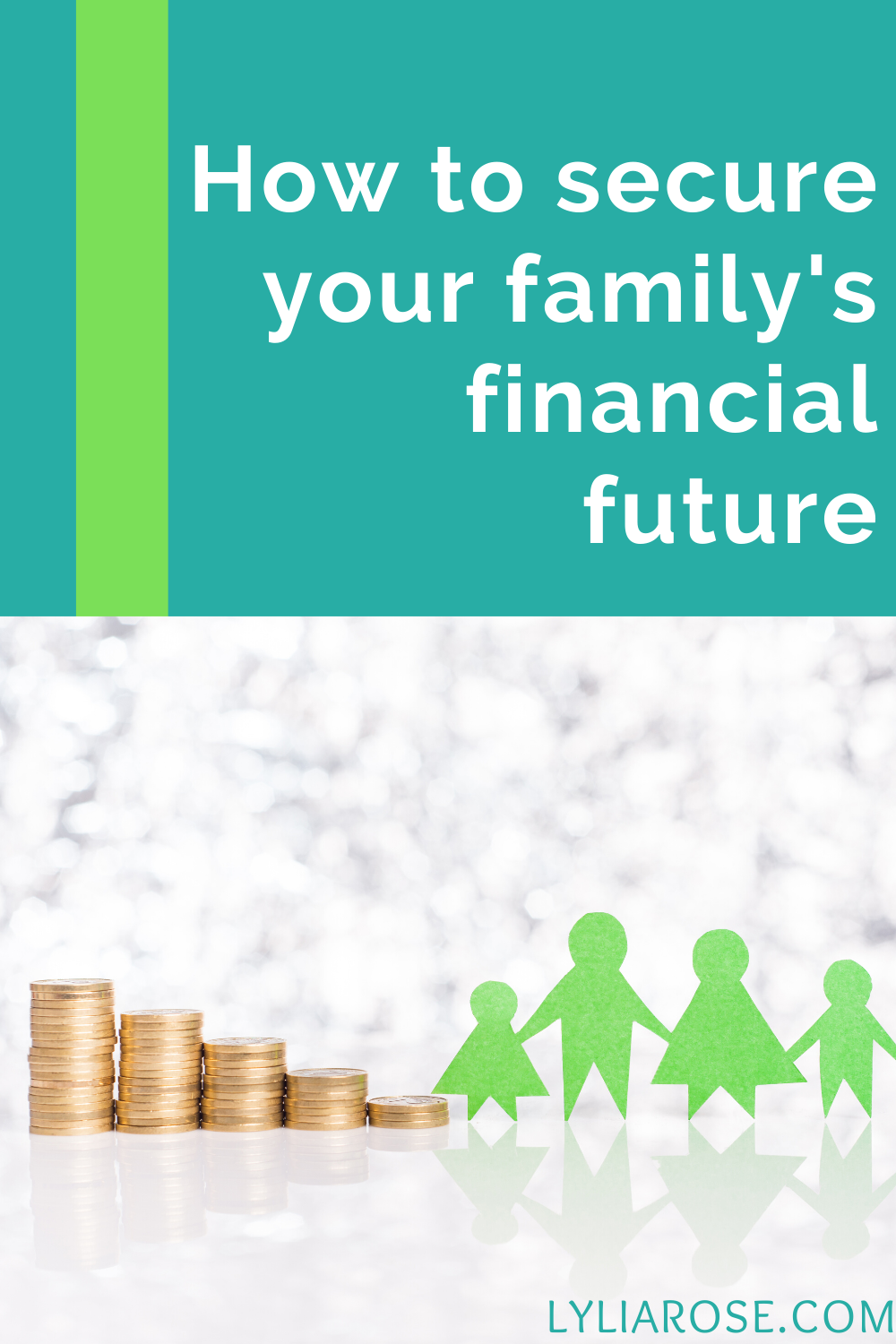 How to secure your family's financial future
Set financial goals
Whether it's for driving lessons, university, a wedding or saving money for a first house or car, all children will have some sort of goal where they could benefit from having some extra money set aside to help them achieve it.
Millennials (18-34) all faced the financial crash in 2008. Many now have the challenge of getting a foot onto the property ladder, let alone investing in real estate, or facing the increases forecast to hit state pension age. Many have already got on-board with the idea that financial planning is the way forward, but it's still a great idea to talk to your children about their goals and discuss how a financial plan could help them reach it.
Research in the Sanlam 'What's your number?' report shows that 77% of millennials say that goal setting is important. This is 16% higher than the UK average, suggesting that many of us could learn from our children when it comes to trying to secure future finances!
The campaign also shows that 86% of millennials have already set themselves targets for their financial future.
Get on-board with your children's plans, and work with them to establish how to incorporate their goals into your family's financial plan.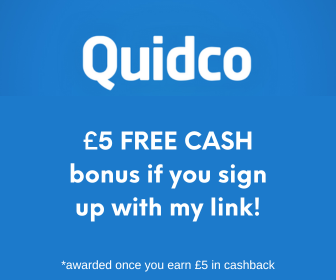 Work out how to get there
If you want to save £7,000 to help your child put down a deposit on a house in five years' time, how much do you need to save per year? Working out sums like this for multiple financial targets could get tricky and complicated.
Useful tools like the Sanlam savings calculator are a life saver when it comes to breaking down how to save your target amount. They can also act as a guide, and help you work out whether you're on track to meet your goals by the deadline.
By inputting how much you hope to save, your current savings and how much you plan to input each month can give you an indication as to how long it will take you to meet your target. The Sanlam savings calculator also links your savings to inflation rates and gives you the option to look at the investment risk level for your savings.
The more time you give yourself to reach your savings target, the less stressful the experience will be so having a clear understanding of how much you should be saving can really help.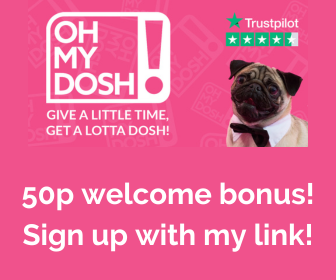 Track your spending
Get a handle on all your regular income and outgoings to get a clear picture on where you can make cuts to meet your savings goals. It's also a good idea to divide your spending into essential and unessential purchases, so you can see where any obvious savings can be made.
You might also be able to make savings on utility bills and other essential outgoings by doing your research and finding the best deals from different companies.
Create a family budget planner
Make sure you plan in additional expenses like entertainment, clothing or technology for every month. Setting aside a small budget can help to ensure that small, unplanned costs don't send your family finance plan off course.
Learning how to budget properly is so important so you can then save effectively.
These blog posts should help:
What to do with your savings? Pay off debt or save first?
The first thing to consider when you start saving is to clear any outstanding debts. Any interest you pay on these could eliminate any interest gained from your savings (or growth from your investments). You need to work out whether it's more beneficial for you to pay off your debts first and then save an emergency fund or vice-versa.
Read my own experience of debt management here:
Why I'm choosing to save an emergency fund before paying off my debt
How to overpay a personal loan + save money
Create an emergency fund
What do you do if the car suddenly breaks down and becomes irreparable, or the washing machine calls it quits? Once your debts have been cleared, if this is your first priority, it's a good idea to have an emergency fund for unexpected costs or changes in circumstances.
Like sticking to a family budget, having an emergency fund can ensure that your financial plan doesn't go too far off track, and can help you relax knowing you have a little bit of money set aside for emergencies.
Here's how we saved an emergency fund: How we saved £6500 in 6 months to reach our £10k emergency fund savings goal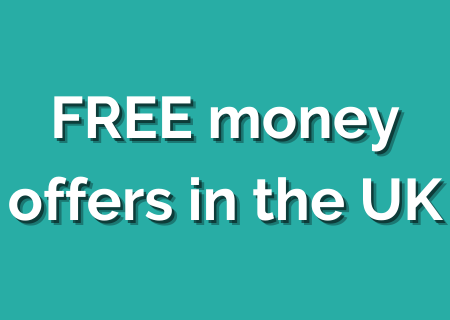 Save or invest for the long term
The best way to secure growth for your savings is by using a high interest cash savings account or investing it.
Cash savings accounts are generally a safer option than investments, but often require a minimum monthly deposit.
In the long term, investments tend to outperform cash savings. However, the risk factor is also greater, so this might be something which you need to consider before you decide where to put your money.
Consult a financial adviser
Whether you're on track to reach your savings goal, or still have some way to go, talking to a financial adviser about your savings options can help you on your way.
Working with a financial adviser can help you create an investment portfolio that's aligned with your needs and circumstances to secure your financial future.
The most important thing to remember when it comes to creating a financial plan for your family is to talk to them about it, especially if your children are older or even adult. Including them in the conversation can help everyone get on the same page and work together when it comes to savings, budgeting, life insurance and planning for the future.
Additional resources:
More family finance tips and ways to save
How to haggle and save money on your Virgin Media bill
What to do when you don't have the cash for essential household items
Three ways to improve your finances next year