Remember to take your medication with the free Safe and Sound Pill Reminder app
Posted on
If you need to take regular medications to keep yourself healthy then you need to remember to take them. In our modern busy lifestyles it can be all too easy to forget to take an important medicine at a set time of the day, especially if we're not used to taking it. Even if it is a daily medicine we've been on for years, life can sometimes get in the way.
Kids can distract us, a phone call or knock at the door can ruin our trail of thought, or even a busy work schedule can cause us to forget to our meds. It gets even more complicated if you need to remember to take different meds on different days of the week, several different tablets with various dosages and instructions, or even the need to take certain pills on different weeks of the month like birth control!
Luckily, there is an easy solution to keep all your medication reminders in one place and receive a notification directly to your smartphone whenever you are due to take a medication. Safe and Sound have released a free pill reminder app to take the hassle out of remembering to take your medications each day. You can stay in control of your daily medications with an easy to use app that reminds you take your pills!
The Safe and Sound Pill Reminder app is free to download from the Apple App Store or Google Play. You can easily store all your medication notes, dates and times in one place. There is no charge for the app and no payable upgrades either. It's free and always will be.
Read on to learn how to use the Safe and Sound Pill Reminder app and take a look at its features.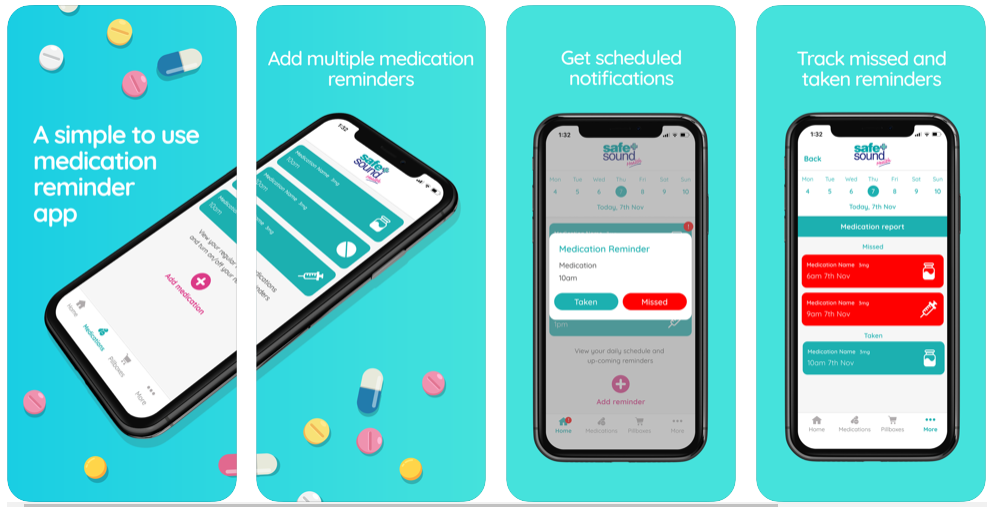 How to use the Safe and Sound Pill Reminder app
The app is available on Android or iPhone, but for the purpose of this blog post I have tested the app on my iPhone. It's really straightforward to set a medication reminder on an iPhone using the Safe and Sound Pill Reminder app.
1. Download the app from the Apple App Store or Google Play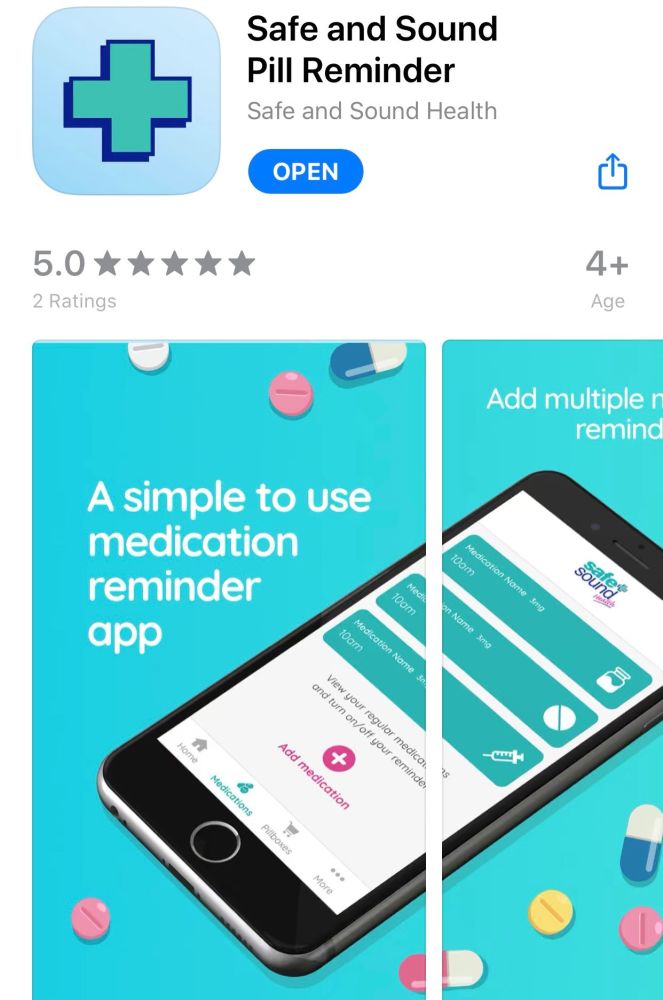 2. There are two ways to add a medication reminder.
Either go to the Home screen, select a date in the calendar and click 'Add reminder'.

Or go to the Medications tab and click 'Add medication'.
3. Now you can enter all the details for your medication including:
Medication name
Dosage
Type e.g. pill, syringe, tablet, liquid, etc.
Food instructions - none, before eating, after eating, while eating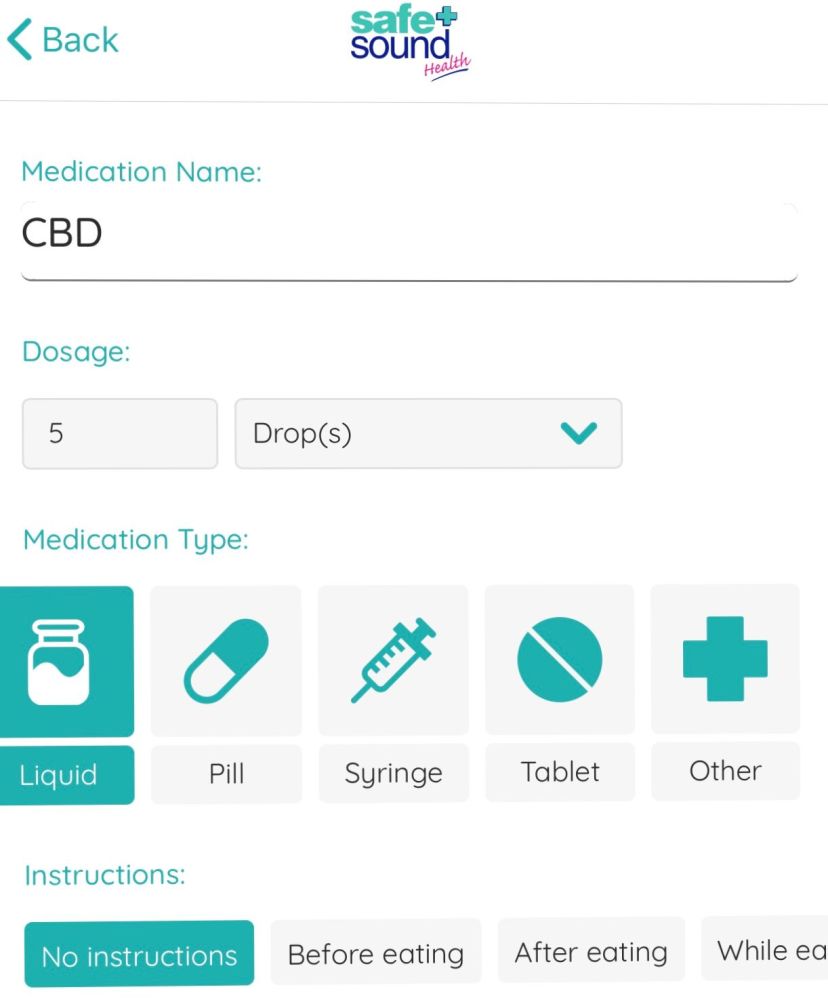 4. If you need to set a schedule and reminder for taking the pill simply click the slider. Enter the following information to set up your schedule and free pill reminders:
How many times per day you need to take the medication from one time per day to a maximum of seven times per day
The exact times you need to take the medication
Which days you need to take the medication
A start date
The end date or check the box to repeat weekly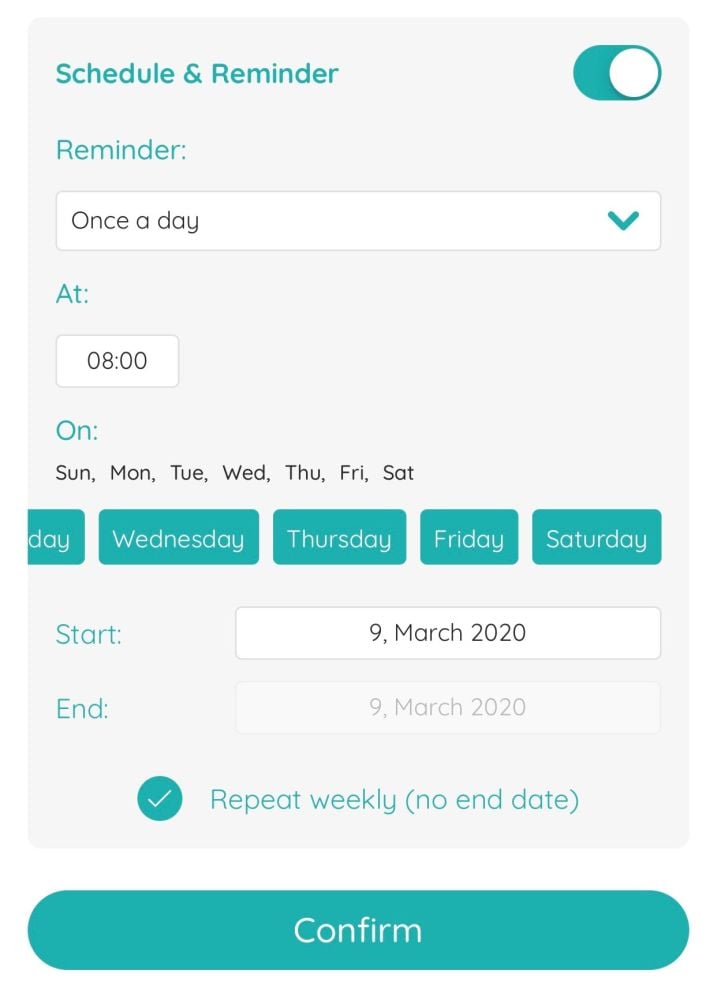 That's it.
It's a very easy to use app and self-explanatory once you click around on the various tabs of the app. The app is simple, clutter-free and easy to learn how to use. It serves a simple, but important function - notifying you of when to take your medications so they are not missed which could have severe consequences for your health.
Here are a look at some more of the Safe and Sound Pill Reminder app features.
Receive a free pill reminder notification
Once you have set up the medication and reminders, your phone will make a sound to notify you it's time to take your meds.
A notification will pop up on your lock screen to tell you which med you need to take, along with dosage and any other instructions you have set.
You can edit these reminders whenever you like in the app.
Both the app icon itself and the medication reminder within the app will continue to display a red reminder badge until you have marked the medication as taken or missed.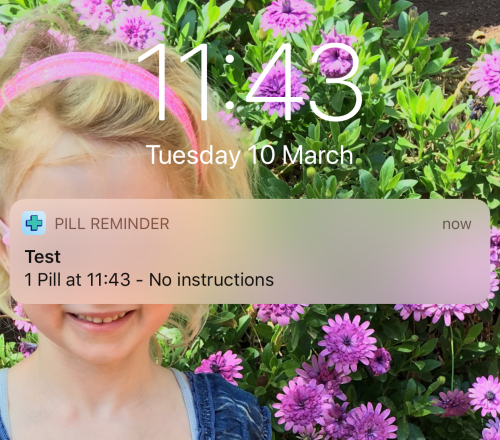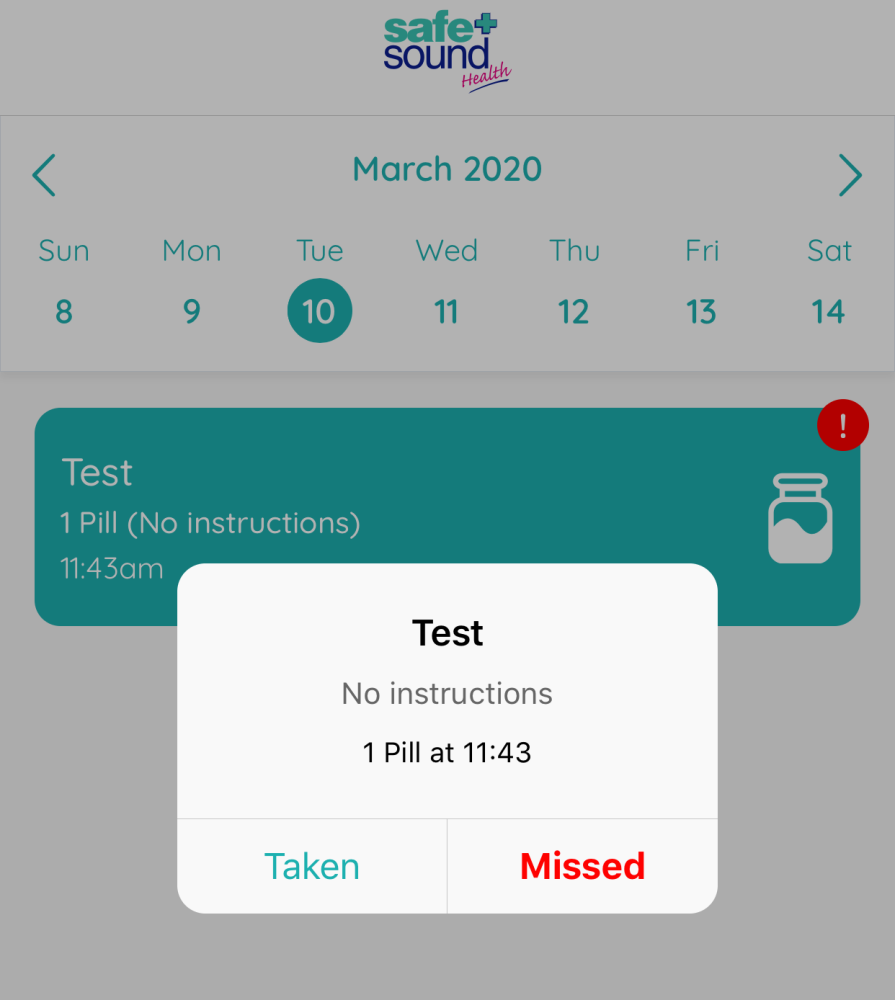 View a list of upcoming meds
To see your upcoming meds for the day, simply go to the app and see a list of all the meds you have scheduled for the day.
As the day progresses and you mark each medication as taken these meds will move to 'Taken'. You can clearly see which meds you've taken, which you have missed and which are left to take.
Use the app to ensure you don't take a double dose of any medication and clearly see the meds you have taken each day and what's left to take.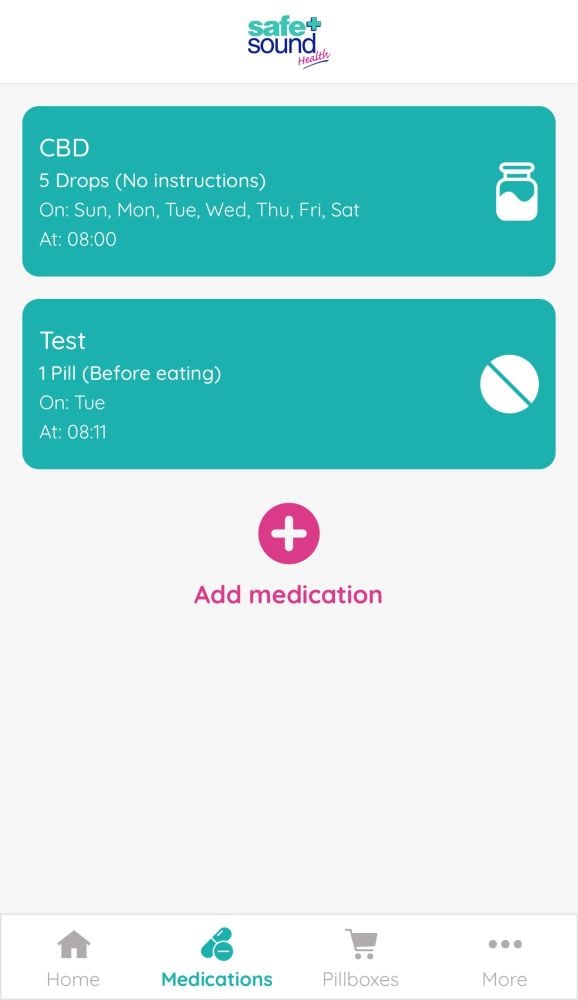 Track the meds you have taken using reports
Once you have taken some medication, you can go to 'More' > 'Medication report' and see a history of the medication you have either taken or missed for any date. It will also tell you if you missed any reminders for a certain day.
Use this information to let your healthcare team know your missed medication so they can advise.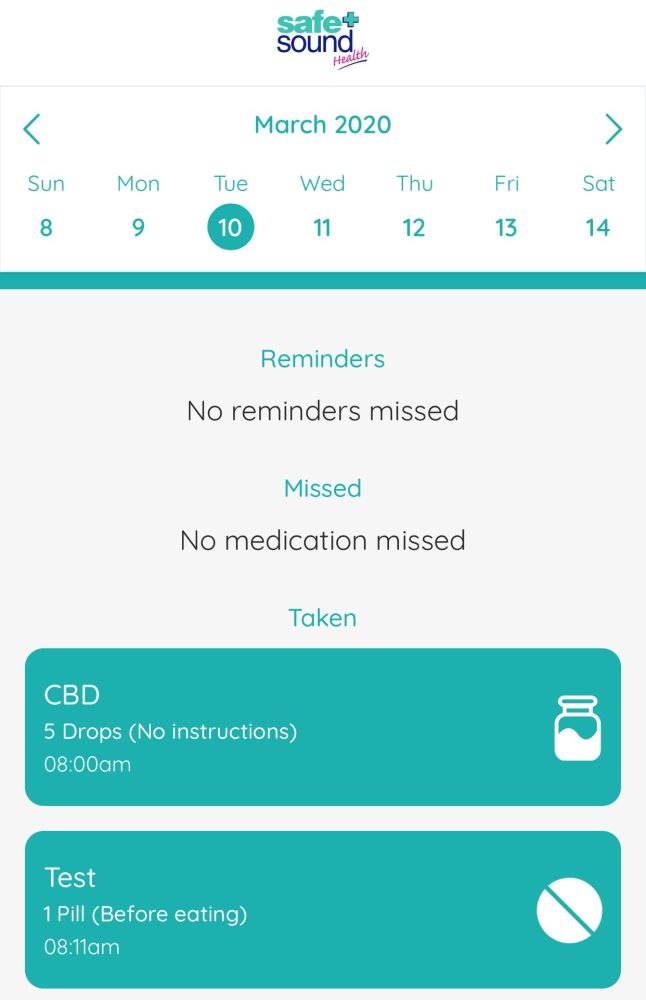 Conclusion
Whether you need to remember to take pills and medication yourself, or you need to remind an older person to take pills, the Safe and Sound Pill Reminder app will make things easier for you, preventing confusion and enabling efficient organisation of your medication schedule. It's straightforward to set up several medication reminders to ensure a medication is never forgotten, even if you are managing multiple medications and dosages at once. The Safe and Sound Pill Reminder app is a free to use service without a premium subscription service or ads cluttering up the screen. If you're looking for a simple pill reminder service that's free-of-charge and does exactly what it says on the tin, then give this app a try.
Download the free Safe and Sound Pill Reminder app
To use the completely free Safe and Sound Pill Reminder app simply download it from the Apple App Store or Google Play
You can also find more information about the app at https://www.safeandsoundhealth.co.uk/pill-reminder-app/