8 things you should do before selling your mac
Posted on
If you are planning on selling your Mac because you're upgrading to a new one or simply don't need it any longer, you will not want your buyer to get access to all the information and data that is stored on your machine. Because of this, there are several things that you will need to do before selling your Mac, including getting rid of all the data stored on it and restoring it to factory settings for the new user.
This procedure will involve removing all of your data from the Mac and making sure that your accounts are no longer connected to it, which means that the new user will be able to set it up with their own account and data and will not be able to restore yours.
Here's what to do before you hand your Mac over to its new owner.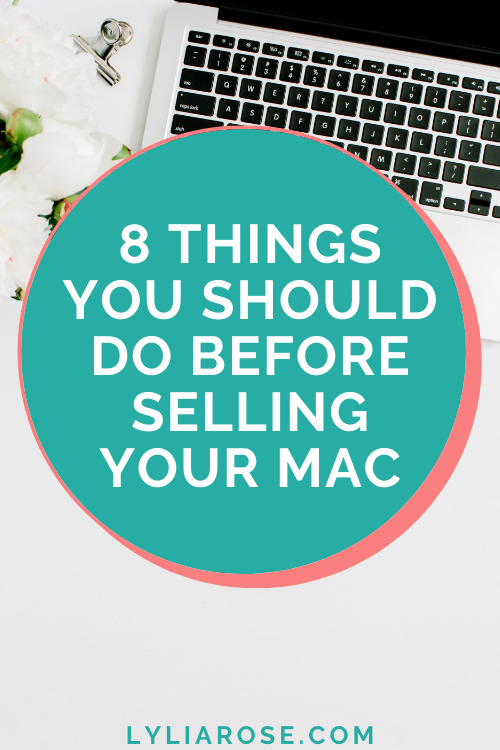 1. Selling an old mac if you've forgotten the password
If you are selling an older Mac that you've forgotten the password to, you might be worried about how you're going to access and clear your Mac to sell it.
You can easily reset your password from Recovery Mode. However, instead of erasing the drive in Disk Utility, you should select Utilities Terminal, and type 'resetpassword' before pressing return. This will take you to your user account where you can change the password.
Find out more about how to reset Macbook Pro to factory settings without password if you have forgotten it on Setapp. Setapp also offers a range of tips and tricks that you might find handy as a Mac user including backing up your files, security and more.
2. Create a backup
Before selling your Mac, the first thing that you will want to do is make sure that it is completely backed up, so that you can easily transfer your files, settings, accounts and more onto your next device.
When you get a new Mac, a backup means that within just a few clicks you'll be able to have everything up and running ready for you to use.
There are various ways in which you can back up your Mac, including the Time Machine method which is typically preferred since it's built-in to your Mac and easy to use with an external drive.
You can also back up your files to iCloud, which allows you to easily restore them on any device that supports iCloud.
3. Deauthorize your mac in iTunes
If you are still using an older version of MacOS that has the iTunes app, you will need to go to the app and ensure that your Mac is deauthorized, which basically tells iTunes that you will no longer be using the app on this device.
To do this, launch iTunes on your Mac and go to the Account menu at the top. Then, select Authorizations and click on De-authorize this computer. You will then be asked to enter your Apple ID and password to confirm.
4. Log out of iCloud
Before selling your Mac, you will also need to sign out of your iCloud account and disable any iCloud features such as Find My Mac so that they can be easily set up by the new user.
To do this, click on the Apple logo in the top left corner of your desktop and go to System Preferences. Then, head to iCloud on the following screen, where you can manage your iCloud settings.
Uncheck any boxes that are ticked to disable these iCloud features such as Find My Mac, and then select 'Sign Out' which is located in the left sidebar to disconnect your iCloud account from the Mac.
5. Log out of iMessage
If you use iMessage on your Mac, you will also need to make sure that you are logged out before selling the device.
To do this, head to the Launchpad in the dock, and click on the Messages icon.
When it opens, head to the top menu and select Preferences. Then, select Accounts to view the list of your accounts. Click on your account in the left sidebar and choose Sign Out from the right-hand menu.
6. Log out of other accounts
You may want to get more peace of mind before selling your Mac by logging out of any other accounts that you have signed into on your Mac including Skype, Google Drive and Dropbox for example.
If you have downloaded these onto your Mac and use them as apps rather than in the browser, you will usually be logged out automatically when resetting your Mac since they will be deleted.
However, it's worth doing if you are not planning to reset your Mac before selling it and want to log out manually instead. It's usually easy to find the sign out option in most apps – all you'll need to do is click on it and you're good to go.
7. Remove paired devices
If you have any Bluetooth devices that you use with your Mac and are paired with it, you'll want to remove them as well to ensure that you can easily pair them with your new device in the future.
To do this, all you need to do is click on the Bluetooth icon in the menu bar and go to Open Bluetooth Preferences. Once here, you'll be able to see a list of the devices that are paired with your Mac such as a bluetooth radio. You can easily remove them by right-clicking on the device and selecting remove.
8. Erase the hard drive
Once you have backed up everything that you need, one of the most important things to do before selling your Mac is to ensure that all the contents are deleted from the hard drive so that the buyer is not able to access any of your data. You don't want them to access your identity or other sensitive information.
You can do this using recovery mode on your Mac.
To do this, restart your Mac as normal, and when it begins to reboot, hold down the Command and R keys until a list appears on the screen.
Then, select Disk Utility from the options available. Choose your Mac hard drive and click on the minus sign in the toolbar, which allows you to delete the drive. Click on the erase option at the top and enter a name for your drive, which will begin the erasing process. You can then reinstall MacOS from scratch.
Important
Before selling your old Mac, it's important to ensure that it's wiped and ready for the new owner to start using without the risk of accessing your data.
Selling your mac to raise cash for an emergency? Check out our article how to raise cash for an unexpected bill for more tips.
---
If you need more money in the current UK lockdown then check out my blog post 19 ways I've made money at home during the lockdowns for some inspiration and these:
Maybe you're looking for ways to make money from home?
Here are 60 ways to make money online and check out my favourite side hustle to make money in my matched betting blog!