3 crucial things a car accident lawyer should do
Posted on
You never know when and never always know how, but accidents happen. Also, the risk of being involved in an accident is much higher, especially when you are constantly travelling on the road. There are several kinds of vehicular accidents, and below is a list of the most common ones:
car accidents

truck accidents

distracted driving accidents

drunk driving accidents

motorcycle accidents

uninsured or underinsured accidents

pedestrian accidents

railroad or train accidents

bicycle accidents
When you are involved in a vehicular crash or accident, you need to take care of many things. So how can you best focus on your own personal treatment and rehabilitation, especially if you sustained injuries from the crash? In addition, who will assist you in fixing all the documents needed to receive the proper compensation you deserve?
Well, having a fine lawyer on your side is key to getting the best outcome for your car accident claim. A good accident lawyer will be able to do the following for you:
independently investigate your claim

obtain and preserve all crucial evidence

gather witness testimony

handle all communications with insurance representatives

organise your medical records and bills

aide you in managing your finances

aggressively advocate for your maximum compensation by presenting evidence to prove all liability and damages
These are just a few of the things a good lawyer will be able to do to help you get the best remuneration possible, and in this list, three crucial steps are needed to be carried out by your legal representative to maximise your claim. If you want more information on the three most important elements, keep reading.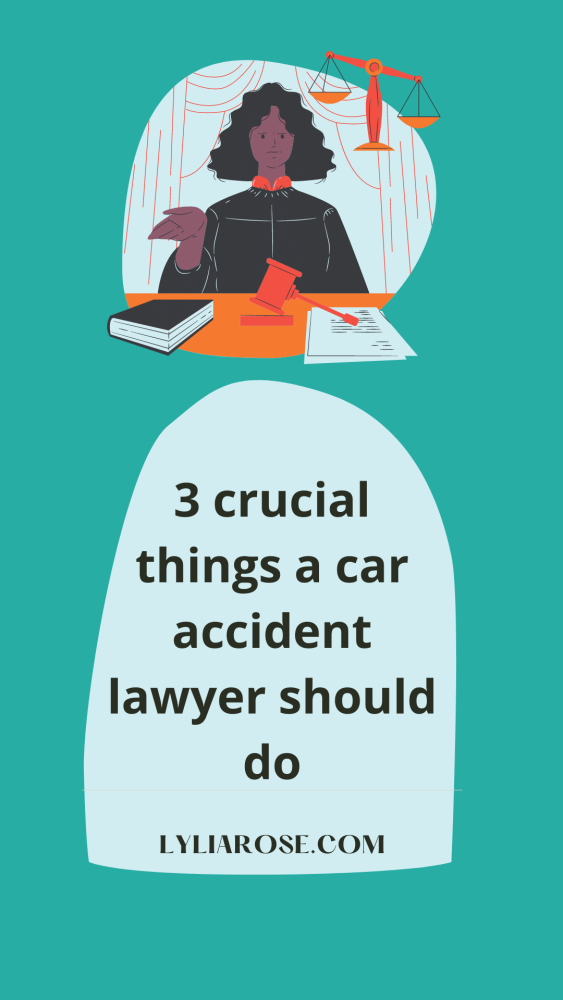 #1 Obtain all crucial evidence of liability
A good lawyer obtains and preserves all crucial evidence that will prove liability in a car accident claim. Your lawyer has to go to the scene to see it in person and at the same time speak with the investigating police officers and witnesses.
A good lawyer will make sure to get all the official accident or police reports, and they will leave no stone unturned when obtaining all evidence of liability.
#2 Obtain all crucial evidence of damages
A good lawyer will gather all documents related to the injuries you have sustained. If you try to do this yourself without a lawyer then it may prove a challenge to get your hands on the records and bills from health care providers, even if the documents are yours.
Unfortunately, sending medical records to the parties involved in vehicular accidents is not the priority of health care providers. In addition, small doctors offices do not have adequate staffing or extra time to respond to medical record requests.
You can be patient and wait for the necessary documents and records, but time is of the essence when filing a claim for car accidents.
On the other hand, large hospitals have standard operating procedures to be followed when responding to medical record requests, and if you do not follow their guidelines, they will not react promptly to your request. There is even a possibility for your request to be ignored if this happens.
There are also times when health care providers give incomplete records, worse if they will provide documents without mentioning the causation and extent of the injuries you have sustained due to the crash.
You can avoid dealing with these kinds of challenges if you have a dedicated car accident lawyer on your side. A good lawyer will do all the groundwork to help you have a successful car accident claim and give you more time to rest and recuperate.
#3 Negotiate with lien holders, insurers and defendants
If you've received benefits from a compensation insurer, they will have a lien on your claim. A lien happens when a lienholder gets paid before you do out of any settlement you receive.
We all know that each penny counts when it comes to claims, and having an excellent legal expert on your side will work with the lien holder to reduce its lien. In addition, negotiation is a skill needed when handling car accident claims.
A good lawyer has to know two things:
How much the case is worth

How to work the case
Knowing how much the case is worth and how to work it, they need to conduct proper negotiations. This is the only way to receive the best compensation and outcome.
Final thoughts
There is also a chance that you may want to do everything by yourself significantly if you weren't hurt all that badly. Well, you can certainly handle your car accident claim on your own. However, there is no substitute for having a good lawyer by your side. Handling it yourself will take a lot of time and energy, plus it's unlikely you will know all the laws or be best suited to present a winning case, unless you are already a lawyer!
If you are in Missouri or Kansas and have been involved in a car accident, having a Kansas City accident attorney can help you with your car accident claims. You can discuss your options with them and plan your next course of action to receive the compensation you rightfully deserve.