How to choose a blog niche that's not lifestyle
Posted on
If you're thinking of setting up a blog then your first stumbling block could be choosing the best blog niche. There are many different types of blogs, but one of the most popular types is lifestyle blogs. These blogs usually talk about fashion, beauty, travel, food, and other topics that people usually find interesting. Ultimately the blog owner tends to talk about various aspects of lifestyle that they enjoy without focusing on any one topic.
So what's wrong with having a lifestyle blog? Nothing, essentially. If you want to start a lifestyle blog then it can be one of the easiest niches to pick as your blog is made up of a variety of topics and you can write about different things each day. If these things bring you joy to blog and write about, then do it.
However, some people would argue that a lifestyle blog is more tricky to rank highly on Google as it's not narrowed down to a particular niche, taking time for any SEO efforts to pay off. However, there are others that believe a broader niched blog is easier to rank for.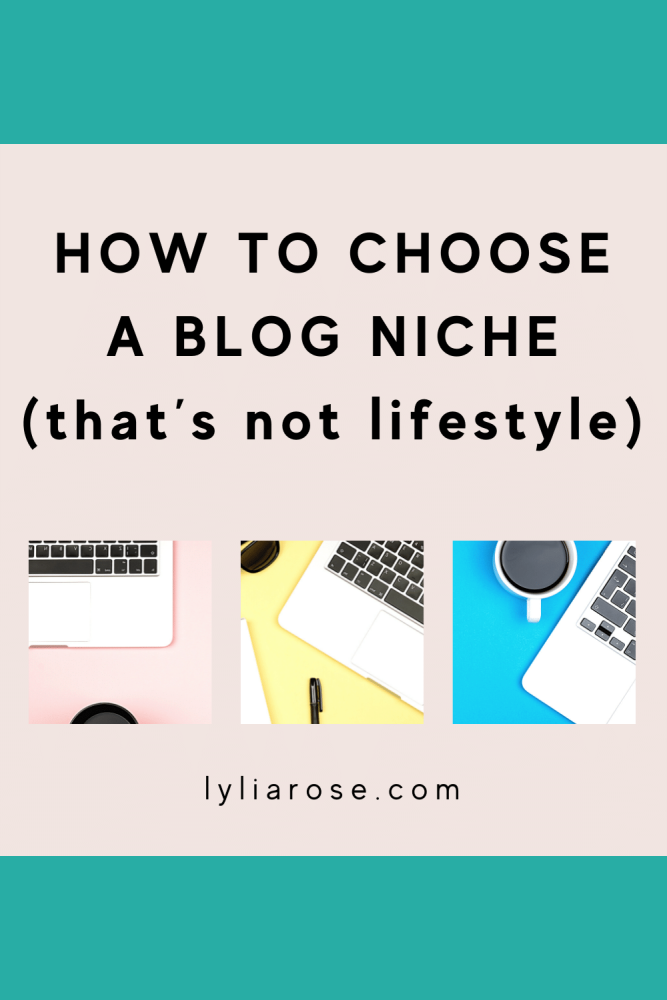 Should I choose a blog niche that isn't lifestyle?
In the world of blogging and SEO there is no one right answer, it's up to you. If you want to blog as a hobby, or even for money, and want to go down the lifestyle route then do it. For me, this is a money and lifestyle blog where most posts have a money twist, but there are some general lifestyle topics too. I also have niche specific blogs too in travel, healthy living and DIY. The purpose of this post however, is to help you generate some blog niche ideas if you have decided you want to niche down and be more focused when blogging on a particular topic with your blog, but you're not exactly sure what. So whether you want to blog about sports betting in Indiana, how to brew your own craft beer, why cats make better pets than dogs… the options really are endless! So where do you begin to dream up your blog niche for success and enjoyment?
Think carefully about the topics you are passionate about when choosing a blogging niche
If you are blogging for money then it is often said to be wise to niche down when it comes to picking a topic for your blog. This is because it's often argued that it's easier to rank for. If you've decided this is the right course of action for you, then you'll still want to pick a topic that's close to your heart, inspires you or you never grow tired of talking about. That's because you'll need to come up with an entire website of blog posts based around this topic so it can't be something that you'll easily grow tired of! Also, don't fear that you will get bored or only be able to write about the same thing with a niched down blog, as even if you have one very defined niche, you can still cover a variety of subject areas within that niche. For example, if you want to blog about small businesses and/or entrepreneurship there are many different areas of the subject that you could cover in your blog to keep your readers, and yourself, interested. The following is a list of some ideas for a small business blog:
-Creativity and innovation
-Marketing your business on social media
-The benefits of owning a small business
-How to create an effective website for your company
-How to use digital marketing tools to reach new customers
As you can begin to see, even a niche specific blog can have some variety as most niches can be explored from different angles that are still relevant to the central topic.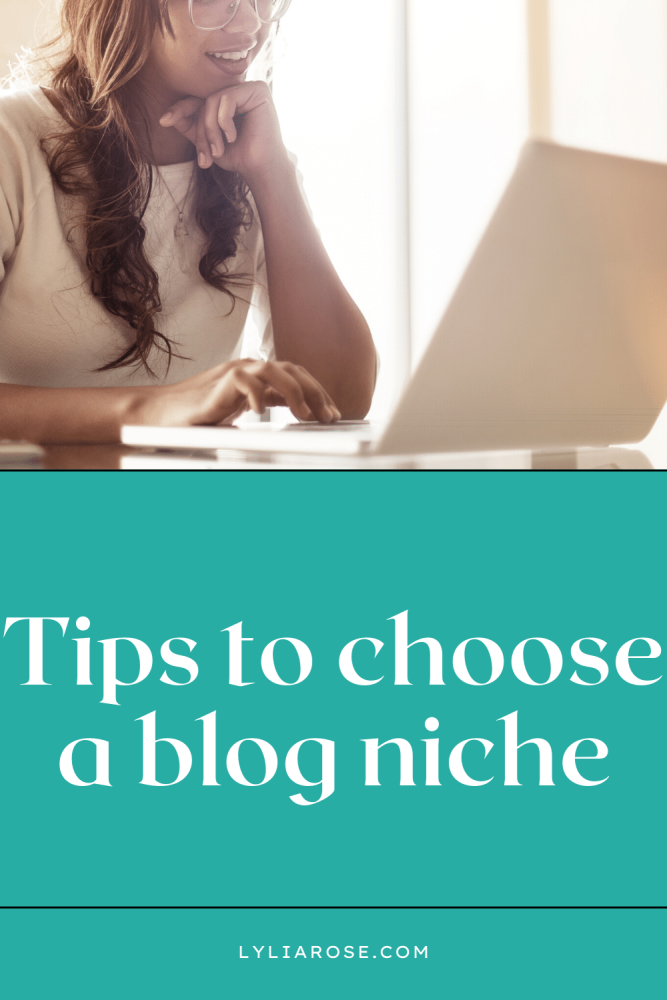 Tips to choose a blog niche
Choosing a blog niche is not easy. As mentioned above, it needs to be something you are passionate about, something that you can write about for an extended period of time. You should also be able to find, or already be knowledgable about enough information on the topic so that your readers don't have to look elsewhere for more information.
To choose a blog niche idea, start by asking yourself these questions:
- What are my passions?
- What do I enjoy doing every day?
- What are my hobbies?
- What do I spend most of my time doing?
- What am I good at?
- What am I interested in learning more about?
Another question you should ask yourself is whether you want to target a general audience or focus on a specific niche. If your goal is to tap into the general audience, go ahead and find topics that interest them and write about them in an engaging way. But if your goal is to target a specific niche, make sure that there are enough people interested in this niche so that it will be profitable for you, especially if you want to make money from your blog or may decide to monetize your blog in the future. Something too niche and unheard of won't generate any interest or traffic and will be hard to monetize with affiliate links, sponsorships or ads in the future.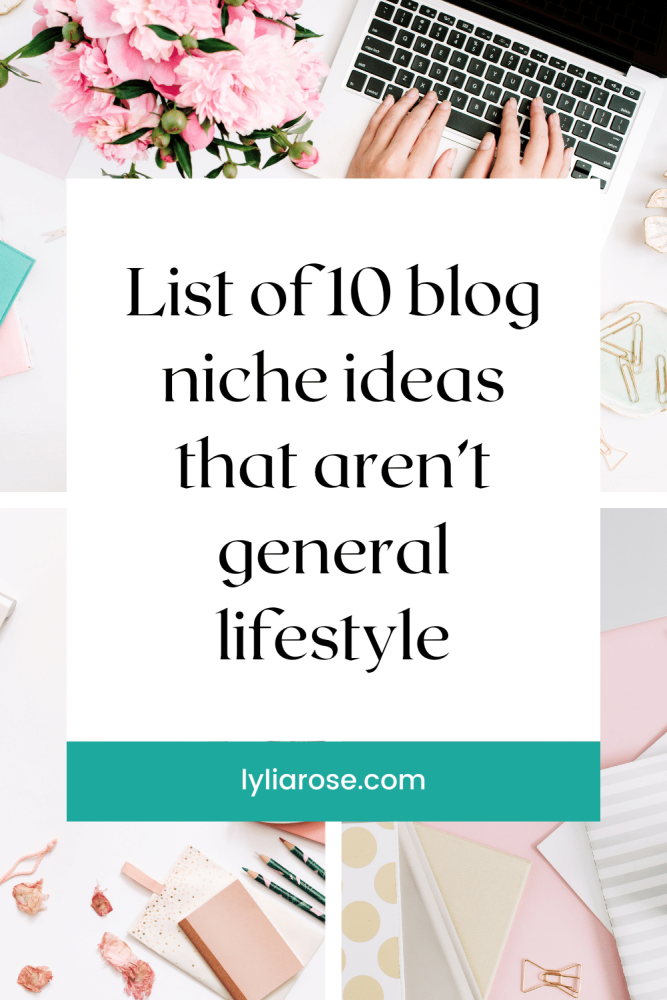 List of 10 blog niche ideas that aren't general lifestyle
There can be many benefits to choosing a niche for your blog. If you've decided a general lifestyle blog covering a variety of lifestyle topics isn't for you and you want to niche down, then here are some popular niches that might already be something you are passionate about:
Health and fitness blog - If you have any experience with fitness or dieting then this would be a good niche for you. You could share your own experience, tips, recipes or anything else related to health and fitness with your readers. To niche down you could focus on a plant-based diet blog, a yoga blog, a weightloss blog, a running blog and so on.

Food blog - If you love cooking, this is a great niche for you. You can share your recipes, food reviews and tips about healthy eating. To niche down you could have a gluten-free blog, a vegan recipe blog, a healthy dessert blog or even a restaurant review blog.

Parenting blog - This is a popular niche with parents who want to share their experiences with other parents. They often write about parenting tips, pregnancy and baby care. You can niche down by making it a toy review blog, pregnancy blog, homeschooling blog, preschool blog, parents of teens blog and so on.

Fashion blog - If you love fashion and want to show off your style, this is a perfect blog niche for you! You can share your outfits, review new trends in fashion and discuss the latest fashion news. You could focus on sustainable fashion, catwalk fashion, High Street fashion or pluz-size fashion to be more niche specific.

Beauty blog - This is a great niche to choose for any aspiring makeup artists (MUAs) or those with a passion for wearing makeup everyday and trying new styles. You could make your blog focus refined by blogging predominantly about cruelty-free makeup, natural makeup, vegan-friendly makeup, affordable makeup or luxury makeup. You could even focus on everyday makeup tips or professional makeup advice for MUAs.

DIY project blog - if you're handy around the house and always making home improvements with your DIY skills then why not write about these and share your knowledge, as well as your trials and errors so others don't make the same mistakes? Many people love to save money on labour costs and try some tasks around their homes themselves. They could be very grateful for your advice and to see before and after photos of your own projects with How To guides.

Personal finance blog - Personal finance is a topic that people are interested in and it can be a great niche for a blog. Personal finance blogs can cover topics such as saving money, free money offers, investing, and retirement. The demand for personal finance content is immense because everyone needs to make sure they are making the right financial decisions. However, there are many people who don't know how to make the right decisions or even know what they should be doing in their day-to-day life. For this reason, there is an increasing need for content about personal finance and many bloggers have started writing about this topic.

Design blog - Designers have been using blogs for years as a way to showcase their work. It's also a great way to share tips, tutorials, and other valuable information with other designers. Blogs are also an excellent resource for those who are just starting out in the design field and want to learn more about different design techniques. With a design blog you could:
- Provide valuable insights and advice for readers who are interested in design
- Help readers learn more about the latest trends and innovations in the industry
- Inspire readers to create their own designs
- Provide an outlet for designers to share their own experiences with the world

Photography blog - Photography is a great niche for a blog because it's the perfect way to express your creativity in a visual way. You can write about different skills and techniques, share your favourite photos, or talk about the latest trends. It's also a great niche because it's so broad. You can write about any aspect of photography - from photography equipment to post-processing. You can post inspirational photos, tutorials on how to take better photos, and reviews of the best cameras on the market.

Pet blog - Pets are a great niche for a blog because they are one of the most popular types of animals in the world! There are many reasons why pets make great subjects for blogs. For example, they can be used to teach children responsibility, or serve as companions for people who live alone. They also offer a lot of opportunities to write about such as pets for people with allergies, how to teach your dog tricks, pet food, pet toys, pets in the workplace, etc. You could focus on cats, birds, fish, dogs, you name it! If you have a passion for pets or a certain type of pet then it's a no-brainer that you'll enjoy sharing your experience with other pet lovers in the form of a blog. Some ideas for blog articles on a pet blog include:
-Advice for new pet parents
-Tales from the vet
-Tips for training your dog
-Tips for training your cat
-The best toys for cats and dogs
-Funny tales about pets
The blogging niche ideas really are endless. You can write about anything that interests you. You can also focus on your own personal experience with the topic you are writing about, share your expertise in an area or simply share your opinion on certain topics like politics, religion and economics. If lifestyle is too generic for you and you want to focus on one topic then your options really are unlimited.
I truly hope you discover your dream niche if you're destined to be a blogger and enjoy blogging whether for hobby or career!
Next, learn how to stay motivated and productive as a blogger!
Want to get paid to blog?