7 Tips For Moving Cross Country
Posted on
Are you moving across the country? If so, you're in for a big adventure! Moving is always a hassle, but it can be especially difficult when you're relocating and moving far away. However, with a little bit of preparation and organisation, you can make your cross-country move a breeze.
In this blog post, we will discuss seven tips that will help make your move easier. Follow these tips and you'll be on your way to enjoying your new home in no time!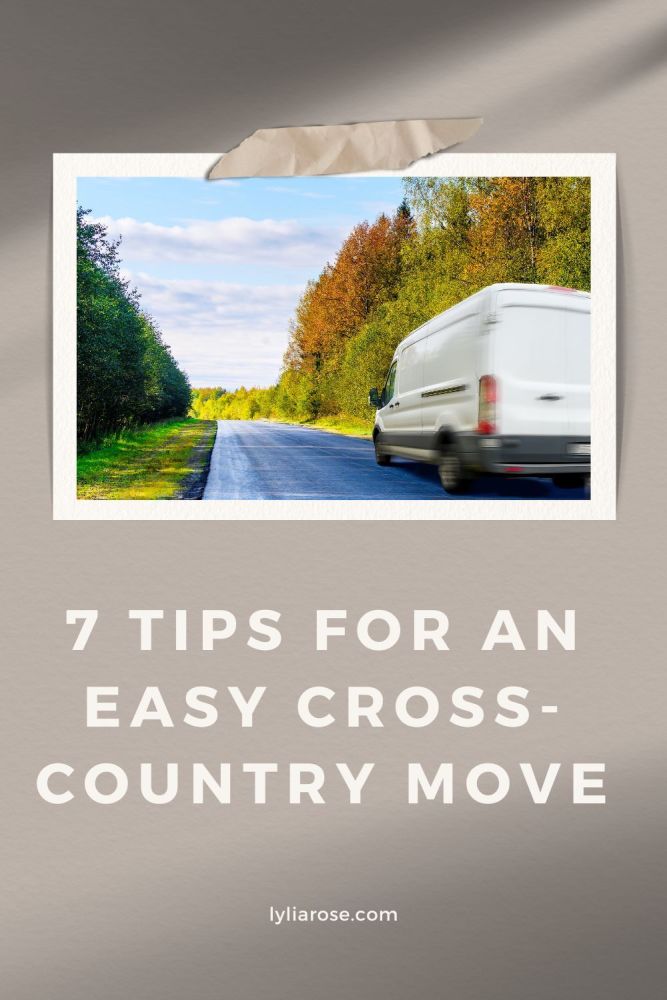 1. Consider shipping your car to save on fuel and transportation fees
If you're planning a cross-country move, you may be wondering what to do about your car. Driving it to your new home will obviously be cheaper than buying a new one, but it also means dealing with the hassle and expense of renting a trailer or paying for a professional driver. Shipping your car is a great way to avoid all that stress, and it can actually be quite affordable and there are several car shipping companies that you can shop around with to ensure that you get the best deal.
You'll still have to pay for fuel, of course, but you won't have to worry about extra transportation fees. Plus, if you ship your car, you'll have one less thing to worry about when you're trying to get settled into your new home. So if you're considering a cross-country move, give some thought to shipping your car--it could be the best decision you make.
2. Purge your belongings and only take what's necessary
Cross country moving can be a daunting task, especially when it comes to deciding what to take with you and what to leave behind. After all, who knows what you might need in your new home? And what if you can't find something that you need once you're settled in? The best way to approach this problem is to purge your belongings, declutter, and only take what's absolutely necessary. Start by making a list of everything that you'll need to pack, and then go through your belongings and get rid of anything that you don't absolutely need. Not only will this make packing easier, but it will also save you money on moving costs. Once you're settled in your new home, you can always buy new things if you find that you need them. In the meantime, focus on creating a minimalist lifestyle that will simplify your life and make cross country moving a lot easier.
3. Pack your belongings efficiently using packing supplies
Packing efficiently can help make the cross country move a little less stressful. There are a few packing supplies that can save space and help you stay organised. First, collapsible storage bins are ideal for transporting clothes, linens, and other lightweight items. They can be easily compressed when not in use, freeing up valuable space in your vehicle. Second, space-saving bags are perfect for storing bulky items like towels and blankets. These bags can be vacuum-sealed to remove all the air, making them much smaller and easier to pack. Finally, rolling luggage is a great way to transport heavy items like books and electronics. By using these space-saving packing techniques, you can make sure your belongings arrive safely at your new home.
4. Label each box with the room it belongs in and what's inside
Moving can be a very overwhelming experience, especially when it's over several state lines. There are so many things to think about and keep track of. One way to make the process a little less daunting is to label each box with the room it belongs in and what's inside. That way, when you get to your new home, you can easily put everything in its proper place. And if you have any boxes that are left over, you'll know exactly where they go. This simple step can save you a lot of time and frustration down the road. So be sure to label your boxes before you start packing!
5. Ship your boxes ahead of time to avoid having to transport them yourself
There's a lot to think about when you're moving cross country - from finding a new place to live to getting your belongings there safely. One of the big decisions you'll have to make is how to transport your belongings. If you're driving, you may be tempted to just pack everything into your car. However, this can be a really stressful and time-consuming way to move. A much easier option is to ship your boxes ahead of time. This way, you won't have to worry about them taking up space in your car or getting damaged during the move. Plus, it can be really affordable to ship your boxes if you plan ahead and compare rates. So if you're looking for a hassle-free way to move cross country, shipping your boxes ahead of time is definitely the way to go.
6. Make a list of important phone numbers and email addresses for your new city
While the physical act of moving your belongings to a new home in a different city can be daunting, there are steps you can take to make the transition as smooth as possible. One of the most important things to do is to create a list of important contact information for your new city. This should include the phone numbers and email address for your new landlord or property manager, utilities (electric, gas, water, trash), internet and cable providers, and any other service companies you may need (plumber, exterminator, etc.). This will ensure that you have everything you need at your fingertips when you arrive in your new city. Additionally, it is a good idea to research local businesses and services in advance so that you know where to go for things like groceries, haircuts, and dry cleaning. By taking some time to prepare before your move, you can help to make the transition as seamless as possible.
7. Arrange for temporary housing or storage until you find a permanent home
When you're moving cross country, it's important to have a plan for your belongings. You may not have an exact address where you'll be living, so you'll need to arrange for either temporary housing or storage until you find a permanent home. Many people opt for storage because it's a more flexible option - you can keep your belongings there until you're ready to move them into your new place. If you choose temporary housing, make sure to pick a place that's close to your desired neighborhood so you can start house-hunting as soon as possible. Whichever option you choose, be sure to book early so you don't have to worry about your belongings while you're settling into your new life.
Final word
Cross country moves can be a lot of work, but with careful planning and organisation, it can be a breeze. Follow our tips to make sure you're ready for your big move.. We wish you all the best in your new home!
Want to save more money or get free money?
Check out great deals on my voucher codes and how to get free money pages!
Check out my list of UK apps that turn receipts into cash and also this list of UK cashback sites to maximise your free cashback and savings.
Want to manage your finances better?
Here are loads of family finance tips and helpful debt articles.