Lekto Fire Logs review (+ discount code)
Posted on
Lekto Wood Fuels is a well-known brand in the wood fuels market and we've been using a number of their products for the last year. They've recently released a new manufactured log called the Fire Log which we've been testing in our log burner.
In this review, I going to talk about the key features of this log and tell you why I think this is a good fuel for use in you heating appliance. It might not be the ideal wood fuel for everyone but it certainly has its place in the log-burning stoves and open fire market. Read on to see what we think of the Lekto Wood Fuel Fire Log.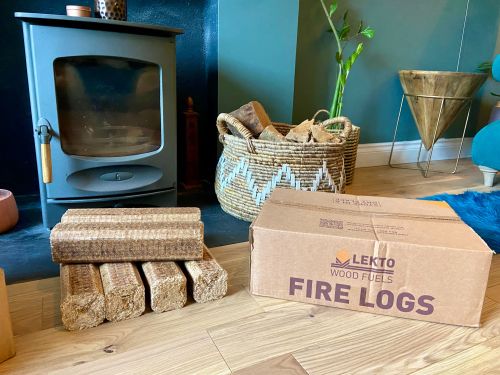 Lekto Wood Fuels Fire Logs
I'll jump straight into the pros and cons of these wood fuels.
Fire Log Pros:
Their square shape makes for compact storage. The logs take up less space than most other wood fuels.
The square shape also helps prevent rolling. This makes them ideal for open fires as it prevents the logs from rolling off the fire. Minimum roll makes for an easier-to-manage fire in most appliances.
They are super dense so they burn for a long period of time. We got about 3 hours 25 minutes from one log. Whilst the majority of the heat was output in the middle 2 hours it still kept us nice and toasty throughout most of the evening.
The amount of heat produces was fantastic. Just one log pushed the room temperature to 24 degrees and kept it there for about an hour. The temperature then slowly dropped to around 20 degrees just as we were heading off to bed.
Each log is 80mm x 230mm which is the perfect size for almost any appliance. So whether you have a log burner, open fire or a cast iron cooker these are the ideal size.
Made from recycled materials and use zero chemicals. Eco-friendly and made from natural materials. A clean, sustainable option for your heating needs.
Fire Log Cons:
You'll need to store them indoors. Moisture can make them deteriorate. Cold, damp sheds are not a good place to store them. You'll also benefit from keeping them in their wrappers for as long as possible.
Buying in small quantities can be a little pricey. (as with all suppliers, not just Lekto) You're better off buying in bulk for the best discounts.
They aren't very aesthetically pleasing. If you like to keep your stove area looking presentable you might want to keep these out of sight. We have a basket full of natural logs on display which look much nicer.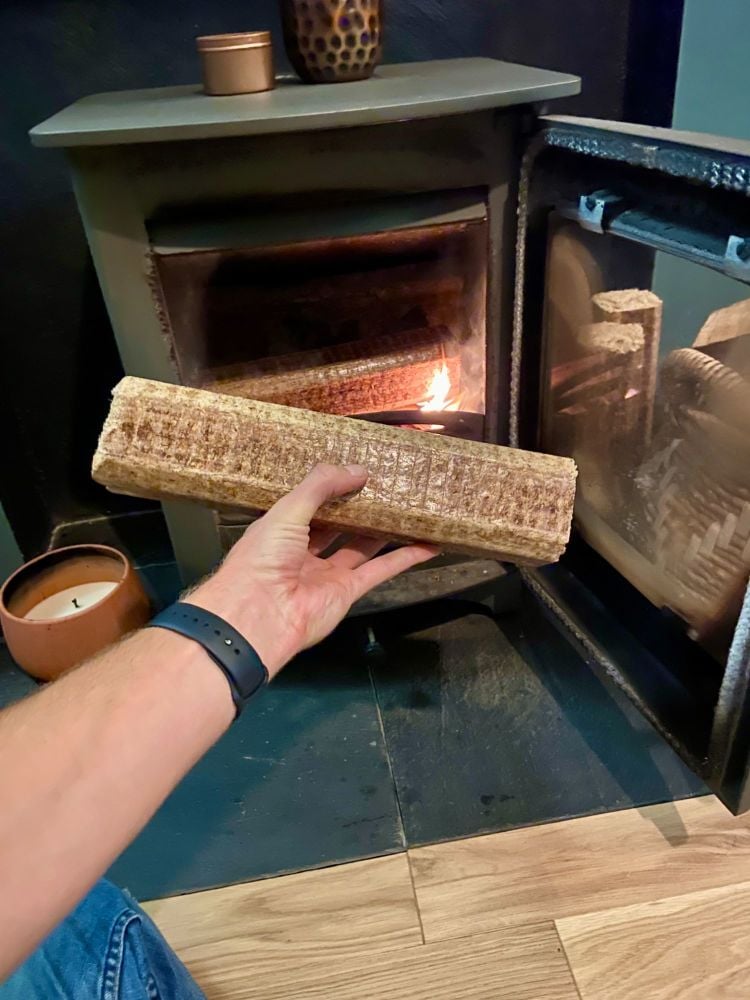 What we think of the Lekto Fire Log
We love these compact heat logs. They keep us warm, they burn well and they last a long time. When teamed up with a Nestro Softwood Log we get the ultimate heat output quickly every time. We were very surprised at the level of heat these logs could output. Even just one log was enough to heat the majority of our home for a few hours. It could heat our living room from 17 degrees to 27 degrees within the space of an hour and keep it there for another hour. The 3rd hour was also warm but the temperature dropped to 22 degrees before we decided to head off to bed. Simple, easy and warm.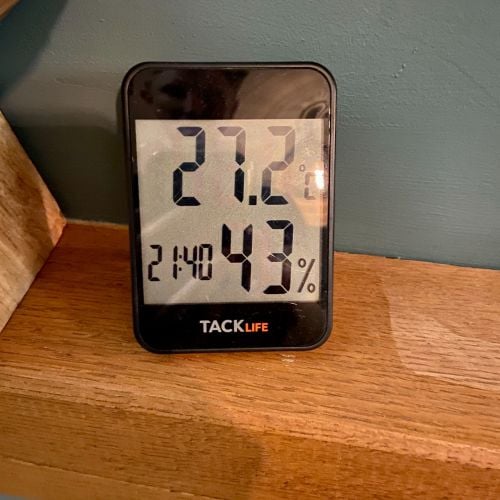 We've had to make some extra storage space under the stairs for these logs but that's not a big issue. And better still, Lekto always provides quick, next-day delivery so it's easy to plan around this.
Prices have risen in the last year but this is the same across all wood fuel suppliers.
If you like the look of these Fire Logs, it's worth having a look at some of our other articles about Lekto's products. We also have this unique discount code for 5% off your first order.
Click here and enter code WOODCREATE at checkout for 5% off.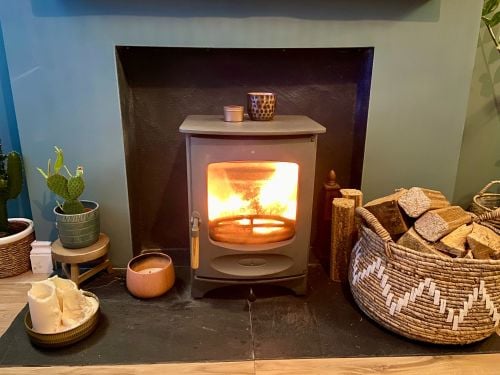 Who are Lekto Wood Fuels?
For those of you who aren't familiar, Lekto Wood Fuels is a family-run business based in the North East of England. They provide a selection of logs, briquettes and BBQ charcoals with delivery all across the UK. The best part is, they provide next-day delivery on most of their orders, which is ideal for impatient people like me. And we live at the opposite end of the country!
What do they say about their company:
"We focus on making the wood fuel purchase process less overwhelming, easier, faster, and more pleasant. We are devoted to providing our customers with the finest wood fuels available."
Which is a fair statement. I would say that their products are easy to handle and store and make the whole fire lighting and home heating process much easier. All of their products are delivered in easy-to-carry boxes which can simply be stacked in your storage area. They have a great range of products for every possible application and the order process via their website is simple.
This all sounds great. So what's the catch? Not much really. The pricing might seem like it's on the high side but it's very much in line with any other wood fuel supplier out there. The only thing Lekto don't provide is loose pallet-loaded natural logs. All of their products come boxed. Which makes the logistics of moving them easy, but does create a lot of packaging.
Take a look at some of our other related articles:
Before you go...
A fireplace is just one way to stay warm in the winter. Check out our list of ways for how to keep your house warm in freezing temperatures for more ideas!
Want some great money-saving tips for everyday spending and saving?
Find some great deals on my voucher codes and 80+ ways to get free money pages!
Learn how to get free food and heavily discounted food.
Check out my list of UK apps that turn receipts into cash and also this list of UK cashback sites to maximise your free cashback and savings.
Find free cryptocurrency offers here and free shares offers here!
Subscribe to our newsletter for the best free money offers, money-making and money-saving tips we discover!