How to thicken fine hair naturally
Posted on
We all consider thick, lustrous locks to be a sign of good health and vitality – as well as looking beautiful to boot. But what if your own tresses aren't as strong or as bountiful as you may have hoped? if you want to know how to get thicker hair then read on. In this article, we will explore how to thicken fine hair naturally.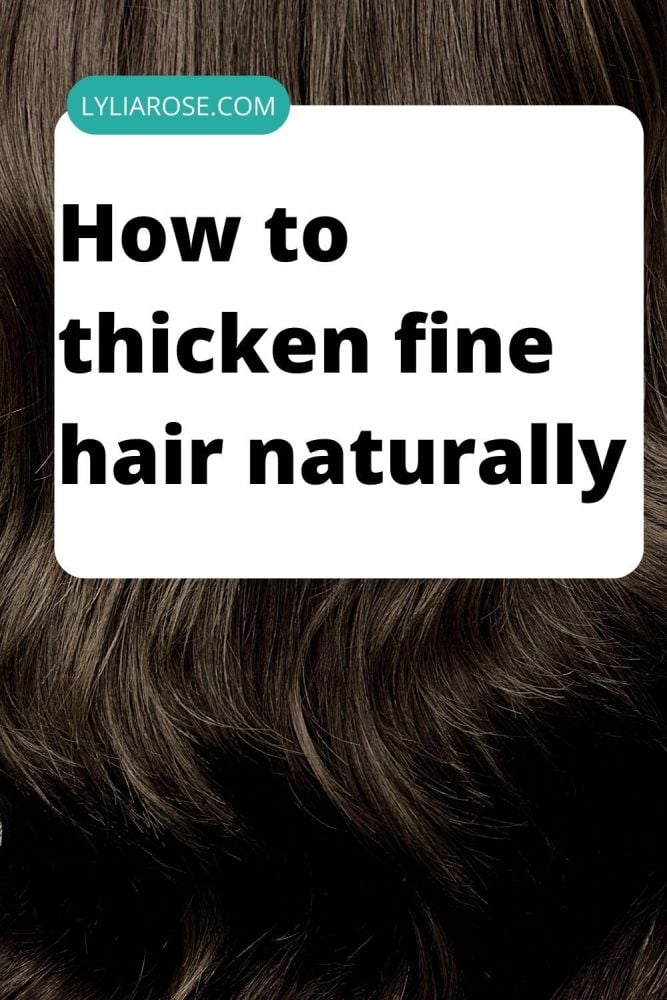 What is the problem with thin hair and how does it affect you?
Thin, damaged or thinning hair can have a powerful impact on our self-esteem and our confidence; it can make you feel self-conscious, less attractive and less confident. This is because thin hair makes your scalp visible and it can cause balding to occur faster.
Fine, limp hair can also be a struggle to style and manage.
Thinning hair can be caused by a number of different factors and can affect anyone, both men and women of all ages. These include genetics, hormonal changes, medical conditions like thyroid problems, genetics, medication, stress, or poor diet.
Luckily, there are some natural ways to thicken hair so that it looks full and healthy, as well as strengthen the hair over time. Using these simple but effective techniques, hopefully, in due course, your hair will once again become your crowning glory!
How to thicken fine hair naturally
There are lots of ways to thicken fine hair naturally to make it more manageable to style and to boost your self-confidence. You may wish to explore natural methods to be kinder to your hair, skin and body, as well as kinder to the environment by using less chemicals. Also, many natural methods for thickening your hair are affordable and easily done at home with things you may already have!
The ways to thicken hair naturally are:
Fill your diet with hair-strengthening vitamins

Eat more of these plant-based foods for thicker hair

Use natural hair oil treatments to improve hair thickness

Choose the right haircare products for thicker hair

Be cautious when applying heat to your hair

Treat your scalp to a restorative massage for thicker hair
Read on as we explore these hair-thickening methods in more detail.
Fill your diet with hair-strengthening vitamins
A poor diet lacking essential vitamins and minerals is one of the common causes of lacklustre locks. If you're following a restrictive diet that doesn't contain enough vitamin and protein-rich foods, then your hair is likely to suffer as a result. Instead, follow a hair thickening diet full of the vitamins and minerals that will improve your hair health and prevent hair loss.
Some of the best vitamins and minerals for thicker and healthier hair include:
Biotin, also known as vitamin B7, helps to stimulate the production of keratin and increase follicle growth.

Zinc can support hair growth, strength and thickness, but too much or too little zinc can cause hair loss, so make sure you take the right amount.

Iron deficiency has a close link to hair loss, so make sure you have a diet rich in iron sources.

Protein is essential for growth throughout the body, including hair. Your hair is almost entirely made up of protein so a low-diet protein can result in thinning hair.

Folate (folic acid) is needed for healthy cell growth including skin, nails and hair.
Eat more of these plant-based foods for thicker hair
To boost your hair's health and thickness, it's vital that you eat a range of healthy foods that will strengthen your follicles.
In particular, try and include the following foods in your diet as much as you can to strengthen your hair and help it grow longer, thicker, and shinier than ever:
Citrus fruits are bursting with vitamin C, which is essential for producing the collagen that makes your hair stronger. Vitamin C also helps to protect your tresses from damage caused by free radicals, which can cause hair thinning and breakage.
Nuts and seeds contain selenium, which is involved in the process of hair growth. However, you shouldn't consume too much selenium; just four Brazil nuts each day will give you all the selenium you need for a healthy scalp and hair.
While eating a healthy and varied diet is essential, you can also supplement your meals with a supplement. You can buy a general multivitamin or opt for a supplement containing biotin to improve your hair, skin, and nails specifically.
Sweet potatoes are a good source of beta-carotene which can prevent hair thinning and also reduce hair dullness.
Leafy greens are great for healthy hair growth and in particular, spinach. Spinach contains iron, zinc and folate, amongst many other important nutrients, which are great for hair as we explored in the vitamin section above.
Blueberries are wellknown as a superfood for your health. They can also help with hair thickening thanks to plant chemicals they contain called proanthocyanidins which stimulate hair growth.
Use natural hair oil treatments to improve hair thickness
A hair oil treatment that contains revitalising natural ingredients can help to strengthen your hair follicles and protect them from damage – which, in turn, can increase your chances of thicker and healthier tresses over time.
For instance, this unique hair oil treatment draws on Ayurvedic wisdom to create an organic tonic that includes nutrient-rich avocado, coconut, and argan oils and Ayurvedic herbs.
Providing deep conditioning for tired strands, treatments such as this hand-blended hair oil are designed to uplift dry, damaged, and thinning locks and can be used on a regular basis to give your follicles the nourishment and protection they need.
There are numerous natural oils which can be used as a hair treatment to promote growth and thickness including:
Almond oil

Castor oil

Jojoba oil

Shea oil

Citrus oils

Thyme oil

Coconut oil

Argran oil

Olive oil

Rosemary oil

Grapeseed oil

Teatree oil

Peppermint oil
You can easily find recipes for natural healthy hair remedies online to make your own handmade hair oil, or you can buy natural hair oil combinations from beauty stores.
Cut your hair to improve its thickness
If you are keen to improve the volume and length of your hair, it may feel counter-productive to cut it, but trimming split ends is essential for maintaining the health and strength of your hair.
The longer you leave your split ends, the worse they will get. Removing the broken ends of your hair ensures that your hair is stronger and healthier overall and prevents the damage from travelling higher up each cuticle.
It's a myth that cutting your hair makes it grow faster, but it can make it appear thicker as you get rid of those tatty ends and stop so much breakage!
A blunt cut with no layers, for example, can make some hair thicker in appearance, so reach out to a stylist who has experience in making thin hair look thicker or disguising thinning hair with a clever hairstyle.
Choose the right haircare products for thicker hair
As you probably know, we all have different types of hair. Some of us have fine, flyaway hair while others have thick, coarse hair. It's important that you choose the products that suit your hair type.
For instance, if you have thin, dry, flat hair but wish it was thicker, you should look for shampoos and conditioners that are designed to add extra volume and infuse your strands with moisture for that lustrous gleam. While you can't actually thicken the actual hair strands, you can help to volumise them with the right hair care products to give the impression of thicker hair.
You should also try to avoid shampoos that use silicones and artificial fragrances, particularly if you wash your hair daily. These ingredients have been found to leach moisture from your hair and can also cause scalp irritation and even infect your hair follicles. This infection could, in turn, potentially lead to permanent hair loss.
Instead, experts recommend that you choose shampoo and conditioner that contains anti-inflammatory properties which will not only soothe your scalp but will also balance your oil levels for healthier hair that will be less prone to falling.
There are many products that can be used, depending on your hair type and issue, from volumising shampoos, conditioners and sprays, to shampoo to help treat hair loss or disguise thinning hair. You can also go down the route of hair wigs and permanent or clip-in hair extensions. Just be careful with permanent hair extensions as many of the bonds used can damage hair when the extensions are removed, resulting in even thinner hair!
Be cautious when applying heat to your hair
While many of us are big fans of our blow dryers and straightening irons when styling, we also know that, unfortunately, too much heat applied too often can wreak havoc on our tresses. Worse than that - heat damage can actually be irreversible, as remarkably high temperatures will melt and alter the structure of the protein bonds in your hair; a change that cannot be repaired.
Of course, this level of damage does not happen overnight, but if you regularly use extreme temperatures to style your hair, your risk of permanent damage increases.
However, it's not just the heat that's a problem. Once your hair has sustained damage from your blow dryer or straightening irons, it becomes progressively weaker, and therefore more susceptible to breakage from other sources, ranging from aggressive brushing to hair dye and chemical treatments.
As a result, using heat on a regular basis should be avoided if you want to maintain stronger, thicker, healthier hair.
Treat your scalp to a restorative massage for thicker hair (yes, really)
You may find this hard to believe, but a simple scalp massage can actually improve the thickness of your hair.
This study, conducted on nine men over a period of 24 weeks, revealed that just a few minutes of gentle scalp massage on a daily basis can give you thicker locks. Supposedly, the massaging process stimulates hair growth and can also help to make your existing follicles stronger, so they will be less prone to breakage and hair fall. Needless to say, a scalp massage has other benefits, such as helping you to feel calmer and less stressed and even helping you fall asleep more easily.
If you are keen to try this soothing method for yourself, all you need to do is gently massage your scalp with small circular motions for 5 minutes, twice a day – or more, if you can manage it.
You don't need any oils for this massage, although you could combine it with one of the oils we mentioned above and, as the saying goes, 'kill two birds with one stone' while on your journey to thicker looking hair.
If you find it easier, however, you could choose to do it while shampooing and conditioning your hair, working the lather gently into your scalp for 5 minutes before rinsing off.
Begin your journey to thicker, healthier hair today
As you can see, you can use several techniques to restore your hair health and help your tresses grow thicker, stronger, and shinier than before.
While it may take a bit of work, the results will surely be worthwhile, as not only will you have healthier and more lustrous locks, but you will also feel more confident and hold your head up with pride.
Of course, while you're waiting for your hair to thicken up the natural way, if you suffer from thinning hair which can be reversed, there are always plenty of options available to help you enhance your strands for the time being – from hair products such as volumising lotions or dry shampoo and sprays, to clip-on extensions. These clever enhancements will help to give you extra body and the impression of thick hair while you use the follicle-boosting natural methods described above to help your hair slowly but surely flourish into your undisputed crowning glory.
Final roundup on how to thicken hair naturally
To roundup, follow these tips for how to get thicker hair naturally:
Fill your diet with hair-strengthening vitamins

Eat more of these plant-based foods for thicker hair

Use natural hair oil treatments to improve hair thickness

Choose the right haircare products for thicker hair

Be cautious when applying heat to your hair

Treat your scalp to a restorative massage for thicker hair
Subscribe to our newsletter for the best free money offers, money-making and money-saving tips we discover!