Step By Step Guide To Creating A Home Based Business From Scratch
Posted on
Running a business from home is a huge undertaking and can seem quite overwhelming at first. Although it's worth biting that running a business from home can also be extremely profitable and successful if you go about things the right way. The good news is you can find a step-by-step guide on how to create a successful home-based business below.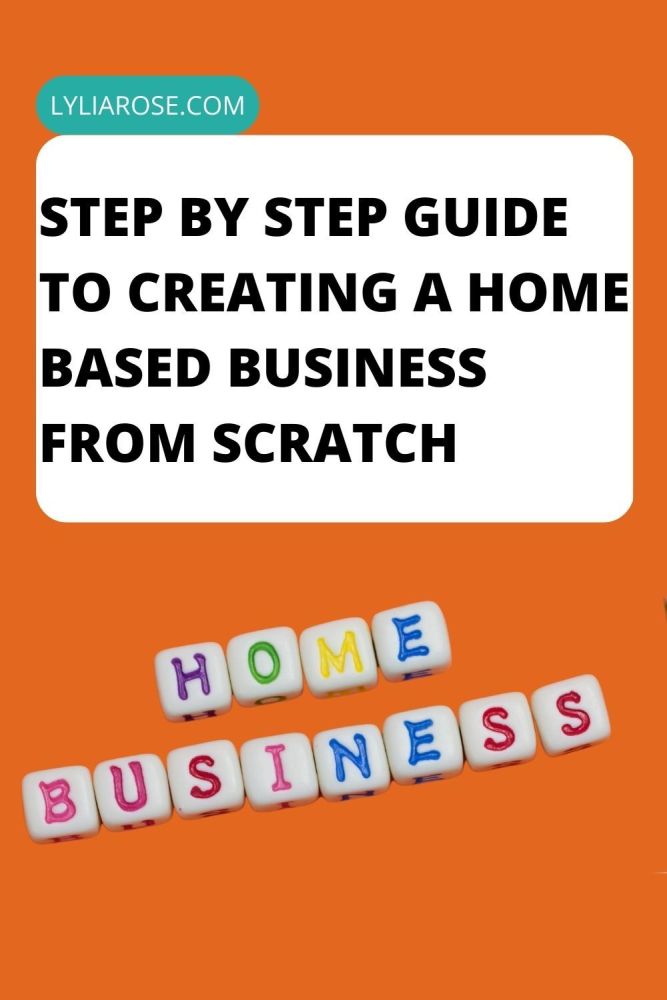 Step One: Start with a good idea
It can be hard to come up with an idea for a business, and once you have one it can be hard to work out whether it has potential. The good news is that researching your target market can make all the difference here. There are several ways you can do this.
The first is to come up with customer personas which allow you to get a good grasp of what the type of people that might buy your products want, and what problems they are looking to have solved. Remember that your product should solve a problem and if it doesn't it's best to go back to the drawing board.
Another option is to use market research to help you identify gaps in the market, as well as how your potential product will be received. Traditionally, this is done by professional market research forms that employ methods such as interviews, surveys, and questionnaires to ascertain this data. Although, some providers are now also offering insights gleaned from data analysis of different demographics' behaviour online.
Two critical things to bear in mind at this stage are whether your product idea has the potential to make money and whether it's practical to run such a business from home. If the answer to either of these questions is no, it's time to either reconsider your idea, or the parameters of your business.
Step Two: Create a realistic and accurate business plan
Once you have your business idea, the next stage is to create a realistic and accurate business plan. First of all, you must use as much accuracy in the numbers and details as possible. Don't estimate things like costs, or production times as these can have a major knock-on effect on the profitability of your business.
Being realistic is also vital here because anyone can make a business plan look appealing by fudging the numbers, but what you need is a true representation of the costs, challenges, and potential threats your business might face.
Step Three: Name your business
After you have a basic business plan in place it's time to name your business. The name is incredibly important because it represents not only your business but your brand and its values as well. This means it needs to be something that encapsulates what your business does and stands for, as well as something that appeals to your target audience. Also changing your business name once you have decided on it can be very difficult and time-consuming so it's best to get it right, the first time.
Step Four: Decide whether to incorporate or not
Once you have named your business, you will need to consider what type of structure you will use to run it. This means considering whether to incorporate (make your business into a corporation) or not.
Most home-based businesses start as sole traders and then choose to incorporate as a limited liability partnership or set up as a limited company later down the line once they have achieved some success.
Step Five: Register and licence your business
After deciding on incorporating your business, you will be able to register your company with the government and get any licenses you need to run. Registering your business with the government means getting a UTR (unique tax reference) number from HMRC. In some cases, you may have a UTR as a company, and as an individual and some businesses may need to apply for VAT registration as well.
Some types of businesses will also need to apply for licenses they require to operate. Of particular interest to home-based businesses will be a home occupation license which grants you permission from your local council to receive deliveries and customers to your address, as well as advertise outside of your home.
Other licenses you may wish to consider include alcohol licences, and food preparation licenses, which you can find out more about here.
Step Six: Devise a marketing plan
Many people make the mistake of spending a huge amount of time and energy coming up with all the other details of their business but forget about marketing. However, marketing is an essential cog in the wheel of home business success. This is because if your target audience does not know about your products and services, they won't know to come to you to buy them.
With that in mind, ensuring that you have a comprehensive marketing plan for your business will ensure you bring in enough customers to meet your targets. Such a plan should cover a range of things including SEO, social media presence, and paid advertising.
The cornerstone of any marketing efforts will always be your website. Indeed, most marketing efforts should refer your clients back to your website so they can either learn more about your product or make a purchase.
You can also promote your local business via your website by using local SEO a process whereby you integrate key terms and place names associated with your area of business into your website content. The intention is that this will strengthen the connection between your business and this location online, helping your business to be found by people in your location that are looking for your services.
If budget is tight then you can also research cheap ways to market your business to start.
Step Seven: Sort your finances and accounting
After you have a better understanding of the marketing efforts you will require to succeed, it's time to sort out your small business finances, and accounting. The first thing you will need to do is to create a financial plan for your business. This should include how much it will cost to run, how much your product will cost to make and how much you will sell it for. Be sure to include both the retail and wholesale prices in your calculations.
You will also need to address where the money to pay for running your home-based business will come from. Some people choose to bootstrap their business which means funding it themselves. Others seek bank loans, while others still use money from investors to get their home-based businesses off the ground.
Once you know where your money is coming from and how much of it you will need, you can begin to sort out your business accounting processes. This means opening a bank account that is solely for your business and establishing a way of recording your recipes so you have them when it comes time to do your taxes. You will also need to document all your sales and keep a record of these as this is vital for balancing your books come year-end.
Lastly, do remember that there are plenty of tax and business accounting experts out there who can help you with these tasks if you feel lost. Indeed, as tax can be a particularly complicated subject working with a professional can not only reduce the amount of time and stress involved but also help you maximise your profits.
Final thoughts
The information detailed above should give you a good idea of what is needed to set up your own successful home-based business. Do remember to consider each stage carefully, and do your due diligence in each case to ensure you give your home-based business the best chance of success in today's competitive, and often unpredictable market.