Uncover the Wonders of the UK's National Parks on a Budget
Posted on
Spending quality time outdoors can do wonders for your health and well-being, and national parks offer the perfect escape from the daily hustle and bustle, while being a budget-friendly holiday option for families, couples and friends alike.
A recent UK survey shows an increasing number of people visiting national parks in the UK. If you're planning your next holiday or weekend getaway and want to make the most of your experience while saving money, this guide will help you narrow down your options.
Explore the following four national parks that showcase the beauty of the UK's landscapes, and discover the reasons why they are worth visiting, as well as some of our top money-saving tips.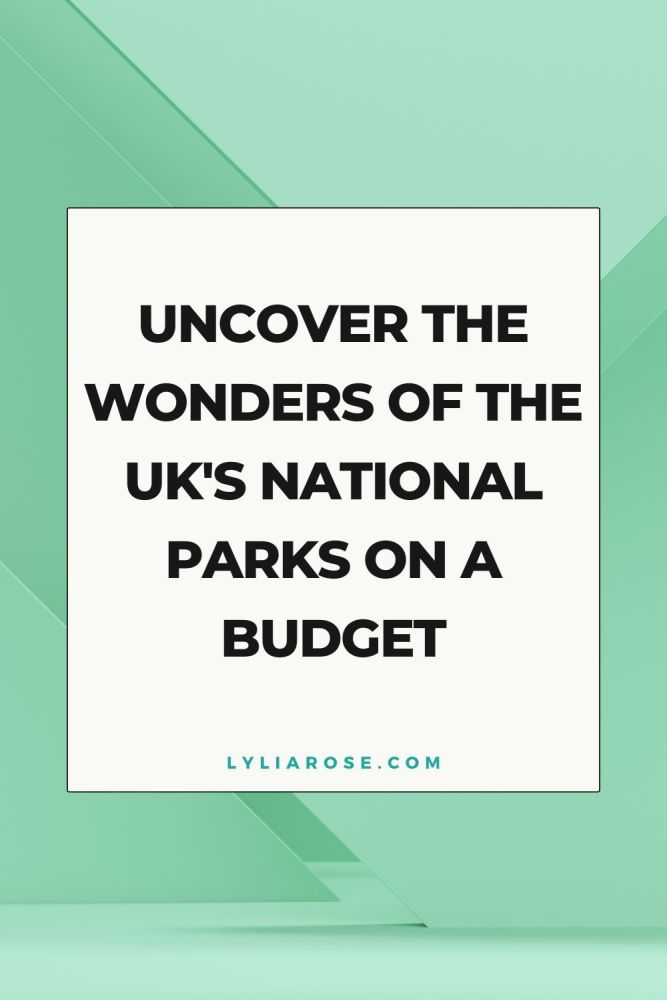 South Downs National Park
The South Downs, Britain's most popular national park, is a great choice due to its proximity to London and easy accessibility. Spanning from Winchester to East Bourne, this picturesque park offers the South Downs Way, a stunning hiking and bicycling trail. Along the way, you'll encounter lush green hills, ancient woodlands, and world-famous white cliffs.
The park's charm is enhanced by the presence of Arundel Castle, an impeccably preserved 11th-century castle overlooking the quaint town of Arundel.
Save money by taking the train from London to the South Downs, enjoying a scenic journey while avoiding the cost of fuel and parking.

Stay in budget-friendly accommodations, such as cosy bed and breakfasts or campsites, which provide affordable options to immerse yourself in nature.

Pack your own picnic and enjoy a meal amidst the stunning landscape, saving money on dining out.
Lake District National Park
The Lake District, home to beautiful lakes and rugged slopes, is a must-visit national park in the UK. England's highest mountain, Scafell Pike, awaits adventurous hikers, while the entire area has long been an inspiration for artists and poets.
This mountainous stretch of the northwest, shaped by decades of sheep rearing, is England's largest national park, inspiring many artists, including Romantic poet William Wordsworth who famously roamed lonely in the Lake District.
By immersing yourself in the natural beauty of the Lake District, you can experience a memorable getaway without breaking the bank.
Opt for self-guided hikes and walks, allowing you to explore the picturesque trails without incurring additional expenses for guided tours.

Visit local markets and shops to purchase fresh produce and ingredients, enabling you to prepare budget-friendly meals during your stay.

Take advantage of free attractions and activities, such as exploring charming villages, admiring stunning landscapes, or participating in nature walks led by local organisations.
North York Moors National Park
The North York Moors National Park offers a diverse landscape of rolling hills, forested dales, and a captivating shoreline. Water sports enthusiasts, mountain bikers, and hikers will find plenty to enjoy, while photographers will be drawn to the expansive heather-covered moors, medieval abbeys, and ancient religious sites.
Discover the hidden gem of Hayburn Wyke, a rocky cove featuring a cascading waterfall surrounded by deer-filled woods.
Consider staying in the nearby coastal town of Whitby, known as the birthplace of the classic British cuisine of fish and chips.
The charming atmosphere and affordable accommodation options, like The Kings Head, North York Moors, make it an excellent choice for families looking to embrace nature while keeping costs down.
Utilise public transportation options, such as buses or trains, to explore the North York Moors, saving money on fuel and parking fees.

Take advantage of affordable or free guided walks organised by local ranger services, providing valuable insights into the park's history and natural wonders.

Plan your visit during the off-peak season when accommodation prices are typically lower, allowing you to enjoy the beauty of the park while saving on lodging costs.
Snowdonia National Park
Snowdonia, home to Wales' highest peak, Mount Snowdon, offers a breathtaking experience for outdoor enthusiasts. You can reach the summit using the vintage railway or challenge yourself on the world's fastest zip line, Zip World Velocity 2, reaching speeds of up to 125 mph over Penrhyn Quarry.
Snowdonia also features stunning Welsh settlements, magnificent waterfalls, and picturesque sandy beaches. Don't miss the opportunity to explore the castle remains, such as Castell y Bere, which served as the residence of Welsh monarchs in the 11th century.
Snowdonia provides a range of affordable accommodation options, allowing you to enjoy a thrilling adventure without overspending.
Consider sharing accommodation with friends or family to split the cost and save money on lodging.

Pack your own hiking gear and equipment instead of renting, reducing expenses while enjoying the stunning trails of Snowdonia.

Look out for discounted tickets or special offers for attractions and activities, allowing you to experience the thrill of Snowdonia without overspending.
Final word
By implementing these holiday money-saving tips, you can explore the wonders of the UK's national parks while staying within your budget. Experience the beauty of nature, embark on exciting adventures, and create lasting memories without breaking the bank.